Did you know the land of Uzbekistan is just 3 hours away from India and 6 hours away from central Europe through a direct flight? Uzbekistan is one of two double-landlocked countries in the world (meaning not only is it landlocked, but it is also surrounded by landlocked countries), the other one is Liechtenstein.
This strategic location gave it many advantages – it played a key role in the Old Silk Route. It is a destination you must see to believe.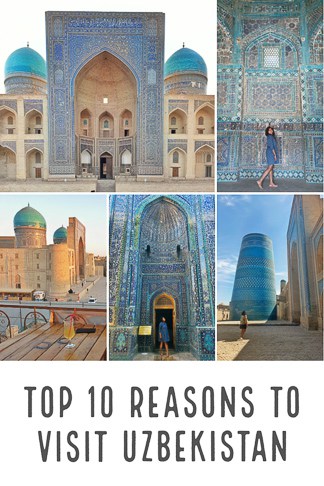 For years, it has escaped our prying eyes, but with ever-improving air connectivity, easier visas – the cat is out of the bag. Before mass tourism hits this country in a big way, take my words, add this destination to your bucket list.
I visited Uzbekistan, Kazakhstan and Kyrgyzstan and after spending almost 2 months in Central Asia, I can tell you Uzbekistan is definitely worth visiting.
Here are my 10 reasons why Uzbekistan should be on your travel bucket list.
TOP 10 REASONS TO VISIT Uzbekistan.
Jewel of the Silk Road.
Uzbekistan lies at the core of the ancient Silk Road, it a country that is home to the three most important Silk Road cities, Samarkand, Bukhara, and Khiva.
Uzbekistan's UNESCO World Heritage gem, the incredibly historic town of Samarkand is a melting pot of cultures from all over the world.
Since aeons, traders (the original travellers) travelled from China to Europe through Uzbekistan and brought with them new cultures, religions, crafts, and food.
Architectural feast.
Visiting Uzbekistan is a feast for the senses, from the wonderful tilework decorating madrassas and mosques to bustling markets and bazaars. Uzbekistan is a dream.
It is magical and absolutely stunning. The sheer mastery and craftsmanship that went into building the minarets, tombs, madrassas, mosques really baffles me.

This place will gratify all your cultural, historical, and architectural craving.
Vivid and vibrant local bazaars.
Exploring a local bazaar is a great place to get a taste of local food and treats. I highly recommend visiting the Chorsu Bazaar in Tashkent.
It is where locals shop for fresh produce, meat (ranging from lamb to horsemeat, and their daily bread). Rows upon rows of fresh fruits and vegetables, spices, and dry fruits are what brings this bazaar to life.
Uzbek food & bread.
Central Asia has been dubbed as a vegetarian's nightmare. For a vegan, it's even worse. Vegetarianism is usually understood as "only eats chicken." Yet, I was lucky to try a lot of vegetarian versions of many local foods like – Plov, Manti (meat or vegetable-filled dumplings), Lagman (a noodle dish), Shivit Oshi (a spaghetti pasta cooked with dill and topped with a vegetable/meat stew) and their variety of bread.
Do try a different type of non (Uzbek bread) – For locals, non is more than food, it is sacred. Non is placed under the head of a newborn as a way of wishing it a long, healthy life.

It is put between the legs of a baby who has just taken its first steps.
Mothers make their son take a bite, hoping they will return soon and safe from any army service.
Life without non is unthinkable.
Soviet architecture and old soviet life.
Uzbekistan is an ex-Soviet Republic, which got its independence in 1991, after the USSR dissolution. After the 1966 earthquake in Tashkent, the city was revamped on Soviet architectural style.
The iconic hotel Uzbekistan is a stark example. If you want to get a glimpse of the old soviet life, then you travel once on a Russian/Soviet train. It is an experience by itself.
Travel back in time in the ancient city of Khiva.
I travelled back in time (in my best, of course) in Khiva when this place was bustling with caravans moving around, merchants selling spices, gave me a good glimpse of the Silk Road experience.
Maybe, the sepia tones of the place added to that feel. The old city of Khiva (also known as Itchan Kala) is essentially an open-air museum. It has a fortress surrounding the complex, within which, there are dozens of ancient madrasas, mosques, minarets, and clay-coloured houses.
Tip: Try to visit Khiva early in the morning because once the sun rises, the alleys of Itchan Kala saturated with textile salesmen and souvenir shops.
Witness the magic of Bukhara at sunrise and sunset.
Bukhara is a city that is said to be over 2,700 years old, now a UNESCO World Heritage Site. Bukhara is best witnessed in the solitude of sunrise.
And if you are not a morning person, you can park yourself amongst the many café terraces opposite the courtyard in the evening. The sunset and the sights will be etched in your mind. The walls of the madrassas are bathed in the setting sun, and it is a sight to behold.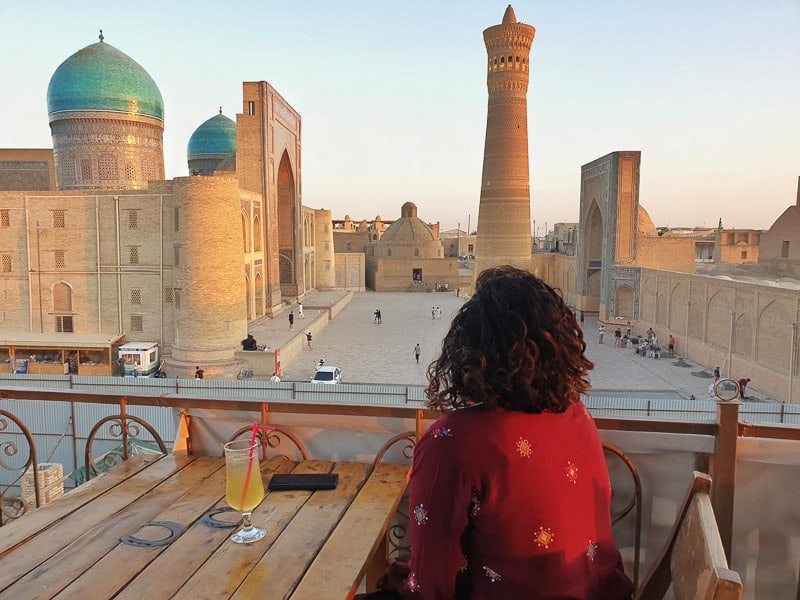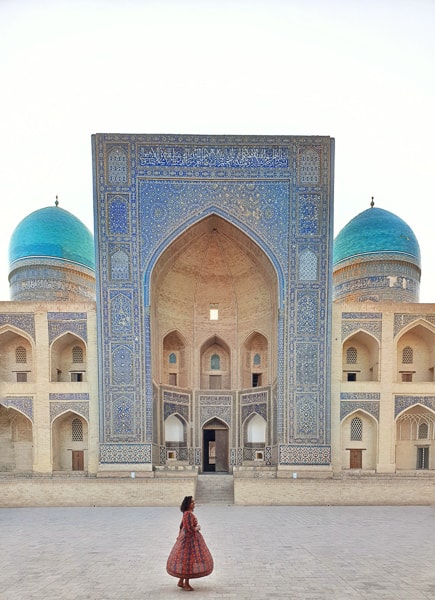 Dark tourism.
The Aral Sea is considered one of the biggest natural catastrophes caused by humanity. What remains now is a receded dead desert and a ship cemetery which can be visited.
This is another 'attraction' for travellers, particularly for those who are interested in dark tourism.
Uzbekistan is a Handicrafts Heaven.
This place is a shopper paradise. Isn't this just obvious, since you are travelling through the old Silk Road. From ceramics to pottery to crockery to dry fruits to ikat print textiles they have it all. Ikat is a national pattern which you will see in a lot of textiles from tablecloths to scarfs.
Another great souvenir to pick from Uzbekistan is bread stamps since bread is so much more than just food for Uzbeks.
Warmest people I have ever met.
One thing that I will be treasuring the most from my journey is the pure-hearted people of Uzbekistan. The ever-smiling people, grinning with their golden teeth (gold teeth are a common ornament in Uzbekistan), the fun and Bollywood loving people who often gathered around me for a picture.
Thank you, Uzbekistan (read people) for the overwhelming love and support.
So if you ever plan to visit this central-Asian gem, my Uzbekistan Travel Guide would help you plan your travels!
---
"This guest post was written by Shilpa Shashidhar from TenderfootTraveller. Shilpa works a 9 to 6 job so that she can indulge in her vice – travelling.
Currently, based in Bangalore, India with an eye on the rest of the world. More often than not, she microblogs on Instagram sharing her travel pictures, experiences, and journeys.
She works in the space of Diversity & Inclusion by the day, and crafting travel plans and writing travel stories by the night, loving both jobs and never wanting to give either of them up."