Saint John in the US Virgin Islands is unique for a couple of reasons. At almost 70% national park, the island is mostly uninhabited and untouched.
This makes it a great place for people who want to disconnect to visit (or stay). It is technically part of the USA, however, operates on a totally different mind frame.
So, while it's easy to get to (from the US) and you can use US dollars, it feels like a totally different country.
Here are some of the best things to do in Saint John to get the most out of your trip.
1. Check out the amazing beaches around Saint John
A trip to St John wouldn't be complete without spending some serious time at the beautiful beaches. The island has plenty of beaches to choose from.
Whether you like long, white sandy beaches or small, pebble cove type beaches, you can find just about everything here.
The biggest thing to consider in St John is transport. How are you going to get to these amazing places?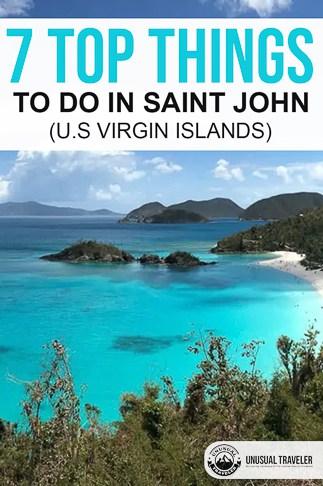 With a lack of functional public transport, you are limited to a few beaches (even though they're some of the most beautiful). But to really see the island, you'll want to rent a car.
Accessible by Public Transport
If you're staying in or near the main town of Cruz Bay, you'll have the option to take the tourist bus that runs up and down the northern side of the island, stopping at the most popular beaches.
These beaches are popular for a couple of reasons. They are your picture-perfect, Caribbean looking beach & they are accessible for tourists.
Here is a quick insight into the best beaches in St John that are easily accessible on the northern coast.
Hawksnest – This white sand beach is the closest and most accessible from town. It has permanent shade structures and picnic benches. It also has some of the most beautiful, white sand on the island. A quick swim off the beach is likely to get you a close encounter with a spotted eagle ray.
Trunk Bay – Probably the busiest of the northern beaches, but for a good reason. This amazing stretch of white sand beach has a small island off the shore that is easily accessible for swimmers/snorkelers. A man-made underwater snorkel trail gives a unique point of interest.
Cinnamon Bay – Equally as beautifully and slightly less busy than Trunk Bay is Cinnamon Bay. It has a shower/change room facility and also a small offshore island that you can swim around.
Maho Bay – One of the best things to do in St John for people who want to see turtles up close. There are literally so many turtles grazing in waist-deep water that you can't miss them. A new little beach bar has opened by the beach and is a perfect spot for an after-snorkel drink.The U.S Virgin Island is home to 3 spices of turtle, the Green Turtle, Hawksbill Turtle, and The Leatherback the world´s largest spices of Turtle.
Beaches you need a Car for
While the northern beaches are some of the prettiest and most photogenic, they can get busy (depending on the time of year).
The best solution: hire a car and explore the rest of the island. You'll need to hire a 4×4 due to the condition of the roads (some roads turn into dirt tracks).
If you're going to spend more than a couple of days in St John, it is well worth having a car to explore. There are a couple of Jeep rental places in Cruz Bay, and they all have rentals for similar prices.
Once you have a car, these are some of the best beaches to check out:
Salt Pond – As the name suggests, there is a large salty pond that has formed in a low-lying area just behind the beach. This remote location is one to look out for as the colour of the pond changes over the year, depending on the rains and weather. It can be a light green one month and then be a deep red colour a couple of months later.
Lameshur – The bay at the end of the road. This is as far as you can drive on the southern end of the island (there is no road that goes all the way around the island). Once you reach this secluded bay, you'll find a crystal clear swimming beach waiting to be explored.
2. Do a hike to a lookout or a remote beach.
Because St John is mostly national park, there are a lot of hiking trails that you can explore through the day. Many of them lead to remote beaches or lookout locations. Here are a couple of hikes that you need to know:
Rams Head – This hike out to the island's most southern point takes you along the coastline, past a couple of remote beaches to a high cliff face, lookout point covered in cactus.
Annaberg to Waterlemon Cay – The Annaberg Ruins (the remains of an old sugar plantation) are a great attraction in themselves.
But if you're keen to go a little further, there is a coastal hike that heads north towards the remote island of Waterlemon Cay. This is one of the islands best-kept secrets and a great place to see some small nurse Sharks.
3. Get snorkelling.
St John's national park boundaries extend into the surrounding waters, making the island 70% marine park also. This is great for snorkelers.
Since the declaration of national park status (1956), there has been no fishing or construction within the marine park areas.
Therefore, the marine life around the island is flourishing and going snorkelling is one of the best things to do in Saint John.
You can see amazing coral gardens filled with tropical fish of all shapes and colours. Here are a couple of the best snorkelling spots to look out for: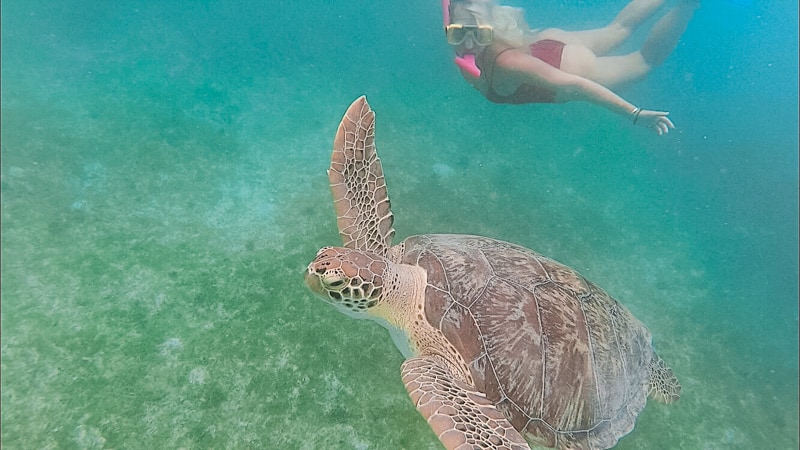 Salt Pond – Swim from the Salt Pond beach towards the two rocky outcrops (approx. 10-minute swim), there you will find a forest of purple fan corals teeming with life. There are also turtles in the middle of the bay (but they are a little scarcer)
Maho Bay – If you want to Swim with turtles, this is the place to do it. You can't snorkel at Maho without seeing multiple. Be respectful as they are used to humans that they often don't swim away. Do not touch them! It can seriously cause them stress and physical harm.
4. Eat a taco at Lime Out Floating Bar.
One of the coolest bars in the Caribbean is Lime Out at Hansen Bay. To get here, you will need a car (or a boat). But it is well worth it.
The little floating shack sits far enough off the beach that you need to work a little to get to it. They discourage people from swimming up to the bar, so you will need to have either a kayak/paddleboard (that you can hire form the beach if need) or arrive by boat.
They do have seats that you can sit at (in the water) and reusable cups that you pay a deposit for. With a great range of tacos and cocktails, it's one of the best places on the island to spend an afternoon indulging.
5. Jump on stage at the Open Mic Night in Coral Bay.
Pickles Bar in Coral Bay on a Thursday night is a happening spot. There is a surprising number of talented artists living on the island that come out of the woodwork to perform their favourite songs on the bar's funky stage.
While the level of talent is relatively high, they do encourage everyone to get up and give it a go. As the night progresses, more people build up the courage to perform a song. It makes for an entertaining evening.
6. Spot a deer on the beach.
Seeing a deer in the wild might be nothing new for you. But have you ever seen deer walking along the beach?
The best place to see deer on the beach is at Cinnamon Bay Beach. The best time is early morning or late afternoon. The beach is within a national park and opens at 8 AM. So, if you get down there first thing, you might be lucky enough to catch a glimpse of them. Either that or wait until sunset.
7. Do a day trip on "Bad Kitty" to the BVI's.
The Bad Kitty is a power catamaran that powers through the water to cover a large area in a relatively short period of time. Trips run most days and go from St John to the British Virgin Islands (Virgin Gorda, Norman Island and Jost Van Dyke).
This short but thrilling boat trip covers some of the surrounding islands best highlights. "The Baths" at Virgin Gorda is one of the most beautiful and unique beaches in the world.
Kick back and enjoy strong rum cocktails "painkillers" for the afternoon at the white sand beach of Jost Van Dyke.
The amazing crew are friendly, knowledgeable and always willing to top up your drinks (bottomless drinks included in the day rate).
Be sure to have your passport and cash to pay the entrance fee into the British Virgin Islands customs ($USD75/per person). The Bad Kitty crew does all the paperwork for you so you can just kick back on the boat.
---
Post By
Aaron Salyer.
As part of the Dharma Trails Aaron has lived on the island of Grenada and travelled to many of the Caribbean Islands. Together with his partner, they focus on sustainable ways to live and see the world.