Baku, the vibrant capital of Azerbaijan, is a former Soviet republic in the Caucasus and variously considered part of Europe or Asia. Baku was once my least favourite city in the world; when I first visited Baku back in 2013, the city was so corrupt that it was impossible to enjoy the city.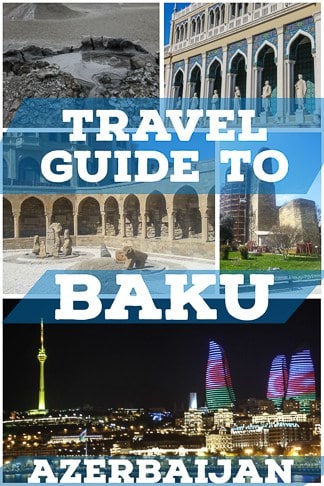 I got stopped numerous times a day by local police and by the secret police just by wearing a camera around my neck, asking for bribes, but luckily now the most corrupt city in the world has now cleaned itself up, and Baku is now a perfect long weekend destination.
A blend of ancient palaces and bazaars, modern museums, and skyscrapers designed in the shape of flickering flames.
Although the city is evolving into a futuristic metropolis, it still retains that old-world atmosphere.
Markets still sell hand-woven carpets, and lanterns and locals still feast on delicious mezze in hidden restaurants.
Baku and Azerbaijan is by far the richest city and country in the Caucasus region.
There are plenty of things to do in Baku, and it's a great time to visit during the city's transformation.
Baku around the waterfront is definitely one of the most beautiful cities around the world, but it´s also very poor if you venture outside the waterfront part of the city, which is full of water fountains and beautiful marble sidewalks.
The metro in Baku is also almost as beautiful as the subway in Moscow and Tashkent, all decorated in similar ways.
Top Things To Do In Baku, the capital of Azerbaijan.
Take a Walking Tour of Baku's Ancient Walled City
Baku's Old City evokes memories of old, with ancient palaces, leafy courtyards, towers, and alleyways.
There are several highlights to explore inside the walls. However, the most popular is the 15th century Palace of the Shirvanshahs – one of the country's revered UNESCO World Heritage Sites.
This important structure, which was home to royalty, features mosques, city gates, bathhouses, and mausoleums.
Take a tour to enter the remaining rooms inside the palace and cast your mind back to this era, imagining life through the eyes of people who lived here and summon the experiences of traders who passed through this part of the city on their journey along the Silk Road.
Explore Old City Bazaars
When you explore the bazaars of Old City Baku, it's akin to stepping back in time.
Clothing and antiques, fresh produce, and even Beluga caviar line the colourful stalls.
If you want to shop with locals, venture to Taza or Yasil bazaars with vendors selling spices, fish, and fresh vegetables.
If you seek a particular product and have your credit card with you, head into the historic centre of Icheri Sheher.
These labyrinths, historic alleyways are lined with hand-crafted rugs, ceramics, and souvenir shops.
Climb to the Top of Maiden's Tower
Whilst inside the Old City walls, find time to explore Maiden's Tower.
This 12th century stone structure is one of Baku's most recognisable sites and is even featured on the country's banknotes.
The tower, which stands at 29.5 metres tall, boasts a museum that tells the story of Baku, and if you climb winding stairs to the observation point at the top, you're rewarded with superb views of the Palace of the Shirvanshah's and Flame Towers in the distance, so don't forget your camera!
Stroll Along Baku Boulevard
Established in the early 1900s, Baku Boulevard stretches for 2 miles alongside the Caspian Sea.
The area is famed for its architecture – a place where wealthy oil traders constructed their lavish mansions along the seafront.
Several historic and more contemporary landmarks lie along the boulevard – National Flag Square, the Baku Eye Ferris Wheel, Stone Chronicle Museum, and the famous Azerbaijan Carpet Museum.
That's not all. There's also an area named "Little Venice". In this charming Veneto style town, enjoy a gondola ride along canals, relaxing beneath sunny skies as you drift beneath bridges, or break for lunch in a nearby café or restaurant.
Ride on the Baku Eye
One tourist highlight of Baku is taking a ride on the Baku Eye. This huge 60 metres high Ferris wheel with air-conditioned cabins offers incredible vistas across the city.
The ride spins quite slowly, taking around 15 minutes to complete the cycle – the perfect time to capture photographs for your Instagram feed and see the Flame Towers as they illuminate with a spectacular light show after sunset!
Visit the Flame Towers
Set on a hill overlooking the Old City of Baku, these contemporary buildings are constructed in the design of flickering flames.
The unusual design pays homage to the natural gas fires which constantly burn from the ground on the Absheron Peninsula in Azerbaijan.
The three high rise glass towers were designed by HOK and constructed between 2007 and 2012.
They vary slightly in size, with the tallest standing at 182 metres high, and each one is covered in LED screens that simulate the movement of fire and colours of the Azeri flag.
You can see the towers from almost every location in the city, but if you take a ride on the Baku Eye at night, you'll gain some of the best views and photos as the light show begins.
Discover Azerbaijan Carpet Museum
Carpet making is a huge part of Azerbaijan life. The designs combine folk art, local landscapes and can even symbolise daily life in the country.
Many colourful rugs and carpets have historic importance too, covering floors of palaces and mosques.
This museum has been telling the stories of these carpets since 1967 and today also displays over 10,000 pieces of metal artefacts, jewellery, and ceramics.
If you're interested in the culture, history, and crafts of Azerbaijan, this place is worth a visit.
Shop on Nizami Street
Baku's main shopping street is known as 'Torgovaya' or Nizami Street to tourists. It's home to quaint book shops, department stores, chocolatiers, and international restaurants.
Even if you don't plan to spend, it's a delightful street to walk along, with impressive Renaissance, Baroque and Neo-Gothic architecture.
In the evenings, Nizami Street shimmers with draping chandeliers, turning the busy shopping avenue into a glistening, window-shopping wonderland.
Visit the Atashgah Fire Temple
Situated just 18 kilometres east of Baku is the famous Atashgah Fire Temple.
The castle-like temple in the suburbs was once used as a Zoroastrian and Hindu place of worship. Although the natural eternal flame which illuminated the temple was extinguished in the late 1960s, it's still lit today with piped gas from Baku.
This centre of pilgrimage is now a museum and UNESCO World Heritage Site, peppered with ancient inscriptions and plenty of stories to tell.
It's an interesting half-day or full-day trip for anyone interested in religions and Azerbaijan's history.
Discover the Futuristic Heydar Aliyev Centre
Designed by talented architect Zaha Hadid, the Heydar Aliyev Centre stands in direct contrast to the ancient minarets, palaces, and towers of Baku.
This undulating masterpiece built on the former site of a Soviet munitions factory was inspired by Islamic designs and geometric patterns. Materials were used to create a fluid, free-space structure that blends with the surroundings.
Take a walk inside the surreal cavern-like interior and stay while to experience opera, music concerts, or art exhibitions.
Sample Delicious Pakhlava and Pilaf
As Azerbaijan was once on the ancient Silk Road trading route, the country boasts a fusion of different cuisines ranging from Middle Eastern and Mediterranean to Turkish, Indian, and even Chinese! Locals dine on Pilaf – a rice dish similar to Indian Biryani, decorated with dried fruits and nuts infusing a sweet flavour.
Traditionally served in pitta bread with lamb or chicken, it's a delicious Baku food you don't want to miss!
When it comes to desserts, Pakhlava is a fragrant pastry layered with honey drizzled nuts, cardamom, saffron, and cloves.
If you fall head over heels for Baku cuisine, you can also join a half-day culinary workshop that incorporates market shopping for ingredients, followed by cooking and sampling the dishes!
Take a Trip to Khinalig Village
One of the oldest villages nestled in the Caucasus Mountains of Azerbaijan is Khinalig or Khinaliq. Located high in the mountains of Quba Rayon, just under 4 hours' drive northwest of Baku, the 5000-year-old village is about as traditional as you can get – home to families who have lived here for generations.
They live simple lives in minimalist homes with few furnishings, utilising hand-woven carpets, blankets, and cushions to sit and sleep on.
The citizens practise ancient traditions such as Tikmes – a unique embroidery style typical of this region, and you can purchase items from locals in their houses.
This village is enveloped in rich history and nature.
During your trip, you can learn about the Zoroastrian religion, visit the small museum which displays ceramics, coins, and photos, hike in the mountains, and sample authentic Caucasus cuisine!
There are guided tours available from Baku to Khinalig too, which make sense if you have limited time in the country.
Petroglyphs and Mud Volcanoes at Gobustan National Park
Gobustan National Park a UNESCO world heritage site around an hour southwest of Baku.
This magnificent landscape has 6000 rock carvings and paintings dating back up to 20,000 years!
These carvings were used as ancient communication systems to tell others passing through the area what to expect and see.
There's an interactive museum on-site, showcasing over 100,000 archaeological artefacts, but if you want to remain in the great outdoors, explore the mud volcanoes.
There are over 300 bubblings, mud-filled mounds dotted throughout Azerbaijan and the surrounding waters, but many of them are located here within the park.
The mineral-rich mud is said to have medicinal properties and be good for the skin.
Therefore, the best way to experience them is to take a tour of the park, that way you won't miss a thing!
Alternatively, if you want to make your own way there, trains from Baku take just over an hour to reach the national park.
About every twenty years or so, a mud volcano here in Gobustan explode with great force, shooting flames hundreds of meters into the sky and throwing tons of mud on the surrounding area.
The last one that is reported to have erupted in the area was back in 2001, so, unfortunately, I was not lucky enough to witness that.
How to Get to Baku
As the capital city of Azerbaijan, Baku has its own airport – Heydar Aliyev International Airport, which lies 20 kilometres from the city centre.
The airport is served by several major airlines, including Turkish Airlines, Qatar Airways, and Lufthansa.
Regular flights operate from most European countries (journey time 3-6 hours depending on departure country), and if you're arriving from Russia, you can fly to Baku with Aeroflot.
It's easy to reach Baku city centre from the airport via express minibus shuttles, which operate half-hourly. There are also taxis and metro services from Koroglu station near the airport.
If you plan to travel by train to Baku, there are now services operating to Baku from Ankara, Turkey, Moscow, Russia, and Tbilisi, Georgia. Just remember to allow extra time for border crossings!
Ferry across the Caspian Sea to Turkmenistan or Kazakhstan. More information about that here.

There is NO transportation between Armenia and Azerbaijan.
Extra Information about Baku.
Visa for Azerbaijan
Important! If your passport shows any evidence of travel to Nagorno-Karabakh, will you be denied entry (even if you already have an Azerbaijani visa)
Azerbaijan has recently introduced an EVISA. Making Azerbaijan an easier destination to visit since you don't need to get a letter of invitation (LoI) from a travel agency/contact in Azerbaijan anymore.
Where to Sleep in Baku
Money/Prices in Baku
The local currency in Azerbaijan is Azerbaijani manat AZN (Yeni Manat) 1 USD = 1.04 AZN 1 Euro = 1,1AZN
Azerbaijan is by far the most expensive country in the Caucasus region, and it´s not far from western Europe prices. A daily budget should be around 40 Usd+
There´s ATM´s available all around Baku
1,5L Bottle of water – 0.54 AZN
0.33L Coke/Pepsi – 0.54 AZN
A meal in a local restaurant – 7 AZN
A meal in a good restaurant – 40 AZN
Big Mac meal at McDonald´s – 6 AZN
Coffee in a coffee chain – 4 AZN
Pack of Cigarettes (Marlboro) – 3 AZN
Beer local 0.5L can – 1.5 AZN
Beer imported 0.33L (Heineken) – 3 AZN
Gasoline (1 liter) – 0,70 AZN