The Philippines is defined by its many attractions. This includes its beautiful beaches, blue lagoons, smoldering volcanoes and so much more.

But what will truly catch your eye when researching the Philippines is its lush rice terraces.
Hidden in the mountains of North Luzon is one of the Philippines' greatest treasures – the Batad and Banaue Rice Terraces.

Surrounding several towns and villages are magnificent, cultivated mountains.

Even the sheerest cliffs have been cultivated into rice paddies resulting in a seemingly endless landscape of emerald-green.
While the rice terraces are most certainly a must for anyone visiting the Philippines, reaching these places can be quite a challenge.

To ensure your journey is as relaxed as the destination, we have compiled the ultimate Batad and Banaue Rice Terraces travel guide.
If you're backpacking in the Philippines, check out this guide on what to pack for longer trips.
Visiting the Philippines Rice Terraces – All you Need to Know
North Luzon is home to several villages, with Banaue being the region's largest town. It also serves as a gateway to most of the spot's top attractions.

Other villages in the region include Batad, Sagada, Hapao and Cambulo. On your trip, you can easily spend a few days walking and exploring each of these villages.
To follow is a detailed guide on everything you need to know about traveling to the Batad and Banaue Rice Terraces.

This includes when to go, how to get there, where to stay and many more useful insights to ensure you get the most out of your visit.
When to Visit the Philippines Rice Fields
The best time to visit the Banaue Rice Terraces depends on the kind of sight you wish to see.
Come April to May, and October to November, you will be able to witness the rice fields at their greenest.

Alternatively, during June and December, you can observe harvest time and marvel over the terraces' golden hue.
Planting season takes place from January to March, and again in September.
While the terraces are bare and less impressive during this time, walking through them is still enjoyable.

It is not recommended to visit during July and August as the rainy season increases the likelihood of landslides in the area.
How to Get to the Philippines Rice Terrace
There is only one way to get to Banaue Rice Terrace and that is by bus, which normally leaves during the night. The most commonly used buses are from Cubao and Sampaloc in Manila.

You could catch a flight to Baguio and take a bus from there, however, this does not save much time.
If you're traveling via Cubao's Dangwa bus, be sure to arrive early as they operate on a first-come, first-served basis.

Their earliest bus leaves at around 8 PM. Alternatively, you can take the Ohayami bus from Sampaloc which operates from 9 PM daily. If you wish to reserve seats in advance, you can book online via their website.
The travel time from Manila to Banaue is around 9 hours. We recommend you travel during the night so that you arrive in Banaue early the next day – giving you plenty of time to explore.
Upon arrival at the Banaue bus terminal, use the public jeepney, which usually leaves around 9 AM daily.

If you miss the public jeepney, trek down to the Batad Junction located around six kilometers from the Batad village. Here, you'll be able to catch a tricycle or jeepney into the town.
Where to Stay when Visiting the Rice Terraces in the Philippines
When it comes to accommodation, you're sure to get value for your money. While there are no posh hotels or resorts, there are a number of lovely lodges, inns and native huts available.

Each of these are ideally situated, providing incredible views of the majestic rice terraces, and offering a truly relaxing feel.
If you wish to stay in the more secluded Batad, you should bear in mind that it is also less accessible. There are no roads that directly lead to the village and it takes around 20 minutes to trek in and out of the area.

Moreover, there is no proper signal here. For those who wish to unplug and disconnect, and become one with nature – this is a lovely spot.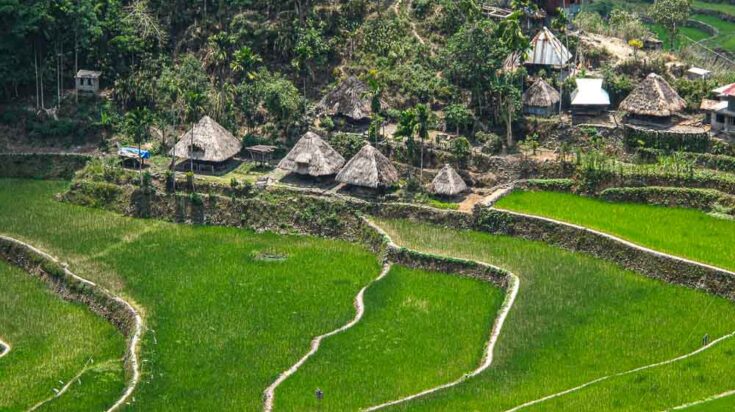 A lovely place to stay in Batad is Batad Hillside Inn. One of this accommodation's biggest draws is its sun terrace which overlooks the Batad rice fields.
In Banaue, a favorite spot is the Baleh Boble Guesthouse. This lovely accommodation lies a short distance from Banaue Rice Terrace, and offers exceptional views of the surrounding scenery.
Other noteworthy accommodations include Rita's Mount View & Inn and Ramon's Homestay, Savta Homestay. Regardless of where you stay, be it in Banaue or Batad, you will not be disappointed.
What to Eat While Visiting the Philippine Rice Fields
Banaue has a number of restaurants, each providing scenic views of the area's beautiful surroundings. Most of the restaurants in Banaue are located inside the various accommodations.

These places offer a similar menu with traditional Filipino food, all at affordable rates.
A popular restaurant in Banaue is the 7th Heaven Cafe. Here, enjoy a delicious assortment of breakfast and comfort foods, while gazing over the beautiful rice terraces.

Be sure to try out the famous honey-cured liempo and tinocenturi, the restaurant's own take on a popular Filipino dish.
Other local restaurants include Native Village Inn, Sanafe Lodge, and Banaue Homestay.
If you're looking for something more upbeat, visit the Las Vegas Lodge and enjoy live music, scenic views, and great food.
Banaue Rice Terraces
Banaue is the entry point to the rice terraces of the Philippine Cordilleras. One cannot visit this highland without paying a visit to this UNESCO World Heritage site.

Recognized as the highest of its kind in the world, this popular destination boasts a beauty like no other.
The Banaue Rice Terraces are located on Luzon Island in the north of the Philippines, in an area known as Ifugao. At this attraction, you will find one of the most awe-inspiring mountain views.

These mountains are commonly referred to by the locals as the "8th Wonder of the World".
The rice terraces found on these mountains were built over 2000 years ago by the Ifugao people. Given Banaue's rugged terrain, the people of Ifugao had to find a way to grow rice despite the landslides and erosion in the area.
To this day, they use the same ancient irrigation systems. The rice terraces continue to serve as a symbol of their skills, hard work, and heritage, dating back thousands of years.
Visiting the Banaue Rice Terraces requires quite a bit of walking, however, the refreshment it provides for the soul makes the effort well worthwhile.

One of the best places to view the lush terrain is from Sunrise Viewpoint. From here, enjoy a panoramic view of the rice terraces' endless beauty.
It is also possible to trek along the many pathways and across the rice paddies. Their banks are scattered with scarlet flowers which contrast beautifully against the verdant rice plantings.
Batad Rice Terraces
Batad is home to the breathtaking amphitheater rice terraces. Like the Banaue Rice Terraces, this beautiful mountain landscape is a recognized UNESCO World Heritage site.
Unlike the Banaue town proper, Batad is a secluded paradise, tucked away fom modern civilization. In Batad, you are surrounded by nothing but nature's beauty.

For those who truly wish to unplug and disconnect, a visit to this region is a must.
What's most admirable about Batad is that it has managed to uphold its rich culture and heritage. The hidden gem remains untouched despite more and more people discovering its beauty.
As with the Banaue Rice Terraces, visiting Batad requires a bit of walking. For a truly memorable view, trek to the Awa View Deck.

Here you will be provided with an unobstructed birds-eye view of the lush mountains and semi-circular rice terraces.
Note that to get to this spot, you will have to endure some steep ascents and descents on an hour-long trek.
More Activities Near Batad & Banaue Rice Terraces
While the Batad and Banaue Rice Terraces may be the sole reason for your visit, these emerald highlands have a lot more to offer.

From rigorous hikes to cultural excursions, there is so much to do and see.
Discussed below are some of the best activities in and around Banaue and Batad.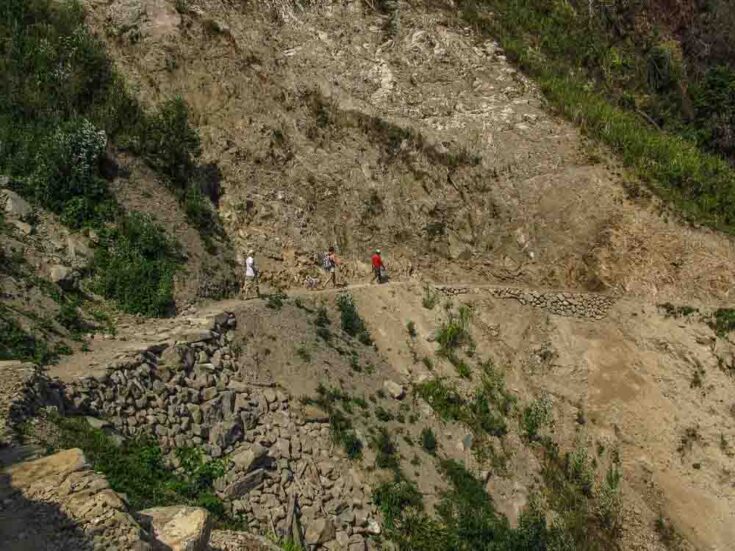 Hike to Tappiya Falls
Not far from Batad, among the Philippine rice terraces in the valley of Cordillera mountain, is the mesmerizing Tappiya Waterfall.

While the waterfall is not the easiest to reach, it is definitely worth it.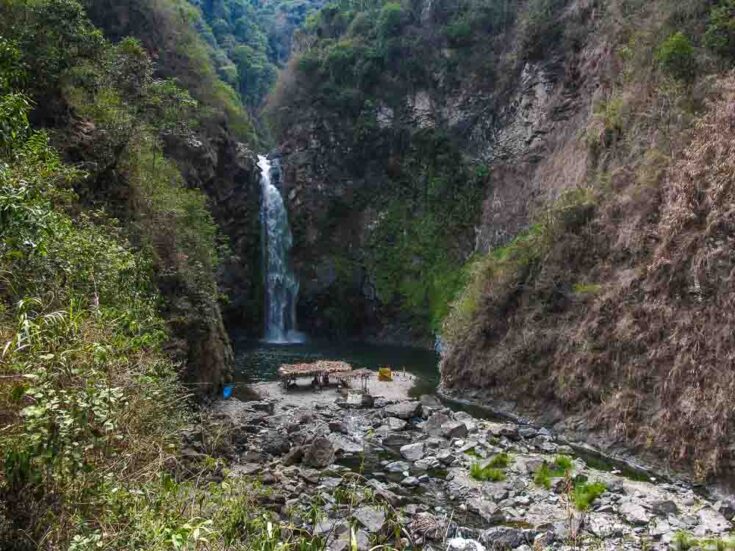 The hike towards the waterfall is physically demanding as it follows an uneven, dizzying pathway through the rice terraces.

Note that the trail is quite muddy so carrying a walking stick is advised. The final bit of the hike involves a steep descent down the mountain towards the waterfall.
Following this rigorous 1-hour trek, you're met with a beautiful, large cascading waterfall. Here you can relax, marvel over the waterfall's beauty, and take a refreshing dip in its cool waters.

Overall, this trail provides a unique way to experience Batad Rice Terraces.
Enjoy the Bogya Hot Spring
As with Tappiya Waterfall, reaching this relaxing spot requires a fairly lengthy trek. On your journey, walk up and down uneven steps, and pass through narrow rice terraces.

After an hour of walking (and over 200 steps), you'll find yourself at one of the most relaxing spots in Banaue – Bogya Hot Springs.
This little gem is a popular destination among locals and tourists alike. Situated along the Hapao River, Bogya Hot Springs offers a healthful sulfur bath, with water temperatures of around 40ºC.

At this peaceful hideaway, soak away your worries while taking in the beauty of the lush surroundings.
Visit Tam-An Village
Take your cultural excursion a step higher by immersing yourself in the local culture and history.
Visit Tam-An, one of Ifugao's most visited traditional villages.
This popular tourist spot provides a glimpse of the typical life of the locals. You will find their native huts, surrounded by beautiful rice terraces.
It is best to visit this native village while it's still being preserved by the people.

Various factors including economic challenges continue to threaten the community's sustainability, damaging Tam-An's rich heritage.
Pro tip: To break the ice with the locals, consider bringing along a polaroid camera.

You'll be surprised by how much joy a small photo might bring, sometimes leaving the biggest smile on their face. Honestly, there is no better feeling.
More Philippine Rice Terraces
While the Banaue and Batad rice terraces may be the most notorious in the northern Luzon region, there are several more notable ones. These include:
Bangaan Rice Terraces – backdrops a typical Ifugao village and features some challenging trails
Hapao Rice Terraces – located in the municipality of Hungduan, these rice terraces are the longest but easiest to trek due to their gentle slopes
Mayoyao Rice Terraces – grows a rare type of rice known as 'tinawon', a unique grain harvested once a year
Kiangan Rice Terraces – has two rows of ascending rice terraces bisected by a river
Each of these clusters is a recognized UNESCO Heritage site and is definitely worth visiting if you have the time.
Batad & Banaue Rice Fields, Philippines – Final Thoughts
For many travelers, there is nothing more wholesome than discovering an untouched landscape, nestled away from the bustling cities.

Tucked away in the mountains of North Luzon is a destination that offers a unique escape from reality.

The Batad and Banaue Rice Terraces offer an off-the-beaten-path adventure – one that you will never forget.
In addition to visiting the rice terraces are several other activities, both relaxing and exciting.

Whether you're soaking away at the Bogya Hot Spring or hiking to Awa View Deck, you're sure to have a great time – surrounded by nature.

So if you're planning a trip to the Philippines, be sure to include Batad and Banaue on your itinerary.
For another fun outdoor adventure, check out this Tumpak Sewu Waterfall travel guide – a must-visit destination in Indonesia.