Situated in the north of the country, Chobe National Park is Botswana's most visited wildlife sanctuary.
The name comes from the Chobe River which forms a natural boundary between Botswana and the Caprivi Strip in Namibia.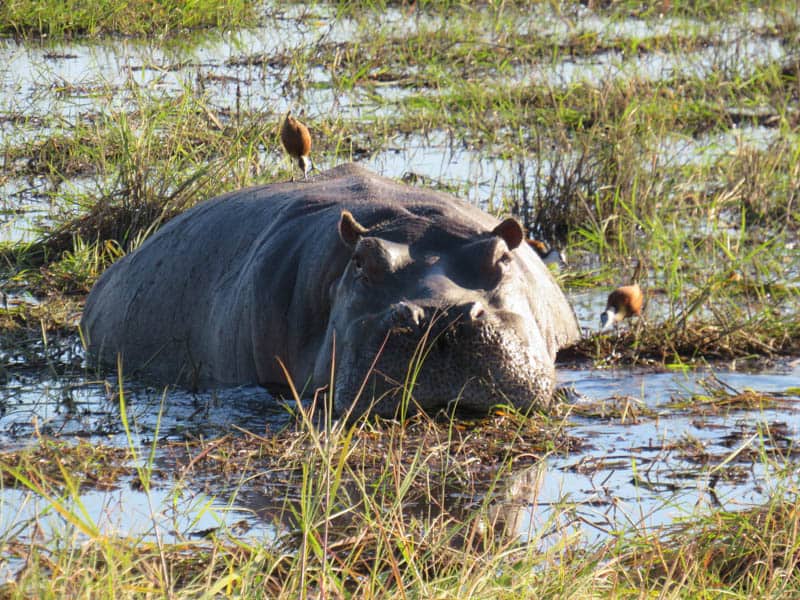 The river is the lifeblood of the park, providing a year-round supply of water to the park's thriving population of animals and birds.
The lush grasslands, fertile floodplains, and thick woodlands combine to create a habitat that shelters one of the densest concentrations of game on the African continent.
History of Chobe National Park.
Chobe National Park is Botswana's third-largest national park, spread over an area of about 11,700 square kilometres.
This classic game country which is now a protected area was originally inhabited by the hunter-gatherer San Bushmen.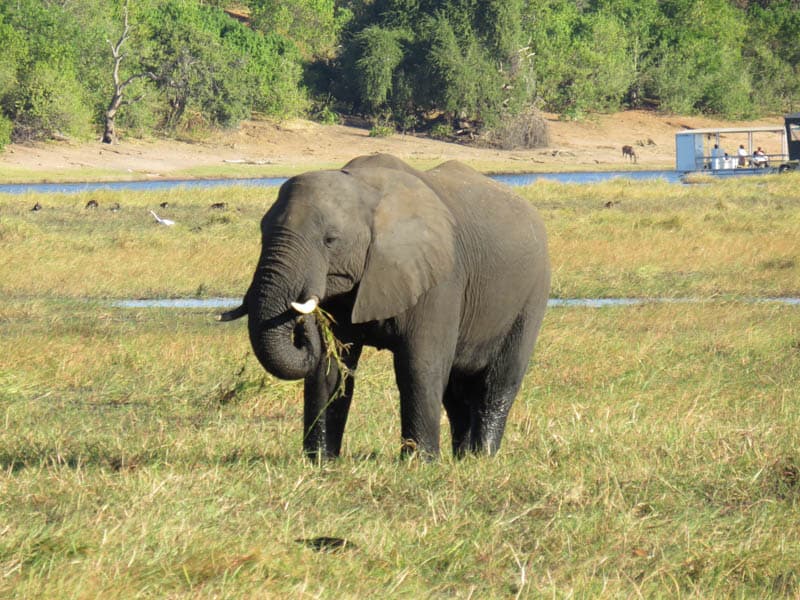 Ancient rock paintings made by this nomadic tribe still dot the park. Chobe Game Reserve was established in 1960 to promote tourism and protect wildlife.
Chobe became Botswana's first national park in 1967 and is the country's third-largest game reserve.
Geography.
The diverse ecosystems of Chobe National Park support its dense wildlife population.
The Chobe River is without doubt one of the most beautiful in Africa, with brilliant blue waters contrasting dramatically against a lush green riverfront.
There are four separate geographical regions in Chobe, including the riverfront, Linyanti, Savuti, and Ngwezumba pans.
Best Time to Visit Chobe National Park in Botswana.
The park is open throughout the year and offers sensational game viewing in every season.
However, the best time to visit Chobe National Park in the dry season between June and August when the parched land drives the wildlife to the banks of the river, which creates excellent opportunities for game viewing.
The days are warm and sunny, but the nights can get chilly.
Another good option is the shoulder season of April and May when the weather is pleasantly cool, and there are fewer crowds.
If you can tolerate hot temperatures of up to 40 Centigrade (100+ Fahrenheit), big game spotting can be exceptional in September and October. November brings unpredictable weather to northern Botswana.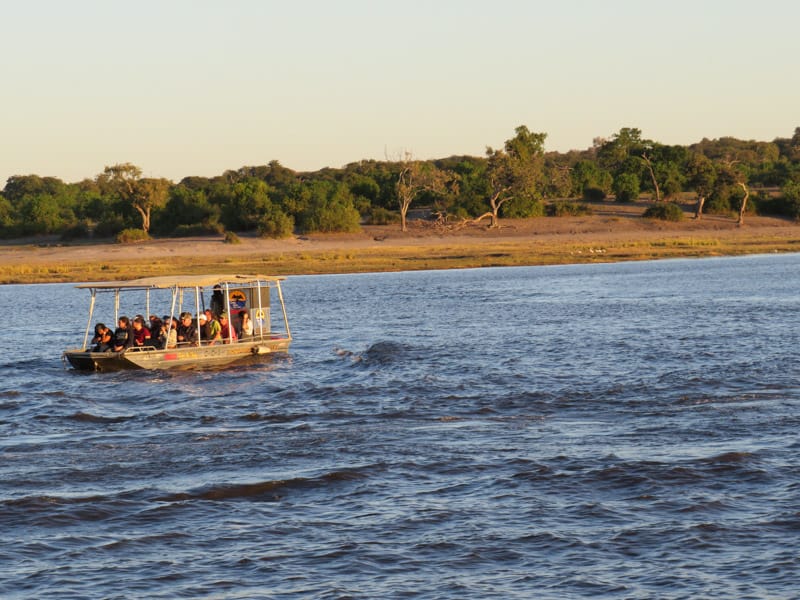 The "green" season between December and March sees rain and thunderstorms, which can spoil safari plans but may be a great time to spot birdlife.
How to Visit Chobe National Park.
Botswana is connected by air to major cities in South Africa, Zambia, and Zimbabwe.
The nearest airport to Chobe National Park is Kasane (airport code BBK), which is a small but surprisingly busy international airport.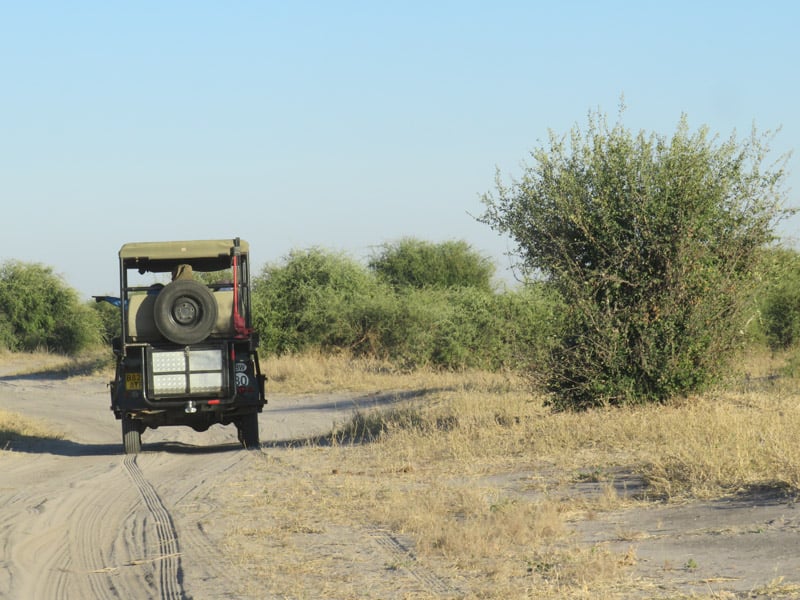 There are scheduled services by Air Botswana between the capital Gaborone and Kasane. Or, you can fly from Johannesburg to Kasane on SA Airlink.
By road, Chobe is only a 90-minute drive from Victoria Falls and are a popular destination that every hostel can arrange a budget-friendly trip., Zimbabwe (airport code VFA).
It is also accessible by road from Livingstone, Zambia (airport code LVI).
If you didn´t get enough of safaris in Chobe National park, can you go on safaris not with jeeps but with small wooden canoes in Okavango Delta as well.
What to Do in Chobe National Park.
On top of the list is game viewing, which is the number one activity for visitors to Chobe National Park.
Besides the conventional jeep safari also known as game drives, which can be organised by your lodge or a private tour operator, a great way to see Chobe's wildlife is on a river cruise.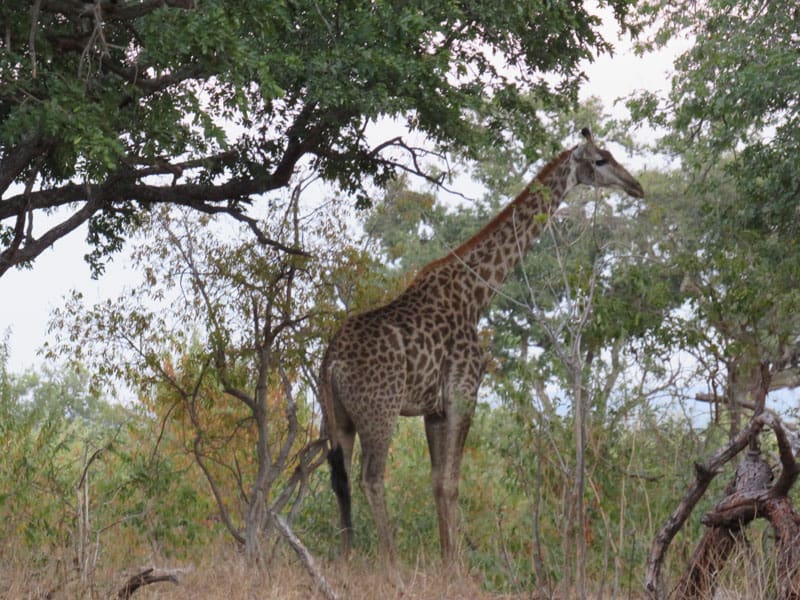 The specially designed boats allow you to observe animals as they come to the water's edge to drink.
It is also possible to go on a walking safari for a more intimate encounter with the African bush.
Chobe Wildlife and Birds.
Chobe is famous all over the world for its massive herds of elephants, sometimes numbering in the hundreds.
There are an estimated 150,000 of these majestic creatures that call the park their home.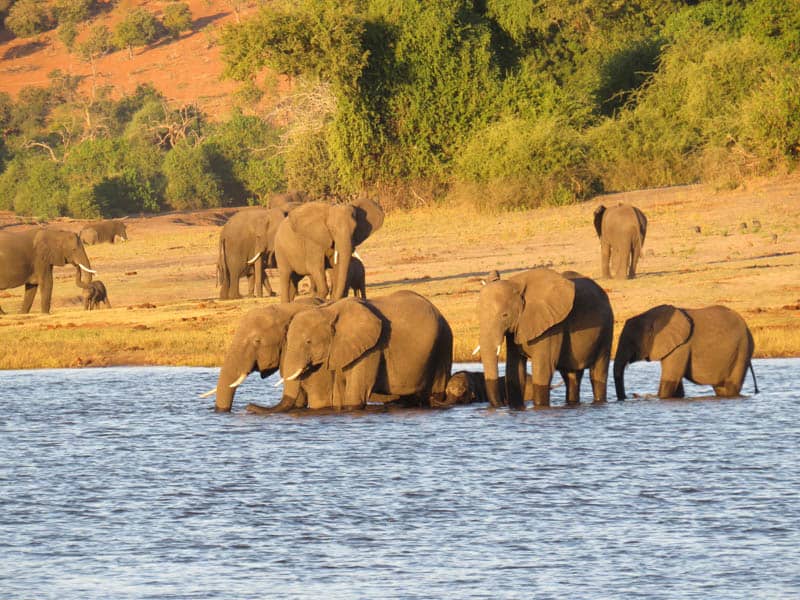 Chobe National Park also has a healthy population of lions, making a thrilling big cat encounter quite possible.
For the best chance of spotting lions, head to the relatively remote region of Savuti where the predators roam the vast landscape.
All the Big Five can be spotted here, although rhinos are more easily seen in neighbouring Namibia's Etosha National Park.
Other animals that you may see include antelope, leopard, cheetah, red lechwe and the African wild dog.
Chobe is also a popular destination for bird enthusiasts with more than 450 species recorded in the park, including vultures, eagles, and raptors.
You might spot Africa's largest flying bird, the kori bustard, or the helmeted guineafowl locally known as the Chobe chicken.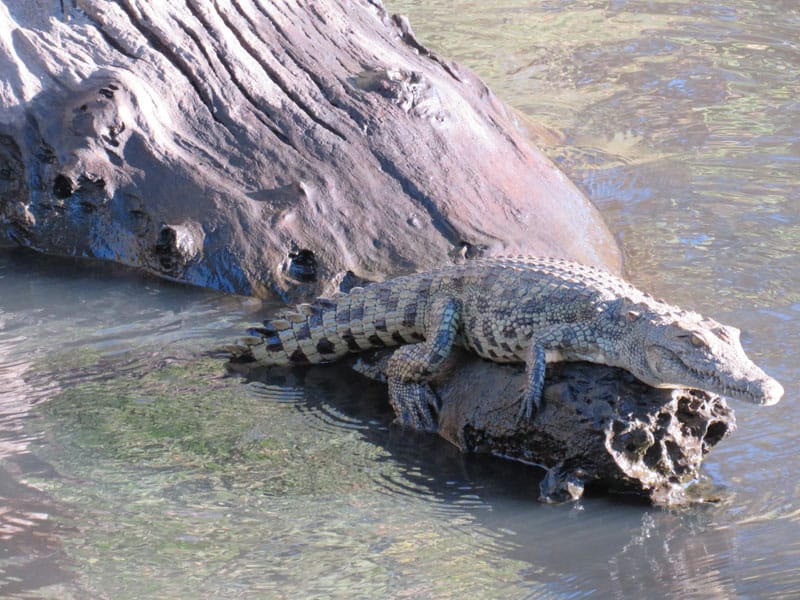 I recommend joining a guided safari in Chobe National Park. There are many 4×4 tracks in the park with a high concentration of animals.
You are not allowed to leave these track roads. Visitors with little to no experience can very quickly get themselves into tricky situations.
Knowledgeable rangers and safari guides can make your Chobe experience more rewarding by providing fascinating information about the park's flora and fauna.
However, those on a budget can opt for a self-drive safari which, of course, has the advantage of greater freedom to decide your itinerary.
Where to Enter Chobe National Park.
You can enter Chobe National Park from different gates.
The main entrance is at Sedudu Gate in the park's northeastern region near the town of Kasane.
The Ngoma Gate is near the Namibian border and is used by people coming from that direction.
A southern entrance to the park is at the Mababe Gate, is near the Savuti region and is located on the road that connects Chobe to the Moremi Game Reserve.
Where to Stay in Chobe National Park.
There are many tented camps and private lodges in Chobe National Park.
The lodges on concession areas are off-limits to the public.
There are no fences in Chobe, and the animals are free to move around, so it is not uncommon to have wildlife all around you when you're staying at these properties.
It is also possible to stay at lodges located on the outskirts of the park. Chobe prides itself on eco-tourism and the conservation of the natural environment.
You can choose a luxury lodge on the banks of the Chobe River or more rustic accommodation at a private tented camp.
For a truly unique experience, book a houseboat on the Zambezi or Chobe River for a temporary floating home with a ringside view of all the action.
Public campgrounds offer showers, toilets, and water, but you'll need to carry drinking water, food, and firewood.
These campsites are very popular, so early bookings are advisable.
The Ihaha Campsite on the Chobe Riverfront is particularly scenic and overlooks a hippo pool.
Four hours from Kasane is the Savuti Campsite, and about 40 km from Savuti is the Linyanti Campsite overlooking the marsh.
Chobe National Park is an unforgettable experience for wildlife enthusiasts.
You can easily spend a few days here and enjoy an authentic and action-packed African safari holiday.
Like It? Share It! Pin It!