In October 2017, was I lucky to be granted a 10-day tourist visa to Syria, almost two years before every other "traveller decided to travel to Syria".
Friends and family told me I had to be insane and that I must have a death wish to want to visit Syria in 2017. Everyone knows there is a brutal war raging in the country that is heading into its 7th year now.
The people I told about my plans were all saying the chance of entering Syria was around zero and, if I did manage to enter, I would most likely end up getting killed or kidnapped.
So when I finally managed to secure a tourist visa to Syria, I booked the first flight possible to Beirut, the capital of Lebanon, since there are currently no easy flight connections to Damascus and Syria.
It´s now really easy to visit Syria, click here to read about travel guide about how to get the visa in less 48hours.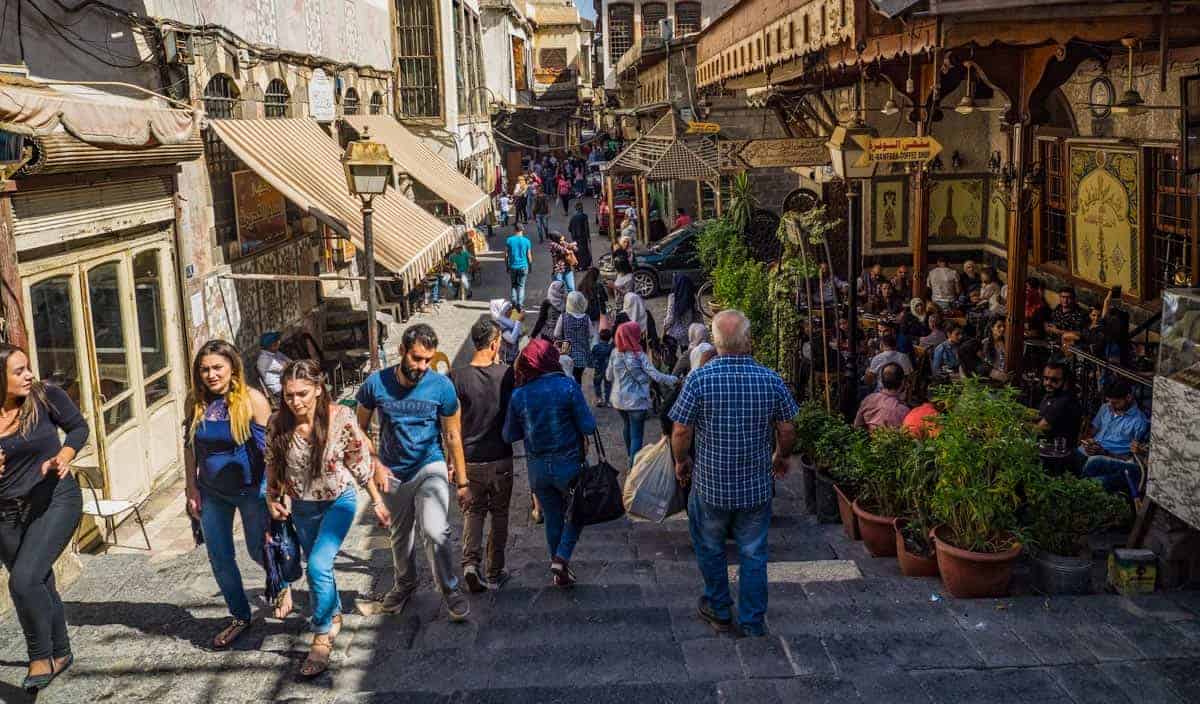 Over the 10 days, I travelled around Syria, I visited Damascus – Aleppo (Read About my visit to Aleppo by clicking here) – Homs with the countryside around it, and the Mediterranean coast before I went back to Lebanon for my flight back home to Europe.
I went to Syria with an open mind and with no political intentions at all.
How´s Damascus these days, after the war
To obtain a visa for Syria these days, you will have to get a recommendation from someone with contacts inside the country, fill out some paperwork, wait for around 9 – 10 weeks to get an answer, and pray that you will get accepted.
Most people don´t even receive an answer.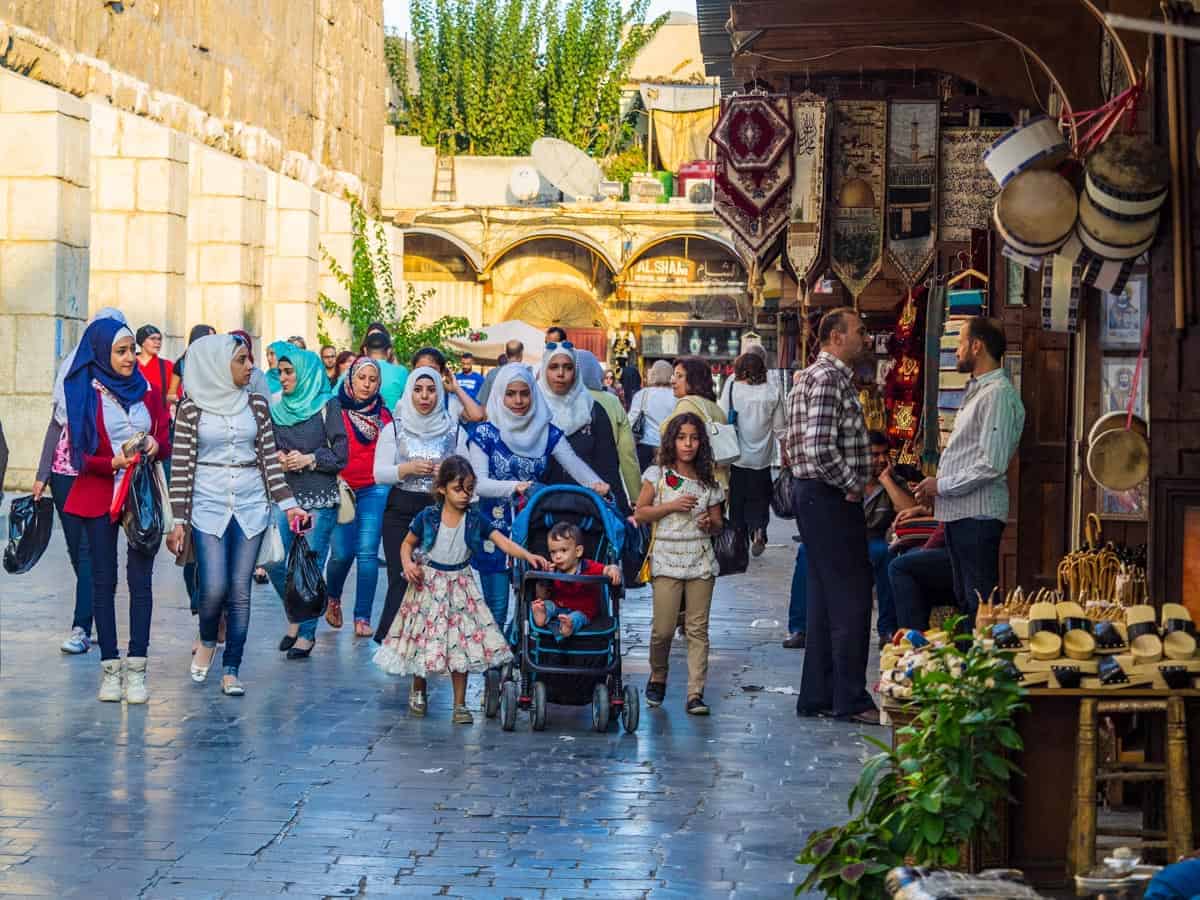 I left my hotel in Beirut in the afternoon with a shared taxi heading for Damascus and I would be lying if said I wasn't excited about my trip into Syria.
The trip between the two capitals is no more than 120KM /75Miles, a journey that used to take only around 2 hours to travel between before the war, including immigration procedures.
With the circumstances these days I would be happy if I could just make it across the border and into Syria at all.
Leaving Beirut proved to be the most time-consuming on my whole trip to Damascus since I got stuck in the notorious Beirut traffic jam when leaving the city centre.
When entering the immigration office on the Lebanese side of the border I noticed early on that myself and the 5 other westerners I was travelling with was not the only foreigners crossing the border.
There were another 9 Europeans together with the tens of locals exiting Lebanon at the same time as me (the border is open 24/7). Exiting and get stamped out of Lebanon only took a few minutes.
Here´s a short video from my trip to Syria, filmed with GoPro.
The first thing I noticed when entering the Syrian side of the border is how organized and calm everything was. People are lined up in queues.
There are no soldiers around and only a few welcoming border guards. To make a long story short, the Immigration on the Syrian side took only around 20 minutes before I was stamped into the country and ready to go.
I entered Syria just in time to hear the 7 PM call to prayer from the Mosques in the distance.
When leaving the border to head towards Damascus there are a few military checkpoints to go through.
None of them was any problem at all and every single soldier greeted me and my friends with a big smile, a handshake, and a "Welcome to Syria My Friend."
The first thing to notice when arriving in Damascus is all the street life going on; young couples holding hands in the streets, shops open everywhere, shawarma stalls next to tea and coffee stalls and, in general, the streets are full of people like in any other country.
There are no signs of war going on except the few relaxed soldiers sitting on a street corner.
I only went for a fast dinner and a few beers in a traditional restaurant full of people before heading to bed.
I wanted to be fully rested and up early to explore the streets of Damascus the next morning.
After waking up early to walk around of the oldest cities in the world, I left my hotel in the old city and you quickly notice the smell of fresh bread.
The milkman is on his bike delivering milk around the old narrow streets and the fruit and vegetable stalls are full of fresh fruit and vegetables.
Established between 10,000 to 8,000 BC, Damascus is credited with being the oldest continuously inhabited city in the world.
Things To do in Damascus
When walking around the old city, you start to wonder if there is even a war going on. There´s absolutely no damage here. All shops are open and the streets are bustling with life.
There are a few military checkpoints here and there but you don´t really notice them.
Even here the soldiers are happy to see tourists. Shopkeepers are overwhelmed with happiness when they see that tourists are back in town.
You are completely free to travel around Damascus on your own. You can take photos of everything you want except for military checkpoints and government buildings.
It´s very easy to forget that you're in a country that ravaged by war when visiting Damascus but then you suddenly hear rocket hitting the terrorist-infested Jobar district only two km away in a straight line from where I'm staying and enjoying life.
Between 10 – 30 rockets, I could hear a day.
Just like before the war, there is plenty to see in Old Damascus – The Umayyad Mosque, the 4th holiest place in Islam, take a walk around The Souq al-Hamidiyya (old market), visit The Damascus Citadel or just get lost in the narrow streets filled with a century after century with history.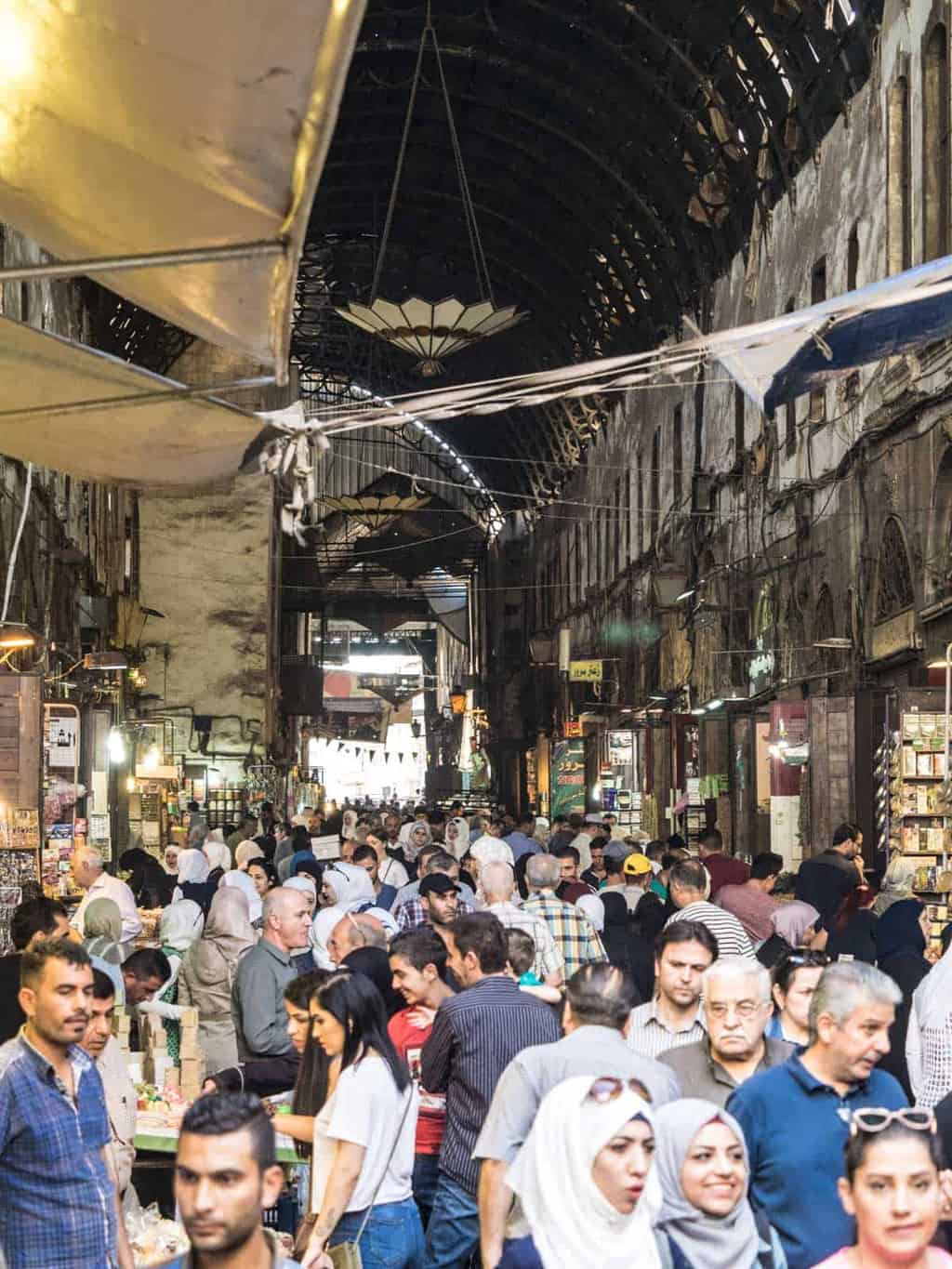 If you get tired of walking around the streets, just walk into an art gallery to have a look at modern art in Syria, relax in a local Hooka cafe while looking at bustling street life or listen to a local storyteller. Everything here is just like it was before 2011.
But like before 2011, so is the Old Town of Damascus the place you to stay to explore.
The only real reason to head into to a modern part of Damascus is if you need to do some proper shopping at a western-style shopping mall or to visit a supermarket just as well-stocked as any supermarket back in Europe or America. Everything is available here.
Overall, Damascus is so completely opposite of what the media has been telling us for the last 7 years. So I wonder if the journalists have actually ever been here themselves.
Christian churches are located right next to Mosques. Both are filled with people. Even the Jewish Synagogue in the Old City of Damascus is still open.
You will see Christian weddings around the city and Priests walking around in public. And in general, are Damascus residents enjoying life.
In the afternoon, the bars and pubs are filled with locals that enjoy a few beers and drinks together with watching European football on big screens.
And all of them are welcoming to you as a tourist. I went out drinking with the locals to 2 am before walking back to my hotel on my own.
I was lucky enough to walk around and explore Damascus for 3 full days. Never did I experience any hostile or unfriendly people.
Everyone was so happy to see that tourists are back in town.
Visiting Damascus in 2017 as a tourist feels just like being home in Norway or walking around Barcelona or any big western city. Damascus is very safe and ready to welcome tourists back.
Click here! to read about my visit to the world´s most impressive castle, KRAK DES CHEVALIERS & THE VALLEY OF CHRISTIANS.