It's not popular, but Esfahan is a beautiful city.
Located in Iran, Esfahan is the unknown pearl of the Middle East and the most beautiful city in the world.
For everyone going to Iran, Esfahan is a certain stop, and it's one of the places that you will remember for a long time.
Forget Paris, Esfahan is the most beautiful city in the world.
The Persians called it "Nesf-e-Jahan", meaning "Half World". From 1592 to 1722, Esfahan was the capital of Persia.
Esfahan got so much to offer so you can easily spend a week if not more there.
The city covered with beautiful hand-painted tiling and the magnificent public square.
This mosque in Esfahan is dating back to 1629. It is regarded as one of the masterpieces of Persian architecture and an excellent example of Islamic era architecture of Iran. The Shah Mosque of Isfahan is one of the everlasting masterpieces of architecture in Iran and become one of the UNESCO World Heritage Site.

Construction of the mosque started in 1603 and finished in 1619. The mosque is an architectural masterpiece from the Safavid era. This mosque also considered being the most beautiful in Iran.
On the backside of the square is one of the biggest bazaars not only in Esfahan but in the middle east. I got lost there a few times but found one of the coolest small restaurants I have ever been to.

I got stuck in this tiny restaurants for hours, where every local wanted to buy me a cup of tea and to discuss everything from who´s the best player between Messi and Ronaldo. It's the meaning of life in the west view on Iran.
The bridge dates back to 1602, and become a popular hangout place for local people. There is a big park on the south side of the bridge, -a great place to do watching people around or hide under a tree reading a book when it's getting too warm during the day. Some young locals will almost certainly come by and try to practice their English.
Esfahan is a perfect city to just walk around the small streets and alleys. They're interesting sights everywhere in Esfahan. Also, a big opportunity and chance that locals will treat you with some cups of tea. I'll recommend you to say yes! The locals in Iran is by far, some of the friendliest and welcoming people on earth.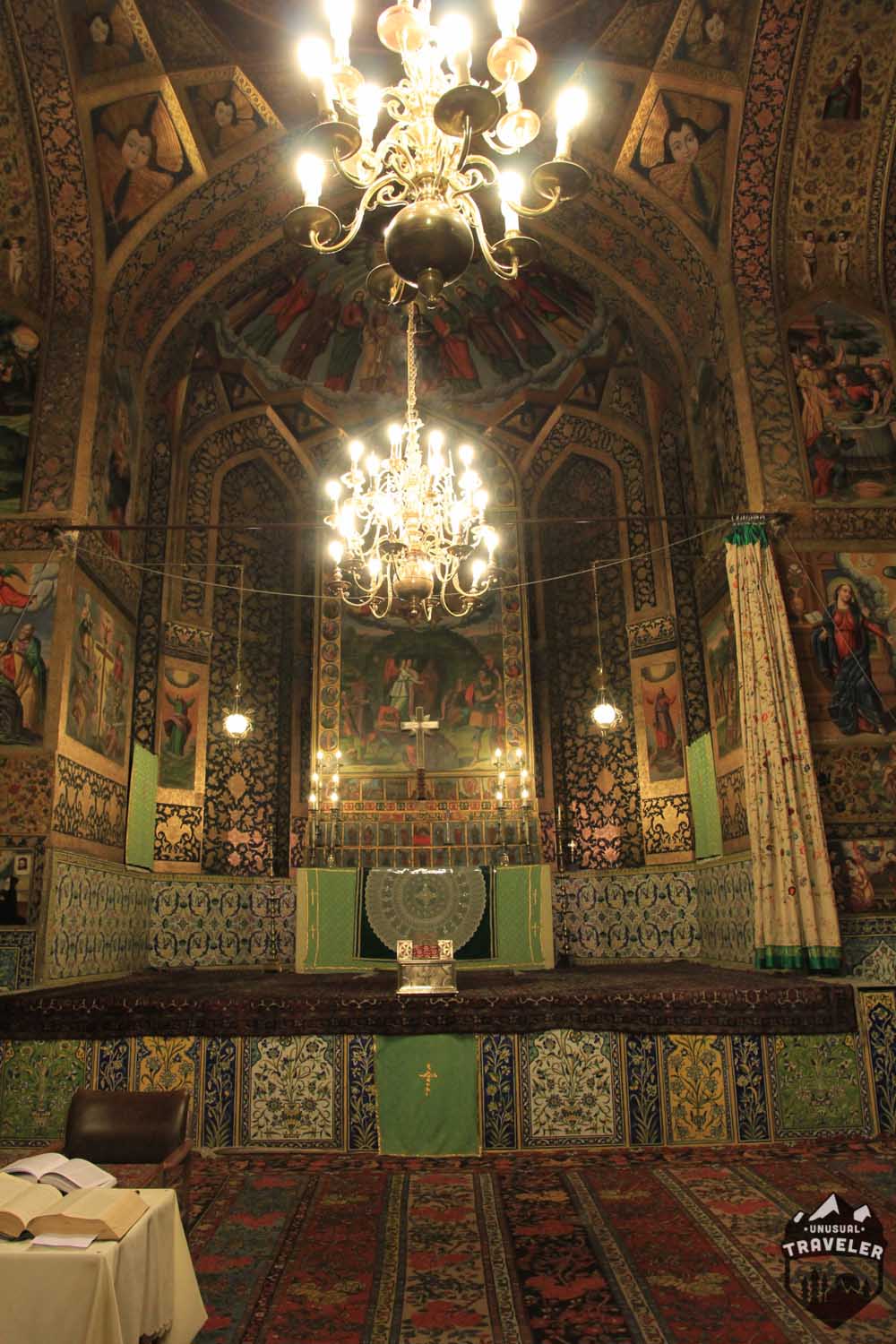 A good place to go for lunch is around the Christian part of the city; they're a few good coffee shops and restaurant there.
There's also an interesting Christian museum next to the Cathedral, which displayed historical artefacts which tell the story of Christians in Iran.

Additional info about Esfahan
Money/Price.
1usd – 29.592Rial in Bank Exchange.
1usd – 32.000Rial in Private Money Exchange.
Iran got very high inflation. So things are much cheaper for foreigners when exchanging USD/EURO to Rial then the locals when they pay with their local currency from their Salary.
1L Bottle of water – 5000 Rial
0.33L Coke/Pepsi – 15.000 Rial
A meal in a local restaurant – 70.000 – 100.000 Rial
A meal in a good restaurant – 270.000 Rial
Hamburger meal with fries and drink – 178.000 Rial
Coffee in a coffee chain – 50.000 Rial
Pack of Cigarettes (Marlboro) – 90.000 Rial
Beer local 0.5L can – NO alcohol in Iran… At least not legally.
Gasoline (1 litre) – 1000!!
There's no ATM in Iran (yet), but that changes fast now that the sanctions get lifted.
The only way to get money in Iran is to carry USD or Euro to exchange. If you don't want to carry a big amount of cash changes a big amount of the cash your carry with you, go to any Iran bank and get a PRE-PAID Iranian bank card.
These cards have no service fee and surcharge, and you get an exact amount of money you put in a card. Then you can withdraw money from any of the 10.000 ATMs around the country, and you can pay with your card in any shops and restaurants.
It takes less than 10min to get the card.
When changing money go to a Private Money Exchange, they are normally everywhere in the centre. The always got the daily exchange rate on display in the window.
They are CLOSED on Fridays!
Saftey.
Esfahan is completely safe for travellers and single female travellers, in fact, Esfahan it's safer than any of the big cities in Europe like London, Berlin, Oslo etc. Even after dark Esfahan is 100% safe.
Accommodation.
Amir Kabir Hotel.
Sleep on the floor: IRR200,000; Dorm bed: IRR250,000; Single: IRR400,000 Double: US$20. Wifi
The by far most popular place for foreign backpackers to stay, the place in not really clean, but got a small garden where its good to hang out when it's getting too warm to walk around.
Every taxi driver knows this place.
Mihan Hostel.
Same prices as Amir Kabir, but a lot cleaner and very close to Naqsh-e Jahan Square.
Like it? Share it! Pin it!