Iran is an incredible country to explore; it´s one of the most diverse countries in the world, with the size of Spain, France, and Germany combined.
Iran has one of the richest histories in the world, fantastic food & architecture, and tons of natural wonders, most of which are unknown to the outside world.
But Iran often gets a bad time by western media and politicians, but in fact, Iran is one of the safest countries in the world for tourists, and the well-educated population of more than 80 million is considered to be the friendliest and most welcoming people in the world as a whole.
Iran offers everything from the rugged landscape to the fascinating culture; it's quite unlike any other country in the world.
However, this means that it's certainly a country that you need to know a bit more about before booking your ticket.
From visas to money issues and cultural differences, there are so many important things to know before travelling to Iran.
This shouldn't stop you from visiting the beautiful country, though, as a quick read of this comprehensive guide will provide all the essential things that you need to know.
Things You Should Know Before Traveling To Iran.
Visas for Iran
Iran's visa process is surprisingly not as complicated as you might expect.
With the introduction of visas on arrival a few years back, the whole visa process for Iran became much easier for most nationalities.
During my first visit, the visa was much more difficult; you would have to get an invitation and visit the embassy in person.
You can either apply for the visa on arrival beforehand online or simply fill out the paperwork at immigration at the airport.
Visas on arrival are available at international airports and are valid for 30 days for citizens of most countries.
However, those from the US, UK, Canada, Bangladesh, Jordan, Iraq, Afghanistan, Nepal, Jordan, Colombia, Somalia, and Sri Lanka, and Pakistan still need to apply for a visa at their appropriate consulate or embassy before arriving in the country.
Citizens from Israel are not allowed to visit Iran.
Visa fees vary for different nationalities, with most European nationals paying around €75 and a select few nationalities able to obtain a visa for free.
Having in Israeli stamp in your passport will get your Iranian visa application rejected instantly.
You can check this on the official Iranian immigration website.
It's also required to have travel insurance to enter Iran.
This needs to be an approved policy with Iran stated on the main policy summary.
If you don't present a valid insurance policy, you need to pay Iranian travel insurance at the airport, which costs around €14.
During my visit to Iran, so have I've been required to getting a local travel Insurance even if I already had international travel insurance beforehand.
You are also required to have proof of the first night of accommodation in Iran.
Those from the US, UK and Canada are only allowed to enter Iran as part of an approved tour.
Tour companies will then organise the visas and necessary documents for you.
Unfortunately, this eliminates any freedom of movement when travelling, and you need to be accompanied by a guide once in-country.
If you plan on crossing into Iran overland from either Pakistan, Afghanistan, Armenia, Turkey, Azerbaijan, Turkmenistan or Iraq, you need to have a visa for Iran already in your passport from an embassy or consulate.
Visas on arrival are only valid at the international airports in Iran.
The visa on arrival is not stamped into your passport; instead, you will just receive a small piece of paper that you will need to keep.
E-Visa for Iran.

While a visa on arrival is possible at International airports, so it highly recommended applying for an E-Visa in advance, this will save you a lot of time at the airport.
Since 2017 it´s been possible to apply for the Iranian Evisa at the Ministry of Foreign Affairs (MFA)
However, the success rate for applying for the Iranian E-visa themself through the government page is extremely low, so should you instead let a local travel agency in Iran apply for you.
A local travel agency I have used and highly recommend is 1STQUEST, which charges from 19Euro.
When approved will you receive a code, which normally takes 2-3 days.
Bring the email with the code and a hotel booking for your first night in Iran with you to the airport and collect your visa.
Revisiting Iran?
Iran is one of my favourite countries in the world, and a country I've visited a few times already.
But on my last trip to Iran did I have big problems obtaining a visa. The reason?
I've been staying with local friends and Couchsurfing (which is officially not allowed in Iran), and because this so where they no registration on me where I had been staying during my visit to Iran.
Hotel´s and Guesthouses in Iran are required by law to register foreign visitors when they are staying there (this is also required for hotels in both China and India by local laws there as well)
So the government to keep track of where you go and stay in Iran.
Money in Iran
Organising and handling your money in Iran is not the easiest, and it requires a fair bit of planning.
The first important thing to know is that international cards do not work in Iran, so it´s impossible to use your VISA, Mastercard, American express, etc., in Iran.
This means that you need to bring all the money that you will need in cash and then exchange it once you've arrived.
The Iranian rial is the official currency of Iran.
It's difficult to find the official exchange rate online as it changes regularly thanks to the sanctions and economic volatility.
However, once you've arrived, you will find a better rate at a local exchange shop instead of the official government-controlled banks.
Another tip about money in Iran is to understand what tomans are.
Rials tend to have a lot of zeros, so Iranians often shorten prices to tomans, which is basically just dropping a zero from the price.
For example, 100, 000 rial will be quoted as 10, 000 toman, and sometimes people will even just say 10.
It can be confusing at first, but you soon get the hang of it once you're there.
It's important to confirm the price before purchasing, as locals know that tomans and rial can be confusing and may try to quote you the wrong price.
If you are planning to stay for a while in Iran, can I recommend you to get a local Iranian debit card when in the country, just go to one of the biggest banks and open a bank account, then deposit some of the Iranian Rial you have exchanged into your new bank account.
The local bank card can be used in pretty much every store or business just like in any other country in the world, before leaving the country, just head to a bank and withdraw the rest of the money on your bank account.
Be aware that you should bring either a guide or a local friend to the bank so they can do the speaking.
If you arrive during the daytime at Imam Khomeini International Airport in Tehran, so can you head to the Melli Bank there, which have English speaking staff and open your bank card and get your debit card there.
Get A Mah Card.
As mention, if the previous section so do I highly recommend you to get a local debit/bank card if you are planning to stay for a while in Iran, while this sometimes can be difficult, depending on the staff in the bank and how well they speak English,
So is Mah Card an option where you can get a pre-paid Iranian debit card.
You sign up before your trip to Iran, then someone of the staff from Mah Card will come to your hotel and deliver your bank card directly to you. All this for 19 Euro.
When they deliver your Mah bank card, can you load it up with either Iranian Rial, USD and Euros.
Later if you need to add money to your Mah bank card can you go to any branch of "Ayandeh Bank" in Iran and deposit more money into your bank card, they also offer bank transfer from your International bank account, but this will add a hefty 7% transfer fee.
While it´s cheaper to go to the bank yourself in Iran and open a bank account when you are in the country, so will getting a Mah Card, save you A LOT of time, hassle, and frustration.
Budget travel in Iran
In general, Iran is a very budget-friendly country to visit. Sadly, due to the economic situation at the hands of the sanctions, prices are very low for people visiting from outside.
Iran might actually be the cheapest country in the world for western travellers due to recent devaluations and sanctions.
In Tehran, you can stay in a 5-star hotel for only 40 Euro. In Shiraz, you can stay at a 5-star hotel for only 20 Euro a night.
If you're traveling on a tight budget, then you can expect to live on around US$20 per day, including a hostel dorm bed, three meals, and public transport.
You can still live comfortably on US$50 per day if you want to spend a bit more on a private room and VIP buses.
Safety in Iran
Safety is usually most people's primary concern when visiting Iran.
However, Iran is an incredibly safe place to visit, for the most part, it´s one of the safest countries in the world to visit for foreign tourists.
It's important to remember that the Iran that you often see in the media is not exactly the Iran that you get to experience when you're actually in the country.
Iranians are extremely friendly, welcoming and helpful, and many will go out of their way to help you or simply have a chat.
Female travellers are also treated with the same hospitality and respect, and even when travelling solo, you can expect to feel completely safe for most of the time.
Crime is very low in Iran and even lower when involving tourists. It´s almost non-existing, but not unheard of.
However, you should still be careful in bazaars and large crowded areas where pickpocketing may be a threat.
However, in general, this is largely unheard of.
But if something does happen to you, so do all the larger cities have special tourist police which speaks very fluent English and is eager to help you.
The biggest danger in Iran is the traffic which is completely crazy.
Crossing the streets in Iran can be a nightmare, think Dhaka, Hanoi etc., just 10 times worse.
The only safety issue that you should be aware of in the country is behaviour around the military and military installations, Mosques or any government officials.
There are a large government and law enforcement presence in the country, and you should avoid taking photos or hanging around any military areas or government buildings.
It's also important to stay away from any protests or political gatherings of any sort to be safe.
How To Dress In Iran
The dress code in the country is something that always attracts some intrigue by foreign travellers.
However, once you arrive in the country, it's not so difficult to get used to it.
Men are expected to wear long pants at all times in public but can get away with short sleeves. Wearing shorts and tank tops are not allowed in public.
Women, on the other hand, need to have most of their skin covered when out in public.
Long pants and skirts and long-sleeved tops are ideal items to wear.
Headscarves are also compulsory at all times also by foreigners visitors. You will see many young Iranians wearing their headscarf quite loosely over their head with hair showing.
It's up to you how tightly you wear it, but Iranians are generally pretty understanding of foreigners, and they will soon correct you if you're doing something wrong.
It's best to have a scarf in your carry-on luggage when flying to Iran as you will need to put it on as soon as you land in the country.
When entering into mosques, an abaya is required to be worn by women.
There are usually some available to borrow at the entrance.
There´s a special Morality Police in Iran wich job is to check that both men and woman dress according to the law in public.
Sightseeing in Iran
For many travellers, the four most popular cities to visit are Tehran, Shiraz, Esfahan and Yazd.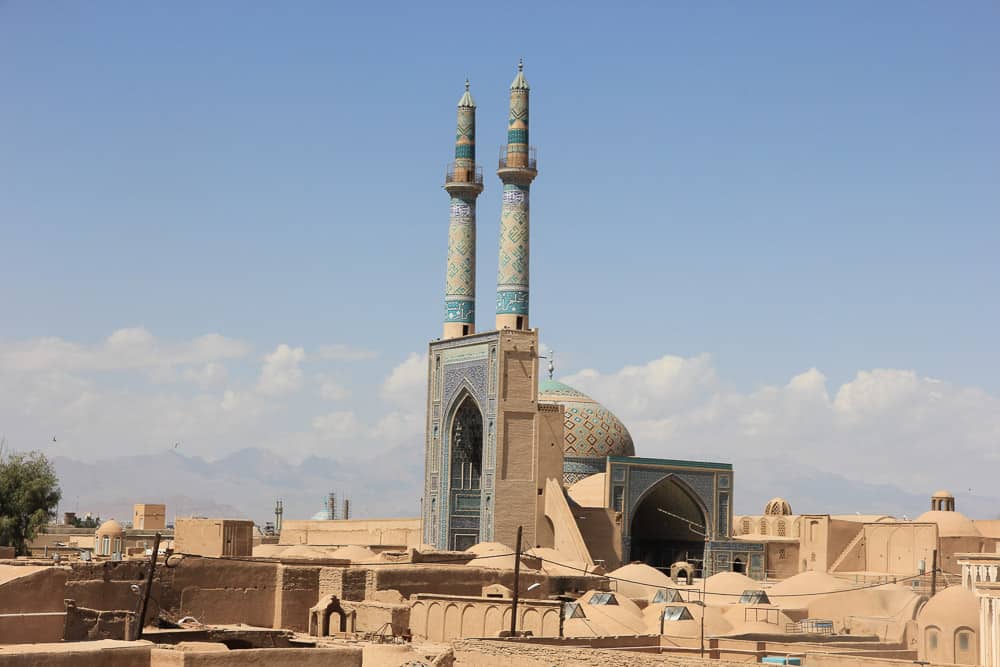 These places often dominate any travel itinerary as they are home to most of Iran's most recognisable sights and attractions.
If you have limited time, then you can easily take in these four cities within a week or 10 days.
However, there are plenty of places to visit in Iran outside of these popular cities.
You can consider going to the Lut Desert, Mashhad, Qeshm Island, Tabriz, Kandovan or Rasht for something a little more off the beaten path.
It's important to remember that tourism is still a growing industry in the country, so if you decide to head to one of these lesser-known spots, there will be limited infrastructure catering for tourists, but I've never met an unfriendly and unhelpful Iranian, so it´s never really a problem getting to an off the beaten path destination as long as you are patient.
During my trips to Iran, so have I hitchhiked with the police and the officer even invited me to his home for dinner and got a lift with a local Imam and gone on sightseeing with military officers.
Still, this is one of the real highlights of exploring outside of the city and is where you will find a real sense of adventure.
It's important to remember that prices for many of Iran's top attractions are on the rise, especially for UNESCO sites like Persepolis.
The prices are divided into local and foreigner prices, with the latter being much more expensive.
If you want to visit a lot of the sights, museums and palaces, then ticket prices can easily blowout the budget a little.
Transport in Iran
Iran is an easy country to travel around on the various transportation options; the country is far from a third world country when it comes to the infrastructure in the country, the subway in Tehran which opened in 1999 is one of the cleanest and most modern in the world.
The highways are European standards, and the local trains are miles better than the trains in even my home country, Norway.
Buses are the easiest and cheapest form of transport.
Long distant buses which run between towns and cities are quite comfortable with VIP options offering reclining seats and snack boxes.
The VIP busses in Iran might be the most comfortable in the world, with the best being similar to business class seats on flights.
As a foreigner, it's best to book a ticket directly at the bus stations.
Otherwise, you can get your accommodation provider or travel agent to book a ticket online for you.
Travelling within cities and towns is best done by using local taxis and ride-hailing apps, the local busses can often be difficult to use and very crowded.
Haggling with taxis can be tiring, especially with the significant language barrier, so it's recommended to download Snapp, Iran's own ride-hailing service.
It works very similar to Uber and is usually cheaper than official taxis.
However, be aware that Snapp vehicles can literally be anyone with a smartphone, so don't be startled if someone claims to be your driver because they don't all have proper signage on their vehicles.
You can get a private car with driver as cheap as 10 USD (plus fuel and food) for each 100 km / 62 miles.
If you're travelling in Tehran, the efficient metro system can also be convenient.
You can purchase one-time tokens for a very cheap price at the metro stations and is an easy way to navigate the huge city.
There are also female-only carriages on the metro system which are separated from the mixed carriages.
It's not essential that you use them if you're a female, but if you're travelling solo, then it can provide a sense of security.
Domestic flights can work out a relatively affordable way of travelling if you're short on time.
However, it's much easier if you get a local agent or accommodation provider to book a ticket for you, as the online booking platforms are usually in Persian and prices can be much higher.
You can pay around US$20-50 for a one-way domestic flight ticket.
Weather And Climate In Iran
The climate in Iran is one of the extremes.
The summers can be extremely hot all over the country, with some places in the south, can be off-limits due to soaring temperatures.
On the other hand, winters can be quite cold, with snow often falling in Tehran and in the mountains to the north. Wich is a very popular downhill skiing destination with high standards.
High season to visit Iran is from March until May.
This time period has the most pleasant weather; however, this means that prices are often higher at this time with a greater number of tourists travelling in the country.
An alternative time is to visit after summer, from September until November, when you will see far fewer tourists but still enjoy quite temperate weather.
During the summer months so are big parts of the country extremely hot, and business and guesthouses in some parts of the country close down.
My first visit here was in July, and visiting destinations like the Lut desert in the eastern part of the country was impossible, non of the local travel agencies and drivers I asked in Kerman to take me on a trip to the desert politely refused and told me, "it´s impossible the car tiers will melt".
The Lut desert is considered to be the hottest place on earth.
In 2005 NASA´S satellite measured the temperature in the Lut Desert as high as 70,7 °C (159 °F)

Accommodation in Iran
Accommodation options in Iran range from budget hostels to beautiful guesthouses and upmarket resorts, depending on your budget.
Hostels are of a high standard in Iran with a range of good amenities and almost all offering complimentary breakfasts.
Guesthouses and hotels are often located inside beautifully restored historical houses.
This is the best way to experience the incredible Iranian architecture and stay in complete comfort.
It can be challenging to book accommodation before you arrive in the country.
Most online booking platforms, such as Booking.com, hotels.com, Expedia and Airbnb, do not work here do to the sanctions. However, you can still find listings on Hostelworld.
Two local Iranian booking sites are 1stquest.com which is the only website that you can book with your visa or MasterCard; the second website is iran-booking.com/en, where you can reserve your hotel but not pay in advance.
Couchsurfing is also a popular option in Iran.
It´s also never a problem trouble just to show up at a hotel and get a room when already in the country.
Iranian Food And Drinks
Although many people only know of kebab when thinking of Iranian food, there is a whole lot more to the food scene than that.
For budget travellers though, kebabs and falafel sandwiches are the cheapest street food that you can get in Iran.
However, there is a range of flavours and meals that you should try on your trip.
Kofte is a delicious spiced-filled meatball, Ghormeh sabzi is a herb stew with lamb and beans, and Tahchin is a delicious crispy rice cake baked with chicken.
It can be helpful to order by pointing at pictures, as most menus are in Persian at least in smaller places, in larger cities and the more popular tourist destinations the menus are often in English too.
If you're vegetarian, it can be notoriously difficult to find a variety of meals in the country, since most of the meals here are very meat-based.
There are usually eggplant, chickpea and lentil dishes on most menus; however, it will often be the same at each place.
Rice and bread are also one of the main staples and served with almost everything.
The local cheese and ice cream is also very good.
Tea is the most popular of all local drinks in Iran, and it has a long history in Iranian culture.
However, coffee has seen a recent resurgence in popularity, and you can find Western-style coffee shops now popping in major cities.
Tap water is actually safe to drink in Iran in most places.
All you need to do is bring a reusable water bottle, and it will save you from having to buy plastic water bottles from the shops.
Alcohol in Iran
Alcohol is officially banned in Iran, and you won't find any wine or liquor stores.
BUT what actually few people know is that some people in Iran are allowed to drink alcohol.
The Jewish community are allowed to drink alcohol in Iran, and Iran is home to the largest Jewish community in the Muslim world.
And also the Armenian community are allowed to drink alcohol, and there was even an Armenian restaurant being allowed to sell alcohol in Tehran during my first visit.
But only to non-Muslims.
However, it's commonly sold on the black market in the country, so don't be surprised if you see people drinking it.
For all others is it still illegal to drink alcohol, so be careful with it in any public places.
Alcohol-Free beer is available in almost every shop.
Iranian culture
The Persian culture is one of fascinating parts of travelling to Iran. And a reason itself to visit.
It's quite unlike anywhere else in the world, and it can definitely take some getting used to. Here's what you need to know about the local culture before you go.
Language in Iran
Persian or Farsi uses the Arabic alphabet and is written from right to left.
Numbers are also different and are written from left to right, just like in the west.
English is rare to come by in smaller places, while it´s never a problem in the larger cities and the most popular tourist destinations around the country.
In cities like Tehran, Esfahan, Shiraz, Tabriz etc. and on the highway, so are all street signs and city names in English.
Menu´s in restaurants are also common in English, and also often have pictures. So ordering a meal is never a problem.
However, younger Iranians will generally speak pretty good English, and it's easier to find someone who speaks English in the cities.
It can be extremely beneficial to have a basic picture of the Iranian numbers saved on your phone.
This way, you can quickly decipher prices and eventually learn the symbols for each number as you go.
Opening hours in Iran.
Some shops have a lunch break between 1 pm and 3 pm, although tourist sights and restaurants are usually still open.
Friday is the holy day of the week in Iran which means many shops will be closed for the whole day and mosques are closed to non-Muslims.
In smaller places can it be difficult to find shops which are open on Fridays, but it´s never a problem in the larger cities.
Tarof and hospitality
Iranians will sometimes offer to pay for things for you. However, you should be aware of something known as Taarof.
This is a cultural phenomenon that is when someone offers something just to be polite, rather than because they actually want to.
If you persist and offer to pay three times and the person still assures you the offer is legitimate, then you can gladly accept.
Internet and SIM cards for foreigners in Iran
The internet is censored in Iran, but it doesn't mean that you can't access anything when you're in the country.
Most of the internet can be accessed, except for most social media networks and foreign news outlets.
If you want to still be able to use all your social media accounts, then you will need to think about getting a VPN (Virtual Private Network) on your phone.
It's best to download this and set it up before you enter Iran, as it can be difficult to do once you're there.
Having a VPN will allow you to access Facebook, Messenger, Twitter, YouTube, Pinterest, BBC and CNN as usual.
Instagram is virtually the only social media network that is not banned, and it can be accessed as normal in Iran.
Wi-Fi
Most of the accommodation in Iran will have free Wi-Fi. However, it's not necessarily the fastest internet, and there are often outages or issues with network signal.
Restaurants and cafes tend not to offer free Wi-Fi, except you will find some tourist-oriented places will have it.
SIM cards
If you want to be able to access the internet, then getting a local Iranian SIM is a good idea.
A local SIM and data package is quite cheap and can be purchased with your own ID.
Irancell is widely considered the best network, and you can easily top up data at any shop that displays the Irancell sign.
SIM cards can be purchased at the airport or any authorised Irancell shop.
You might have to walk to a few different ones before someone will be willing to set it up for you, as there's a bit of paperwork involved, and some shops will not want to do it.
Many accommodation providers can also organise a SIM for you, and this can be an easy (but more expensive) way of getting one.
A SIM card and 5GB of data should cost around US$10.
Another option is to get a Pocket Wifi Device from the same company as Mah Card, for 15 Euro (+50 Euro Deposite) a week will you get unlimited data and 4G connection.