Preikestolen, also known as the Pulpit Rock, is one of Norway's most famous landmarks and tourist destinations. This breathtaking rock cliff lies 604m above Lysefjorden, which is the southernmost fjord in Norway.
And when you get to the edge, it's easy to understand why some of the largest news agencies in the world like BBC, CNN & Lonely Planet have all named it to be one of the world's most amazing viewpoints.
Are you planning a hike to Preikestolen, Norway, sometime soon? Well, this guide has everything you'll need to make your trip as unforgettable as the final view.
What is Preikestolen Cliff?
Preikestolen (also known as 'Prekestolen') is the Norweigian name for a popular hike and tourist attraction. In English, the name translates to Pulpit Rock or Preacher's Chair.
It has been known as a tourist destination locally in Norway for more than 100 years – first being visited in 1896. However, it's only over the last few years that this Norway rock cliff has been seeing record numbers of tourists.

Especially after millions of people watched Tom Cruise climbing the face of the cliff at the end of Mission Impossible Fallout.
Wait, but didn't that Mission Impossible scene take place in Kashmir? Surprisingly not.
Even though the scene was filmed in Norway, the movie actually made it out to be a section of mountains bordering India and Pakistan.

Despite not getting the official recognition, avid nature lovers were easily able to decipher the true location of this majestic rock face.
The number of foreign tourists visiting Preikestolen rock has been rapidly increasing every year since 2004. In 2019, more than 350 000 tourists visited this mountain marvel.
Did you know? Preikestolen, together with Kjerangbolten and Trolltunga, are the three most famous and spectacular hikes in Norway.
Where is Preikestolen located?
Preikestolen is located in Lysefjorden on the western side of Norway in the county of Rogaland. The closest city to Pulpit Rock is Stavanger, which is 40km (25 miles) east of the mountain.

Are you planning a trip to Norway and want to experience to visit a fjord

Stavanger is the fourth largest city in Norway and the "oil capital" of the country, which also makes it the most expensive city in Norway when it comes to accommodation and resturants.
If you're traveling from Oslo, the mountain is a 7-hour drive away along either the E134 or E18. Coming from Bergen, you will travel along the E39, which will take approximately 5 hours.
How to Visit Preikestolen in Norway?
Depending on where you are coming from and what mode of transportation you plan on using, there are a few great travel options. We will look at using your own car, the various bus companies available, the nearest airports, and also how to travel here via train.
Pulpit Rock (Preikestolen) Norway by Car
Assuming you are already in Stavanger, follow the National Road R13 through the 14.4km (9 miles) long Ryfast Tunnel.
Did you know? The Ryfast Tunnel is the world's longest and deepest undersea tunnel for cars.
When you are exiting the tunnel, there will be a sign towards Jørpeland and Preikestolen. The road is very well marked, and you can´t go wrong once you exit the tunnel.
From the tunnel exit to the beginning of the trail, there is a 17km (10.5 miles) long and scenic drive. Once you have arrived at the trailhead, you can use either of the two large parking lots. The largest one is located right next to the Preikestolen Mountain Lodge.
How to get to Preikestolen Rock by Bus?
Tourist busses are a great way to travel from Stavanger or the surrounding areas between March to November. If you're taking the bus from Stavanger, the scenic trip will take you about 1 hour.
Bus Rides to Pulpit Rock Preikestolen Norway
1. GoFjords.no leaves from Stavanger city centre. The bus departs every hour during the low season (April, May, September) and every half hour during the peak season (June, July, August).
2. PulpitRock.no leaves from both Stavanger and Jørpleland to the trailhead.
3. PellesReiser.no offers transportation from Solbak Bus Terminal, Forsand Quay and Oanes Quay to the trailhead.
Closest Airport To Preikestolen, Norway?
Stavanger Airport Sola is the closest airport to Preikestolen. It is well connected to all of Norway and has more than 20 daily flights from Oslo Airport Gardermoen. Stavanger Airport also has flights to most of Europe with the following airlines:
KLM (SkyTeam) – Amsterdam.
SAS (Star Alliance) – London, Manchester, Copenhagen, Stockholm.
Budget airlines like Norwegian and WizzAir also have daily flights to Stavanger from all over Europe.
Once you have arrived in Stavanger, you can reach the city center using the airport bus.
Is There a Train to Preikestolen, Norway?
The closest Railway station is Stavanger Stasjon. This small local station has four daily train trips to and from Oslo Sentral Stasjon. It will take you approximately 8 hours to travel to Stavanger via train. The route is serviced by GoAhead Nordic.
Once you have arrived in Stavanger, you can travel to the trailhead using a bus or taxi. However, the public transport (bus) service is very good and more cost-effective.
What's the Best Time To Visit Preikestolen Norway?
The primary Preikestolen hiking season is from late April to October. The peak tourist season is between June to September, so you should try to avoid the trail if possible due to the high amount of tourists.
In June 2019, approximately 64,354 visitors completed this hike, which is about 2,145 hikers each day.

You will literally be walking in a queue up and down the trail and be waiting in a line to enter the Plateau itself.
You will be much better off visiting Preikestolen during the shoulder season, which is May and October.
Note: On the west coast of Norway, the weather can change fast, very fast. During my short hike, I encountered rain, sun, snow, hail (5times!) and then fog.

All that during a hike of about 1 hour and 40 minutes: so be sure to pack a rain jacket that is easy to reach.
How to Hike to Preikestolen 'Pulpit Rock'?
If you have been to Nepal and done some hikes there, you might think the trail to Preikestolen looks similar to the trails in the Himalayas. Well, that's because Sherpas from Nepal built the trail to Preikestolen – which was finished in 2013.
Did you know? More than 200 hiking trails all over Norway, including the trail to places like Preikestolen, Trolltunga, Geiranger, and Ulriken, have all been built by Sherpas from Nepal over the last ten years.
The hike to Preikestolen starts just a few meters from the parking lot, with the first section being a straight walk up a rather steep gravel path.
After a few hundred meters on gravel, you will soon reach the first section of steps. These steps were made by Nepali Sherpas.
The first section of steps is short and easy, and not steep compared to what comes later on the trail. After you reach the top of these steps, you will be on a flat section – one of a few along the trail.
The hike is beautiful and first takes you through a 2km stretch of forest before reaching the mountain.
Follow the stone path, and you will soon reach one of two long and steep climbs upwards.
After the first sections of stairs, there is a large wet area where the footpath follows along a wooden bridge.
In some parts of the trail, the wooden walkways have been upgraded for the 2021 season.
The wooden trail is a nice change from the hard rocks which make up most of the trails. There are also a few benches along this section where you can have a rest. If your level of fitness is not the best, it is a good idea to have a break here because after this, you will be facing the steepest part of the whole hike.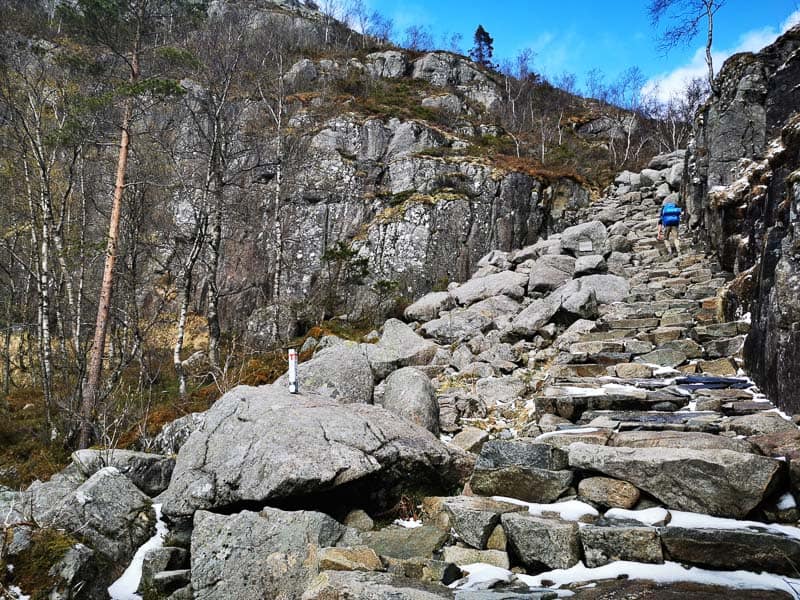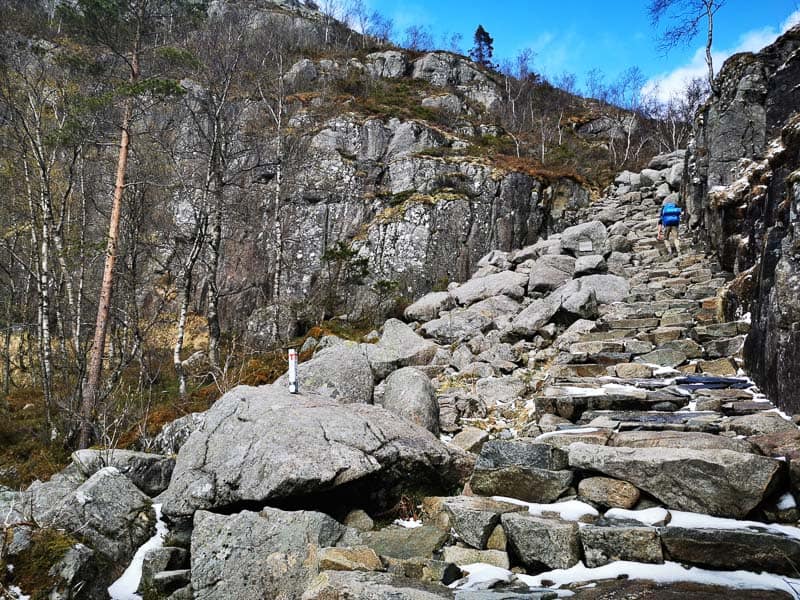 After you are done climbing the steepest section of stairs, you will reach a vast open area called Tjødane, where there are three small lakes.
There's an emergency shelter on this section of the hike. The shelter is closed with a code lock. The only way to get the code is to call the phone number on the wall.
From the lakes, the path continues along the rocky hill. You're only about 15 minutes from the end of the trail from here.
From here you can choose two different paths. The cliff trails are the easiest one to the Plateau, while the hill trail will take you to the viewpoint overlooking Preikestolen.
Both trails will take you to Preikestolen, but the hill path is steeper and rockier. You will, however, get rewarded with a stunning view along the way.
If you choose to do the cliff trail section, you will reach a small wooden bridge. Be careful; the bridge can be super slippery after snow or rain.
After the bridge, there is only about 5 minutes left until you reach the end of the trail. The section after the bridge is steep and can be very slippery if it has been raining.
After this section, you only need to follow the short path along the cliff's edge before reaching Preikestolen.
Is it Difficult to Hike to Preikestolen?
The hike itself is only 3.8km (2.3 miles), but it's steep and mostly upwards. The hike consists of hilly terrain with mostly steps up the steepest parts.
While the hike is not particularly long, the steepness can be challenging for unfit people. The difference in altitude is 350m (1,148 feet).
Note: Some parts can be very slippery after rain and snow, so good shoes with a grip are essential.
How Much Time do I Need for the Hike to Preikestolen?
Most people will take between 1.5 to 2 hours from the parking lot to the Plateau and about the same time go back down again. This will vary depending on your level of fitness.
You should add around 2 hours to soak up the beauty of Preikestolen and to walk to the surrounding hills to get the best views.

The whole trip will take you around 6 hours (excluding transportation time).
Best Place to Take Photos of Preikestolen
The best place to take photos of Preikestolen is not from the plateau itself but from the right hill across Preikestolen.

There's a marked trail up there, but it can be hard to find. All the photos where you see the entire Preikestolen is taken from this spot.
If you follow the hill trail, you will go along the top of Preikestolen, where you can also get some excellent photos.

Accommodation Near Preikestolen
There are a few accommodation options just a few hundred meters from the start of the trail. Preikestolen Fjellstue and Hostel is the closest and most popular option.
There's also a camping ground for camper vans just a few km from the trail, and you have tons of Airbnb guesthouses in Jørpeland – which is 7km away.
Stavanger is home to larger international hotel chains if you prefer to stay in the city.
Other Useful Information
These are some important things to consider before starting your hike:
There's no toilet on the trail, but there's a free clean public toilet at the parking lot.
There's nowhere to buy drinks or food along the trail, so be sure to bring enough water and snacks for the hike. There is a small (pricey) kiosk at the parking lot, but it's better to go to a supermarket in either Stavanger or Jørpeland before you head to the hike.
Camera drones are not allowed on Preikestolen.
There are no trash cans along the trail, so bring a small plastic bag to collect your garbage. There's a recycling station at the parking lot where you can throw it away afterward.
Can You Camp at Preikestolen?
You are not allowed to camp at Preikestolen plateau itself, but you can camp around it and before it.

But be aware, most of the grounds can be very wet, so it might be hard to find a proper place to pitch your tent. And remember, it can get very windy, rainy, and even snowy.
What to Pack for Pulpit Rock
These are some things that you should not start your Pulpit Rock Norway hike without.
There are no shops on the trail, so you will have to bring enough water and lunch with you.
A rainproof wind jacket is a must-have because the weather can change very quickly.
Warm clothes to change into when you're at the top of Preikestolen.
Something to sit on so that you don't get cold or wet.
A walking stick or poles if you have problems with your knees – it's a steep hike.
Can You Visit Preikestolen During Winter?
Preikestolen is open all year, and it's possible to visit even during the cold winter months.

However, there's no public transportation to Pulpit Rock during the offseason, so it will be only possible to get here with your own vehicle (or a more expensive taxi).
Note: Crampons are required if you want to do the hike during winter.
Is there an Entrance Fee to Preikestolen "The Pulpit Rock"?
There's no entrance fee to Preikestolen. All nature in Norway is free and open to everyone.
But, if you're traveling with your own vehicle, there's a hefty parking fee at the parking lot.
The parking fee is only payable by credit card upon exit with either VISA or Mastercard through the automated gate.
Parking fee for motorbikes: 100kr.
Parking fee for car: 250kr.
Parking fee for campervans/busses: 800kr.
Hiking Pulpit Rock, Preikestolen, Norway
Thanks to international recognition, Pulpit Rock has become one of Norway's leading hiking spots.

If you're interested in breathtaking views of some of the most beautiful countryside you will find, then hiking Preikestolen is a must-do bucket list adventure.