Sao Tome & Principe, often just called Sao Tome, is a tiny island nation and the second smallest country in Africa, after only the Seychelles.

It is a country that most people would have a problem pinpointing on a map, but it's definitely worth adding to your travel bucket list.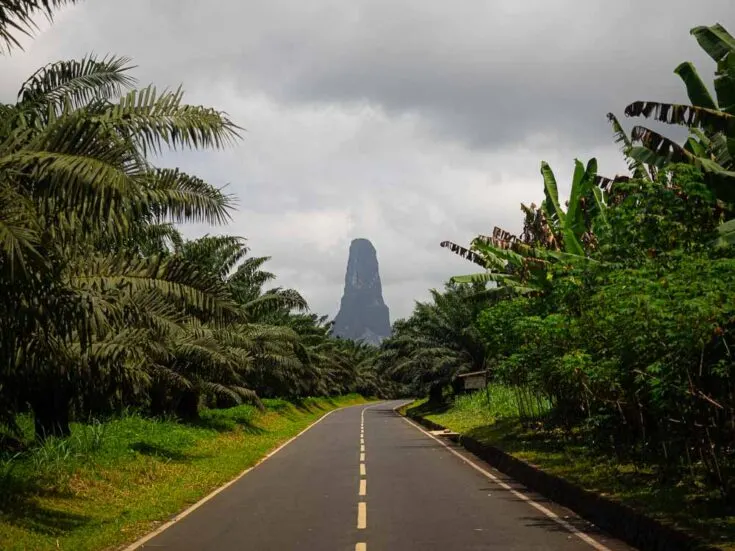 Before I went to Sao Tome, I could hardly find any helpful travel information.

There was only one Sao Tome and Principe tourism guide, so you might have an easier time visiting this gorgeous island than I did (although I still had a fantastic visit in the end).
But be aware: Sao Tome is far from being a budget-friendly destination.

In fact, it's one of the most expensive destinations I have ever visited. It's also home to some of the best and most exclusive chocolate in the world, as well as world-class coffee.
Without further adieu, let's take a look at this African island paradise.
Where Is Sao Tome and Principe
Sao Tome and Principe is located in the Gulf of Guinea, just off the western coast of Gabon and south of Nigeria. The equator runs directly through this small island nation.
As the name tells you, these are two different islands. With Sao Tome being by far the biggest one and Principe being the smaller one.

If you thought the main island was untouched, wait until you visit Principe. It's just a 35-minute flight (only one flight a day) between them or a 6-8 hour boat ride.
Tip: I have another post where I cover the island of Principe in great detail.
The islands were uninhabited until their discovery by Portuguese explorers in the 15th century. Today the total population is no more than 190,000.

Sao Tome received its independence from Portugal as late as 1975. It has since been one of the most peaceful countries in all of Africa.
How to Get to Sao Tome and Principe – Visa Requirements
Citizens from 61 countries, including countries in the European Union (not Schengen), the USA, Canada, Brazil, and some western African countries, can get a 15-day visa on arrival.
Update: Since my visit to Sao Tome & Principe, the government has changed the visa policy. Now more nationalities can get visa-free entrance on arrival – even Norwegians.
Citizens of all Asian countries, Australia, New Zealand, and South American countries, will have to get an E-VISA. The easiest way is to apply online through the Sao Tome official government page (I did it this way).
You fill out the form and upload a copy of your passport. After three days, you will receive a confirmation email. The visa fee is 20 euros, and it is NOT extendable. The visa stamp takes a full page of your passport.
A lot of travel agents will offer to arrange the visa for you, but there's absolutely no need – do it yourself.
NB: Remember to print the confirmation page and bring a copy with you.
Flights to Sao Tome and Principe
The only way to reach Sao Tome & Principe is by plane to São Tomé International Airport. It's the only international airport in the country and one of only two airports in the country.
If you are traveling from Europe, you will need to find Sao Tome and Principe flights using TAP Portugal or STP Airways.

Both offer Sao Tome flights from Lisbon, Portugal. That's the only service between Sao Tome and Europe. Traveling from Africa is easier as there are flights from Ghana, Gabon, and Angola.
The airport is tiny. There is only one baggage carousel, no ATM, no money exchange, no shops, and only two basic kiosks. This international airport is even smaller than a small domestic airport in Norway.
Since there is nowhere to exchange your local currency inside the airport, you will either have to take them home with you as a souvenir or spend them in a kiosk.

One of them offers local coffee, chocolate, rum (everything is a lot cheaper in the city), while the other sells beer and water.
Tip: I highly recommend having pre-arranged transport to your hotel.
The second airport is located on Principe and is only served by one local flight a day between Sao Tome and Principe.
Vaccinations & Immigration
You will have to have a yellow fever vaccination and yellow vaccination book to enter Sao Tome and Principe.

Before even being allowed to enter the airport upon arrival, your vaccination book will be checked.
Once inside, you will be given a standard immigration card that has to be filled out. But be aware that going through immigration takes forever. Everything is done manually here, with no computer or hi-tech systems.
Note: There are reports online that you will have to pay a departure tax when leaving Sao Tome, but that's NOT the case.
Sao Tome and Principe Currency
The local currency in Sao Tome and Principe is Dobra. When I visited the country, I could only find the following exchange rates:
1 Euro = 25,000 Dobra
1 USD = 24,000 Dobra.
The rate never changed during my two-week stay in the country, but by using an online currency converter, I have found the following rates:
1 Euro = 24,200 Dobra
1 USD = 20,700 Dobra.
There is no ATM accepting western bank cards in the whole country, so you will have to bring cash with you. However, that might change soon as Banco Internacional was putting up signs saying VISA during my stay.
There is also no official money exchange. Everything is done on the street, and street money exchangers are found outside the most famous restaurants and the central gas station.
I had absolutely no problem exchanging money on the street. The money exchangers were completely honest. But be aware, I could never find them after dark or on Sundays.
All the hotels I stayed in, and the car rental company I used accepted payment by USD/EURO and even PayPal. The more popular restaurants and shops accept payment in Euro, using the official rate.
Sao Tome and Principe Holidays on a Budget
Like I already mentioned, Sao Tome & Principe is not a budget-friendly destination. I didn't meet any other backpackers during my visit.
The only other tourists I met during my stay were foreigners working in Angola, Gabon, and Nigeria taking a short holiday here as well as some Portuguese ex-pats.
There are no hostels in the country, and most of the accommodation outside the capital is expensive resorts. Expect to pay a minimum of $40 a night for a basic room, often with a shared bathroom. Principe is more expensive than Sao Tome.

All accommodation has a $3.50 tourism tax, so if the price says $40, is it actually closer to $45.
Theoretically, the only way to get around the island is by hiring your own vehicle starting at $60 a day for a small Suzuki Jimny or a motorbike (scooter) for $20 a day plus fuel. If you rent a car in Sao Tome, there is no problem with wild camping around the country. I met a few people doing this.
If you want to save money, the cheapest thing is to stay in the capital and do day trips outside the capital using shared taxis with locals.

You can take local taxis between the cities, but they don't go off the main road.
1. Cheap
A cheap budget would start at around $70 a day.
Accommodation: $45
Local Food: $6 a meal
Transport: Local shared taxis $3.50 to $6 a trip
2. Midrange
There are no real midrange options in the country.
3. Flashpacker
If you're looking for a more extravagant holiday experience, you can spend $300+ a day.
Accommodation: $175 a night in a nice resort, almost the only option outside the capital
Food: $12 a meal
Transport: $60+ for rental and petrol
How to Travel Around Sao Tome
As previously mentioned above, renting a car is the only way to get around the island if you want to visit places off the main road, especially since there are only about 140 km (87 miles) of paved roads around the whole island.
The last village (Santa Catarina) in the northern part of Sao Tome is 47 km (30 miles). It only takes about one and a half hours. And on the southern end of Sao Tome, Porto Alegre is 75 km (47 miles) away and takes about 2 hours.
The rest of the paved roads to the middle of the island and some random roads here and there.

The road to the south is almost completely perfect all the way, while the road to the north is full of potholes.
There are yellow shared taxis going between the cities (no buses). They leave when they are full.

They can drop you off wherever you want on the way, but they can not pick you up outside the cities for some unknown reason.
I will recommend that you use car rental in Sao Tome since most of the sights are off the main road.

There's very, very little traffic on the road, so there is no problem driving on your own. The locals also seem to respect the speed limit.
Note: In Sao Tome & Principe, you must drive on the right side of the road.
Sao Tome & Principe, off the west coast of Africa, is one of the world's most exciting travel destinations. Here's a complete guide about everything you need to know before going to Sao Tome
Internet in Sao Tome and Principe
Your Sim Card will not work in Sao Tome. All guesthouses, Sao Tame hotels, and nicer restaurants offer free WiFi. But don't expect high speed even in the high-end Sao Tome resorts.

There are internet cafes everywhere; they are often the only way locals can get online.
Sao Tome Language
Portuguese is the official language and is spoken by everyone. Spanish and Italian are also spoken by some. Almost nobody speaks English outside of the resorts.
Restaurant menus are never written in English. So I recommend that you learn some basic Portuguese before coming here. I was lazy and didn't learn any, but the locals were always super friendly and helpful.
Is Sao Tome and Principe safe?
Sao Tome & Principe is extremely safe. I will put it as one of the safest countries I have ever visited; violent crime in public is almost unheard of. I walked around after dark every day without any problems at all.
Sao Tome is the first African country I have been to (I've traveled to 24) where I did not get hassled by the police or military.

But I did meet female European ex-pats saying they often got sexually harassed when going to the local markets. So be aware.
Is Sao Tome and Principe Clean?
The two tiny islands that make up Sao Tome & Principe are by far the cleanest places I have visited anywhere in the world.

There was no garbage along the roads outside the cities, and the rivers flowing through the country were crystal clear.
Guidebook Accuracy
There's no Lonely Planet Guidebook for Sao Tome & Principe. The only guidebook made for this country is the Bradt Guide. The book was released in July 2014.

It's still pretty accurate and helpful. Sao Tome is very laid back, so nothing happens fast here. A new edition just got released in July 2021.
Food in Sao Tome and Principe
Seafood, Seafood, Seafood. I'm not a fan of seafood, but I ended up having it every day during my visit.
It's estimated that 90% of the country's food needs are met through imports. Furthermore, the country is not self-sufficient in meat and food grain production and is reliant on imports of these foods.
And because Sao Tome is surrounded by a rich ocean, the most common dish in restaurants is the catch of the day – which includes sharks! However, pizza and hamburgers are common in the more popular restaurants for foreigners.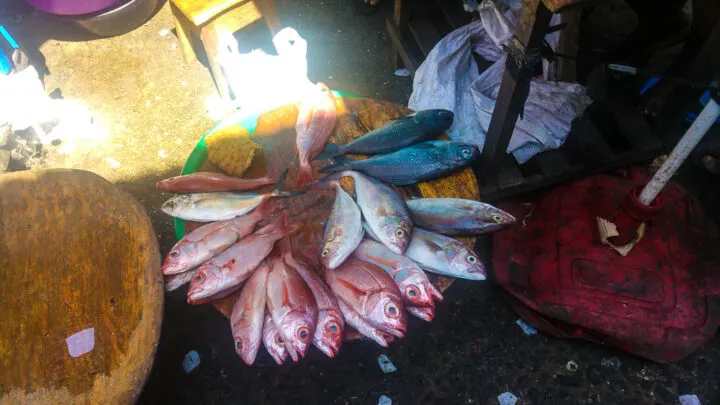 There are two huge supermarkets in the capital, selling everything you would want. Here you can find imported wine and beer to popular breakfast cereals.

The most popular guesthouses in the capital have guest kitchens.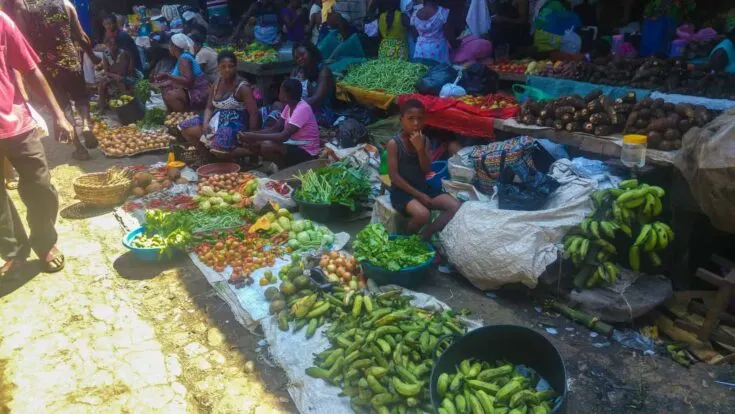 Beer and Alcohol in Sao Tome and Principe
Tap water is okay to drink from resorts around the island and most guesthouses in the capital. But be sure to order bottled water when in local restaurants. Bottled drinking water is imported from Portugal.
Sao Tome is famous for its coffee and its old Portuguese coffee plantations all around the island. Most of them are now abandoned, but there's still one running in the middle of the island.
For some stupid reason, you will not get local coffee in restaurants or even in 5-star resorts. You will get coffee from Nescafe – what a joke.
Alcohol is available everywhere. The only local beer is Rosema, served in brown bottles without any label. Imported beer from Portugal (Sagres and Super Bock) is also sold everywhere.
Local people outside the capital stick to homemade palm wine and don't be surprised to see roadside parties with blasting music during the weekends.
Head to one of the big supermarkets to buy your favorite international spirit or wine.
The first rum distillery just opened in Sao Tome, and it's the best rum I have ever had.
Electricity in Sao Tome & Principe
The power plugs in Sao Tome & Principe are the standard European 220V dual-pin power plugs. Everyone except mainland Europeans will have to bring a power adapter.
Power cuts are very normal, so be sure to bring a flashlight. Very few villages outside the capital have electricity.
Sao Tome Hotels
There are a few hotels in Sao Tome as well as plenty of Sao Tome resorts, but I chose to stay at the Sweet Guest House that I can highly recommend.

It is by far the most popular guest house, with super friendly English-speaking staff that can help you with everything. There is also a common guest kitchen. I would definitely stay there again.
Sao Tome and Principe Packing List
Since you will either base yourself in the capital and do day trips around the country or stay in resorts outside the capital, you don't need to pack anything special except a flashlight for power cuts.
But I do recommend you bring a snorkel and diving mask with you. The water around Sao Tome and Principe is crystal clear and full of marine life.
Tip: I have a great article available if you want to read up about what to pack when backpacking.
Overall Experience Of Sao Tome & Principe
I can't give Sao Tome & Principe enough credit. The country is breathtaking, and the people are super friendly and inviting.

If you visit Sao Tome, you will discover a truly off-the-beaten-path country with some of the most stunning beaches in the world.
It is a country rich with colonial history and endless possibilities when it comes to hiking and nature yet to be discovered.
Sao Tome and Principe are taking over all the countries I have visited on my top 5 countries list, together with Bhutan, Pakistan, Georgia, and Iran. Now all that's left to do is book your holidays to Sao Tome and Principe today.
Like it? Share it! Pin It!