The Island of Grande Comore, or Ngazidja in Swahili – the Island's native language, is the largest of the three islands that make up the tiny country of Comoros.

Found in the Indian Ocean of East Africa, just west of Madagascar, you'll find this untouched paradise.
The two other islands that make up Comoros are Moheli Island, which is famous for diving, and Anjouan.
Moroni, the capital and by far the biggest city (population 56 000) in Comoros, is most likely where you will arrive when you land.
This is because the Prince Said Ibrahim International Airport is located here.
Both Anjouan and Moheli have their own airports. Ouani Airport in Anjouan has flights to Mayotte, Madagascar and Mohéli. Bandar Es Eslam Airport in Moheli has flights to Mayotte.
So will other international flights arrive in Grande Comore? Yes, flights from Kenya, Tanzania, Ethiopia, Turkey, Mauritius, Reunion, and Madagascar all arrive here.
The best connections from Europe are with Turkish Airlines, Kenya Airways, and Ethiopia Airlines.
Top 8 Things To Do In Grande Comore Island
What to Do in Comoros | Ngazidja
Despite Grande Comore's small size, there sure are enough things to do here to keep you busy for a few days.
Just keep in mind that local transportation is extremely limited. It's best to hire a car with a local driver for around 70 Euro a day to explore the Island.
1. Explore The Capital, Moroni
Moroni is a mix of Arabic, French and Swahili culture and history. The historic town center, the Medina around the main Mosque, and the old neighborhoods are a maze of narrow alleys and ancient buildings of the Swahili period. However, unfortunately, most of Morini is poorly maintained.
While it´s interesting to walk around Morini, the city itself is very small and compact, so you don't need much time here.

The main highlights are the Vola Vola Market, which runs from behind the Nouvelle Mosquee de Vendredi Mosque and up to the main square with the post office.
The Square is the only place with an ATM in Moroni, the only restaurant with free WIFI is also here.
The Nouvelle Mosquee de Vendredi Mosque dating back to around 1427, is the most famous landmark in Comoros and worth a stop.
At the Vola Vola market, you can buy everything from local handcrafts to locally grown spices, coconut products, and random knick-knacks.
Oh, and don't forget to check out the essential oils (65% of the world's perfume essences come from Comoros, including ylang-ylang, orange, and jasmine).
Tip: The locals did warn me that pickpockets are common at the market, so keep your belongings safe!
Central Moroni is traditional and conservative, and about a 20-minute walk from the center is one of the local beaches.

Here you can go swimming, sunbathing, and have a glass of beer or wine in one of the 3 restaurants allowed to sell alcohol in Moroni.
2. Visit Lac Salé
In the far northern part of the country is the small crater lake "Lac Salé." The local story is that the lake is bottomless, and some years ago, two professional divers tried to explore the lake but never came back to the surface; it´s a sacred place for the locals.
There´s a small hill behind the lake you can climb to get a panoramic view of the lake; this is also one of the very few places that locals have a small stall where they sell souvenirs.
3. Relax At L'île aux Tortues and Ndroudé
The whole western side of Grande Comore (Ngazidja) is full of beaches. Ndroudé might not be the prettiest, but what it lacks in beauty, it makes up for in length and width, the road down here is bumpy, but it's well worth it when you reach it.
There's a small island just of the beach called Turtle Island. It doesn't get its name for being full of turtles but more because of the shape of the Island.
This was surprisingly the place I saw the most other foreign tourists during my whole trip to Comoros Islands.
4. Golden Tulip Grand Comore Resort & Spa
With a recent name change from Itsandra Hotel to the Golden Tulip Resort and Spa, this is the best hotel in the country. It offers a spa and a great dinner buffet, as well as one of the best Comoros beaches the wonderful snorkeling around Moroni.
If you want to go scuba diving or kayaking so is this the only place on Grand Comore to do so.

Even if you are not staying here, you are free to use the beach with the sunbeds or the swimming pool here as long as you buy drinks or food at the bar.
This is one of the few Comoros islands resorts, and if you need WIFI, this is the best place to come and enjoy a cold, imported Madagascan beer at the sundeck while watching a fantastic sunset.
5. Hangout At Trou du Prophète
On the northern tip of Grande Comore is a small place called Trou du Prophète, meaning the hole of the Prophet in French.

Locals will tell you that Prophet Mohamed landed here and sat between the two big rocks on the shore.
The place used to be a favorite among sailors to anchor up in the protected bay, while the area was French.

It's easy to see the remains from that area, though most of the guesthouses have been abandoned, except one place that's still up and running, the Baobab Magic Backpacker.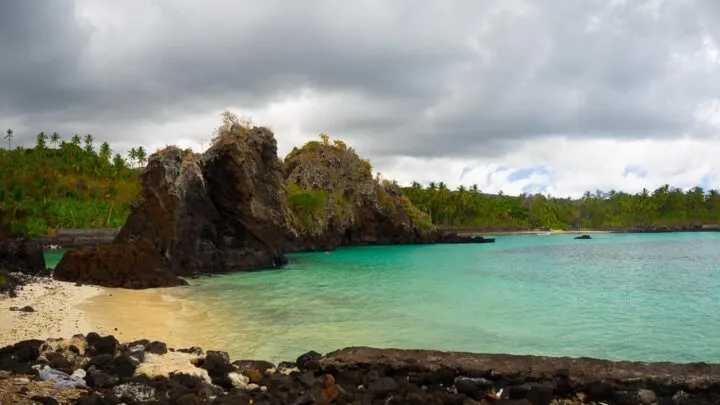 With very limited Comoros hotels, this backpacker seems to be the only place tourists will stay on Ngazidja / Grand Comore outside of Moroni.

Relax under a massive baobab tree, the same kind you'll find on the famous Avenue of Baobabs in neighboring Madagascar.
The small restaurant at Baobab Magic Backpacker offers a bbq of fresh fish, a perfect spot for lunch.
Trou du Prophéte is the perfect place to stay for a few days. If you have a few days to spare in Ngazidja, you can either pitch your tent or hammock here or stay in one of their rooms.
6. Mitsamiouli Beach
Mitsamiouli Beach, a real world-class beach, is definitely one of the top 10 in all of Africa. This beach doesn't stand back for any beach I've been to in the Maldives or in French Polynesia.

If you have a list of Comoros things to do, this should be on it.
If this beach was located anywhere else, there would have been big hotels and restaurants along the beach.

But this is Comoros, Africa, so there is nothing around, and you get the beach entirely to yourself.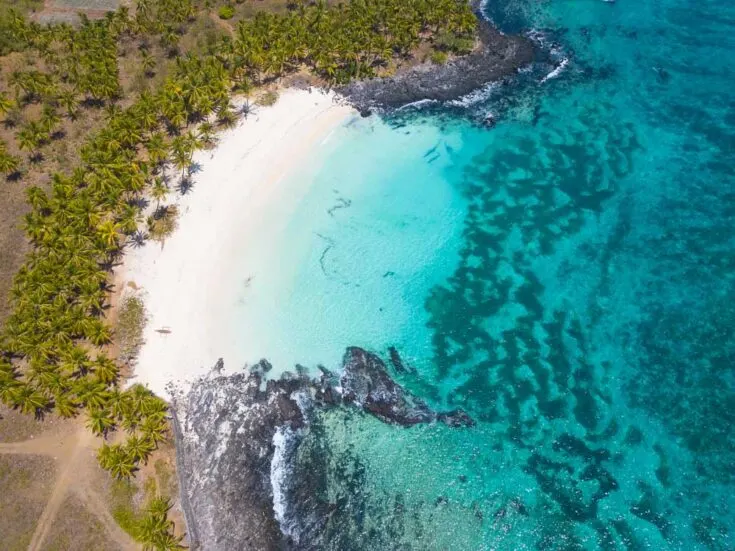 7. Iconi
Iconi, just south of Moroni, was once the capital of the Sultanate of Bambao and the first capital of Comoros.
It was an important trading post all the way back to the 12th century. There are still some old buildings with beautiful woodcarvings, remnants of old palaces, and fortifications.
The old palace is currently being restored, and the tomb of Prince Said Ibrahim, the last Sultan of Great Comoros, is also located here.
In the early 19th century, when pirates from neighboring Madagascar roamed the seas around East Africa, women would jump to their death from the cliffs around Iconi instead of being kidnapped by the pirates.
8. Climb Mount Karthala Volcano
On the southern part of Ngazidja Grande Comore (Ngazidja) is Mount Karthala, an active volcano that has had more than 20 eruptions since the 19th century. It is one of the largest active volcanoes in the world; the last eruption was in May 2005.
The massive volcano takes up more than 60% of Ngazidja / Grande Comore's surface. A hike to the top takes a full day.

The hike starts off at 300m and goes through thick jungle, across a tundra-like landscape, and finally onto fields of black ash surrounding one of the biggest volcanic craters in the world with a diameter of 3 x 4 km.
It's possible to do the hike as a morning hike starting around 4 am in the morning and reaching the summit of 2,361m (7,746 ft) just after sunrise.
It´s also possible to do a longer 2-day hike. A guide is required for this option and costs around 100 Euro a day.
Additional Information about Ngazidja (Grand Comore)
Here is some more information that I feel is valuable when visiting Ngazidja. Since it is a small country with little tourist infrastructure, you will want to plan thoroughly for your trip and keep the below in mind.
Money in Comoros
I only found 4 ATMs in Grande Comore. Two were located at the main square around the post office.

There was another one at the Golden Tulip Hotel as well as one on arrival at the airport.
I never found any official money exchangers around the city, but there was one at the Golden Tulip Hotel. Hotels also accepted payment in Euro and USD.
Accommodation & Comoros Hotels in Ngazidja
You don´t have many options when it comes to Comoros resorts, hotels, or guesthouses around Moroni. However, there are a few Airbnb options. Hotel Golden Tulip Grande Comore Moroni Resort & Spa (formerly named Itsandra Hotel) is your best option if you're not on a budget.
If you are traveling on a budget, check what's available on Airbnb.
Transportation in Comoros
Getting around Moroni is easy; stop any shared taxi that roams the street; the price for trips around town is about 250CF.

From the center of Moroni to Hotel Golden Tulip, expect to pay around 300CF or 400CF after dark.

It never took more than 5 minutes to get a shared taxi. A shared taxi from Moroni to other parts of the Island will cost you 500CF-1000CF.
If you want to hire a car with a driver, talk to your guesthouse/hotel. I paid 70 Euro for a full day with an English-speaking driver.

It is, however, a lot cheaper to take shared taxi's around the Island to main attractions such as is L'île aux Tortues and Ndroudé, Trou du Prophète, and Mitsamiouli Beach, all located off the main road.
If you are wanting to take a "ferry" to Moheli or Anjouan, you will have to head down to Chindini on the southern tip of Grande Comore. This is where all boats leave from (if the weather is good).
There are about four boats to Moheli a day; the trip takes about 2 hours if the water is gentle.

The price is 75 Euro each way. A local flight is the same price, but these are often canceled.
You will have to register your passport with the harbor police before leaving and upon arrival at the next Island.
Overall Experience of Grande Comore (Ngazidja)
I really enjoyed my visit to Grande Comore; it's a real off-the-beaten-track destination where you will not meet many other tourists. The locals are friendly and welcoming, but the country does lack tourism infrastructure.
The Government Tourist information office close to the harbor is tiny, with literally no information available. There are also no guidebooks available.
Grande Comore (Ngazidja) and Comoros have huge tourist potential, the beaches are world-class, and the Island Moheli has exceptional diving.
There's a big Indian community in Moroni that runs most of the better restaurants, supermarkets, and guesthouses.

If you are looking for an untouched paradise boasting pristine waters and long stretches of golden sand, this is definitely your spot.