War and insurgency are still a present factor in Yemen today; however, tourism to the country is no longer an impossibility.
Recent security improvements have made trips possible to Yemen's central and eastern regions.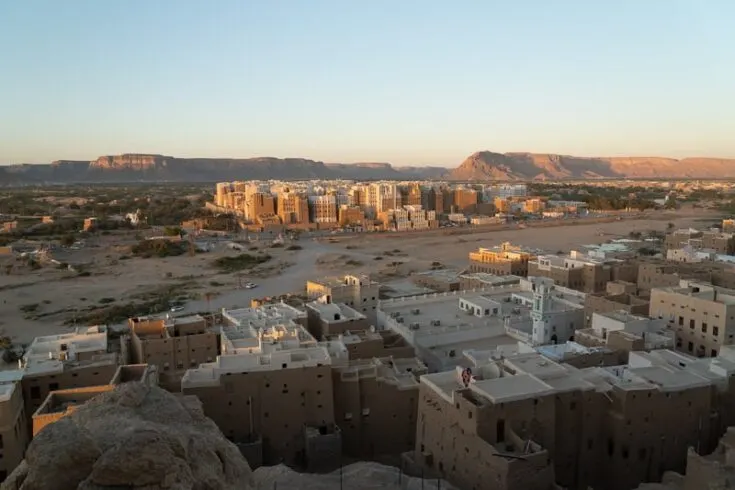 This being said, trips must be carefully planned in advance, and independent travel is not possible. Rather, you'll need the help of a knowledgeable fixer on the ground to make it happen.
In this piece, I'll discuss where you can visit in Yemen (mainland), what are the highlights, and how to make it happen.
It's also worth noting that since December 2018, it has been possible to visit the island of Socotra.
Socotra is technically part of Yemen, but for all intents and purposes, functions autonomously from the rest of Yemen– they have a distinct culture, language, immigration office, and government, with heavy influence from the UAE.
To reach Socotra, you can take the Wednesday flight from either Cairo (02:00 departure) or Seiyun (07:30 departure), depending on where you are coming from. I'll discuss Socotra in a separate article here.
First off, some basic rules are pertaining to entry, visas, and safety.
As mainland Yemen is technically still embroiled in a multi-party war, Yemeni consulates and embassies are not issuing tourist visas.
Rather, these must be arranged before your arrival via an approved fixer in Al Ghaydah or Seiyun.
Once approved, your fixer will receive a letter from the Ministry of Tourism, and you will need to present that letter on the border to receive your Yemeni visa– the official at the border will stamp it directly into your passport on arrival.
A SPECIAL NOTE ON FIXERS. IMPORTANT!
Kais Al-Qalisi is a true professional, and beyond that, he has treated me like family.
I feel safe, engaged, and well cared for, and Kais is a pleasure to talk with, explore his country with and learn from; and he has worked in tourism and journalist fixing for the past eighteen years, so his network and experience are unmatched.
I've worked with him for all of my trips into Yemen, and they've gone off without a hitch. (Inertia members can also benefit from a 10% discount on trips booked with Kais, apply here: https://inertianetwork.com/membership).
I also want to warn people about another agent named Abdulhameed from a company called Easy Yemen.

I have met now four people who have travelled with his company and have extremely negative experiences.
He is notorious for creating forged documents, getting people into trouble, lying, passing on clients to others who are untrustworthy, and hiring drivers who physically molest women.
I have personally had to help two separate groups of his clients in Yemen get away from him, and this is not a country you want to have these kinds of problems in. The reviews are all over the internet.
How To Enter Yemen.
Entry by air directly into Mainland Yemen is not allowed for tourists.
And while flights continue to operate regularly (pre-covid) to Seiyun and Aden from Cairo and Amman, foreigners are not permitted to take them. Rather, if you want to travel to Mainland Yemen, you must either.
Cross the overland border from Oman
Fly from Cairo to Socotra, and then from Socotra to Seiyun and travel overland to Oman from there; or,
Enter Yemen from Socotra or Oman and fly out from Seiyun to Cairo.
Safety is, of course of utmost importance in Yemen– simply put, only go with a reliable fixer and do not go wandering off alone.
Only travel within safe zones as outlined in this article, keep on top of the ever-changing security situation within the country, do not enter Houthi or AQAP controlled territory, and listen to your guide.
Dressing like the locals will also help you blend in, especially for women.
For more detailed safety analysis, check out the full travel guide here.
Top Places You Can Still Visit in Yemen Which Are Safe.
Al Mahrah Governorate
Al Mahrah is situated in the far east of Yemen, bordering Oman and Saudi Arabia. Here, there are two border crossings with Oman, the ocean highway crossing at Sarfayt and an exit-only crossing in the Empty Quarter Desert in Shehn.
Most travellers will use the border at Sarfayt to enter Yemen from Oman, as it is located only a two-hour drive from Salalah, and they have entrance clearance facilities given that your visa was properly pre-arranged from within Yemen.
There is a Saudi military instalment at this border, but they do not typically cause travellers any difficulty entering or exiting Yemen here, as this area is very much controlled by the Saudi-backed Hadi government.
Al Mahrah's main city is Al Ghaydah, a relatively unattractive market town two hours from the border. There's not much to see here, but walking through the souq and enjoying some of the city's seafood is a good idea for a short visit.
Along the Al Mahrah coast, there are tons of small fishing villages worth visiting– here, you can meet locals and try to get onto a fishing boat for a few hours to experience a slice of coastal Mahri life at sea.
The Mahri people are quite distinct; they have their own language and share a lot of cultural similarities to their cousins in Oman's Dhofar region.
Another fascinating part of Al Mahra to explore is the Yemeni side of the Empty Quarter Desert.
This vast, desolate region spans from Yemen, through Saudi Arabia and Oman, to the UAE. Along the southern scrubby fringes of the desert, you can find Mahri camel herders.
Each tribe controls unmarked areas of the desert for camel grazing, and you can see goathair bedouin tents speckling the landscape.
Arranging a visit into the desert to stay with some of these families is a real treat– expect difficult conditions and camping, but an outstanding view into traditional desert life.
You'll need a well-connected guide and solid off-roading car with high tire clearance to get around, as there are few roads, and eventually, even the tire tracks in the desert sands disappear.
Be careful of the borders with Oman and Saudi, as they are unmarked, and both countries keep a military presence on their side close to the border. An accidental crossing would not be taken well.
Wadi Dawan (Wadi Doan)
Continuing into central Yemen, one of the most fascinating and strikingly beautiful regions open for tourism is Wadi Dawan (also spelt Wadi Doan).
This long valley near Yemen's geographic centre is characterized by vast arid table-top mountains and deep and narrow fertile valleys that are home to beautifully crafted mudbrick villages.
This region is the cultural heart of the Hadhramaut region, and the Hadhrami villagers who live here maintain many of their age-old traditions.
They are largely religiously conservative farmers and tradespeople who have a long history of overseas trade and a long-standing Seyyid aristocracy (meaning people descended from the Prophet Mohammed).
Wadi Doan's villages, people, and scenery are insanely impressive. To be honest, you can spend a week here slowly exploring all of the villages, meeting people, hiking in the mountains, and climbing to new vistas on the plateau. Some highlights include:
Haid Al Jazil, a tiny mountain top village with just four remaining families best seen from the Haid AL Jazil Resort.
Bukshan Palace and village– great examples of traditional Hadhrami architecture and your chance to get inside a converted palace.
Hufa village– two good hikes lead to Hufa from the mountain top near Haid Al Jazil Resort. The village itself is authentic and scenic.
Al Hajrain village– a stunning collection of mud-brick buildings, Hajrain is also famous for Sedr honey production.
Seif village– the regional capital, Sif is the friendliest village in Wadi Dawan and home to several schools with wonderful teachers and students.
Rubat village– a very scenic area deep in the southern end of the valley, but the security around here can be dicey at times as this is the ancestral home of the Bin Laden family.
Hadhramaut Valley.
The fabled Hadhramaut valley spans from east to west in central Yemen. Culturally similar to Wadi Dawan, Wadi Hadhramaut is more populated and wider, giving rise to denser cities and a unique Sufi culture, especially in the eastern part of the valley around Tarim and Einat.
Wadi Hadhramaut is also home to Shibam, the UNESCO World Heritage mud-brick high-rise city in the valley.
The city of Seiyun is the most populated part of central inland Yemen and is home to a functioning international airport.
For foreigners, it is only possible to fly to Socotra or Cairo from Seiyun, and while there are regular (5 times a week) flights from Cairo to Seiyun, foreigners may not disembark in the city.
Therefore, you must either arrive in Seiyun by land from Oman or travel to Seiyun from Socotra, as the immigration facilities may not process foreign arrivals in Seiyun airport.
It is possible to fly from Seiyun to Cairo one-way on any of the five flights per week– meaning authorities will let you leave the country from Seiyun but not enter. Even those transiting to Socotra do not clear immigration in Seiyun; rather, their visas are valid for Socotra and will be processed there upon arrival at Mori Airport near Hadibo.
Places worth checking out in Wadi Hadhramaut include:
Shibam– UNESCO World Heritage site, home to 7,000 inhabitants, famed for its impressive mud-brick architecture with some buildings reaching 11 stories in height. The city itself is worth at least a half-day of exploration, while sunset is best enjoyed from a protected viewpoint in the adjacent mountain town.
Tarim– this Sufi religious town is home to an impressive old souq, incredible white mud mosque, and a vibrant culture best enjoyed on foot. It's also home to a major Islamic school and pilgrimage site, attracting lots of foreign students, mostly from Indonesia and Malaysia.
Einat– home to Sufi shrines and graveyard, if you're lucky, you may catch a Sufi dance in town, especially on Fridays.
Seiyun– a great base for good restaurants, any purchasing or money changing you need, and a quick glimpse at the Sultan al-Kathiri palace, which is now a Saudi military base.
Socotra.
The island of Socotra, also called the most alien-looking island in the world, has seen a rapid increase in tourism since it re-opened for tourism in December 2018 and has gone from around 300 visitors in 2019 to almost 100 tourists per week arriving on the island in early 2020 (pre-virus that is).
Socotra is covered here in its own post.
Other Regions
At the time of writing (pre-Covid-19), there are a few other places in Yemen open to adventurous travellers.
Marib Governorate along the main road from Seiyun to Marib city is open, including the old ruins of the ancient city of Sheba, and parts of Shabwa Governorate is also open for travel, largely in the desert near Seiyun.
The capital of Hadhramaut, Al Mukalla, is also generally okay for tourism, but keep in mind insurgency in the area remains a possibility.
Al Qaeda in the Arabian Peninsula held the city for nine months during the outbreak of war in 2015, and they keep a low profile presence in the region.
The Houthis, the group that controls much of northern Yemen, are not welcoming of tourists. Attempting to sneak into their territory will certainly result in an arrest, interrogation, and expulsion (or worse). Don't try it.
Additionally, while the city of Aden is safe, it's under the control of the UAE-based STC government, but they are not allowing tourists in at this time.
It's also worth noting that the majority of terrorist incidents that have occurred recently are in the areas immediately surrounding Aden to the east and northeast in parts of Al Baydah, Abyan, southern Marib, and western Shabwa Governorates.
For a more comprehensive travel guide to Yemen and to learn how to get in and out safely, check out the complete guide here
Like it? Share it! Pin it!