Cenderawasih Bay is an off-the-beaten-track destination located on the east coast of Indonesia's West Papua region. It is the largest marine park in Indonesia and is home to biodiverse marine life.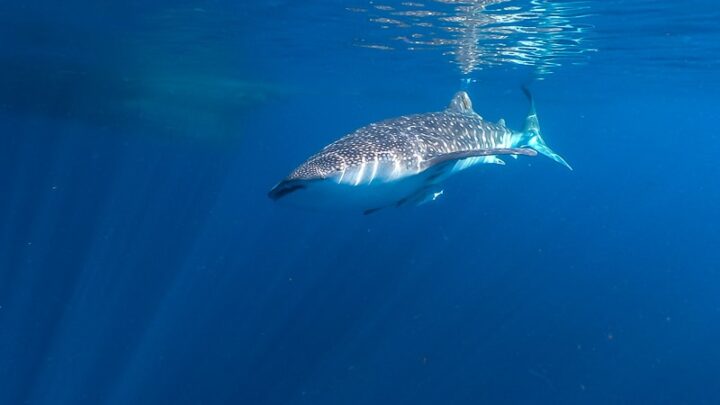 Although its biodiversity does not match the neighboring Raja Ampat, Cenderawasih Bay is quickly becoming the go-to destination for remote diving.

This is because the area is one of few places in the world where one can swim with whale sharks.
While it is possible to swim with whale sharks elsewhere, like Dhigurah Island in the Maldives, it does not compare to Cenderawasih Bay.

A large number of whale sharks in Indonesia frequent Cenderawasih Bay, making it incredibly easy to get close to this beautiful species.

Cenderawasih Bay is often regarded as the best place in the world to swim with Whale Sharks.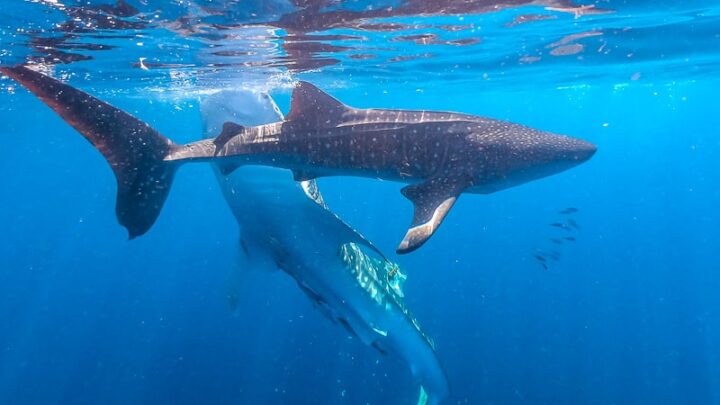 Whether diving, snorkeling, or even swimming, you will be able to spot whale sharks, as well as an abundance of marine life.
You may also spot some Japanese shipwrecks strewn across the bay since WWII.
In this article, we will highlight everything you need to know about swimming with whale sharks in Cenderawasih Bay.
Getting to Cenderawasih Bay National Park
Reaching Nabire is time-consuming and an adventure on its own, but it's just the starting point to where the whale sharks are located.

You have to travel for another two hours to get to the place where you can swim with the whale sharks.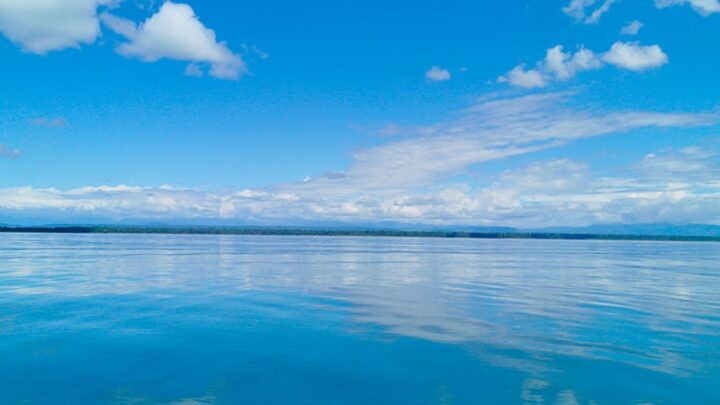 The real starting point for your adventure is the small settlement of Sowa, a 4-hour drive along a dirt track or a two-hour speed boat ride from Nabire town.

The road is only possible to travel during the dry season.
During my mid-July visit here, the road to Sowa was undrivable due to monsoon rain, so I had no other option than to take a speedboat which you should have pre-arranged before your arrival.
Sowa itself is no more than three small huts, a broken pier, a hammock, and a few kilometers of deserted beaches. While the place is amazing, they do have a bit of a garbage problem.
Note: You won't get any phone signal or wifi in this part of the world. You will be completely off the grid.
But there's a bit of construction going on in Sowa right now.

More toilets, showers and guesthouses are being constructed. So, if you do visit here in the future, it will probably look pretty different than it did during my visit.
And more people will bring garbage. The locals don't seem to have a system to gather the trash.
What to See at Cenderawasih Bay National Park
Cenderawasih Bay, locally meaning Bird Of Paradise Bay, is the largest marine national park in all of Indonesia.
The Teluk Cenderawasih National Park was established back in 1993 and is now home to 150 recorded species of coral.

It is also home to over 200 known species of fish, dugongs, and dolphins (I saw a few during the boat trip from Nabire to Sowa). Blue whales have also been seen around Cenderawasih Bay.
And no more than four different types of turtles enjoy the marine park: The hawksbill turtle, green turtle, olive ridley turtle, and leatherback turtle (the largest of all living turtle species).
But the main reason tourists come here is to swim with whale sharks. The national park is home to 135 whale sharks, according to WWF Indonesia, the majority being males with only four females.
Click here to see real-time tracking of the whale sharks around Indonesia.
According to the local tourist board, the tourist numbers here in 2016 were 4083 tourists, and in 2018 the numbers reached 8000.

Which I did find extremely hard to believe since, during my 4 days in Nabire and Sowa, I didn't see any other tourists, not even any local tourists.
And my guide said I was only the 2nd tourist he had seen during July and I arrived on the 19th of July. So the official tourism numbers are hard to believe.
How to See a Cenderawasih Bay Whale Shark
It is much easier to see whale sharks in Papua, Indonesia, compared to other places in the world.

Here they often hang around local fishing boats, called bagans, which are anchored up for months at a time just offshore – only a short 10-20 minute boat ride from Sowa.
Bagans are big fishing boats/platforms with their fishing nets hanging underneath them to catch small fish and squids at night.
Fun fact Local fishermen believe that the whale sharks bring luck, so the fishermen often give them a small portion of their daily catch to keep them around.
In July, the 12 Bagans are anchored up around Cenderawasih Bay.

There was no communication equipment between the Bagans and Sowa, so your boatman will have to drive the boat from one Bagans to the next Bagans to you find the whale sharks.
Best Time To Visit Cenderawasih Bay, Indonesia
The whale sharks around Cenderawasih Bay are the only known non-migratory whale sharks in the world. There is no particular whale shark season in Indonesia.

Due to the fisherman onboard the bagans feeding them, whale sharks can be seen all year around Cenderawasih Bay.
The monsoon season, which is twice a year in this part of Papua: July/August and November/December, do tend to make visibility worse.

But during my visit in July and the monsoon season, the visibility was still amazing with 30m+.
The only no go season is during the holy month of Ramadan when the fisherman goes home to celebrate Eid al-Fitr (festival of breaking the fast) with their families.

Most of the fishermen are from other provinces like Ambon and Sulawesi, so travelling back and forward for them will take time, so for around 3 weeks, the Bagans are anchored up on shore.
The best time of the day to see Whale Sharks are by early morning or late afternoon. The late afternoon trip to the Bagans is only possible if staying in Sowa.
If you are staying in Nabire town, you will often have to leave around 4 AM, since the boat ride can take from 2-3hours, depending on weather conditions and the boat.
But if staying in Sowa, you will leave around 6-7 AM. Be in mind that, like in the rest of Papua, things will take time.
While staying in Sowa, they planned to leave for the Bagans at 6 AM every day, but we never left before 7 am. There were problems with fuel, the boat engine, and the boatman had to finish his cigarette.
The earlier you get to the Bagans in the morning, the better, since the Whale Sharks often lose interest after some time and disappear into the depths.
Note: There's always something making delays in this part of the world.
Diving or Snorkeling to See Whale Sharks in Indonesia
There is only one dive centre around Cenderawasih Bay, the Kali Lemon Dive Resort, which has very mixed reviews online. During my visit, the dive centre was closed; if it was only temporary or permanent, time will show.
So for me, there was no other option than snorkelling, which was no problem since the visibility was amazing, and the whale sharks were just a few meters under the surface anyway.
The water temperature was a good 29°C/84F. But be sure to wear a wetsuit as a rash guard, not only to protect you from the sun but also to protect you from the jellyfishes that were around the Bagans, which was itching quite a bit every time I got stung (which was all the time).
Travel tip: You will have to bring your personal snorkelling gear! This is very important!
No need for diving gear when the Whale sharks are so close to the surface
How to Find a Guide in Nabire, Indonesia
Note: All the contact information for local guides in Lonely Planet Indonesia is non-working and incorrect.
When arriving at Nabire Airport, will you probably get approached by a few guides who speak decent English.

You might want to talk to one of them since I didn't see any travel agency around town, but your guesthouse should be able to arrange everything.

However, they will use the same guides that you meet at the airport, but for a higher price.
I didn't see any travel agency in Nabire town itself, but my hotel in Nabire could arrange a guide and boatman. If you prefer to arrange a guide in advance, you can try Sem ( nr+62 81343977979 on WhatsApp), a good option (I used him).
He can arrange everything, but be aware that the internet connection in Nabire is horrible, and there's no connection at all in Sowa, so it will sometimes take days before he replies.
He doesn't speak any English at all, so you will have to communicate with him through Google Translate, which you have to download before arrival together with the Indonesian language pack.
Price to Go Swimming With Whale Sharks in Indonesia
I used Sem, and I paid $140 for the boat trip from Nabire, returning to Sowa, visiting Bagans 3 times, 2 nights in Sowa and all meals.
The hotels in Nabire charged $450 for a day trip from Nabire; this would be for a boat with space for six people, s
o If you are more people, this would be a lot cheaper, but you would only have one visit to the Bagans compared to the three trips I had.
In the dry season, you will be able to visit the Bagans a lot cheaper if you rent a scooter and drive to Sowa yourself and negotiate with the boatmen to take you out to the Bagans. During the monsoon season, this is not possible.
How to Get to Nabire Papua and Cenderawasih Bay
Nabire was my third stop on my trip through Papua province in Indonesia, after Raja Ampat and Baliem Valley before I flew Nabire – Timika – Bali – Malang.
It's essential that you stay in Nabire town the night before your flight; all flights from Nabire airport leave early in the morning, and there's no way you will get from Sowa to the airport in time for your flight.
Reaching Nabire is only possible with domestic flight or by Pelni ship.
Nabire Airport is also known as Douw Ature International Airport. There are, however, no international flights here.
Only small propeller flights fly here. Flights to Teluk Cenderawasih National Park are:
Garuda Indonesia (SkyTeam): Biak, Jayapura, Timika.
Susi Air: Biak.
Express Air: Jayapura.
Wings Air: Ambon, Jayapura.
The best option is Garuda which has connections through Timika and Jayapura to all over Indonesia.
The Pelni ship stops by Nabire twice a week, normally on Thursday and Sunday (this can change) on the route Soring (Raja Ampat) – Manokwari – Nabire – Serui – Jayapura, before the ship turns around and travels the same route back.
There's currently a massive project going on in Papua.
The construction of the Trans-Papua Highway, a 4,325km/2688mile long road from Sorong (Raja Ampat) all the way to Merauke in far south-east Papua Province on the border with Papua New Guinea.
Nabire will be one of the cities which will be connected to the new highway.
Cenderawasih Bay Diving – Other Things to Consider
Along with travel information and planning your diving trips, these are some other important things to consider.
Permit for Swimming With Whales in Teluk Cenderawasih National Park
There is no Surat Jalan (Letter Permit) needed for Nabire, a permit you will need for other parts of Papua, etc. Baliem Valley and the highlands. But when arriving at Nabire airport, a local police officer checks and takes photos of your passport and Indonesian visa.
There is an entrance fee to enter Cenderawasih Bay and Teluk Cenderawasih National Park, which is $70 for two days in the park.

I asked in my hotel and with Sem were to pay the national park fee, but both claimed nobody checks it. So I guess you have to be unlucky if you get checked.
Money in Nabire
Everything in Nabire is paid by cash, no card payment around here.
There's an ATM just outside the arrival gate at the airport and two more around town which accepts foreign bank cards. There are no money exchangers around here.
What to Pack For Nabire
Absolutely everything you will need for your trip, while Nabire has one big supermarket, and a few smaller ones which are very well stocked with international goods.

There is nowhere to buy snorkelling gear or electronics here if you forget some. There are two small pharmacies in town.
There are no shops in Sowa, so if you want snacks, soft drinks or alcohol, you will have to bring them to Sowa from Nabire.
Alcohol is easily available around Nabire, a few small shops, plus the main supermarket in town sells beer and vodka.
Here are some things you should not leave without:
Extra Battery/PowerBank, there's no electricity in Sowa
Download Google Translate with the Indonesian language pack before arriving
Headlamp as there's no light after dark
Mosquito repellent, there are tons of mosquitos around
A silk sleeping bag, the guesthouse in Sowa had tons of bedbugs
Snacks and drinks as there is NO shop in Sowa
Where to stay in Nabire
Nabire has a fair share of hostels and guesthouses. Some accommodations include:
Hotel Anggrek: Cheap hotel less than five min walk from the airport, very convenient if having an early morning flight. I stayed here due to the location.
Grand Papua Hotel Nabire: The best hotel in town but also the most expensive, flat screen tv, aircon, hot showers.

[email protected]
Cenderawasih Bay Indonesia Whale Shark Diving – Final Thoughts
When it comes to whale shark diving, Indonesia's Cenderawasih Bay is among the very best. It is a true diver's paradise with its clear, calm waters and biodiverse marine life.

In addition to whale sharks, the reefs and underwater walls of the bay are teeming with macro marine life. This includes pygmy seahorses, needle ghost fish, colorful shrimp, and so much more.
And if you are not keen on diving, there are other ways to explore these limpid waters.

Whether snorkeling, swimming, or by boat, you are sure to witness something truly remarkable.
For another off-the-beaten-path adventure in Indonesia, be sure to check out the Tumpak Sewu Waterfall in Java.
Like It? Share It! Pin It!