China is an incredible country, brimming with epic sights, exciting experiences and a fascinating history spanning back thousands of years.

However, with so much to see and so many places to visit in China, it's best to focus on one area when deciding on an itinerary, rather than trying to see too much.

If you have only 10 days and want to see China at its most vibrant, a Yunnan itinerary is hard to beat.
Why you should travel to Yunnan province?
Yunnan province in southwestern China is one of the most varied and diverse provinces in China, both in terms of natural beauty and cultural experiences.

This province is incredibly diverse, with steaming jungles with elephants in the south, all the way to the borders of the Tibetan plateau in the north.
Between these extremes, you'll find some of the finest attractions in China.
Whether you're looking to explore ancient towns, see ethnic minority groups, hike the spectacular Tiger Leaping Gorge, be blown away by the incredible Blue Moon Valley, or want to indulge in unique Chinese food, Yunnan truly has it all.
Yunnan has a very pleasant climate, and can be visited throughout the year. With good infrastructure, visiting Yunnan is easy and can easily be done independently.
If you're looking for the best Yunnan itinerary for 10 days, you can't go wrong with the Kunming – Dali – Lijiang – Tiger Leaping Gorge route.
How to get to Yunnan
The gateway to Yunnan province is the capital city of Kunming (also known as The Spring City due it's fantastic climate).
Kunming Changshui International Airport is well connected with the rest of China, as well as other Asian countries such as Thailand, Korea, Vietnam, Nepal and Indonesia.

Lijiang also has an airport, but it's often cheaper and more convenient to fly to Kunming.
Kunming can also be reached from all over China with high-speed trains which make traveling to Kunming easy and comfortable, there are 10 high-speed trains between Kunming and Chengdu each day with the faster only taking 5hours and 8min.

3 high-speed trains from Beijing each day with the faster only taking 10 hours and 49 min to travel the 1,700 miles (2,735 km) distance between the two cities.

4 high-speed trains between Shanghai and Kunming each day, taking 10 hours and 39 min for the 2,266 km (1, 408 miles) long journey. This is also China's longest east-west high-speed rail line

And Kunming has more than 20 high-speed trains to Guangzhou everyday, with the fastest only taking 6 hours and 32min to complete the 1658km (1,030 miles) long journey.

Once in Kunming, regular bullet trains will whisk you off to destinations further afield in Yunnan province.
10 Days Itinerary for Yunnan Overview
Day 1: Arrive Kunming – Dali
Day 2: Dali
Day 3: Dali
Day 4: Dali – Lijiang
Day 5: Lijiang
Day 6: Lijiang
Day 7 Blue Moon Valley
Day 8: Tiger Leaping Gorge
Day 9 Tiger Leaping Gorge
Day 10 Lijiang – Kunming
Day 1: Kunming to Dali
With only 10 days, you will unfortunately not have much time to spend in Kunming. Instead make your way to Kunming Railway station right away to catch a bullet train to Dali.
To get from the airport to Kunming Railway Station, take the airport shuttle bus from just outside the arrival terminal. Bus number 2 or 6 both go to the station, and should take about 45 minutes depending on traffic. Buses run every half hour and cost RMB 25.
There is a train to Dali every 20 minutes or so, and the journey takes about 2.5 hours. For convenience, it's best to book your train tickets online at Trip.com.
Once you arrive in Dali, make your way to Dali Old Town, which is about 30 minutes by bus away from Dali station.
Day 2,3: Dali
The Old Town of Dali has been a favourite amongst local and international visitors for years, yet it still retains a lot of its laid back charm and atmosphere.

Dali is known as somewhat of a backpacker heaven for its laid back atmosphere, lakeside setting and great weather.

People often end up staying longer than they planned. That being said, Dali has not been spoilt by mass tourism, and that is perhaps the best thing about Dali.
Surrounded by a city wall and 4 gates leading into the old town, Dali is a great little town to explore on foot. Spend your first day leisurely exploring the old town.
The cobblestoned streets of the old town are filled with quirky shops selling souvenirs such as amber, Bai minority tribe handicrafts and wild mushrooms which Yunnan is famous for.

Trying wild mushroom hotpot is also an excellent idea. Another snack you must try in Dali is grilled yak cheese, which Bai women grill over hot colals right on the street all over the old town.
On the second day, rent an electric scooter and head out to explore the lovely countryside around Dali.
The imposing Three Pagodas just outside town should be your first stop. These three ancient pagodas dating back to the 10th century are magnificent, and the setting right in front of the Changsan Mountains are a sight to behold.

The main pagoda is 16 stories high and almost 70 meters tall. Surrounding the pagodas are lovely gardens and ponds, which are perfect for getting photos with the reflections of the pagodas.
After spending a few hours admiring the gardens, ponds, temples and pagodas, jump back on your e-bike and follow the signs to Lake Erhai.

The drive along the shores of the lake will take you past strawberry farms, mountain scenery and pretty rural villages.
Notice the cat statues on the roofs of the houses as you explore the villages of Lake Erhai. The cat statues, with the mouths wide open, have a dual purpose: scare away evil spirits, and catch good luck and wealth in their wide-open mouths.
Day 4, 5, 6: Lijiang
Catch the morning train from Daili at 10:00 to Lijiang and you should arrive in Lijiang before 13:00.
The picturesque old town of Lijiang is perhaps the most popular attraction in the whole of Yunnan province – for good reason.
This well-preserved ancient town dating back to the 11th century is drop dead gorgeous with wooden architecture, cobble stoned streets, canals running through town, friendly Naxi minority people – all backed by the snow- capped Jade Dragon Snow Mountain not far away.
Word of advice: Beautiful Lijiang has been popular with Chinese tourists for decades and, as a result, it can get incredibly busy. This does not mean that you should avoid visiting Lijiang.

Just keep your expectations in check. To best enjoy Lijiang, get up early and enjoy the stunning town before the crowds descend. Also remember that most tourists stick to certain areas, which leaves other areas beautifully undisturbed.

All things considered, Lijiang is a great place to visit, and the large number of visitors actually contribute to a lively atmosphere.
Spend the next few days walking all over Lijiang and discover hidden alleys, cute teahouses and more than enough options for street food. Over the next few days, make sure to check out the following places of interest:
The Black Dragon Pool
Just outside the old town of Lijiang, this incredible park has some of the most iconic views of Yunnan.

At various points in the park, you'll get a beautiful view of the Jade Dragon Snow Mountain with an arched, stone bridge and pagoda in front of it, and the Black Dragon Pool in the foreground.
Almost as spectacular as the views and the serenity of the park is the fish in the crystal-clear ponds.

Thousands of fish in all sizes and colours will keep you mesmerized for quite a while. You can also buy some fish food to join the locals in feeding these beauties.
Wangu Tower
Sitting on the highest point in Jiliang, the area surrounding the Wangu Tower offers a sweeping view over the black tiled roofs of the Lijiang Old Town.

Pop into one of the many tea houses for a drink to rest your feet and enjoy the view.
Dance in the town squares
You'll find people of the local Naxi minority group dancing in the town squares throughout the day. Everyone is free to join in, and it's good fun.

This continues into the night, and it's much livelier after dark. It's very acceptable to get a cold beer from a convenience store and drink it in the squares while enjoying the entertainment.
Visit the Tea Market
There are hundreds of Tea houses and shops scattered all throughout Lijiang Old Town. You can pop into any of them, and you'll be treated with a little tea ceremony and the chance to try various teas.
Yunnan province is well known for its high-quality tea, of which Pu-erh tea is the most famous.
For a less touristy (and cheaper) experience, head to the Tea Market, located just outside the old town. Vendors will be quite surprised seeing foreigners here and will go out of their way to sell you some tea.

Like at the tea shops in the old town, they will put on a tea ceremony and keep the good stuff coming until you've found what you were looking for.
Suhe Old Town
When the crowds in Lijiang get too much, jump in a taxi and drive out to Suhe Old Town. Suhe is only 4km away from Lijiang but is a world away. Although Suhe is much smaller than Lijiang, it makes for a very enjoyable half-day trip.

The Tea Horse Road Museum, set in a handsome old building offers informative displays on the history of the area and how the trade in tea has formed the history and culture in this part of Yunnan.
Day 7: Blue Moon Valley
For once, the Blue Moon Valley is more than just a catchy name and is indeed as cool as it sounds.
This incredible valley, located at the foot of the Jade Dragon Snow Mountain makes for an excellent half or full-day trip from Lijiang.
The Jade Dragon Snow Mountain scenic area is home to various surreal landscapes, of which the Blue Moon Valley is perhaps the most unbelievable.

A series of ice-blue lakes sit right in front of the snow-capped mountain behind it, and you'll be excused if you thought that you were dreaming and woke up somewhere in the Rockies.
An incredible sight to see it submerged trees standing like skeletons in that surreal and crystal-clear water. If you are looking for a unique photo opportunity, you could also dress up in the local Naxi attire and ride a yak in that unworldly scene.
As to be expected of one of Yunnan's most beautiful attractions, it can get unbelievably busy. To enjoy this amazing sight, come here first thing in the morning, before the tour buses arrive.
Other than the blue lakes, you could also visit meadows and grasslands, or ride a cable car to the glacier on top of the Jade Dragon Snow Mountain.
Day 8,9: Tiger Leaping Gorge
Two hours by bus north of Lijiang, the Tiger Leaping Gorge is one of China's most spectacular (and accessible) adventures.

The Tiger Leaping Gorge is the deepest gorge in the world, with a height of almost 3000 meters from the river at the bottom of the gorge to the mountain tops beside it.
Hiking the Tiger Leaping Gorge usually takes two full days, but if you're pressed for time, or don't want to walk that long, it's possible to cut it down to only a one-day walk.
If walking for two days, start walking at Qiaotou where the bus will drop you. From here it will take most of the day to reach the stunning Tea Horse Guesthouse where you can spend the night.

Otherwise, get a taxi in Qiaotou to take you to Tea Horse Guesthouse. You could spend the rest of the day enjoying the spectacular mountain scenery, or take short walks in the area.
After a comfortable sleep, some delicious mountain food and bright starry skies, hike from Tea Horse Guesthouse to Tina's Guesthouse.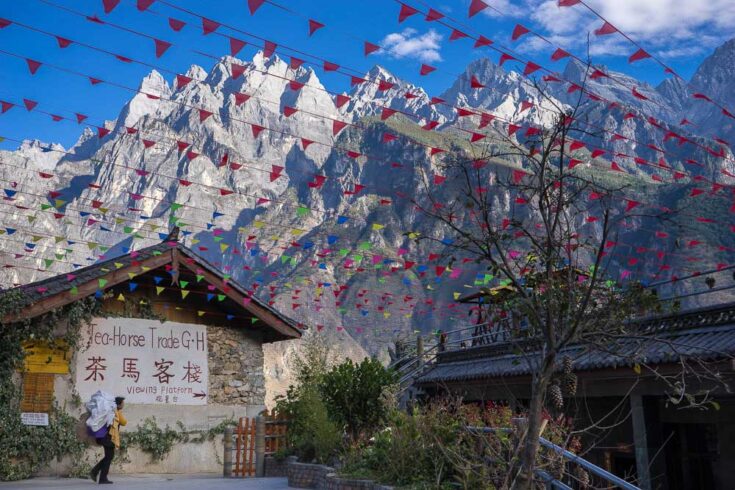 The hike between these two guesthouses is the most beautiful stretch of the gorge, and known as the Middle Gorge, takes about 6 hours to walk, and the scenery just keeps on getting better around every bend in the path.

Along the way you'll walk past waterfalls, farmers herding sheep, sheer drop-offs and you might even spot rainbow clouds if you're lucky.
You should reach Tina's Guesthouse around lunch, so grab a bite to eat and perhaps something stronger to celebrate the end of hike.

The bus back to Lijiang leaves from Tina's Guesthouse at around 15:30 in the afternoon. If all goes well, you should be back in Lijiang just before sunset.
Day 10: Lijiang – Home
Today is the last day of our Yunnan itinerary. You could get a flight from Lijiang Sanyi Airport, which has good connections to most major cities in China.

Alternatively, you could backtrack to Kunming in about 3 hours by fast train.
Yunnan Itinerary Conclusion
A 10-day itinerary for Yunnan is just the right amount of time to see the highlights of northern Yunnan, without rushing it.

This itinerary allows you to see the best sights and attractions in the province.

With more time, you could extend your trip to include Shangri la on the eds of the Tibetan world, or perhaps spend a day or two in Kunming or travel to the southern part of Yunnan to visit either the Yunnan Stone Forest or the Yuanyang Rice Terraces, which are both UNESCO World Heritage sites.

With fewer days, consider culling a day from Lijiang.
A journey through Yunnan is sure to be an enjoyable and interesting experience and something that will stay with you forever.