In the far, western part of Turkmenistan is a natural wonder that very few people have heard about, and even fewer people have seen, The Yangykala Canyon.
A vast rock landscape with rock walls as tall as 60-100meters colored with pink, red, and yellow colors.
A landscape that was created more than 5.5 million years ago, when the red cliffs wall you know see, were underwater limestone walls full of massive coral reefs from the pre-historical Parathetys Sea.
If you are in Turkmenistan you can´t miss out on visiting the most famous natural site in the country, the Darvaza Gas Crater, better known as the gates to hell.
A site that if it were in most other countries, this would surely be world-famous, but since it's in Turkmenistan no one has ever heard of it.
It´s so remote that not even most of the local Turkmens know that this place exists in their own country. It´s indeed one of the most spectacular natural attractions in all of Central Asia and a real of the beaten path destination.
Yangykala Canyon is located 165km north of the town Balkanabat the 5th largest city in the country and the capital of Balkan Province, the largest province in the country, and home to 94% of Turkmenistan's natural gas production and 12% of its petroleum production.
So the province is one of few places in the country that sees ex-pats workers, yet very few tourists make it to this part of Turkmenistan, which should be to no one's surprise since Turkmenistan only had 7000 foreign visitors in 2018, making it the 11th least visited country in the world last year. Turkmenistan is home to some of the world´s most bizarre rules.
Leaving Balkanabat, you venture on a four-hour journey to the north into no-mans-land with only a few very remote settlements, only possible to visit with a 4X4.
Leaving the good tarmac highway that goes across all of Turkmenistan, do you soon enter an old pothole full road that probably hasn't been repaired since the fall of the Soviet in late 1991.
While driving along the desolated road is it easy to get lost in the endless horizons, the only thing that seems interesting along the way is the few camels that walk along the road and a few vultures in the far distance.
Except for that is not much that will draw your attention before catching the first glimpse of the vast canyon, that stretches over an area of 25km towards the Garagogazgol basin.
While the whole landscape it´s all impressing is it not before you drive off the main road and of to what´s no more than just a sand track you really get to see how impressive this natural wonder is.
The most famous formation is The viewpoint that's called jaws of a crocodile, which is also the best place to get a panoramic view of the vast desolated landscape that surrounded the Yangykala Canyon.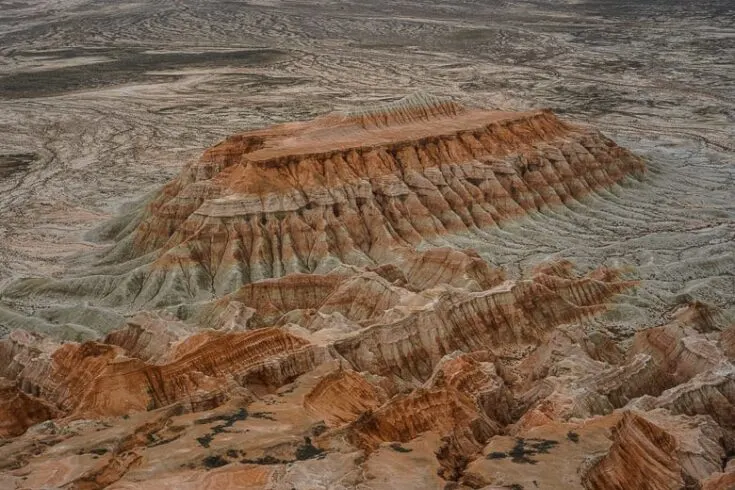 The colors of the canyons are said to change from bright white over yellow/orange to rust-red in the rain. When I visited the Yangykala Canyon, was it overclouded and extremely windy.
How To Visit The Yangykala Canyon.
A visit to the canyons is a minimum three-day trip from Ashgabat, and special permits need to be obtained before arrival in Turkmenistan. Which every local travel agency in Turkmenistan can arrange.
Yangykala is located 590km/366miles north-west of Ashgabat, 170km/106miles east of Turkmenbashi, and 165km/102miles north of Balkanabat.
The most common itinerary to visit Yangykala Canyon is on a trip between Turkmenbashi and Balkanabat. I left Balkanabat around 9 am and arrived in Turkmenbashi around 6 pm, so it´s a long and full-day trip.
There´s no public transportation to Yangykala Canyon, so you are required to hire an experienced off-road driver, and plenty of spare petrol and water are important measures.
While there are no accommodation options within the canyon, the closest would be in either Turkmenbashi or Balkanabat, so are it possible to camp at the plateau above the canyon, although it can get windy here.
While most tour companies run trips here, not all include it on their standard itineraries, so make inquiries when planning your trip.
Like It? Share It! Pin It!