Turkmenistan, the small country in Central Asia, might be the world's strangest country when it comes to both architecture and the bizarre laws that the locals have to obey under the firm control of Gurbanguly Berdimuhamedow, the President of the country.
Enjoy these Turkmenistan facts that don't seem true, but strangely, they are. Hopefully, they encourage you to give Turkmenistan a visit one day.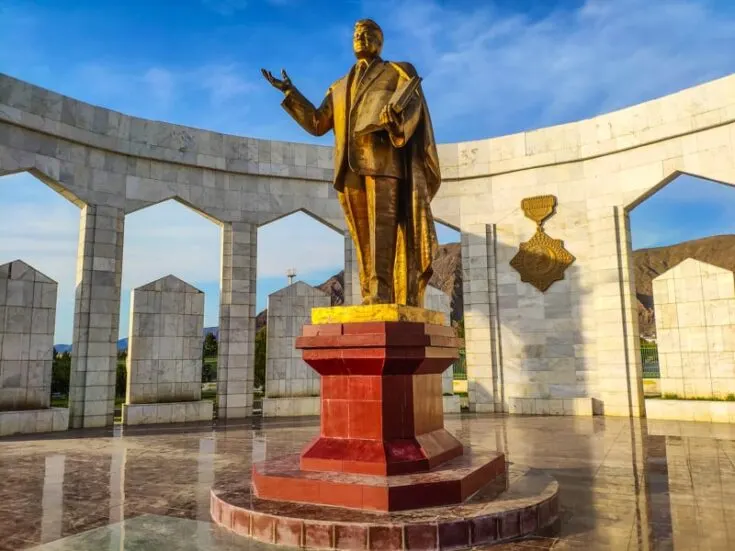 You may be wondering, is the Turkmenistan president crazy? Some of the first strange laws that were put into place happened under the first president in Turkmenistan, Saparmurat Niyazov.

He named himself President For Life after the fall of the USSR in 1991 when Turkmenistan gained its independence on 27 October the same year.
Turkmenistan Weird Laws
Turkmenistan laws now seem normal to the people who live there, but they're still a little strange for those of us who don't. Here are a few Turkmenistan crazy laws that you probably don't know about.
*After Niyazov came into power, he granted himself the title Türkmenbaşy meaning "Head/Leader Of The Turkmen".
*Shortly after, he would rename the second largest city in Turkmenistan, Krasnovodsk, to Türkmenbaşy after his self-proclaimed title.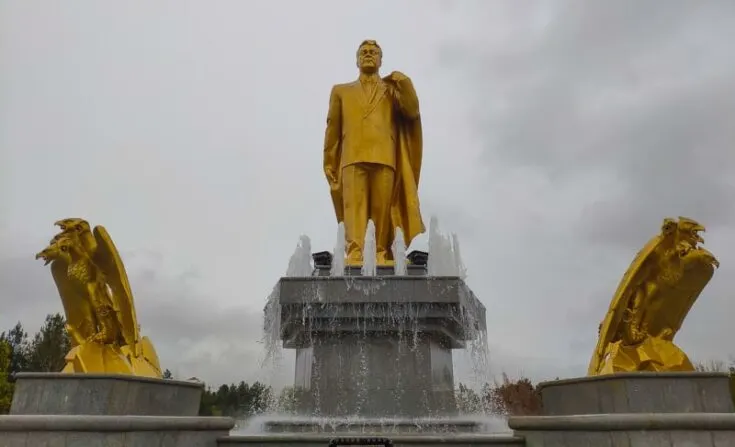 *Saparmurat Niyazov wrote a book that was realized in 2001, called the Ruhnama (The Book of the Soul), combining spiritual/moral guidance; the book also includes many stories and poems.
*Niyazov first ordered copies of Ruhnama to be placed in every school and library around the country (he later shut down all libraries outside the capital), but eventually, he went as far as to make an exam on Ruhanama teachings an element to be part of the driving test.
*It was mandatory to read Ruhnama in schools, universities, and government offices all over Turkmenistan
*New governmental employees were tested on the book at job interviews. Niyazov was once quoted saying that God himself told him that everyone who has read the book would come directly to heaven.
*Locals were obliged to read the Ruhnama every Saturday.
*Niyazov required that bookstores and government offices would display it prominently and that all Mosques around Turkmenistan keep it as prominent as the Quran.
*If an imam refused to follow this order, the Mosque would be demolished, and with more than 90% of the population in Turkmenistan being Muslims, this was a hard rule to disobey. It's clear that the president of Turkmenistan thought very highly of himself.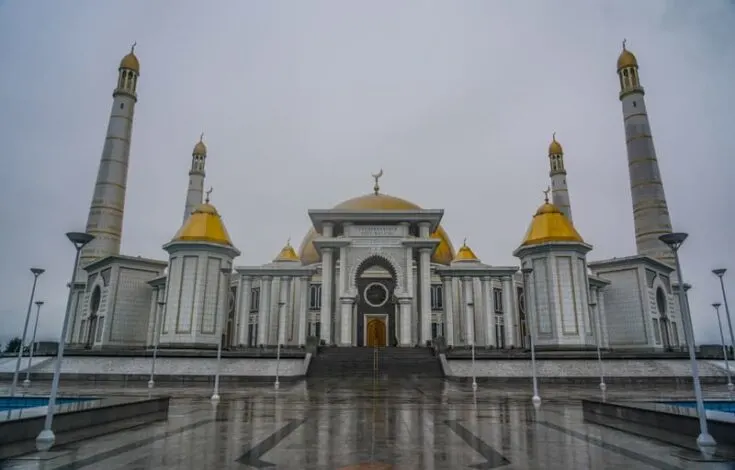 *Niyazov also made outrage among the Muslim population when he got the walls at the Türkmenbaşy Ruhy Mosque, the largest Mosque in Turkmenistan inscribed with verses from both the Quran and the Ruhnama.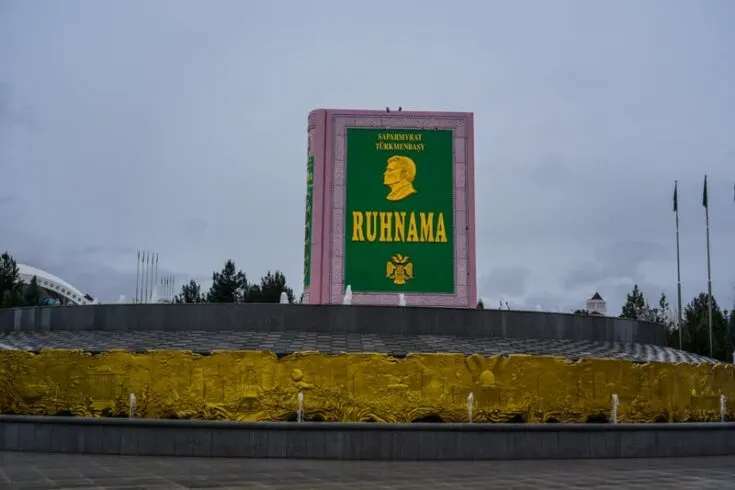 *In August 2005, the first part of the Ruhnama was launched into space so that it could "conquer space" as well. It is supposed to orbit Earth for the next 150 years.
*In 2013, seven years after Niyazov's death, the Ruhnama was finally removed from public schools in Turkmenistan. In the following year, in 2014, the current president of Turkmenistan, Gurbanguly Berdimuhamedow, declared that all Turkmen universities would no longer test their students on their knowledge of the Ruhnama.

It seemed that weird laws in Turkmenistan were coming to an end.
Saparmurat Niyazov, Turkmenistan Dictator Made These Rules
Do you think you've seen all of Turkmenistan's strange laws? You'd be wrong. Turkmenistan rules get even stranger. Here are a few that Saparmurat Niyazov implemented.
*Feeling that the ministers, members of parliament, and civil servants were getting out of shape, he got a 37 km (23 miles) long trail (mostly steep concrete stairs) built along the Kopet Dag mountains just outside the capital Ashgabat.
All ministers, members of parliament, and civil servants were ordered to walk the full health trial once a year. He also expected everyone in Ashgabat to walk the trail called "The Walk Of Health" at least once a year to get into better shape.
But did Niyazov ever do the health walk himself? No, Niyazov himself watched his staff start the walk before he flew in his helicopter to the final stage of the trail to greet them on their successfully completed walk.
*Here's one of the Saparmurat Niyazov facts you probably didn't know. Niyazov outlawed ballet and circuses in 2001 for being unnecessary and for not being part of Turkmenistan's traditional culture.
*In 2004, men were banned from having a beard and long hair; only men older than 70 were allowed to grow their beards; this rule is still in place, a similar rule has been added in Tajikistan

This is one of the facts about Turkmenistan that you should probably know before visiting – just in case you need a haircut to keep you out of prison. But you don't have to worry; the rule doesn´t apply to foreign tourists.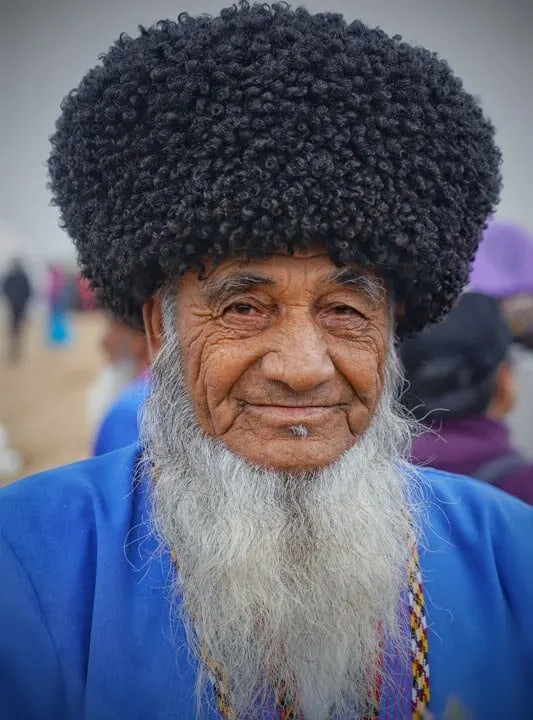 *Saparmurat Niyazov decided in 2002 that every day of the week and every month of the year should be renamed according to himself and the names of his family members.

January was to be called Türkmenbaşy, meaning The Leader of Turkmen, February was to be named Baýdak after the Turkmen Flag, April was to be named Gurbansoltan after his mother. And September was to be named Ruhnama after his book. You can read the full list here (Wikipedia)
*He changed the Turkmen word for bread and replaced it with Gurbansoltan, the name of his own mother.
*He banished dogs from the capital Ashgabat because he found dogs to have an unappealing odor.
*But he did like one thing about dogs; Niyazov did recommend locals in Turkmenistan to get their Gold Teeth pulled out and instead told people to chew on bones to strengthen their teeth.
Niyazov once said that when he was young; he watched dogs; they were given bones to gnaw to strengthen their teeth. Those of you whose teeth have fallen out did not chew on bones. This was his advice.
*In April 2021, Turkmenistan dedicated a national holiday to the Alabai, one of the world's largest dogs. The Turkmenistan leader sure did change his mind a lot.
*In 2020, a new 15-meter tall Gold Statue of the Alabai was built in Ashgabat; dogs and horses are sources of national pride in Turkmenistan.
*He banned artists from lip-syncing during concerts in 2005, as well as using music recordings on public TV and all cultural events, saying it harmed traditional music performance. Car Radios were also banned. This is sure to be one of the Turkmenistan fun facts that are hard to believe.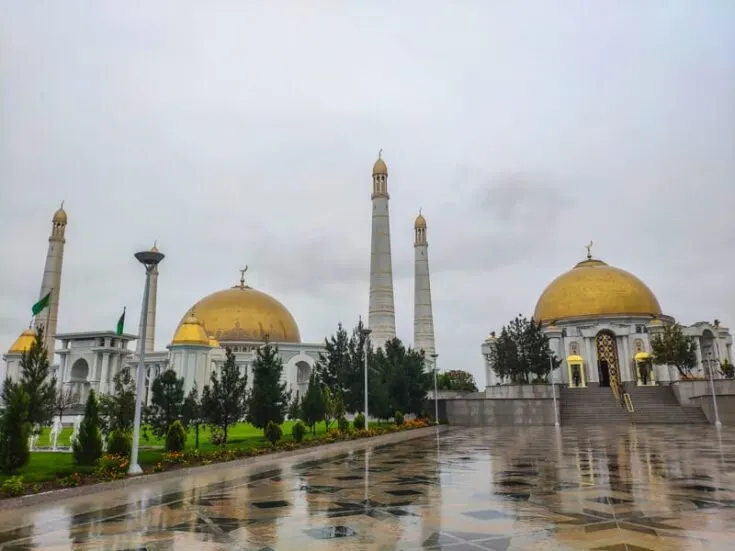 *News reporters and tv presenters were banned from wearing makeup on tv, saying that reporters should appear natural on TV. But rumours are that he actually found it difficult to distinguish male anchors from female anchors.
*He banned makeup in Turkmenistan due to the local's natural beauty and no need for makeup.
*In 1997, when he tried to quit smoking, he put in a law that banned smoking in public to eliminate temptation from people smoking on the street.
*He also ordered all government employees to quit smoking. This is a strange Turkmenistan law that affects such a small group of the Turkmenistan population.
*He requested an ice-skating rink should be built near Ashgabat so the people living in the desert could learn to ice skate.
*When taking your driving license, all the drivers were also required to pass a morality test.
*In 2004, he fired 15,000 doctors and health workers all over the country, and in 2005 all hospitals outside the capital Ashgabat were shut, with the reasoning that all sick should come to the capital for treatment.

He found it to be a waste of money having healthcare outside the capital. Remember that it's almost 600km from Turkmenbashi in the west of the country to Ashgabat and almost 1000km to Gowurdak in the northeast part of Turkmenistan. That's a long way to go if you are sick.
*At the same time, he closed down all libraries outside the capital for the reason that people in the countryside couldn't read, according to him. This is simply one of those Turkmenistan weird rules that only seem to make sense to its leader.
*All physicians were ordered to swear an oath to the president instead of the Hippocratic Oath.
*In 2006, all video games were banned for being too violent for the young Turkmen.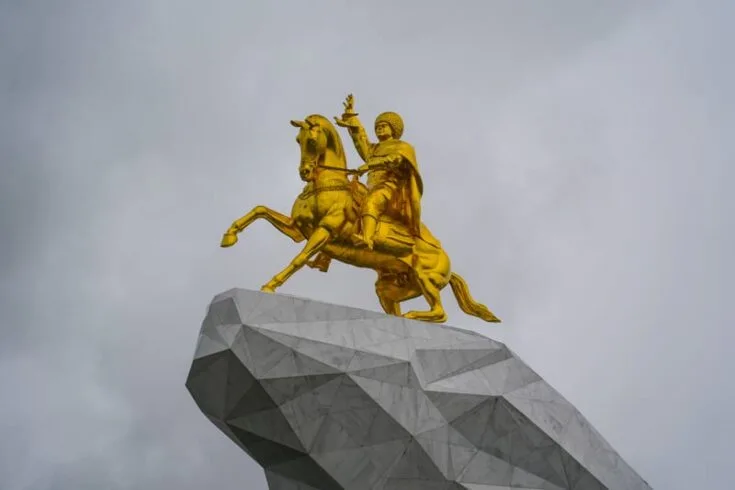 *Most of these rules fell away after the death of Saparmurat Niyazov in 2006, and Gurbanguly Berdimuhamedow came into power. But also, Berdimuhamedow has enforced a few bizarre laws.
Gurbanguly Berdimuhamedow Crazy Laws
*Black cars are banned in the capital Ashgabat, and dirty cars are not allowed; due to this, when entering Ashgabat, there are numerous car cleaning stations in the outskirts of the city where everyone is cleaning their cars before entering the city.
When going back to Ashgabat after my trip to Darwaza Gas Crater/The Gate To Hell, I had to wait in a 30min line to wash my car before entering the city center.
Fun Facts About Turkmenistan
Now that you know about the strange laws that are made in the country, here are a few Turkmenistan interesting facts.
Carpets are Incredibly Important in Turkmenistan
*Carpets hold a very important role in Turkmen culture, carpets are so important in Turkmenistan that there is even a Ministry of Carpets in the Government, there's a National Carpet Museum in Ashgabat with more than 1,000 carpets on display, there even a carpet on the national flag of Turkmenistan.
*And then it should be to no one's surprise that there's even a Public holiday in Turkmenistan celebrating carpets, the last Sunday in May is called: Turkmenhaly Bairamy – Carpet Day.
*Turkmenistan also used to have the world's largest hand-woven carpet in the world on display in the Carpet Museum in Ashgabat, but the record was then broken in 2007 when the world's largest carpet was put in The Sheikh Zayed Grand Mosque in Abu Dhabi.

Then Tabriz in Iran broke the record in August 2019 with an impressive 600-square-meter carpet, which weighs three tons.
*And if you want to buy a carpet in Turkmenistan, you are required to get a receipt with details of the age, origin, date of purchase which has to be certified by the Ministry of Carpet, before you can take the Carpet out of of the country.

But if you are ever in Turkmenistan and want to buy an original Turkmenistan carpet, the carpet shop at the Grand Turkmen Hotel is the best place to go, and there's a shop that works directly under the Ministry of Carpets, and the paperwork is given with your carpet purchased here.
Turkmenistan is one of the Least Visited Countries in the World
Turkmenistan is one of the least visited countries in the world, with less than 10 000 foreign tourists a year, making Turkmenistan one of the top 10 least visited countries on earth.
Together with Libya, Sao Tome & Principe, Somalia, Niue, Naru, Kiribati and Comoros.
Even countries like North Korea, Syria, and Eritrea receive more tourists a year than Turkmenistan.
Considering the population is 90% Muslim, they are surprisingly liberal, even serving their very own Turkmenistan beer. If you're not a beer drinker, they also serve their own vodka and brandy.
Turkmenistan is Obsessed with Setting World Records
Ashgabat itself holds four current Guinness World Records:
The world's biggest indoor Ferris wheel at 47,6m at the Alem entertainment center in the south of Ashgabat.
The highest number of fountains in public spaces and the highest concentration of white marble buildings with 543 in an area of 4.5m square meters.
The largest architectural constructed star in the world, a glass construction, which has a total area of 3,240 sq. m. (34,875 sq. ft.) which is also the Turkmenistan Broadcasting Center tower.
Horses are Almost as Important as Carpets
The local horse breed Akhal-Teke is considered to be one of the most beautiful and rarest horse breeds in the world.
Locals take huge pride in working with their horses. One of the most respected jobs in Turkmenistan is a horse tamer, and kids get sent to horse training centers at a young age to become horse tamers and horse athletics.
Horses have such an important role in Turkmenistan that an Akhal-Teke Horse even appears on the national emblem of Turkmenistan.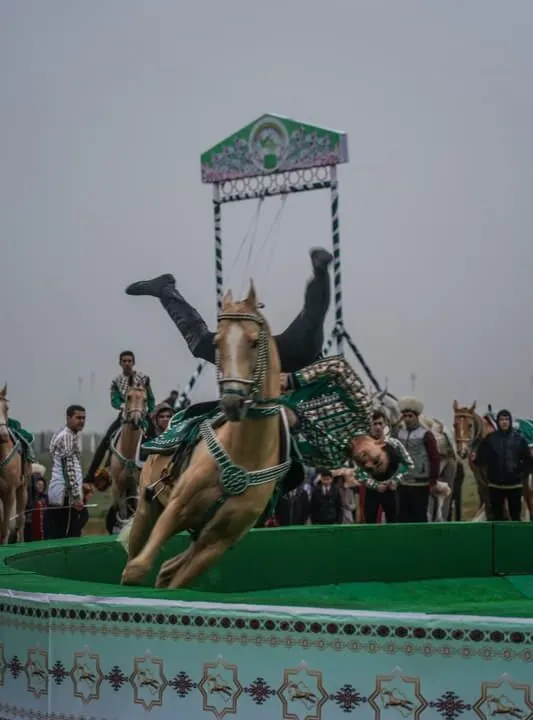 But it's not any horse, the national emblem is of a real living horse, and when that horse dies, a new Akhal-Teke Horse will be chosen, and the National Emblem is updated.
And with a new horse on the emblem, all the old national emblems all over Turkmenistan will be replaced with the new emblem with the new horse.
So it's not hard to understand why eating horses is illegal in Turkmenistan, while horse meat is common in all other Central Asian countries.
Locals Used to Have Free Gas, Water, Petrol, and Electricity
In 1993 President Saparmurat Niyazov introduced subsidies that every person registered in a household in Turkmenistan should get 35-kilowatt hours of electricity and 50 cubic meters of natural gas each month, plus 250 liters of water per day.
And in 2008, the new president, Gurbanguly Berdymukhamedov, included that every car would get 120 liters of fuel every month for free.
With this, the locals let the gas stove's in their houses burn 24/7 since it was cheaper to let the gas burn than buy new matches.
Turkmenistan is the Only Neutral Country in the World
While there are a few countries in the world that are considered neutral, with Sweden and Switzerland being the two longest-standing neutral nations in the world, but Turkmenistan is the only nation that is officially recognized by the United Nations as a neutral nation.

When Saparmurat Niyazov in 1995 told during his speech that Turkmenistan would become a neutral country.
All 185 UN members (and all members in 1995 states) voted for Turkmenistan to remain neutral. In celebration of this, an olive branch was added to the flag.
And of course, Niyazov ordered a monument to be built in the capital Ashgabat,
The Arch of Neutrality, 95-meters tall, which is topped with a 12m tall gold statue of Saparmurat Niyazov himself which rotated so the statue on top would always face the sun. The rotation has now been turned off.
The Most Famous Sight in Turkmenistan is a Man-Made Disaster
The most famous site and the reason most foreign tourists want to visit is what is locally known as Darvaza Gas Crater and is better known as the Gates To Hell abroad.
The Gates to Hell was created by mistake in 1971 when a Soviet drilling rig accidentally punched into a massive underground natural gas cavern. This caused the ground to collapse and the entire drilling rig to fall in.
After the crater was created, geologists intentionally set it on fire to prevent the spread of methane gas. This was leaking from the crater, and it was the only way to stop a potential environmental catastrophe.
Geologists thought the crater would only burn for a few weeks; it has now been burning non-stop since 1971.
That's almost 50 years, and geologists still have no idea how much longer it will burn for.

It might die out tomorrow, or it might burn for another 100 years; nobody knows. If there's one thing you must do while traveling in Turkmenistan, it's taking a tour of the gas crater that never stops burning.
But the funny thing is Turkmenistan does nothing to attract tourism with the Gates To Hell, the country seems pretty embarrassed by it, and while in Turkmenistan you will not see any photos from inside the country, instead they are trying to promote one of the 3 Historical sites that are on the UNESCO World Heritage List and Yangykala Canyon, another natural wonder.
Even the locals you talk to in Turkmenistan are not aware of the site, while it's still the biggest attraction that draws tourists to Turkmenistan.
Turkmenistan Strange Facts Your Probably Didn't Know
This wondrous country is one with many quirks, but it's also a place you probably didn't know much about before reading this article. From dictators that make weird laws to fires that can't be put out, Turkmenistan is a pretty Bizarre place.

But if you're looking for somewhere off the beaten track, where not many travelers have been before you, this is surely the place to go.