Ashgabat, the capital of and largest city of Turkmenistan in Central Asia, might be the strangest capital anywhere in the world. It's like a mix between Dubai and Pyongyang, the capital of North Korea.
Ashgabat is often hated by foreign tourists due to its lack of soul. The streets are often entirely empty of people, and you often get stopped by the secret police while you are trying to take photos around the city to discover Turkmenistan's beauty.
But personally, I loved Ashgabat, and it's probably my favorite city in Central Asia.
Are you one of those travelers who don't know anything about Ashgabat or Turkmenistan? Don't worry, are you not the only one; Turkmenistan is one of the least visited countries in the world with less than 10 000 foreign tourists a year. Truly a haven for the unusual traveler.
Use this travel guide to visit Ashgabat and discover the beauty that many others don't get to encounter.
Can You Visit Ashgabat? What to Expect
While traveling to Turkmenistan is not a typical destination for globetrotters, but it's still interesting to know why it's attracted fewer tourists.

It's not that the country doesn't have anything to show for, but the visa is one of the most difficult in the world to obtain.
Turkmenistan is considered to be one of the most isolated countries in the entire world with very little western influence.
The statue of the Ruhnama, the book that Turkmenbashy, the first president of Turkmenistan wrote, during his rule, was mandatory to read and memorize.
Similar to Mao's little read in China and The Green book under Muammar Gaddafi in Libya.
There are no big billboards with commercials anywhere in the country, and best of all, there's no Starbucks, no KFC, no Mcdonalds, etc. Only small, locally owned businesses.
But the few tourists that make it to Ashgabat will see a city that is extremely well-organized with an easy bus system, and it's also probably the cleanest city anywhere in the world. Dirty cars are not even allowed in the city.
Turkmenistan is home to many of the world's strangest laws; click here to read the full list.
The photos in this post are not as good as I wanted, but unfortunately, I have had grey sky and rain for nine out of the ten days I stayed in Turkmenistan, making it hard to take great photos.
Ashgabat is a city full of strange monuments like the largest indoor Ferris wheel in the world called the Wheel of Enlightenment, A statue of the Ruhnama, the book that Turkmenbashy, the first president of Turkmenistan, wrote, the Monument to the Constitution, the Arch of Neutrality, the strange Wedding Palace, just to name a few.
And about the whole of Ashgabat is almost completely built out of white marble with sparkling gold making the city one of a kind not only in Asia but in the whole world.
Turkmenistan is mostly a desert. The Karakum desert is spreading out over 70 % of the country's territory.
Vast space made of sand, emptiness, and harsh weather is appearing almost as if from another planet, like in the strange and unknown Yangykala Canyon in the western part of Turkmenistan.
At first, you might think there is only a desert to expect from Turkmenistan.
But no. There is something else that looks like it fell from some other planet.

The Darvaza Gas Crater, also known as the Gate to Hell, is the most famous site in Turkmenistan and one of the only destinations where you will find a private tour.
Ashgabat Travel: How to Get There
Getting to Ashgabat and Turkmenistan is a pain; first, you will have to get a visa which is one of the hardest in the world.

It's also very important that if you are planning to stay in Turkmenistan for more than 3 days, you will have to register with the government, the registration will be stamped into your passport, and it will be checked when leaving the country.
If you have booked a tour with a guide, your guide will take care of the registration.
The only way to get a tourist visa is through a local travel agency; he will arrange all the papers so that you can get the visa on arrival at the airport.
In 2016 a new international airport opened at Ashgabat International Airport, the world's most beautiful airport terminal shaped like a bird.
While the terminal holds all that you would expect from a top international airport, so do very few international airlines fly into Ashgabat International Airport.
The national airline Turkmenistan Airlines just recently got its permits back on December 9 to fly to the EU after being banned from EU airspace for 10 months.
History of Ashgabat: The White Marble City
It's hard to understand Ashgabat architecture without going back to understand the motives for constructing such a monstrous city.
Ashgabat, as it is the capital of the country, has been used as a playing field for the ambition of its leaders.
Ever since the country became independent from the USSR/Soviet Union on 27 October 1991, since then two presidents changed most of the country; both of them loved the control and left a mark of their excellence all over the country.
Architecture had to live up to expectations and give these rulers something to satisfy them.
Political ambition dictated the city's architecture and led to now having one of the most bizarre cities in the world.
Furthermore, as a new president came into power, a part of the city built by the previous one had to be destroyed. Ashgabat has continuously been stripped of memories.
Back in 1948, was there a devastating earthquake that destroyed most of Turkmenistan and killed about 10% of the country's population in 1948.
However, it is hard to judge if that earthquake changed the appearance of Ashgabat as much as the construction of marble buildings.
Present Ashgabat: Turkmenistan Capital
Ashgabat today is a city of marble and gold with only a few exceptions, like the Ertuğrul Gazi Mosque, which is built like the Blue Mosque in Istanbul.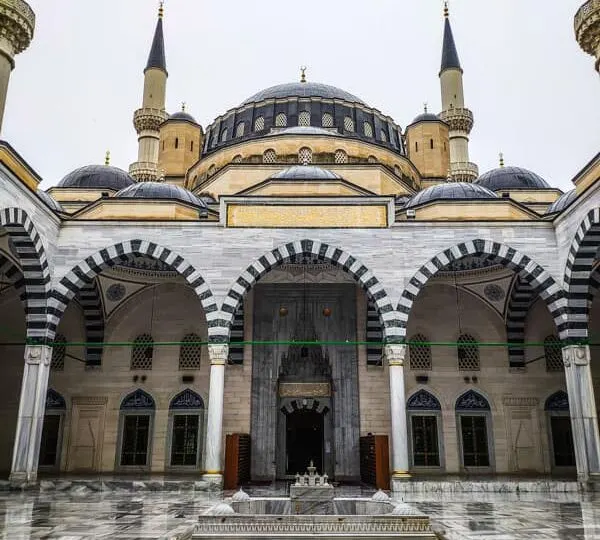 Some even call Ashgabat 'the city of the dead', and just by a simple walk around the city, you will understand why.
There are hardly any people around the flashy white blocks, as if it was not built for people but only for showing off.
The only people you see around Ashgabat are the street cleaners which keeps the city extremely clean.
And why is that? Simply because President Saparmurat Niyazov of Turkmenistan is obsessed with being number one and indulging in one expensive hobby.
With a goal of getting Turkmenistan into the book of Guinness World Records as often as possible. Ashgabat became a dead city with records to keep it alive.
Ashgabat itself holds four current Guinness World Records: The world's largest indoor Ferris wheel at 47,6m at the Alem entertainment center in the south of Ashgabat, The highest numbers of fountains in public spaces, and the highest concentration of white marble buildings with 543 in an area of 4.5m square meters.
The largest architectural constructed star in the world, a glass construction, which has a total area of 3,240 sq. m. (34,875 sq. ft.) At the Turkmenistan Broadcasting Centre tower.
Another big pride of Turkmenistan is the local horse breed, the Akhal-Teke, which considered to be one of the most beautiful and rarest horse breeds in the world; there are statues of horse all over Ashgabat, and of course, is one of the world's largest horse statues in Ashgabat.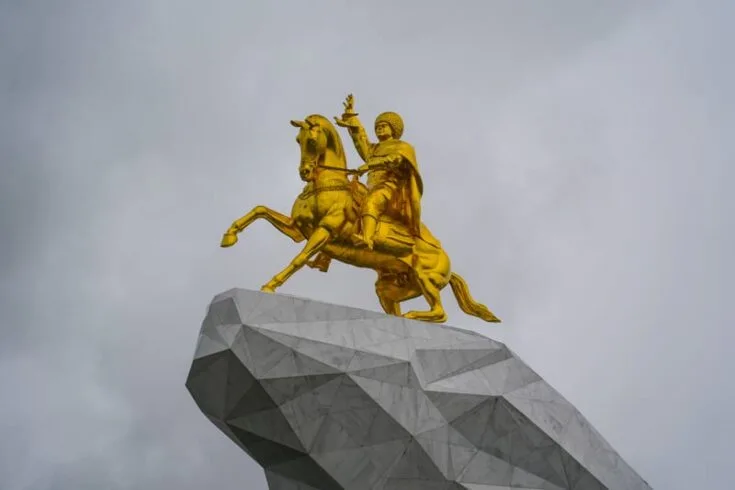 Visit Turkmenistan Landmarks in Ashgabat
The constructions you will see here cannot be seen anywhere in the world, not even with a visit to Dubai. It seems as if every building was blown out of proportions and purpose.

With so many Ashgabat monuments, your days will be filled with adventure.
Just be sure to bring along a reliable daypack for your travels. This allows you to carry your camera, water, and SPF 50 sunblock, as it can get very hot in Ashgabat.
There is a huge wedding hall that could host a finale of the FIFA World Cup, dozens of menacing statues of warriors and presidents, governmental buildings that are simply way too much.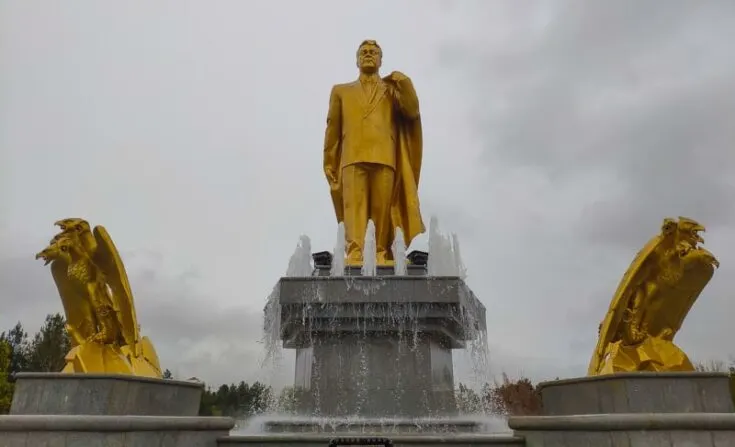 For example, one of the strangest governmental buildings is the building of the Ministry of Foreign Affairs. Huge (of course), made of marble (of course), and with a huge planet Earth on top of it.
Yes, the building is holding the entire planet. On that globe, Turkmenistan is decorated in gold to celebrate its glory and the image they hope to project.
If this is not bizarre enough, the Ministry of Education is made in the shape of a gigantic marble book.
And remember the wedding hall? It also holds on an entire planet.
One of the biggest horse statues in the world, the biggest Speaking of stars, there is a peculiar star everywhere throughout Ashgabat.
An 8-point star is a religious symbol of eight ways to enter paradise.
This one will follow you during your entire stay in Turkmenistan, on buildings, airports, hotels, carpets, malls, everywhere.
Visiting Turkmenistan Ruhy Mosque
The rulers of Turkmenistan have been unusual ever since 1991, that's clear, but there was a man who was a dictator and a rebel at the same time.
Saparmurad Niyazov or Turkmenbashi, the former president of Turkmenistan, had a 'gift' for making up his own rules.
As much so that he created a Mosque to follow not Kuran and Islamic laws, but the rules he himself imagined.
The mosque is grandiose, white marbled, of course, and decorated with Turkmenbashi's verses and thoughts.
The walls of the mosques are designated for surahs from Kuran exclusively, but not in Turkmenistan. Turkmenbashi got his own Mausoleum built just across from the Türkmenbaşy Ruhy Mosque.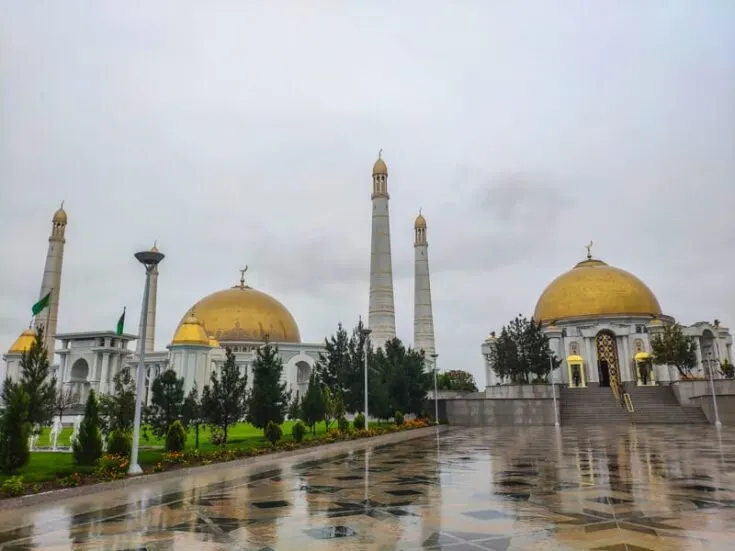 Hundreds of parking spaces under the mosque, gigantic structures, splendor, fountains, and yet the legacy of the infamous ruler is, most of the time, completely empty.
Saparmurat Niyazov might be remembered for his massive projects around Ashgabat, some of which are the most famous places in Turkmenistan.
Still, he also had some crazy ideas which he put into life, like renaming every day of the week and every month of the year according to himself and the names of his family members.
January was to be called Türkmenbaşy, meaning The Leader of Turkmen, February was to be named Baýdak after the Turkmen Flag, April was to be named Gurbansoltan after his mother.
Post Apocalyptic Boulevards in Ashgabat
The first thing you will notice once you start going down the Turkmenistan capital city is its boulevards.
Huge, carefully constructed, and suitable for real traffic jams and peak hours. However, you will not see that here.
The boulevards are empty of cars, and driving in the core directions through the city can be almost post-apocalyptic as you can count the number of cars on the fingers of your hands (sometimes only one hand). The streets are empty, which is strange, giving the surrounding shine and splendor, but it gets even weirder.
Ashgabat has white cars only. No big deal, you might think. But wait. Did you know that recently, the car colors were one of the state enemies? It's true.
Each car that was not white was forbidden from the streets of Ashgabat, the non-white vehicles taken from the owners as hostages, and there was a governmental demand for painting all cars white no matter what.
It's not easy to be in a car during your Turkmenistan trip here. And dirty vehicles are not allowed into the capital, so the only place you will see lines of cars are at the city border, where there are tens of car washing stations.
Ashgabat People: Hospitality of Turkmenistan
There is something beautiful about people from central Asia. No matter from which country they come from or of which religion they are, they will do everything they can to make you feel welcomed, safe, secure, and well-fed during your Turkmenistan travel adventure.
The Ashgabat people and the rest of Turkmenistan are the same.
The locals in Ashgabat are extremely welcoming and friendly, but be aware there are secret police everywhere.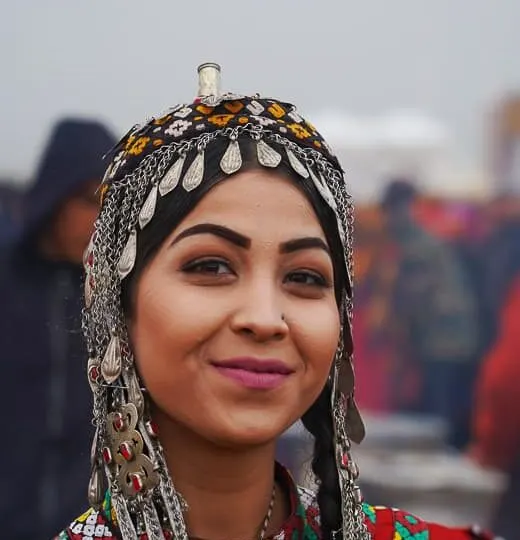 As the country is still not entirely open for tourists and travelers, you might feel that the locals are a little bit withdrawn. But as soon as they feel safe with you, they will gladly open and show genuine hospitality.
People of Turkmenistan keep the authentic nomadic culture that cannot be experienced anywhere in the whole world, so make sure you spend time with them and understand how history reshaped this unusual country.
Being a Tourist in Ashgabat in Turkmenistan
As we already mentioned, Ashgabat tourism isn't one that welcomes tourists too warmly. This poses a question, well, why then all the fuss to show off with expensive structures and crazy architecture.

Who knows? Maybe only to brag. But anyway, there are a couple of things you might want to pay attention to when you travel to Turkmenistan.
Turkmenistan Safety
Politics is best kept off the table – don't push locals to comment on their leaders, nor provoke them to give any political statements unless they themselves are not up for it.
Turkmenistan is in a dictatorship; the internet is blocked with one of the strongest firewalls in the world, there´s no Facebook, YouTube, or Instagram here, and even most VPNs are blocked here, making the firewall in Turkmenistan even stricter than the great firewall of China, and political opponents imprisoned and tortured.
Make sure your questions don't get anyone in trouble. Yes, you would want gazillion questions to be answered, but unlike you, these people are going to stay living isolated and locked, and they don't need any additional trouble.
(Speaking of, try not to force them to comment on the video of their current president Gurbanguly Berdimuhamedow being thrown off a horse in front of hundreds of witnesses. It's fun, but people of Turkmenistan will gladly pretend they saw nothing)
Make sure you have the right documents to enter the country, and don't be surprised if they ban you from entering for no obvious reasons.
If you want to increase your chances to get in, join organized groups to visit the country. And have no illusions; you will have to follow wherever they say you need to go.
As in every country in the world, the same here, the real-life of real people cannot be seen in Ashgabat.
And if you are a genuine, curious traveler, you will want to visit places outside of the flashy city. Sorry to break your castle, but that might not be possible.
Turkmenistan is officially one of the wealthiest countries in terms of money coming from the export of gas.
However, the wealth is not distributed evenly, and people outside of Ashgabat are living in scarcity.
Pay attention also to the rules about taking photographs, because not everything can be photographed, taking photos of the huge presidential palace in the city is completely forbidden, the same is taking pictures inside markets. I've been told off a few times by the secret police.
Shopping Destinations in Ashgabat
While Turkmenistan is not an obvious shopping destination, there are a few things that are worth buying here; the luxury goods like Caviar costs only a fraction of what it costs in Europe here.
Still, Turkmenistan Brandy is considered to be of top quality, but what's really worth buying in Turkmenistan and Ashgabat is hand-made carpets which are some of the highest quality in the world.
The best place to go shopping for carpets is at the carpet show next to the carpet museum or at the shop at the Grand Turkmen Hotel.

Caviar and other locally made products are best bought at the local Bazar, but be aware that the bazaars are full of the secret police.
If you need to buy anything western, so is the fancy Yimpas Shopping Center in the southern part of Ashgabat.

There are also a few good coffee shops where the rich and hip youth of Ashgabat are hanging out, and of few buildings in Ashgabat that´s more glass than marble.
Money in Ashgabat
Ashgabat and Turkmenistan is a cash-only country; there are very few ATMs in the country which accept foreign bank cards, the two best ATMs for Visa and MasterCard, most of them are located inside 4* and 5* star hotels around the city.
But you are much better off bringing Euro and USD to exchange on the black market, with the black market rate which is often 10 times higher than the official rate, with this is Turkmenistan a very cheap country compared to western Europe.
Drinking in Ashgabat
More than 90% of the population of Turkmenistan, Ashgabat, is Muslim, but even with that, is Turkmenistan a very liberal country when it comes to alcohol.

About every restaurant in the country sells alcohol, and there's no shortage of bars around Ashgabat, with the most popular clubs being the larger hotels.
But if you just fancy a beer, the place to go is to the British Pun in the heart of Ashgabat, which sells cheap beer and snacks. You can also grab a local Turkmenistan beer there.
To Conclude Your Ashgabat, Turkmenistan Travel Guide
While Ashgabat might not be at the top of your travel bucket list, you should still travel to the capital of Turkmenistan at least once in your life.

Given that there are all kinds of weird and wonderful things to do in Turkmenistan, you can base yourself in the city to explore the rest of the country, too.
The Ashgabat marble city is steeped in history. Although there might not be many travel guides, you can meet a few locals who'll share the secrets of the city with you. You can also meet like-minded travelers here too.
If you're an unusual traveler looking to take the path less traveled, I'd definitely recommend a trip here!