Gdansk is an important maritime city on the Baltic coast of northern Poland.
The city is steeped in rich traditions stretching back over a thousand years.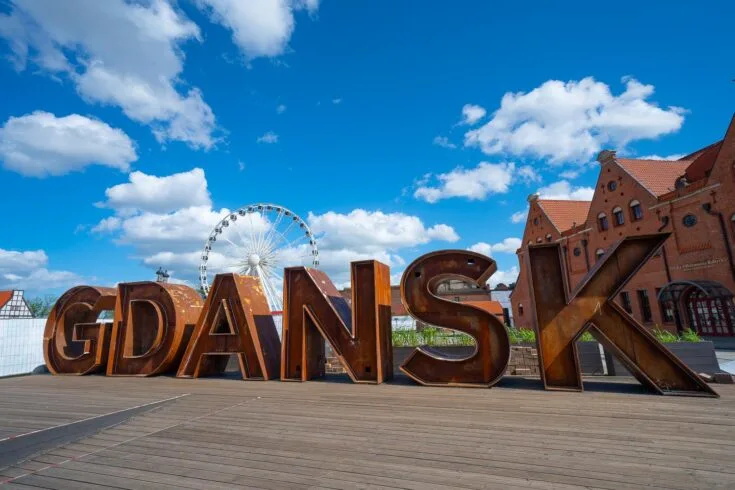 Gdansk used to be one of the wealthiest ports in the world and was a prominent member of the Hanseatic League – an ancient trading consortium that operated throughout Europe during the Middle Ages.

Today Gdansk is probably the most popular long weekend destination for Scandinavians.
Many remnants of these times can be seen in the city's architecture in its wealthy merchant buildings, in the old-fashioned cranes stationed by the river, and in granary stores on islands.
However, this isn't where the interesting history of Gdansk concludes. On 1st September 1939, the city was the starting point for the Second World War, and during the 1970s and 80s, Gdansk became the central point of the Solidarity movement, which brought about the fall of Communism in Eastern Europe.
There are many museums displaying artifacts and collections from these times, so during your trip, you can weave together the stories of the city and its people over the course of centuries to the present day.
Today, Gdansk sits as the capital of the Pomerania region, aside from two further cities, known collectively as the Tri-Cities – Sopot and Gdynia, each with their own individual charms.

Gdansk is home to impressive architecture, interesting museums, and walking promenades, and it has some amazing bars and restaurants for food and beer!
Things to do in Gdansk
If you're looking for the best things to do in Gdansk, we have included a selection of cultural and natural attractions which give an insight into this fascinating Polish city.
Stroll Along Mariacka Street
Mariacka Street in Old Town Gdansk is one of the most beautiful areas of the city.
Tall, colorful gabled stone houses with tiny windows line the street between the river and St. Mary's Church, plus it's famous for its quaint shops selling amber jewelry (for which the region is famous), bars, and restaurants.
Some of the best ways to see Mariacka Street are on walking, cycling, or beer tours in Gdansk, or in the early morning or evenings when you can enjoy a romantic walk or drink, soaking up the old-world atmosphere.
Admire St. Mary's Church Architecture
As you stroll along Mariacka Street, at the end of the street, you'll see the impressive St. Mary's Church – one of the largest brick churches in the world.
It's a striking red-brick Gothic-style structure with five green spires and a tower constructed between the 14th and 15th centuries.
Step inside to discover 'The Last Judgment painting by Hans Memling, see the 15th century Gdansk astronomical clock, and climb approximately 400 steps of the church tower to gain incredible panoramic views all across the city.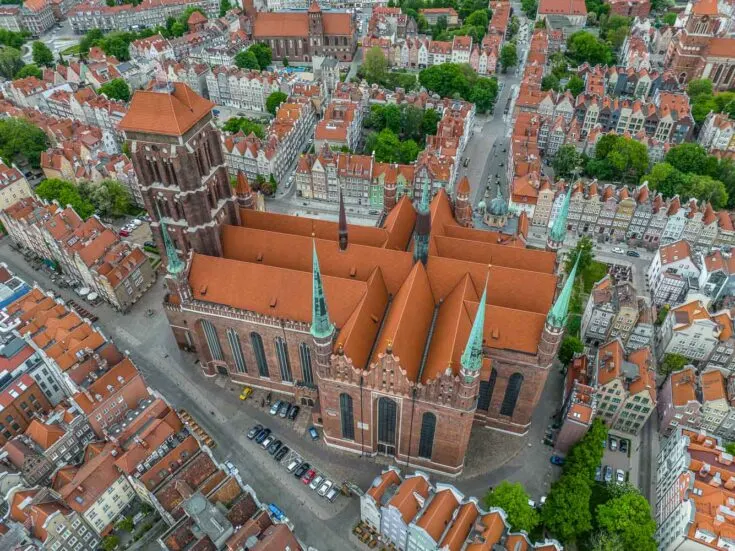 Gdansk riverfront & Zuraw Gdanski
Gdansk waterfront is the perfect spot for a morning or evening stroll by the Motlawa River.

The walkways are punctuated with charming, slender houses, hotels, bars, and eateries, but one structure that can't be overlooked is the huge Gdansk Crane (Brama Zuraw), a landmark of Gdansk.
Dating to the Middle Ages, this crane was once utilized to load a cargo of up to two tonnes onto passing ships, and it pays homage to the city's days as a member of the Hanseatic League.
See the Sights of Dlugi Targ
Dlugi Targ is also known as the 'Long Market or long street' in Gdansk. It's the city's main street, lined with colorful pastel houses, shops, alfresco dining restaurants, and museums.
Highlights include the Golden Gate, which sits at the end of the street, Neptune Fountain, and the city's Main Town Hall, home to Gdansk History Museum (also a clock tower which has great views over Motlawa River and the city).
If you want to learn more about the economic culture of the city, head for the museum Artus Court, which was once a haven for merchants.

When you've finished exploring, pop into a local restaurant on the street for some traditional Polish fare or a craft beer.
St. Catherine's Church
St. Catherine's Church is the oldest church in Gdansk, dating back to 1545 when it was a Protestant church until 1945, after which it became a Roman Catholic church.
However, the best reason to visit St. Catherine's Church is to climb the 79m tall bell tower to get a Panoramic view over Gdansk.
Explore the Second World War Museum
Many people are unaware that the Second World War began in Gdansk when German forces attacked a Polish military base on 1st September 1939.

This fascinating museum chronicles the events and showcases exhibits dating to the time.
The building itself is a feat of engineering, designed with red brick and glass in a rhombus shape, said to reflect past, present, and future.
The 26,000 square meter building houses a permanent exhibition with over 2,000 exhibits spread over three concepts.

There are collections of artifacts, fashion, propaganda, and memorabilia used by the Germans during the time.
You can learn about Poland pre-war and post-war and much more. If you have more than a passing interest in all things military, allow at least half a day to visit the museum.
Neptune's Fountain
Neptune's Fountain in Gdansk has become an iconic symbol of the city. The historic 17th-century Mannerist-rococo fountain takes pride in its place on Long Market in front of Artus Court Museum.
The monument of Neptune bowing his head harks back to the city's maritime connections. Although damaged during WWII, it was renovated, and sections that were removed by German troops to delete traces of Polish heritage were once again restored to their rightful place.
Step inside Oliwa Cathedral
Although a little outside the city near Gdansk zoo, this arch cathedral is worth a visit if you are moving in this direction.
Spectacular from the outset, the exterior is flanked with two slender towers topped with spires. There's a bell tower and Baroque portal dating to the late 1600s, and the architecture is distinctly Cisterian.
Although the cathedral doesn't look huge from the exterior, inside, it opens up to an impressive nave and a choir organ; plus, it holds precious artworks from the Renaissance and Baroque eras, tombs of Pomeranian Dukes, and hosts regular concerts.
Visit the Golden House
Sitting resplendently on Long Market near the Neptune's Fountains is a building that has been revered as the most ornate and beautiful in the city.
With a glistening white and gold façade, in Mannerist architecture, this narrow house was designed for the mayor of Gdansk Jan Speyman, in a Mannerist style.

If you look closely, you can see several statues atop the balcony – Oedipus, Cleopatra, Achilles and there are also a number of busts of Polish dignitaries and friezes to admire.
Golden Gate
One of the most colorful parts of Gdansk is the Golden Gate which is located at the northern end of Dlugi Targ. With the Prison Tower / amber museum is located on the other side.
the old city gate dates back to 1614, but sadly the Orginal gate was restored during WW2, but it was later restored in the 1950s.
Browse the Amber Museum
The Amber Museum offers a fascinating insight into how the precious amber stone is formed and extracted in the Baltic region; it delves into the history of the amber trade routes, shows how to spot the properties of the stones, and tells how it can be used in artwork and medicines through a series of collections and multimedia presentations.
Anyone with an interest in precious gemstones or trading history will enjoy a visit to this museum.
If you are planning a trip around the Baltics, so are Curonian Spit, another great place to buy amber.
The Gdansk Amber museum is located inside the Prison Tower and Torture Chamber, which is located right behind the Golden House.
The Great Armoury
The Great Armoury of Gdansk is one of the most spectacular examples of the Dutch Renaissance in Poland. The armory was built more than 400 years ago and was badly damaged during WW2, but has since been restored to its former glory.
The armoury was the home arsenal of Gdansk until the 1800s, but these days it's the home Gdańsk Academy Of Fine Arts, which often has art exhibitions.
Take a Polish Food Tour
Whether you love Polish food or don't know the first thing about it, the best way to get to know the cuisine of Gdansk is on a food tour.
On a city food tour, you'll visit places serving traditional delicacies such as Polish dumplings, cheese pastries, Baltic salmon, and cheesecake and have the opportunity to frequent some authentic, quirky places with new friends while sampling local vodka too!
Learn About Polish History at European Solidarity Centre
This museum is dedicated to the story of the Solidarity movement that took place in Gdansk during the 1970s and 80s.

There are around 2,000 exhibits and 100,000 books and documents relating to the time when striking shipyard workers and citizens of the city overthrew Communism peacefully by uniting Eastern Europe.

It's an insightful and intriguing place to visit where you can begin to understand how and why the movement grew and how it ultimately concluded.

Head for the rooftop viewing terrace to see what remains of the Lenin Shipyards where the whole movement started, and don't forget to visit the Monument of the Fallen Shipyard Workers.
Enjoy the view from the Amber Sky
One of the newest attractions in Gdansk is the 50-meter tall ferries wheel that offers some amazing views over Gdansk.
Boat Trip on Motlawa River
One of the best ways to gain insight into the maritime history of Gdansk is to see the city as ancient merchants and traders did, from a replica of an old galley boat on the river!
There are sunset cruises that transport you past the city's iconic landmarks, waterside houses, the old Gdansk shipyard, and Granary Island monuments.
You'll get to see scenes and places that are inaccessible on foot, and if you're short on time, it's a perfect way to see highlights of Gdansk.
Visit Westerplatte
Westerplatte is a small peninsula at the end of the river that flows through Gdansk. And where you can ride the pirate ship to and from the old town.
Westerplatte is located at the edge of the Baltic coast on the month of Dead Vistula in the Gdansk Habour channel.
This is where the first battle of World War II started when German forces attacked Poland on 1 September 1939. The first battle of WW2 lasted for 7 days and left Westerplatte in ruins.
Today the place is a popular beach spot for locals and tourist which just want to spend a couple of hours on the beach, even tho the huge shipping cranes in the area are not too appealing.
Best Day Trips from Gdansk
If you need a break from the hustle and bustle of the city, here are a few places that are easy to reach from Gdansk by rail, bus, ferry, and car.
Jelitkowo Beach
Jelitkowo Beach is located just 12 kilometers outside Gdansk and can be accessed easily via public transport.
This peaceful beach with fine sands is not as crowded as neighboring Sopot yet is an easy jaunt from the city for a relaxing day by the Baltic Sea.

There are cycle paths and promenades, a lush park, and a few restaurants dotted around for lunch.
Sopot
When you've explored Jelitkowo or relaxed on the beach for a while, continue onto Sopot. The elegant spa town is a delight with a buzzing shopping and café strip known as Monte Cassino.

Visit the Crooked House and spend time in eclectic bars, which are known to attract creatives from all over the world.

In Sopot, you can stroll along the pier, sample local beer or even visit the Wax Museum. The seaside town has a fabulous nightlife and dining scene too – book an overnight stay to experience all it has to offer.
Malbork Castle, The world´s largest castle
Malbork Castle is the largest castle in the world and is easy to reach by train or car due to its location just 60 kilometers southeast of Gdansk.
Its 13th century Gothic, red-brick fairytale façade set aside a river and lush pastures were constructed by the Teutonic Knights and later became the residence of Polish kings.
It is home to a fascinating museum and a whole host of interesting stories which can be discovered on an audio or guided tour.

Two other castles in Europe worth visiting are Trakai Castle in Lithuania and Karlštejn Castle in the Czech Republic.
Hel Peninsula
Around 1.5 hours from Gdansk, passing through the city of Gydnia (also worth a stop) is the scenic Hel Peninsula.

This sliver of land stretching for 34 kilometers into the Baltic Sea is picturesque, with some of Europe's best sandy beaches, forests, and dunes.

Begin your journey at the Fisherman's House in Wladyslawowo and head to the observation tower to get your bearings; then, if you're traveling with kids, check out Ocean Park to learn about the mammals and fish of the Baltic Sea.

The peninsula is a great place for walking, cycling, and sunbathing. Therefore, it's easy to get side-tracked, but if you manage to make it to the far side of the island, the town of Hel awaits with colorful fishing boats, a Fisheries Museum, and local restaurants.

It's easy to reach Hel Peninsula via ferry from Gdansk during summer or train, which takes around 2.5 hours.
Where to Eat in Gdansk
Gdansk is filled with fabulous restaurants, cafes, and food halls catering to every budget and culinary taste.
A recent concept of the city, Gdansk food halls are great places to find delicious, reasonably priced food with friends.

Slony Spichlerz is a hip riverside spot with almost ten bars serving everything from ramen to burgers and fish.

If you're staying near Jaskowa Valley Park, Stacja food hall is offers Kashubian local cuisine – ideal if you want to try smaller dishes and lots of them!
If you enjoy pairing your food with a nautical theme, head for Gdanski Bowke, which serves local Polish meats and freshly caught Baltic salmon or visit Kubicki, the oldest restaurant in the city, serving fresh fish by the kilo and filling your bowls with traditional Polish soups.

Alternatively, if it's dumplings you seek, Pierogarnia Mandu Centrum has several different kinds to try – Polish, Asian and veggie, and vegan options!
One of the best ways to sample Polish food and drink is on a tour. On your journey through the city, don't forget to try the Polish pierogi, either savory with ricotta, salmon, and spinach or sweet with mouth-watering apple and cinnamon.
If you've tasted the cuisine of Gdansk and prefer to move on to the beer, venture to Cathead Multitap Bar.

It's a popular spot down by the river in the Old Town and serves almost 30 local and international craft beers.
Alternatively, if you find yourself near Hotel Gdansk, they have a microbrewery and restaurant inside where you can sample the best brews and even Polish goulash overlooking the water.
Where to Stay in Gdansk
Accommodation in Gdansk can be as cheap or expensive as you want it to be. There are 3, 4, and 5-star hotels in the city center and by the riverside, or you can book an Airbnb or Gdansk apartment, guest house, or hostel room! The city is pretty safe.

Therefore it's wise to find a room close to the attractions you want to visit.
The Main City is an excellent place for first-time visitors; it's the historic center and gives you plenty of opportunities to browse cultural landmarks, and museums, including a walking tour, shop for amber and sample local food. Many 3, 4, and 5-star chain hotels are located around here.
If you're searching for buzzing nightlife with bars and clubs in Gdansk, opt to stay in the waterfront area of Srodmiescie.

There are craft breweries, rooftop wine bars, live music venues, and great restaurants. It's just across the bridge from Neptune's Fountain and Long Market and offers amazing views of the waterfront attractions.
Families, couples, and maritime enthusiasts may enjoy a stay at Wyspa Spicrzow, east of the Main Town.

It has a suburban vibe, while historic and cultural attractions of Gdansk are still easily accessible. It's the island where the grain houses were stationed when Gdansk was part of the Hanseatic League, and there are fabulous dining opportunities here too.

Local trams operate through the area, so you can easily reach other landmarks in the city.
I've personally stayed at Hotel Number One bra Grano and Radisson Hotel & Suites.
Best Time to Visit Gdansk
During summer, in August, temperatures can reach up to 23-25°C in Gdansk. It's a great time to venture outside the city, spend time in the parks on beaches, and by the river.

If you do plan to visit in late July/early August, St. Dominic's Fair takes place, and as it's one of the largest fairs In Europe, the city becomes crowded, and finding accommodation last minute is rare.
Although it's mainly dry in January, February, and April, it's still cold, especially at night when temperatures can plummet way below zero, but this is a great time to visit the museums and cultural attractions on a mini-break.
Although summer months are always the best times for travel to Gdansk, if you are traveling on a budget, head to Gdansk in late spring, May, or early Autumn in September or early October to save on flights and accommodations and achieve decent weather.
Getting to Gdansk
Traveling to Gdansk, Poland, is relatively easy, especially if you're arriving from other European countries. Many budget airlines such as Wizz, LOT Polish Airlines, and Lufthansa are among a few airlines to offer flights, which, if booked well in advance, can be super cheap.
The main airport of Gdansk is Lech Walesa Airport, located just 16 kilometers outside the city center and easy to access via train, rental car, bus, or taxi.
Gdansk can also be reached by rail from Warsaw, Gdynia, or Sopot in Poland and other European cities. The main station is 10-minute walk from the historic center of Gdansk, but you can catch a tram, taxi, or bus to your hotel from the station.
If you are traveling from Scandinavian countries, it's also possible to sail by ferry to Gdansk from Nynashamn, Sweden, via Polferries at certain times of the year.
If you are thinking about driving to Gdansk, Polish roads are not for the faint-hearted, therefore, only do so if you're a skilled, experienced driver.
Another alternative is to travel by bus from Europe or from cities in Poland to Gdansk.
Bus seats are cheap, and although journeys can be longer, you do get the opportunity to see the changing landscapes and experience the country on the route.
Getting Around Gdansk
Gdansk has a well-developed transport system with a rapid train service (SKM) which links the Tri-Cities of Gdansk, Sopot, and Gdynia. These trains operate 3-4 times per hour in peak times and less frequently during the night.
Trolleys, trams, and buses can transport you all around Gdansk (and Sopot on the same ticket,) and you can purchase the tickets from kiosks or machines with prices determined by the amount of time you need it for: ie one hour or 24-hours.
It's also possible to travel to Gdansk by taxi. But be sure to use Uber!

Try to use one with a meter, so you know that you are being charged the correct rate or check prices prior to departure. It's also worth noting that if you are taking a taxi outside Gdansk, drivers do charge a higher tariff when you extend the city limits.
It is possible to drive a car in Gdansk but only do so if you are used to navigating busy cities as road traffic can be quite erratic.