Ho Chi Minh City, formerly Saigon, is the beating heart of Vietnam and the country's hub for finance, technology, and entertainment.
The city, set aside by the Saigon river in southeast Vietnam, was once the capital of Indochina, and today, it attracts tourists from around the world, eager to visit historic landmarks, museums, and galleries.
Remnants of Ho Chi Minh City's rich history can be seen in its architecture and colorful street markets. If you venture to the outer fringes, it's possible to view the Cu Chi Tunnels, which played a vital part in housing supplies and troops during the Vietnam War.
Ramshackle backpacker pubs spill onto the pavements in Pham Ngu Lao, beers and whisky and soy-topped rice in hand. There's always something to see, to smell, to taste, and to explore in Ho Chi Minh City.
But there are pockets of calm and plenty of sobering moments to be had too. You can trace the startling story of the Vietnam War, which often played out on the very streets of erstwhile Saigon.
The likes of the Reunification Palace and the haunting War Remnants Museum offer that. You can also find replicas of Notre Dame Cathedral and wander the tree-lined pathways of the Le Van Tam Park for some hard-earned peace and quiet.
Where exactly is Ho Chi Minh City?
Ho Chi Minh City was once the capital of the south. During the Vietnam War, it was the headquarters of the Republic of Vietnam, the base camp of the American invasion forces.
Look for it just on the cusp of the uber-fertile Mekong Delta, which fans out in countless streams, riverways, and wetlands before flooding into the South China Sea.
The big Saigon River flows through the heart of the town, while the rice paddies, forests, and low hills that meet Cambodia take over to the west.
What to See & Do in Ho Chi Minh City/Saigon
If you're keen to explore Vietnam and want to know where to visit during a stay, the travel guide to Ho Chi Minh City/Saigon below details some of the most popular tourist attractions in the city and some lesser-known gems to add authentic value to your vacation.
Ho Chi Minh City melds the old and the new, the cultured and the hedonistic. From mystical temples to sobering museums that chronicle the struggles of the 20th century, there are all sorts of intriguing things to get stuck into.
Saigon Central Post Office
One of Ho Chi Minh's most iconic attractions is the Saigon Central Post Office. It opened in 1863 and was originally designed by Gustav Eiffel of the Parisian Eiffel Tower fame.
The building you see today is a mix of Asian and European architecture, with names of inventors etched between the green window frames.
Step inside, and you're greeted with an elegant domed interior with pillars, counters at either side, and a row of old-fashioned telephone boxes accompanied by maps of the region's telecoms system from the 1930s.
You can purchase and send tourist postcards and souvenirs, write a letter, or simply soak up the atmosphere imagining life in this building during a bygone era.
Tao Dan Park
Tao Dan Park is a green oasis in the heart of Ho Chi Minh City, with over 1000 trees, an ornate temple, and exercise facilities. Visit early in the morning to see locals partaking in Tai Chi sessions or take a picnic and relax on a bench beneath shady trees on hot summer days.
One important landmark of the park is Hung Kings Temple, built to commemorate the Vietnamese founders of the country. Every year at Lunar New Year, the Spring Flower Festival takes place here, and all areas are decorated with colourful flowers in bloom. Also, throughout the year, markets are held here most weekends.
Binh Than Market
This bustling market in central Ho Chi Minh City draws both locals and tourists.
If you spend enough time so, will you find almost anything here, as stalls inside only sell fake clothing, bags, cosmetics, shoes, fresh fruit and vegetables, meats, and flowers.
It's a great place to sample local street food with bowls of pho, rice dumpling cakes, and summer rolls, relatively cheap in price for those on a budget.
NB: Binh Than Market is notorious for pickpockets.
NB: There are other local market all over Ho Chi Minh which is cheaper than the Binh Than Market.
Ho Chi Minh City Museum of Fine Arts
Set inside a beautiful mansion constructed by Rivera – a French architect in the early 1930s, the Ho Chi Minh City Museum of Fine Arts boasts works by the country's most revered artists.
Wander through three stories of hallways to see sculptures, silk paintings, and ceramics, and discover ancient Buddhist art and artifacts dating back to the 4th century.
One room in the building is dedicated to the Hill Tribes of the Central Highlands, giving visitors a glimpse into Vietnamese culture in rural areas. Don't leave without venturing to the 3rd floor to see archaeological discoveries from the Mekong Delta and browse galleries in the basement accessed via the central courtyard.
Tan Dinh Church, the pink church
Known as the "pink church" due to its vibrant color, Tan Dinh Church is a picture-postcard location for Instagrammers in Ho Chi Minh City.
Constructed around 1870, it's one of the region's oldest churches with a 53m high tower, arched slatted windows, and a large clock above the entrance. The interior is just as impressive, with pastel pink pillars iced with white frosting akin to cake decorations.
If you time your visit accordingly, you can join in with mass or simply admire the structure from across the street while sipping on a coffee.
Opera House
Tucked away beneath modern skyscrapers and office buildings, the understated yet elegant Saigon Opera House hosts a plethora of events and performances throughout the year.
The French-style building was constructed between 1898 and 1900 and has been renovated over the past couple of decades to preserve the original style. From the exterior, bas reliefs and decorative features adorn the façade with an arched doorway and sculptures surrounding it.
Inside, it's a grand affair with a ground floor, two upper floors, and some of the best acoustics and light systems in the country.
Book a ticket to watch memorable opera performances, symphonic concerts, or shows with dancing and acrobatics portraying life in rural and urban communities in Vietnam.
Saigon Skydeck
For the best views and photographs of Ho Chi Minh City, head for the 262-meter-tall (68 floors) Bitexco Financial Tower, home to Saigon Skydeck observatory, which is located at 178m.
It's located in District 1, in the Bitexco Financial Tower on the 49th floor, and can be accessed via one of the fastest lifts in Southeast Asia – taking only 35 seconds from the ground floor to the observatory!
The Skydeck boasts incredible 360-degree views of the city skyline, Nguyen Hue Street, Saigon river, and Ben Thanh Market. Try to visit more than once, at varying times of the day.
As the sun sets and the city illuminates, it gives you a completely different aerial perspective of the city. The Saigon Skydeck has touch information screens dotted around with information about historic sights and scenic spots around the city.
Also, inside the building, visit the Ao Dai Museum showcasing a range of Vietnamese dress costumes throughout the ages.
NB. The cafe/bar (The world of Heineken) above the Saigon Skydeck has closed down since Corona.
Entry Price: Adult: 200 000 VND. Children: 130 000 VND.
Opening Hours: 09.30 – 21.30.
The Café Apartments
The Café Apartments is unarguably the hippest building in all of Ho Chi Minh City. This 20th-century apartment block on Walking Street (Nguyen Hue Street) has been transformed into a quirky shopping centre of sorts.
It attracts a cool local clientele with co-working spaces for digital nomads, bookshops, beauty salons, and boutiques inside.
The structure reminds you a little of a festive advent calendar or chocolate box with different places to discover behind each balcony.
Spend time in a traditional tearoom, browse crafts or sip cocktails at sunset as people below on the streets head home after a busy day at work.
Spend Time on Book Street
In the very centre of Ho Chi Minh City is a street dedicated solely to books. This is a place where most of the book publishers in Vietnam gather to sell their wares.
Visit the bookstore café next to the post office, browse magazines and second-hand books, and even search for what you desire by topic.
There are over 20 stores, each with its own unique interior designs, selling books across a variety of genres. Wander along the street, relax in a sidewalk café and sip coffee with your new book findings.
A must-visit for book lovers and writers, you can easily spend several hours popping in and out of stores here.
Explore the Local Coffee Culture
Many people aren't aware that Vietnam is one of the world's largest coffee producers, and citizens here really love their coffee! Traditional coffee from Vietnam is manufactured from Robusta beans – aromatic with a potent, bitter taste.
Across the city, nestled between historic monuments, in winding alleyways, and in busy markets, you'll discover countless coffee shops curating a unique Southeast Asian coffee culture.
The coffee culture here is lively – groups of friends gather on sidewalks sipping black of milky coffees, and they are reasonably priced to order too. Pop into The Coffee Ship, a quirky cafe built on a boat on the canal, or sip your drink of choice at Du Mien Garden Coffee in District 1, with tranquil ponds, fountains, and lush greenery for company.
Don't leave the city without sampling the country's hot egg coffee, made with creamy milk and egg yolks with a frothy head, or try the iced coconut coffee on warm summer days.
Visit Ca Phe Do Phu Café
This characterful café is packed with memorabilia and was once a secret operational base in Saigon.
An old scooter sits by a cabinet filled with antique crockery and a transistor radio, and oil-clothed tables and sofas are flanked by scenic paintings, vases, and guitars on the walls.
There´s even a secret room where the Vietcong used to hide weapons. Ask the girl working there to sow you the place.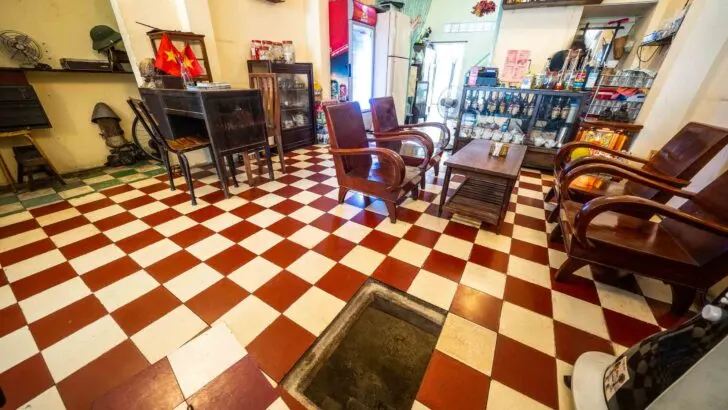 More akin to a museum than a café, it's a great place to learn about Vietnamese life and culture, with stories of hidden tunnels, mailboxes, and trap doors to listen to. Great coffee is served here.
Ho Chi Minh has had a craft beer boom over the recent years, and it might even be the best craft beer city in the whole of Southeast Asia these days.
It seems like every street around the city has its own brewery now, so it´s no problem finding a good beer these days.
Ho Thi Ky Flower Market
Ho Thi Ky flower market in District 10 is believed to be the largest flower market in South East Asia.
The Ho Thi Ky flower market might neither be the most popular nor famous tourist site in Ho Chi Minh City / Saigon, but it´s well worth a visit, especially in the early morning when the market is full of fresh flowers from nearby regions, but some flowers even come from as far away as The Netherland.
Most of the flowers sold around Ho Chi Minh City are bought here at Ho Thi Ky in the early morning by traders from all over the city.
Jade Emperor Pagoda
One of the most important shrines, and most visited attractions in Ho Chi Minh City, is the 20th-century Jade Emperor Pagoda. It was built by Luu Minh, a Cantonese man who, on arrival in Vietnam, decided to construct a pagoda-style building where people could worship Buddha.
According to folklore, the Jade Emperor looks after all living things and decides the fate of humankind. It's a popular place for couples to visit to pray for fertility and love.
Visit at any time of day, and you'll notice locals making offerings of flowers and inhale the heady aroma of incense as it drifts through the passageways.
Be struck by the exhibits at the War Remnants Museum.
The one site not to miss in Ho Chi Minh City, the Vietnam War Remnants Museum.
Ho Chi Minh was pushed into the spotlight back in 1975 when the Viet Cong and the armies of North Vietnam flooded back into the city to bring the hard-fought Vietnam War to a close.
That is the subject of the town's War Remnants Museum, and it's precisely the sort of sobering, striking, and unforgettable ride you might expect.
The collections roll through decommissioned American helicopters that were in action during the fighting, cages used to keep Vietnamese POWs, and displays of anti-war posters and art.
The most memorable aspect is surely the comprehensive photographic display that depicts the horrific effect of Agent Orange.
Independence Palace / The Reunification Palace
The one-time home of the South Vietnamese President, Reunification Palace, should be instantly recognizable to anyone who followed the twists and turns of the Vietnamese War back in the 60s and 70s.
The imposing Independence Palace (also known as Reunification Palace) began life in the mid-1850s when French Colonists arrived in Vietnam. They named it Norodom Palace and took up an office inside, working and living here in the city.
The palace was renamed after the revolutionary army won their battle on the grounds in April 1975, thus, ending the Vietnam War. Today, it stands as a symbol of hope and reunification in Vietnam and is worth visiting if you are interested in military history.
Most notably, this is the place where the official end of the conflict occurred when a T-54 tank crashed through the gates in 1975.
Inside the palace, timeless artworks depicting the peaceful scenery of Vietnam hang on the walls, and pottery collections dating to the Chinese Ming and Qing dynasties punctuate hallways and rooms. Outside near the entrance, military helicopters, tanks, and aircraft are displayed on the grounds.
Notre Dame Cathedral Basilica
Notre Dame Cathedral is one of the most famous attractions of Ho Chi Minh City. The cathedral dates to the late 19th century when the French were in power in Vietnam.
At the time, the church nearby was deemed too small. Therefore, the French decided to build a bigger church which was named Saigon Church.
Like the structure of Notre Dame Cathedral in Paris, the cathedral is designed with two towers with bronze bells and crosses atop each one.
In 1962 it was elevated to basilica status and renamed Saigon Notre Dame Cathedral Basilica. Highlights include the neo-Romanesque architecture and the ornate interior, and if you sit in the square in front of the church, you could be forgiven for thinking you're in a suburb of Paris in France.
Cu Chi Tunnels
The Cu Chi Tunnels were used by Viet Cong forces during the late 1960s Tet Offensive. They dug thousands of kilometers of tunnels, which were primarily stationed under the Cu Chi district of Saigon, hence the name.
The chambers were used to transport and house troops, mount impromptu attacks, and store communications and supplies. During the peak of the Vietnam War, there were tunnels stretching for 250 kilometers toward the border of Cambodia.
Today, the tunnels are part of the Vietnam War Memorial Park and have become a popular tourist attraction.
The Cu Chi Tunnels are such a startling undertaking that it can be hard to believe that they even exist. But they do. Find them wiggling and winding beneath the northern quarters of Ho Chi Minh City, clocking up a total length of more than 75 miles.
Today, large sections of the complex can be visited. You'll learn all about the dangerous booby traps that were pockmarked throughout to prevent infiltration by American soldiers – just wait for those punji sticks!
And you'll get to understand the tactical advantage that the tunnels brought for the Viet Cong, particularly in the build-up to the pivotal attacks of the Tet Offensive.
Party on Bui Vien
Beers froth in body-packed bars all down the length of Bui Vien Street. It's one of the most happening and lively corners of the city, with more backpacker hostels and bumping clubs than you can shake a bowl of pho at.
The parties start in the early evening but continue on until the early hours. Some of the most famous bars include Beer 102 and the more stylish Ong Cao (perfect if you prefer artisan craft beers to mainstay brands).
Take a Food Tour
If you class yourself as a bit of a foodie and love to sample new cuisines on your travels, take a food tour of Ho Chi Minh City.
On these tours, you'll sample street foods, including scrumptious bowls of pho, rice vermicelli, and coconut coffee, in some of the city's finest foodie neighborhoods.
Some tours are walking tours, and some are scooter-based, plus, veggie and vegan options are available.
Best Day Trips from Ho Chi Minh City
Fancy getting away from the hustle and bustle of the city for while? Here are some day trips easy to reach from Ho Chi Minh City.
Visit Tây Ninh and learn about Caodaism
About 90km / 55 miles northwest of Ho Chi Minh City is the city of Tay Ninh, it might not be a famous travel destination, but it´s here where one of the world´s newest religions was established in 1926. The moment of Caodaism also known as Cao Đài.
But what is Caodaism and what does Caodaism believe in?

Caodaism has taken elements from all the major world religions: Buddhism, Hinduism, Taoism, Confucianism, Christianity, and Islam, but also in karma and reincarnation.
Even some traditional Vietnamese cultural ideas and taboos are also incorporated into Caodaism, so they have kinda added the best from every major religion into an " ideal religion."
All the leaders of Caodaism are vegetarian and celibate,
Visit Can Gio (Monkey Island)
Located within a convenient distance of Ho Chi Minh City, Can Gio is accessible by speedboat, car, or motorcycle. This UNESCO Biosphere Reserve is home to abundant species of wildlife (over 200) and is known for its mangrove forests and Giant Bat Lagoon.
The wetlands are often frequented by monkeys, exotic bird species, crocodiles, and more, so don't forget your camera. While in the area, you can also visit Can Giuoc Market on the river and observe local communities buying and selling fresh produce.
Mekong Delta & Can Tho
One of the most popular day trips from Ho Chi Minh City is to take a trip along the Mekong Delta. The scenic landscape is made up of swamp land, lush islands, and rivers punctuated with coconut trees.
Drift along in a boat on a guided tour, learning more about the people that live here by the river, and venture onto dry land to explore villages and cycle through the countryside.
If you can extend your trip, head for Can Tho, the largest city along the Mekong Delta. It's known for its lively floating market and rice paper making.
Where to Eat in Ho Chi Minh City
The food culture in Vietnam is varied. One minute you can be feasting on street food in a local market, and the next, dining in a luxurious restaurant serving upscale regional cuisine. The good news is whatever your budget, you can find something to tantalize your palate in Ho Chi Minh City.
Try Shamballa Vegetarian Restaurant and Tea House, it's revered by both veggies and carnivores, the food is pure, inspired by nature, and incredibly tasty. Li Bai Restaurant in the Sheraton Saigon Hotel & Tower specializes in Chinese food with a menu of over 50 mouth-watering dishes.
Combine sports with food at Lost Boy Hideout in district 7, or head to Binh Tanh market to sample bao buns and pho. Alternatively, pop to one of Anthony Bourdain's favorite city food haunts, Banh Xeo 46A specializing in pancakes cooked in skillets with sides of meat, vegetables, and beans to accompany.
What´s The Best Time of Year to Visit Ho Chi Minh City/Saigon
Ho Chi Minh City is blessed with a tropical climate with both a wet and dry season. The dry season between December and April is the most popular time to travel. However, flights and accommodations can rise due to demand, particularly during December, January, and February.
Temperatures in dry season average between 26-38° Celsius, with the hottest time in late April. If you're not a fan of high humidity, December is a good time to travel as it reduces to moderate levels. Several prominent festivals are also held during these months, which also boosts prices.
If you don't mind being caught in the rain, August, September, and October are cheaper times to visit, and temperatures are moderate and pleasant for sightseeing. Travel between June and September if you plan to spend time at the beach.
Top Tips for Visiting Ho Chi Minh City/Saigon
When visiting a new city or country, there are often traditions, customs, and other aspects you need to be aware of. To ensure your stay in Ho Chi Minh City and Vietnam is seamless and stress-free, here are a few helpful tips to ensure an enjoyable vacation.
Make a Copy of Important Documents
As with any city, Ho Chi Minh has its share of pickpockets, particularly in crowded, touristy places like markets and shopping areas.
Always make a copy of passports, driver's licenses, and credit cards and keep them separate just in case you need to report anything missing to the authorities to have them replaced.
Pack According to the Season & Location
Most months of the year in Ho Chi Minh City are hot and humid; however, Vietnam has multiple complex weather patterns which vary depending on where you visit. Be sure to research where you are planning to stay for any length of time prior to your trip to see if you need to pack waterproof raincoats, umbrellas, or swimwear.
Get up Early
Locals in Vietnam arise early in the day, and if you join them, you will often see the city in a different light. Pop to the park to join in with Tai Chi sessions or head for colorful markets to gain the best produce as stallholders set up for the day.
Don't Drink the Tap Water
The tap water in Vietnam isn't fit for drinking; purchase bottled water and, if possible, take your own refillable bottle with a built-in filter attached just to be on the safe side.
Cover up in Sacred Spaces
If you plan to visit religious structures, cathedrals, and sacred spaces, it's wise to pack some conservative clothing, including long trousers, scarves, and tops with sleeves. Both men and women are advised to cover their legs and shoulders as a sign of respect during a visit.
Getting Around Ho Chi Minh City/Saigon
Ho Chi Minh City is a sprawling metropolis and may seem daunting to get around at first glance. Fortunately, several main attractions are located relatively close to one another, and it's easy to walk from Notre Dame Cathedral to the Opera House, Tao Dan Park, Independence Palace, the markets, and Saigon Skydeck as long as you are wearing comfortable footwear. In addition, Ho Chi Minh City has a good transport network with buses, trains, taxis, and motorbike taxis.
Getting around Ho Chi Minh City by Bus
Ben Thanh Bus Station sits across the road from the market of the same name in District 1 and is the main hub for city buses. From here, you can reach almost anywhere in the city.
If you don't speak any Vietnamese, it may be wise to download a translation app to ensure you don't get lost! Fares range from 5,000 to 6,000 dong (0.25-0.30 euros) depending on the route you wish to take.
Travelling by Train
Although you can't travel within the city by train, you can head for Saigon Train Station if you plan to venture further afield.
This station in District 10 is the main transit hub to reach other cities and popular destinations throughout the country, including Da Nang, Hanoi, Hoi An, and Nha Trang.
Motorcycle Taxis
These are an efficient and cost-effective way to get around the city, and you'll often find drivers waiting on street corners for customers.
As with any journey in a foreign land, confirm the price prior to embarking to prevent any surprises. If you have a good experience with a specific driver, you can also ask for their details to call them again.
Taxis
A comfortable way for couples and groups to travel throughout Ho Chi Minh City is via taxi. Ask for the driver to put the meter on at the start of a journey and avoid traveling during rush hour as it will increase costs.
Most drivers don't speak another language. Therefore, it's preferable to write the address of your destination down to avoid any confusion.
The best taxi app in Ho Chi Minh City / Saigon is GRAB. Both for motorcycle taxis and cabs.
How to get to Ho Chi Minh City.
HCMC is one of the most popular arrival points for travellers heading into Vietnam. It's got the busiest international airport in the country, at Tan Son Nhat.
Services go to the two terminals there from right across the globe, with long-haul links connecting to Australia, the Middle East, North America, and Europe.
The smaller domestic hub also receives flights from Southeast Asia and Vietnam. Bangkok, the bustling capital of Thailand, is just an hour's flight away.
Backpackers will often arrive at Ho Chi Minh by bus or train. Regular so-called VIP coaches (though they are hardly luxury) run south and north from popular tourist spots like Mui Ne, Nha Trang, Hoi An, and the Mekong Delta. The Reunification Express train links the city to the capital of Vietnam, Hanoi.
It takes around 35 hours to complete in total but will take you down the whole length of Indochina before pulling into Ga Sai Gon station – it's a truly bucket-list journey.
Best Place To Stay In Ho Chi Minh City
The very definition of cheap and cheerful, the dorm rooms at The Hideout start at a mere 300,000 VND per night. They certainly don't offer luxury, but the barebones are all taken care of – comfy beds, clean shared bathrooms, friendly staff. The real reason you'd come here is to meet and mingle with other travellers. An on-site bar with a foosball table and DJ nights help to get the good vibes a-flowing.
Duc Vuong Hotel ($$)
A charming, clean, and highly rated hotel, Duc Vuong promises spacious doubles, twins, and suites. The location could hardly be better, especially if you're eager to get stuck into the beer bars on Bui Vien Street (where the hotel is located) or get lost between the food stalls and hawkers of Ben Thanh Market. The piece de resistance has to be the breezy rooftop terrace with its seating gazing out over the rooftops of downtown Ho Chi Minh City.
Hotel des Arts Saigon – Mgallery ($$$)
Money, not an object? Treat yourself to a stay at the plush Hotel des Arts Saigon – Mgallery. A five-star resort that looks down to the lovely Notre Dame Cathedral, it's perfect for balancing out the heady vibes of the metropolis.
Inside, the rooms are elegant and stylish, fusing together touches of the colonial, the Parisian, and the modern. An infinity pool on the roof almost takes the biscuit, but that coffee terrace and bar also has panoramic views that are to die for.
If you've got anything to add to this ultimate guide to Ho Chi Minh City, we'd sure love to hear your thoughts in the comments below. There are oodles more things to do and places to stay in this vast Vietnamese metropolis, so extra tips and hints are always welcome.