This Bora Bora travel guide will help you to discover the hidden gems on this exquisite island. Few places in the world have a more Legendary name than the island of Bora Bora in the South Pacific ocean, locally known as the "Pearl of the Leeward Islands".

Often named one of the most beautiful islands in the world, it was first sighted by westerners in 1722 by Dutch Explorer Jakob Roggeveen and was an independent kingdom until 1888.
Now a popular destination for the super-rich, which includes staying at some of the most incredibly luxurious high-class resorts in the world and for people on honeymoons.

But for the locals, Bora Bora is a sacred island according to the Polynesian legend that tells the story of how it was the first island to rise out of the sea.
There are many ways to see this area, but backpacking French Polynesia has got to be one of the most exciting.

And after exploring the main island, don't hesitate to explore some of the beautiful islands around Bora Bora.

For those looking to spend the majority of their time on the main island, here is your ultimate guide to Bora Bora.
Bora Bora Travel Guide
Protected by a vast coral reef and a paradise lagoon with its pristine crystal clear waters.
The main island is surrounded by much smaller Motu (islands, this is where all the famous overwater bungalows are located)
Bora Bora is probably the least backpacker budget-friendly destination I've ever been to; while Bora Bora is a crazy expensive destination, is it still possible to do it relatively cheap, but you will need to book at least your accommodation far in advance and do a bit of planning.
When the budget accommodation is booked out, and it often does months in advance, will you have no other options to pay up.
But is it worth paying the high price to visit Bora Bora, or is it simply just so you can say, "Been there done that and tick it off your bucket list"? It depends, while there are more beautiful islands around French Polynesia, this place is still special.
Flying the short 50 min flight from Tahiti to Bora Bora, you will fly above a few more breathtaking islands before landing at what has to be the most beautiful located airport in the world.
The airport is located on a small Motu north of the main island; once you get out of the flight, you will see the crystal clear water that Bora Bora is famous for, just footsteps away from the airport.
After you have picked up your luggage, you will have to take the free shuttle ferry over to Vaitape, the main village in Bora Bora.
If you have booked a vacation package or accommodation at one of the high-end resorts located at the private Motus around Bora Bora, you get picked up by your resort.
You have probably seen the photos in magazines and online with world-class beaches in Bora Bora?

If you are on a budget, you will probably be disappointed; all the stunning beaches are located on the small Motus with private resorts. So they are off-limit if you are not staying there.
There are actually only two beaches on the main island, and while they are reasonable and pretty good, so do they not come close to what you can enjoy if you stay at the resorts.

So if you want to enjoy some of the best beaches in the world, so will you have to stay at some of the extremely expensive resorts here.
So if you want to relax at world-class beaches and you're on a low budget, Bora Bora is definitely not your place, and you should consider visiting one of the other 117 islands and atolls that make up French Polynesia.
I can especially recommend visiting the Atoll of Fakarava, which is part of the Tuamotu Archipelago, that place has even better beaches, is cheaper and more laidback, also the Scuba Diving is better at Fakarava.
What To Do In Bora Bora
Most activities in Bora Bora take place in or around the water, even though there are a few hikes possible.

There´s friendly and helpful tourist information just across from where the airport ferry drops you off in Vaitape.

You can pick up a free map with all sites and things to do at the tourist information, or from your local hotel.

Here are some of the best things to do in Bora Bora.
Lagoon Tour and Boat Tours Around Bora Bora
A highlight on any tour to Bora Bora for people with a reasonable budget would be to do a Lagoon tour around Bora Bora; it's an absolutely amazing experience.

There´s nothing in the world close to the Lagoon Tours in French Polynesia. There are various companies doing Lagoon Tours. I went with "Rohivai Tours", and I had an amazing day with them.
Start the day with getting picked up from your hotel before going onboard a small boat that will take you around the crystal clear waters of Bora Bora on a full day trip.

The boat driver and guide for the day is a local Tahitian man wearing a traditional-looking g-string while playing the ukulele, singing, and steering the foot with his foot.
The first stop for the day is a place where you can snorkel with reef sharks and a lemon shark with hundreds of smaller fish around you.
After around 40 minutes of swimming around sharks, you head off to the next stop for the day, the Coral Garden, for some more snorkeling.

While there are no sharks here, there are tons of small fish and the famous "I Love Bora Bora" underwater sign.
After you have been swimming and snorkeling around for a bit, it is time to head for the highlight on this amazing day trip to the shallow lagoon.
Here you can swim and walk around with stingrays and have blacktip reef sharks swimming very close to you, probably the closest you will ever experience sharks.
After the close encounters with sharks and stingrays, it is time for the last stop for the day, a visit to a small Motu for a BBQ lunch and a few beers.

You can take in the breathtaking view over Mount Otemanu and Mount Pahia, the tallest mountain on the island.
After having a great lunch and a few beers, is it time to head back to shore to end the trip.

I can't recommend doing a Lagoon tour enough. It is definitely a highlight on any trip to Bora Bora. If you just gone do one thing here, during your visit, do the Laggon tour!
Scuba Diving Bora Bora
The second most popular activity to undertake in Bora Bora would be scuba diving.

Scuba diving in Bora Bora is often named as one of the best places in the world to Scuba dive; I definitely wouldn't agree with that, but I did see a lot of sharks and eagle rays and even Manta rays.

Almost all corals bleached, at least on the two dives I did.
Even though I heard other dive sites were more healthy. But unfortunately did I not have time to visit them, maybe next time.

Since most dive sites are in and around the Lagoon, the visibility will almost always be excellent, with the visibility being normally around 30+m/98feet.
The snorkeling I did during the Lagoon Tour was also healthy and had more fish than during the dives.

Personally, did I find diving in Fakarava to be miles better? Also, diving in the Maldives and Papua New Guinea was more impressive than Bora Bora.
The two dives sites I visited were:
Toopua: Small wall, following a sandy bottom, saw around 20+ Eagle rays.
Tapu: One of the most famous dive sites of Bora Bora. It starts with a coral drop-off, saw lemon sharks, five blacktip sharks, and a turtle.
There are 3 Dive centers in Bora Bora, all offering the same dive sites and equipment:
Bora Diving Center – Eleuthera. The Dive center I used. I can highly recommend them.
Top Dive Bora Bora. The Biggest Dive center chain in French Polynesia. Smart to use if you will dive in more islands and atolls in French Polynesia; the more you dive with them, the cheaper it gets.
Exploring Bora Bora Main Island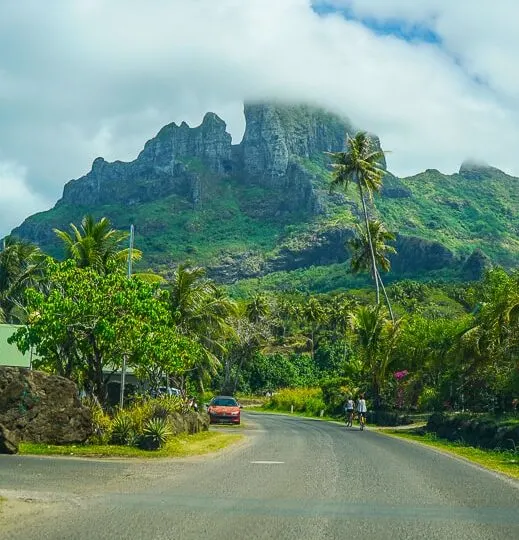 The distance on the ring road around the whole of Bora Bora is no more than 31Km / 19miles.

So even with a few stops along the way, the drive won't take you more than 1hour.

It's no surprise most tourists decide to rent a bicycle to cycle around the island. If you're wondering how to get around Bora Bora, this is your answer.
The road is almost entirely flat except for two hills, and the road is well maintained, so you don't need to be fit to bike around the island.
There are a few interesting stops around the island:
Soul tree (BanyanBanian) is just around a 5-minute drive from Vaitape.
The locals will tell you that apparently James Cameron got inspired to make the Avatar movie after seeing this tree on his visit here.
Marine Museum, on the northeastern side of the island, is a small marine museum displaying around 40 different model boats of traditional Polynesian boats.
American Canons: halfway down the eastern side of the island.
There are actually 8 American canons spread around the island that the USA built here during World War II when Bora Boran was an American military base.

Not much remains except the eight canons. The two that are located on the eastern side of the island are by far the easiest two to visit. The six others do require 4×4 and guides.
Bora Bora Hiking
There are a few hikes you can do around the island, and the best one is to the top of Mata Pupu and Mt Otemanu, the two peaks that are towering above the island.

I did have big plans to do the hikes before my trip to Bora Bora, but the weather gods had other plans for the day I wanted to do the hike, and the other days I stayed here, I did spend mostly underwater.
The best place to get information about hiking in Bora Bora and other activities around the island is the Bora Bora Insider website that is regularly updated.

Hiking in Bora Bora is a phenomenal not-to-be-missed experience, according to many of the tourists that have visited the island. So don't hesitate to tackle the beautiful mountains Bora Bora has to offer.
Other popular activities to do around Bora Bora are jet skiing, surfing, sailing, etc.
How To Get To Bora Bora
Reaching Bora Bora is only technically possible with flights if you don't have your own yacht or sailboat.
BUT the ferry to neighbouring Maupiti is running if the wheater allows it.
Air Tahiti is the only airline flying in and out of Bora Bora airport, also known as Motu Mute Airport.
There's no international airport on Bora Bora, so you will have to transit through the international airport on Tahiti.
Be sure to sit on the LEFT side of the airplane when arriving in Bora Bora to get the fantastic view. (Most of the time, the planes follow the same path when landing.

But every now and then, the pilot will approach from a different side when landing at the airport; this is due to wind).
And on the right side, when leaving Bora Bora to get a last view of the island and lagoon.
Bora Bora Flights:
Papeete/Tahiti: 4 direct flights per day, flight time 50 min
Moorea: daily, flight time 50 min
Huahine: daily except Wed, flight time 25 min
Maupiti: Sun, flight time 15 min
Raiatea: daily, flight time 20 min
Rangiroa: Mon, Wed, Sat, 1 hour 15 min. These flights have onward flights to Fakarava and Tikehau.
The free shuttle ferry meets at every arriving flight and runs back from Vaitape in time for you to reach your flight.
The Ferry to Maupiti goes between Bora Bora and Maupiti 3 times a week, on Tuesday – Thursday – Saturday, leaving Bora Bora at 8.30 Am, and arriving at Maupiti and returning to Bora Bora at 16.00.
The ferry will not go when the weather is too bad.
How To Get Around Bora Bora
First off, where is Bora Bora located? Bora Bora is located 240km/149 miles northwest of Tahiti, the biggest island of French Polynesia.
Getting around Bora Bora depends on where you are staying if you are staying at one of the super expensive resorts. If you are staying at one of the small Motus (islands), then a boat shuttle is the only way to get around.
There are two main areas to stay at on the main island of Bora Bora, around the only "town" on the island, Vaitape, or around the only beach on the island Matira Beach.
The distance between the two places is approximately 7Km/4,5miles. All ATMs on the island are in Vaitape.
Public transportation on the island is minimal, with only one bus running once an hour.
All hotels and resorts will borrow or rent you a bicycle for a very low price.
There are a few taxis on the island, but like everything else, are they crazy expensive, around 20/30 Euro for a 10 min drive. But your best option to get around the island is with a rental car from one of the two-car rental companies on Bora Bora.
The two big international car companies AVIS and Europcar, are both located in Vaitape. Avis also has a second location in Matira Beach.
NB: There's a discount on the car rental if you book online in advance instead of making a walk-in booking. Hitchhiking is an easy way to get around Bora Bora.
Bora Bora Best Places to Stay
Booking your accommodation in advance is crucial in Bora Bora to be able to get a room in one of the reasonably priced hotels.

But be aware that even the cheapest hotel charges 150USD a night for their most economical rooms. And those book out months in advance.
Where is the best place to stay in Bora Bora? I stayed at three different hotels during my visit. Why?
They were fully booked for my entire stay, so I had to change between them.
Oa Oa Lodge is by far the best option when it comes to quality and price on Bora Bora, a great place right next to the sea with a swimming pool, huge rooms with a kitchen, important to book early.
Sunset Hill Lodge is the second budget option on Bora Bora, another great place and popular with budget travelers. If you're looking for where to stay in Bora Bora on a budget, this location is sure to satisfy you.
Village Temanuata is located directly on Matira Beach.
Places To Eat In Bora Bora
There's plenty of eating out options on Bora Bora, food trucks, Chinese, pizza, BBQ places to enjoy the famous Bloody Mary's restaurant that have had tons of Hollywood celebrities eating.

Such as Marlon Brando, Leonardo Di Capro, Johnny Depp, Paris Hilton, Meg Ryan, Sean Pean, Steven Tyler + many more.
Have a look at the big billboard with the name of celebrities that have been there.
During my time visiting Bora Bora, Bloody Marys was reserved for two full days by some of the filthy rich.
Two of the cheapest places you can eat are Panda d'Or, a Chinese restaurant 5 min walk north of Vaitape, and the two food trucks that open around 6 pm at the big parking lot in Vaitape.
Snack Otomana is located right on the beach in Matira Beach and is the cheapest place to eat on this part of the island. There are also two small snack stands along with the beginning of Matira Beach.
If you prefer to cook yourself, about every budget accommodation has a guest kitchen.
There are three "big-ish" supermarkets around Bora Bora, the two biggest in Vaitape and a smaller one in Matira Beach.

Super U To'a Amok Supermarket, a big one close to Panda d´Or, a restaurant a few minutes walk north from Vaitape.
Supermarché Chin Lee is the biggest supermarket on the island in Vaitape, and there´s a small Tiare Market in Matira Beach.
Where To Drink In Bora Bora
There's not much nightlife happening on Bora Bora, the island's only disco is located 1km north of Vaitape, the Le Récife Discothèque that´s open Fridays and Saturdays from 11 pm to 3 am.
It's popular for foreigners to buy a few local beers in the supermarket and bring them to the beach in the evening while enjoying the sunset.
Bora Bora Online Connection
Bora Bora, together with Tahiti and Moorea, have the best internet I experienced in all of French Polynesia; your local sim card will also have a 4G connection here.

Every guesthouse and bar/restaurant offer free wifi with excellent speed compared to other islands and atolls in French Polynesia.
Money Used in Bora Bora
Money in Bora Bora is easy to come by. There are ATMs on the island, all of them located in Vaitape.

Every store, hotel, restaurant, bar, etc., on Bora Bora, accepted foreign bank cards, so I didn't have to use hard cash even once here.

The island uses the Pacific Franc in case you do want to draw cash before getting to the island.
Bora Bora Travel Guide & Tips to Save You Money
I'm pretty sure I've mentioned enough times that Bora Bora is not a cheap destination. But with a few money-saving, you can still do Bora Bora relatively inexpensively. Here are a few things I personally did to save money.
*Tap water is safe to drink.
*Book Accommodation in advance.
*Book activities directly from the company and not through your hotel.
*Rent a bicycle to get around.
*Book your rental car online in advance; this will save you 10%.
*Buy your alcohol in a supermarket, and return the empty beer bottle when finished (French Polynesia have a returned bottle for money policy)
*If going out drinking, go out when it's happy hour with 2 for 1, especially when a drink is typically 15USD.
*Bring everything you need with you, suncream, bug spray etc. Things like that are crazy expensive to buy on Bora Bora.
*Do things on other islands instead; if you are gone travel to other islands in French Polynesia, can it be smart to do some things on other islands instead, like scuba diving which I found to be disappointing on Bora Bora but on Fakarava it was absolutely amazing.

Scuba diving on other islands is also a lot cheaper than Bora Bora. There are also many other islands with overwater Bungalows around French Polynesia.
*A lot of Hotel Chains like the famous Four Seasons and Dive Centers like TopDive are located on other islands around French Polynesia; they all offer discounts on your stay and use them on more than one location.
*Take a jar of peanut butter or lots of laughing cow cheese with you to eat in their cheap French bread….makes for cheap lunches.
Is Bora Bora Safe?
Bora Bora is a very safe destination, with petty crime almost unheard of, but theft can still happen in places you don't expect it to happen.

Look after your belongings when on the beach and when you're out drinking.
No vaccines are required for Bora Bora or the rest of French Polynesia.
It's smart to wear sandals walking amidst coral in the water and along the beaches. It's highly recommended to have a guide when going hiking; the trails are supposedly badly marked.
Overall Bora Bora Backpacking Experience
Bora Bora is a beautiful place; don't get me wrong, even though I got disappointed with both the Scuba diving and the beaches here.

So I'm happy that I did decide to visit Bora Bora when I made my trip to French Polynesia. The lagoon tour itself did make the trip to Bora Bora worth it. Will I ever come back to Bora Bora?
Probably not, French Polynesia is perhaps the world's most beautiful destination when it comes to both under and over the water.

But French Polynesia has so much more to offer than Bora Bora.
I'm happy I went here, now I can say "Been There, Done That" but I'm not going back.

But French Polynesia is absolutely amazing, and I will definitely visit again, but there´s other islands and atoll´s in French Polynesia ill visit next time.