This itinerary in this post is designed for explorers who long to experience a balanced mix of Nepalese culture, exciting adventure, and the tranquillity of nature that this small country in the Himalayas has to offer.
From the most mystical mountain range in the world to vibrant jungle, you can temper this itinerary with your own values, mixing and matching activities and destinations to reflect what is most important to you.
Once you hit the ground, you may find yourself surprised and in love with a piece of the itinerary that you never finish the rest or you'll blow through it wishing there was more.
You'll find out when you arrive what sparks the most enjoyment, and the adventure will become entirely your own. Here are just a few ideas and the general costs to help you get started!

Nepal is not as cheap as it used to be, two weeks in Nepal will cost you about $500/1000 USD these days (not including flights to and from), but it can be done on a much tighter budget depending on how vigilantly you want to monitor your wallet.
I've been to Nepal 7 times over the years, and the prices have been steadily increasing each year.
$500 is allotted for your basic daily costs such as local transport, food, accommodation. $200 for a three-day hike. $50 for rafting from Kathmandu to Pokhara. $75 for entry fees to heritage sites.
$50 for luxury items such as a massage, specialty coffees, a SIM card, etc. You can increase or decrease the price based on personal preference.
$25 Tourist Buses and trekking transport. $100 for souvenirs. For more detailed information to help you create a budget, see the BUDGETING section.
Getting To Nepal.
OVERLAND travel to Nepal: Overland travel can be done coming from India and is an experience in and of itself. Where you choose to enter Nepal from India depends on where you are coming from in India and where you are going to in Nepal.
From Tibet, you will not find a budget or independent option available. (The visa process for overland is more or less the same as at the airport.)
FLYING TO Nepal: There are not many cross-continental flights to Tribhuvan International Airport in Kathmandu, especially if coming from North America.

Your cheapest option is flying to India, China, or Southeast Asian countries and taking a cheaper flight from there to Nepal with one of the local budget airlines.

Be aware that the Airport in Kathmandu is very old with no facilities.
However, if you take the time to research flights from different areas (ex: Turkish Airlines) and try out different search engines, you will come up with a range of flight options and costs.

If you don't have much time to prepare and are bent on keeping the costs down, One Travel offers some of the cheapest flights you can find.
From Dehradun India to Delhi to Kathmandu, my flight was $150 USD and was cheaper or more expensive depending on flexible dates.

From the Westcoast of Canada, a one-way ticket with One Travel was $900 CAD (around $600 USD), and a round trip to Kathmandu and back to Vancouver costs around $800 USD.
Guide To Getting Nepal Visa On Arrival (VOA Nepal).
Getting A Nepal Visa is fairly easy to deal with on arrival on both land borders and at the international airport in Kathmandu, but knowing a few things in advance will definitely save you some time.
Also getting a Visa extension for Nepal is also fairly easy, but it can get pricey if, like me, you end up unable to extend and delay on a hike thousands of miles away and have to pay a hefty fine when leaving Nepal.
Step 1: Fill out the disembarkation arrival card that the crew gives you on the plane ride to Nepal

Step 2: A new edition on Kathmandu is the Computer at arrival where you will have to scan your passport, get off the flight as fast as possible, there´s only a couple of computers available, so there can be a long que here.
Step 3: Set aside your money to pay the Nepal visa fee equivocal to your stay
$30 – 15 days
$50 – 30 days
$125 – 90 days
Volunteering while on a tourist visa without permission is strictly prohibited.

All Nepal visa is multi-entry, meaning if you leave during the duration of your Nepal visa, and want to re-enter Nepal before your Nepal Visa expire, you will not have to get another Nepal Visa.
NOTE: They now have an e-visa available that you can complete online and pre-pay your fees. The cost is between $59-184 USD, depending on how many days you are staying.
Having the fee ready to go in USD may save you money in the end. I had no issues, and it was smooth sailing, but others had to take out money and pay the ATM fee (700 NPR/$7 USD) see the MONEY section for more information about ATM withdrawals) and one of the ATMs at the airport was not working properly (which is very common with both of the airport ATMs) so try not to rely on them.
You can also pay this on arrival in other convertible currencies such as euros, pounds sterling, Chinese renminbi, and Australian dollars, although US dollars are always preferred and some smaller entry points (like Birgunj) may only accept US dollars, and Kodari only accepts US dollars and Chinese renminbi.
Step 4: Head straight for the visa application kiosk (or an attendant will guide you to the electronic kiosk), where you will answer a few questions and scan your passport to get a receipt indicating your visa needs and payment fee. You do not need passport photos for this, like for Visa On Arrivals in other countries.
NOTE: The form asks for accommodation information. This does not mean you have to book accommodation in advance (though you certainly can if it gives you peace of mind), but you do need to have the address for accommodation at the ready to fill out on the form.

You can look this up online before you leave and have it written down, or you can borrow one from Lonely Planet if someone has one in the airport.
You can complete this form in advance on the Department of Immigration website and print out your receipt to bring with you; however, it is just as fast, if not faster, to show up and apply for it at the airport.
ATMs don't let you withdrawal much, so you have to make more frequent withdrawals and ATM fees. Nepal is a good country to be taking cash out in as it is not as convenient as in other countries to pay by credit card.

They deal in cash, and it causes the least amount of hassle in the end.
Step 4: Go to the immigration desk, and they will give you your visa
Step 5: OPTIONAL – You likely don't have Nepali Rupees at this point and will need some to get to your accommodation unless you have arranged with your hotel or hostel for a pick up (in which you can go to an ATM from your hotel/hostel).
If you need money, either go to the Currency Exchange Kiosk (keep extra USD/Euros/Pounds for this purpose as it may come in handy if the ATMs don't work.)

If the ATMs are working, you can take money out that way, but it will have a hefty 700 NPR fee attached to it so you may want to take the maximum amount out. This ATM fee is unavoidable in Nepal now (see MONEY for more details.)
Getting a Nepal Visa On Arrival, so will get a Nepal E-visa in advance save you a lot of time at the airport.
Since you can skip the ques.
If have you been a regular visitor of Nepal but haven't been to Nepal in a few years, so will you notice there are now the 3 application kiosk a new addition to the visa on arrival.
There are new 3 "computers" where tourists will have to scan their passport themself and put in information about where you will be staying.
Unfortunately, during my previous two visits to Nepal have only 1 and 2 of the automatic kiosks been broken, making the queue take forever.
VISA Extensions in Nepal:
To extend my visa past 90 days (my hike and documentary work would not finish before my 90 days were up,) I originally went to the Immigration Office to fill out the paperwork.
It was over an hour's walk return trip in Pokhara, and I went three times.

All three times the office was closed for various reasons which are typical in Nepal, especially during September and October months when there are many random holidays and celebrations.
I tried the online extension process, but due to several days of storms, I couldn't get a solid enough network for my extension request to go through and be approved despite several days of trying.
Calling did not work either, and I ended up having to leave on a month-long, very off-the-beaten-track hike before my extension got sorted so I accepted that I would have to pay $2/day for the number of days I overstayed (9 x $2 = $18).
Unfortunately, they changed the extension rules and fees two days after I'd arrived in Nepal, so I had no current or updated information until I arrived at the airport for departure and it crippled my budget quite quickly.

Just in case you decide to stay longer here is the most up-to-date information I can provide.
Their rules had changed from $2/day for each day past your visa date to a penalty of $45 USD plus $3/day for however many additional days you've overstayed your visa, in case of delays less.

I believe if you are over 15 days, the daily fine becomes $5/day.
NOTE: the rules in Nepal are constantly changing and almost always regarding increased prices – talk as much as you can to other travelers coming in and leaving the country for new information and if you get caught unexpectedly by a hefty (sometimes greedy) fee you didn't see coming, try to just roll with it and chalk it up to an experience because they can't renege on government orders and even its not government-directed.
Usually, the one you are dealing with isn't the one calling the shots anyway.

It can be hard to accept the longer you stay in Nepal because you can get exhausted by the number of people trying to cheat you, make money at your expense or the overcharges can often come as a surprise, but it is not worth the struggle or the tantrum in the end so try to take it in stride if and when you can, because it can be a really amazing place with a ton of wonderful people if you focus on the good stuff.
How To Get From From Kathmandu Tribhuvan International Airport To Thamel
There will be many taxis vying for your money which is always overwhelming when you first arrive and are not familiar with the pricing. There´s a lot of taxi drivers on arrival, and most will try to overcharge you.
The going price from Kathmandu Airport to Thamel is 350 – 700 NPR, depending on your bargaining skills.
A better option, so you don't have to deal with the chaos (not to mention it is cheaper), is to download the Pathao or Tootle app on your phone and use it to hire a motorbike taxi or a car (you may even find some people who want to go to Thamel and will split the cost with you).
I used Pathao several times, and they arrive very quickly, confirm your identity and theirs before you climb in (if they don't double-check with them), and they get you to your destination for much less money.
My rides were 200-300 rupees cheaper this way.
You will, however, need data on your phone to do this.

If it´s your first time in Nepal, will you probably be better off with asking your accommodation in Thamel to arrange a driver for you, especially if you arrive late.

Finding your guesthouse/hotel can be difficult if it´s the first time here, Thamel can be a bit of a labyrinth
Get a local SIM card in Nepal.
If you need one, if you want a SIM card for your phone with calling text and quite often unlimited data (depending on which package you go with), get this as you are leaving the airport you will see a kiosk there that offers NCell and NTC.
It is more expensive if you try to purchase a SIM in Thamel of Freak Street, so it's best if you get it at the airport. The pricing of their phone packages is based on the duration of stay.

The longest I could purchase was a 28-day package, but their phone packages are as follows:
1 day – 1 GB – 45 NPR ($0.50)
7 days – 7 GB – 250 NPR ($2.50)
28 days – 28 GB – 850 NPR ($7.50)
I went with NTC because it would be better received in some of the more remote places. It is government-owned and has slightly better coverage in remote areas, but the private NCell company has better data and is more accessible in the cities.

For this two-week itinerary, either company will work just fine.
NOTE: If you're trying to save time and be prepared you can have a photocopy of your passport (and visa if you got the e-visa) ready for them to staple to the SIM registration form you will fill out for your card.

If not, they will borrow your passport for a few minutes while they photocopy the passport and visa pages for you.
Step 7: Get transportation to your accommodation or general area of exploration. There will be many taxis vying for your money which is always overwhelming when you first arrive and are not familiar with the pricing.

The prices have likely changed from 2019 when I was last going from the airport to Thamel, but I paid 600 NPR for a taxi.
A better option, so you don't have to deal with the chaos (not to mention it is cheaper) is to download the Pathao or Tootle app on your phone and use it to hire a motorbike taxi or a car (you may even find some people who want to go to Thamel and will split the cost with you).
I used Pathao several times, and they arrive very quickly, confirm your identity and theirs before you climb in (if they don't double-check with them), and they get you to your destination for much less money.

My rides were 200-300 rupees cheaper this way.

You will, however, need data on your phone to do this. See above for SIM cards and data packages).
Money In Nepal.

NPR: The currency in Nepal is Nepalese Rupees (NPR). For a quick reference, you can equate 100 NPR to $1 USD but if you, like me, have a different currency you can either use phone data to access a currency converter, you can pre-download a currency converter to your phone, or you can write down a few key conversions in the note section of your phone, so you can access the information without data and while your phone is on Low Battery and Airplane modes.
ATM: You will find plenty of ATMs in Thamel, Freak Street, and adequate money dispensers in other areas.

Not all ATMs allow you to take out the same amount of money.
The ATMs I found most generous with how much they would dispense were Standard Charter and Nabil in which I took out 30 000 – 35 000 at a time ($290-340 USD).

Pokhara ATMs caused me and many others much more difficulty, and I had to try five until I was able to get one that would allow me to withdraw 250 000.
Some ATMs will only allow you to withdraw 10000 NPR. How much you can withdraw may also depend on which bank you use and what country you are from. Find out before you leave if your bank in your home country imposes limitations when withdrawing money with your card.

Most ATMs in Nepal now charge between 500-700 NPR ($5-7 USD) per withdrawal.
NOTE: If you are going on a trek (especially a longer one) and that payment will be hundreds of USD, you will likely have to withdraw several times from the ATM, but many international cards are limited to one transaction per day when the limit is reached so you may need to take out money several days in a row to pay for an adventure in cash.
Make sure you plan accordingly before you arrive in Nepal.
Credit/Debit Cards in Nepal:
Don't rely too heavily on paying directly by credit or debit.

They work fine for withdrawals from ATM, and I would have one of each type of card on you in case of emergency, but using a credit card for purchases is limited to only certain stores and restaurants, and it tends to befuddle many local businesses including trekking companies in which they will push you to pay in cash.

Both Visa and Mastercard are common, American Express is non-existing in Nepal.
Top hikes to do in Nepal.
Ghorepani Poon Hill (Annapurna) – 3-5 days (Annapurna)
Panchase – 4 days (Annapurna)
Khopra Danda – 5-7 days (Annapurna)
Mardi Himal – 4-7 days (Annapurna)
Pikey Peak – 6 days (Everest/Khumbu)
Everest Panorama – 5-10 days (Khumbu)
Everest Base Camp – 8-12 days (Khumbu)
Gokyo Lake + Gokyo Ri – 6-9 days (Everest/Khumbu)
Lower Mustang – 6 days (Mustang)
Langtang – 8 days (Langtang)
Annapurna Basecamp – 7-9 days. (Annapurna
Annapurna Circuit – 12-21 days (Annapurna)
Poon Hill – 3-5days (Annapurna)
And the ultimate 22-day hike from Dolpo to Jomson to Jumla.
HIKING: $150-250 USD (depends on the season, guides, accommodation, etc.)
Ghandruk Village Trek: $150-$250
This trek is a short and easily accessible hike from Pokhara with little difficulty in ascents and descents.

Those who make this trek thoroughly enjoy the villages of the Gurung community and the sweeping panorama of the Annapurna Himalayas including Annapurna South, Gangapurna, Annapurna III, Hiunchuli, and Machhapuchhre.
DAY 1: Pokhara to Ghandruk via Phedi and Dhampus [5 hours – 1540m]
Take some time to explore Ghandruk and enjoy sweeping evening vistas from your guesthouse/lodge.
DAY 2: Ghandruk to Pothana [5-6 hours – 2870m]. If you wake up early, you will be able to catch the sunrise over the Himalayas before breakfast Take the trail to Pothana and enjoy the descent down to the river (Modi Khola) passing the rice paddies and onward to Deurali (which joins up to the Mardi Himal trek) before your climb up to Landruk village and onward to Pothana where you can find a guesthouse for the night.
DAY 3: Pothana to Pokhara. You can still get some great morning views here before breakfast and heading down to Phedi where you can catch local transport or hire a jeep to take you back to Pokhara (1-2 hours depending on road conditions.)
Balthali Village Trek: $150-250
This trek is easily accessible from Kathmandu (a one-hour drive) and offers a quick but valuable glimpse of culture and beauty, including Langtang Himal, Ganesh Himal range, Manaslu, Dorje Lakpa, Gaurishankar, and Everest on to the far north. Offering traditional and rural culture as well as Himalayan vistas, The Balthali trek will excite bird-watchers, hikers and nature-lovers alike.
There are many other trails to villages of Tamang, Newar, and other ethnic tribes if you decide to wander or lengthen your stay. A network of mountain bike trails may appeal to adventure enthusiasts as well.

The trek is an easy meander for 3-5 hours a day through a variety of flora, fauna, terrace fields, rhododendron forest, and village life. You can start closer to the trek at Dhulikhel, a beautiful town high up on the outskirts of the Kathmandu Valley (past Bhaktapur if you would like to continue on from there).
This just means getting closer to the beginning of your trek and saving an hour, not to mention the stunning mountain sunrises and sunsets, but it may be best to just wait and see how you feel at the time and do what makes the most sense to you once on the ground.

(If you don't want to go with a company but want a guide, you can ask around about independent guides even in places like Bhaktapur, the prices will be negotiable based on season, duration, and bargaining skills).
DAY 1: Kathmandu/Bhaktapur/Dhulikhel to Namo Buddha
If you are starting from Kathmandu or Bhaktapur, try to get an early start making your way to Dhulikhel. If you're starting in Dhulikhel, enjoy the sunrise and vast Himalayan range before breakfast.

Namo Buddha is known as one of the most sacred Tibetan Buddhist sites in Nepal.
It will take you around 3 hours, and you can find resorts (even eco-friendly ones) and cheaper guesthouses as you ask around. Take the afternoon to enjoy prayer flags flapping in the breeze and take in the Tibetan atmosphere of village life.
DAY 2: Namo Buddha to Balthali
If you didn't explore the Namo Buddha stupa and hilltop monastery when you first arrived, take the morning to explore after breakfast. From there you can head through various fields, orchards, and villages dotting vast farmland.

The stunning mountain views will follow you to Balthali where you will spend your last night.
DAY 3: Balthali to Kathmandu via Panauti
Your last breakfast will boast another beautiful view before you begin down a dirt road passing villages and terrace fields in the shadow of the Himalayas on route to Panauti.
This is a great place to stop and explore and grab a bite to eat if you are hungry. It is considered one of the most-preserved Newari villages in Nepal and exhibits the architecture in the Newar style, which is a sight to behold.

You can hop in a taxi or catch the bus back to Kathmandu from here. (Or if you haven't yet been to Bhaktapur you can stop for an overnight there to enjoy the cultural center of Nepal.)
Ghorepani Poon Hill Trek: $150-250
The appeal of this hike which is trekked between 3-6 days, is that it gives you a taste much closer to what a longer mountain trek in Nepal would be like.
In the Annapurna region, it is easy to access and covers a variety of terrain from handcrafted stone stairs, to the wild green jungle, through rhododendron forests, across pristine rivers, and flavouring the journey with a higher altitude than the previous two hikes at 3200m.
It includes rural villages though they are fewer and farther between than hikes close to Kathmandu and Pokhara. It is easily done solo (you will likely meet many people along the way) or can be easily arranged through a trekking company.
What appeals to so many trekkers on this hike is the big payoff of mountain vistas that include Dhaulagiri, Nilgiri, Machhapuchhare (Fishtail), Annapurna II, and Lamjung, in a very short period.
As a solo trekker, you can enjoy cheaper costs, greater freedom, and still meet lots of great people at the cost of more planning, less information (and perhaps less culture if you don't make an effort to get to know the locals).
The obvious peace of mind that can be lost on a solo trek is safety issues, so awareness and responsible Travel are required. In contrast, the feeling of self-sufficiency is hard-won and a worthy pursuit.

In a group you can relax more as someone arranges the details for you, you have access to a local who can share plenty of information with you (though there are many guides that don't or can't), you have the support and comradery of a group, and you are supporting locals in job creation. (if you don't want to go with a company but want a guide, you can ask around about independent guides).
These aspects of guided trekking come at the cost of higher prices and less flexibility. Take your time deciding what matches your own values and why and then you can make a decision that best fits you.
There are many options on where to stay along the trek if you decide to push on further or stop early. Ask around to find out how far the next village is and tack an hour on just for good measure.
DAY 1: Pokhara to Ulleri (1920m) or Bhaisi Kharka or Tadpani via Nayapul
From Pokhara, you can hire a jeep to Kimche or Nayapul and begin walking from there, or you can jump on a local bus at the public bus station in Pokhara. Nayapul is about 46 KM and takes about 1.5 hours to arrive from Pokhara, add an extra 30-60 mins to drive further to Kimche.
Walking from Nayapul will add a few hours to your trek, but if you start from Kimche, you will hike about four hours to Bhaisi Kharka, or six to Tadpani.

You will ascend up through the steep lush jungle, stop for snacks along the way (bring your) and likely enjoy a hot meal of Dal Bhat (the main local dish) at whatever guesthouse you stay at
DAY 2: Trek from Ulleri or Bhaisi Kharka or Tadpani to Ghorepani (2850m)
As you head towards Deurali from here, you are gaining altitude and will catch a glimpse of Machhapuchhare and Annapurna II in the distance. You will pass Tadapani as you continue (unless you are starting from there.
The trail is very clearly marked and well-used by locals as well. Depending on where your trek starts from and how often you stop, you may be hiking for four to eight hours. Ask the locals as you arrive how far away each place is to gauge whether you want to continue (unless you've already booked your accommodation).
DAY 3: Trek from Ghorepani to Pokhara (summiting Poon Hill – 3180m)
It will be an early morning for you and any other trekkers planning to reach Poon Hill by sunrise. Bring a small daypack with water, a snack, gloves, a camera (and an extra battery, if you have one as the cold, depletes the battery quickly.)
If it warms up, you will have somewhere to stuff your layers for the hike down. It's a forty-five-minute ascent and is chilly in the dark hours. You may even want a warm layer inside your bag to change into so when your sweat cools; you can keep warm.
After sunrise you can head down to your lodge for breakfast, pack up your bag and descend through various villages such as Banthanti, Ulleri, Tikhedunga until Hile (for private jeep) or Nayapul for jeep rental and local buses.
Hiking Permits Prices in Nepal.
ANNAPURNA: (Nearest City Pokhara)
Permit/Entry Fee: 3000 NPR ($30 USD) – per foreign person
TIMS (green): 2000 NPR ($20 USD) per person (independent trekking)
TIMS (blue): 1000 NPS ($10 USD) per person (as part of a guided group)
NOTE: Permits + TIMS must be paid in NPR
EVEREST: (Nearest Town Lukla – fly or hike 3-4 days from Jiri)
Permit/Entry Fee: 1500 NPR ($15 USD) – per foreign person
TIMS (green): 2000 NPR ($20 USD) per person (independent trekking)
TIMS (blue): 1000 NPS ($10 USD) per person (as part of a guided group)
Itinerary idea For Nepal.
DAY 1: Around Kathmandu (choose your own!)
Durbar Square
Pashupatinath
Swayambhunath
Free Sound Bowl Meditation Class
Cooking Class
Massage
Lemon merengue pie and a book at Coffee Ghar
DAY 2: Bhaktapur
Durbar Square wandering
Art Museum
DAY 3: Kopan or Patan (or a half-day in each)
Boudha.
The big stupa
Shopping
Kopan Monastery + Nunnery
Patan
Durbar Square
Handicrafts
ALTERATION: If you prefer to do the Balthali Village trek you can take three hiking days here and leave form Kathmandu or from Bhaktapur.
DAY 4: Rafting to Pokhara.
7 AM to 7 PM
DAY 5: Around Pokhara (choose your own adventure!).
Chill out at a lakeside restaurant and enjoy the view
Row across the lake (or have someone row you) to the path up to the World Peace Pagoda
Catch the sunrise at Sarankot (walking in the dark, renting a motorbike the night before or arranging a ride) add in the second viewpoint of Naudanda
Take a motorbike or have the local bus drop you at Tashi Palkel, the Tibetan settlement with a welcoming monastery.
Free Sound Bowl Meditation Classes
Gorka Museum
International Mountain Museum
Begnas Tal and Rupa Tal are two other lakes (more peaceful and less frequented than Phewa)
The golden Buddha off the main road in Pokhara Lakeside
Paragliding
Mountain biking
DAY 6: Around Pokhara.
Chill out at a lakeside restaurant and enjoy the view
Row across the lake (or have someone row you) to the path up to the World Peace Pagoda
Catch the sunrise at Sarankot (walking in the dark, renting a motorbike the night before or arranging a ride) add in the second viewpoint of Naudanda
Take a motorbike or have the local bus drop you at Tashi Palkel, the Tibetan settlement with a welcoming monastery.
Free Sound Bowl Meditation Class
Gorka Museum
International Mountain Museum
Begnas Tal and Rupa Tal are two other lakes (more peaceful and less frequented than Phewa)
The golden Buddha off the main road in Pokhara Lakeside
Paragliding
Mountain biking
DAY 7-8-9: Hike.
Options:
Bhumdhi Trek – 3 days (from Kathmandu)
Ghandruk Trek – 3 days (from Pokhara)
Ghorepani Poon Hill Trek – 3 days (from Pokhara)
DAY 10: Bus to Chitwan.
*With your SIM card and data, you can email various companies during the drive about activities and plans for the following days, and they will likely get back to you within the hour. You may have your plans all set up by the time you arrive if you want to.
Leave early morning on a tourist bus (7:00 AM). The trip can take anywhere from 5-10 hours depending on traffic, bottlenecks, stops etc. If you arrive early, you will be able to wander the river along-side town and spot the local rhinos on your first day!
DAY 11: Chitwan.
Guided Jungle Trek to spot rhinos
Elephant trek through jungle (not recommended)
River Float (raft rental at the river)
Wander the town and take the river path to spot the local rhinos
Elephant Breeding Center (not recommended)
Tharu Cultural Museum
Jeep Safari Tour
Wander the rice paddy fields to watch local life
DAY 12: Chitwan.
*If you've seen and done all you want to do in Chitwan you can head back a day early at 7:00 AM or 3:00 PM or you can stick around and continue the adventure in Nepal's jungle region.
Guided Jungle Trek to spot rhinos
Elephant trek through jungle (not recommended)
River Float (raft rental at the river)
Wander the town and take the river path to spot the local rhinos
Elephant Breeding Center (not recommended)
Tharu Cultural Museum
Jeep Safari Tour
Wander the rice paddy fields to watch local life
DAY 13: Bus to Kathmandu.
Buses leave at 8:00 AM and 3:00 PM. Various offices line the main drag with people who will arrange your bus ticket for you though you may find them out to lunch often and have to hit the office at the right time to get them on the first try. It will feel good to arrive back in Nepal, and you may take the chance to splurge on a place with a hot shower and AC.
DAY 14: Around KTM or back to Patan, Kopan, Bhaktapur etc. if you prefer
Durbar Square
Pashupatinath
Swayambhunath
Free Sound Bowl Meditation Class
Cooking Class
Massage
Lemon meringue pie and a book at Coffee Ghar
Budgeting for Nepal.
GENERAL: Everyone spends differently, and what one person spends more on another will cut costs, not to mention prices in Nepal are always fluctuating and usually increasing. There are ways to cut costs and budget, but it is more difficult when you are a solo backpacker.
We each have the things we care more about, for example, my friend can get by on three meals of dry chow-chow noodles for a day at $0.75 USD/day, another friend is content eating dal bhat twice a day every day at $6/day, and I require more variety of food, fresh fruits and I have a killer sweet tooth $12/day.
I, however, am more than happy as long as I have a tent over my head $0/day and my friends like better accommodation for $12/day so what your budget looks like it's going to depend on what you value.
When you are traveling solo, you don't have to compromise with anyone, but you also can't split costs. Your biggest savings will be if you find people to share a room with and when you can't, there are always hostels that exist for that reason.
They are also a great way to meet people. Or if you feel like it, go ahead and splurge on a private room for the night and enjoy your own space.
Shared hostel dorm: 250-750 NPR
Shared private room: 800-1200 NPR
Single private room: 1000-1800 NPR
Trekking guesthouse: 200-700 NPR
A dish of street food: 60-100 NPR
A dish at a restaurant: 100-300 NPR
A dish at a nicer restaurant: 400-600 NPR
A dish on trekking trail: 500-700 NPR
I also always bring a tub of peanut butter with me no matter where in the world I go. It works great to keep my breakfasts cheap as a couple of bananas, a piece of bread, or plain toast don't cost much.

North Americans: bring a jar of peanut butter; Europeans a jar of Nutella, South Americans some Dulce de Leche and for the Oceans…if Vegemite goes on toast, bring it.
Many hostels will allow you to cook for yourself, which can also cut costs. It is pretty easy in Kathmandu or Pokhara to get to a market and grab some fresh food to prepare.
BASIC: Here's what a basic budget day would look like without entrance fees, treats, permits, adventures, etc. (though it can be cheaper than this if you're committed to saving and more expensive if you want to splurge.)

Pokhara will add an extra $7-10 onto this though I did a lot more walking and didn't use transportation, so there are ways to even out. Chitwan is by far the cheapest for accommodation and even food as it is less developed.
Accommodation: $8
Transportation: $3
Local buses around Kathmandu cost around 15 NPR ($0.15 USD)
Local buses to spots in the Kathmandu Valley are 20-30 NPR ($ 0.20-0.30 USD)
Water: Try to avoid buying bottled water as it leaves so much waste behind.
Water Tanks: $0
Most hostels and hotels now have water tanks for you to fill up your water bottle so you can bring your own water bottle or purchase one there (beware of weak lids and leaks).

Aside from hiking, all these destinations on the itinerary had water tanks at guesthouses and hostels to fill up a bottle.
Filtered Water Bottle: $35 USD
You can buy a collapsible water bottle with a filter in it from (BeFree 1L Katadyn $35 USD) which is great because you can refill it throughout your day without having to locate a water tank. This is really useful for hiking.
Bottled Water: 1Lx2 = $1.50
Food: $8
Breakfast: (toast or locally negotiated fruit $2
Lunch: momos or chowmein $3
Dinner: Dal Bhat $3
TOTAL DAILY COSTS: $21.00
Nepal in two weeks is best done by allowing flexibility in your budget. Plan for $35/day which will put you around $500 for the full two weeks you are there. That way if anything goes wrong you have flex money built-in and whatever is left over can go towards the adventure items on your list.
ADVENTURE COSTS: This will be the majority of your costs outside of your flights to and from Nepal. For the breakdown on adventuring see the ADVENTURES section.
For the following adventures, you can shop around for better pricing at various companies in Kathmandu or book ahead before arriving.
Rafting Options:
Rafting Kathmandu to Pokhara – 1 day $35-65 USD
Rafting Kathmandu to Pokhara – 2 days $75-150 USD
Hiking Options:
Ghandruk Village Trek – 3 days $150-250 USD
Balthali Village Trek – 3 days $150-250 USD
Ghorepani Poon Hill – 3-5 days $150-300 USD
Longer Hiking Options:
Panchase – 4 days (Annapurna)
Khopra Danda – 5-7 days (Annapurna)
Mardi Himal – 4-7 days (Annapurna)
Pikey Peak – 6 days (Everest/Khumbu)
Everest Panorama – 5-10 days (Khumbu)
Gokyo Ri – 6-9 days (Everest/Khumbu)
Lower Mustang – 6 days (Mustang)
Langtang – 8 days (Langtang)
MISCELLANEOUS COSTS:
Sim card for phone – For two weeks: $5 USD (see VISAS section for full details)
Massage – 60 mins ($15-20) – 90 mins ($22-25) – 180 mins ($30-35)
Specialty Coffees – 65-95 NPR ($0.65 – $1 USD)
Accomandation in Nepal.
KATHMANDU: Accommodation availability will vary depending on which season you choose to visit.

Autumn in Nepal (September-November) and Spring (March-May) are peak tourism seasons in Nepal because the weather is warm, skies are generally clear, and conditions are at their best for outdoor activities.
Like to fly by the seat of your pants? Great! Head to Thamel or Freak Street and start poking your head in various places to snag a spot to sleep for the night for your preferred price.

Peak season, however, may leave you with fewer options and much higher prices than if you'd planned ahead.
Need to have a few things nailed down to take the pressure off? Book a night or two of accommodation in Kathmandu online before you arrive, so you have a place to drop your things and orient yourself for the rest of your trip.

While booking online comes with commission rates and other fees, consider that you are paying a little extra for peace of mind.
The hotel my friend booked for us before we departed for Everest Base Camp was located right next to a nightclub… and I mean right next to it.

It had great amenities listed, and she could never have known it wouldn't live up to its cost because none of the reviews mentioned the noise issue, so there is a bit of a leap of faith involved in finding the right place online without being able to check it out for yourself.
A midrange hotel such as Tibet Peace Inn can be a good place to start. It is more midrange and is more expensive for a solo traveler than a pair or trio, but sometimes it is nice to start your journey somewhere you can trust a good night's sleep.
Tibet Peace Inn was recommended to me by a friend and became my launching point for other adventures as they stored my bags for me as I moved from one destination to another.

The staff was quite incredible, the rooms very clean, air-conditioned, hot water. I stayed there seven times and always had very reliable service though by high season I had to book ahead instead of just walking in and arranging a room.
Sometimes I just needed one night at Tibet Peace Inn before walking around to find something cheaper and more within my budget, so one night booked upon arrival at a nice place can ease your mind, and the following night you can find something to ease your budget instead.
Need all your accommodations nailed down for peace of mind? This will add peace of mind but may take away some flexibility in the journey if a bus breaks down, or your plans change at all.

But if peace of mind before your departure is what you are looking for, then Booking.com and Agoda travel sites give a variety of decent places to stay in each of the locations suggested in the itinerary. I will supply some of my own suggestions where I can.
As a solo traveller, I have to pay more to stay in a private room, so I treated myself to it every once in a while.

During my 3.5 months in Nepal, I made an effort to book a variety of accommodation from private AC rooms to twelve-person hostel rooms (and plenty of tenting in the wilderness) depending on what I felt I needed at the time.
In the off-season you can roll up to a place and find something available without issue and often, they will even offer you an upgrade for the same price when they have vacancies.
I ended up with a few private rooms at the price of a ten-person hostel room on a few occasions. High-season forced me to pay a little extra when I didn't plan ahead far enough in advance unless I was more flexible in my location or expectations.
The obvious places for backpackers in Kathmandu include:
Thamel
Paknajol
Freak Street
However, there are so many other wonderful spots around the city to hunker down in. There are also plenty of other options if you are looking for somewhere quieter outside of Kathmandu.

Boudha (Bodhinath) is a quiet town just a quick bus ride away that offers a reprieve from the hustle and bustle of the city centre.
There is a nunnery in Kopan (up the hill from Boudha) with additional rooms for visitors, and if there is not a Buddhism course going on, there may be rooms available at Kopan monastery (five mins walk from the nunnery) which offers a very peaceful and quiet environment as well as beautifully manicured property to enjoy.
Most, however, want to experience Kathmandu and decide for themselves what they think of it. Personally, I spent a significant amount of time in the Thamel area and infringe districts like Kopan, and I loved them both for entirely different reasons; it just depends on what you are looking for.
POKHARA:
Lakeside is the main tourist area, and prices continue to go up there. It is wonderful to be in the thick of things (though it is much thinner and laid back from anything you'll find in KTM) in the sense that anywhere you walk you will likely run into a little community of people that makes Pokhara feel "homey".
However, you are unlikely to find budget places on the main drag as most now exist further east.

But! If you head to the north end of Lakeside, you can find a place a happy village, and you can find low budget accommodations there. While it may not be in the thick of the Pokhara community of Lakeside, it is well worth the walk getting to and from.

You can also check out Damside as well for budget accommodations. If it's high season your best bet is to book online ahead of time, in the shoulder season, it's hit or miss, and in the off-season, you can wander around until you find what you are looking for.
CHITWAN:
It is easy to do Chitwan on your own without the package tours; in fact, it's better without. The main street has plenty of places to sleep, and I stayed a 5-10-minute walk further out because I enjoyed watching the workers in the fields and elephants heading in and out of town as I walked each morning and evening.

Do some research on accommodation here to find exactly what you are looking for but rest assured, it is easy to do this leg of the trip independently and on a budget.
Food in Nepal.
I got sick from both rural food and restaurant food (pizza – who knew!?) but just know that when you dabble in street food in Nepal, your risk of getting sick goes up exponentially.

As a big supporter of street food and having enjoyed stalls of weird eats and sketchy treats in Thailand, Tanzania, Ethiopia, Indonesia, India, and other countries, Nepal is not the place to experiment due to refrigeration problems, poor hygiene and a lack of sterilizing procedures.
Best places to eat in KATHMANDU
Restaurants that turned out excellent meat dishes and salads included the following mid-range restaurants:
-Forest + Plate (delicious salads and great atmosphere)
-OR2K
-Electric Pagoda
In addition, mid-range restaurants that turned out good baked items and breakfasts
-German Bakery
-Coffee Ghar
-Metro
The best lemon-merengue I've had yet can be found at Coffee Ghar, which became my favourite "atmosphere" to read a book, get some work done or snack on delicious treats.
NOTE: These restaurants charge VAT, so the price on the menu will not be the price on the bill. The VAT was anywhere from 10% – 25% depending on the restaurant so take that into consideration.
Sometimes it pays off to have a walk around and risk some of the restaurants not sanctioned by Lonely Planet as well. Just know that "don't eat street food" does not mean "don't eat local."

There are many cheap and amazing local establishments where you can sit down and have a freshly cooked Nepali meal and searching for them is half the fun. Dal Bhat, noodles, momos, palak paneer are all local meals that are much less likely to leave you sick and give you a taste of local.
Best places to eat in POKHARA:
There are a lot of mid-range options in Pokhara. You'll have to do more hunting for cheaper places, but they come with more of a risk.

A great option is to eat local food in Pokhara where you can get a meal of dal bhat for as low as 250 rupees.
The best momos in town, in my opinion, are actually at the German Bakery, which was surprising. But I ate almost every day sometimes twice a day at the Juicery because I just couldn't resist.

For great mid-range options, visit.
The Juicery (great smoothie bowls, salads, and vegetarian/vegan food)
Café (vegetarian/vegan)
French Creperie (savory or sweet)
OR2K (lunch/dinner)
Umbrella Café (any meal)
You + I (breakfast/lunch)
Metro (breakfast)
NOTE: several bakeries I frequented had sales on their bakery items at night around 7:30-8:00. This was a great time to stock up on a few eats for bus rides or breakfast the following morning.
Best places to eat in CHITWAN:
I ate a lot of local dishes here because I met a lot of locals and got to know the area a bit more authentically than other cities, however, here is a list of a couple of places and a few recommendations by other travelers:
Taxis (authentic)
Greasy Spoon
Friends Café
Art Café
Shantiko Kitchen
Jalepeno
Permits + Entry Fees for sites In Kathmandu
Kathmandu + Around: Heritage Sites and Temples
Fees to enter heritage sites are ever-increasing, but you still get a good bang for your buck. If you're only looking to visit one – I'd recommend those in Bhaktapur.

Your hostel or hotel in Bhaktapur may likely be inside the square (old town) anyways and if you want to extend your ticket for free days following your first day just bring a couple of passport photos and your passport over to the Municipality Office at one end of the square – people can point you to it.
They will fix you up a ticket that allows you to re-enter as often as you'd like.
Kathmandu – Heritage Sites:
Durbar Square (+Tribhuvan Museum) – 1000 NPR ($10 USD)
National Museum – 150 NPR ($1.50 USD)
Pashupatinath – 1000 ($10 USD)
Swayambhunath – 200 NPR ($2 USD)
Bhaktapur – Heritage Site:

Durbar Square – 1500 NPR ($15)
Art Museum – 150 ($15)
Patan – Heritage Site:
Durbar Square – 1000 NPR ($10)
Patan Golden Temple – 50 NPR ($0.50)
Boudha – Heritage Site: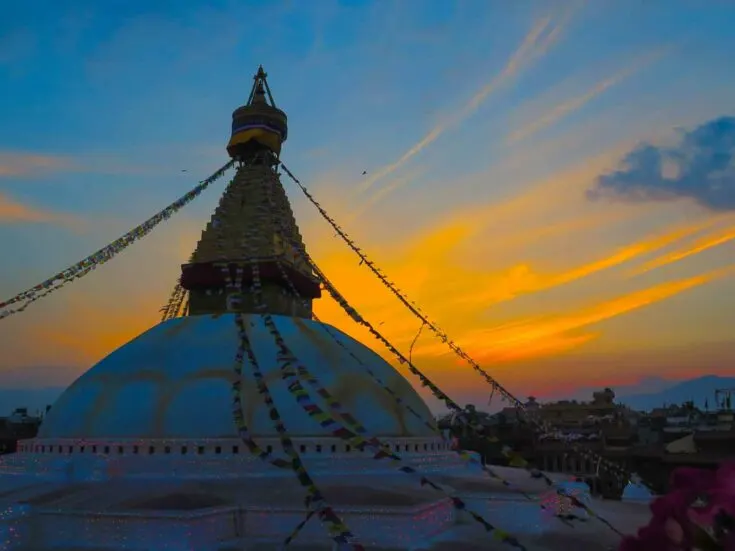 Boudhanath Stupa – 400 NPR ($4)
Kopan Monastery – free
CHITWAN: (Nearest City Sauraha)
National Park Entrance: 2000 NPR ($20 USD) per foreign person
Elephant Breeding Camp: 50 NPR ($0.50) per foreign person (not recommended)
Tharu Cultural Museum: 25 NPR ($2.50 USD) per person
NOTE: It is easy to spot rhinos while walking along the river a few minutes out of Sauraha if you are not interested in paying the 2000 NPR to get inside the national park.

I went into the park and ended up seeing no rhinos, and I spent the next day by the river in town and saw plenty of excitement.

Please do your research on whether it is ethical to be riding elephants in Nepal before booking something – much of the claimed precautions and care they take with elephants there is not accurate or truthful. In contrast, the Tharu Cultural museum while not impressive in looks or maintenance – the information is fascinating, and the money helps support a worthy cause.
TIMS + N.P. PERMIT: There are a few things you can do to come away with your permits more easily.

These are the questions the permit office will need answering.
Trekking entry and exit dates (can be an estimate)
Entry and exit points for your trek
Route/itinerary for your trek
Emergency contact info for Nepal (can use a tour agency as a contact)
Emergency contact info for someone in your home country
Your insurance policy number, their phone number, and what your policy covers
NOTE: Bring 2 passport photos (and your passport) with you.
For more information on this process see Mardi Himal
Rafting in Nepal:
Kathmandu to Pokhara: 1 DAY – $35-65 USD
Trisuli River – 1 day
Arrive at the rafting company's office (many of which are located in Thamel, though you can make this trip from Pokhara as well upon request.) We met at 6.30 am at the GRG office in Thamel (but you can request this same trip from Pokhara, and they will arrange it for you if you need.)
The bus leaves around 7 am, and the drive is around 3.5 hours to Chauraudi where the rafting will begin from.

The guides will set everything up while you are given your helmet, life jackets, and paddles. Get your swim gear on and enjoy a cup of tea before the safety briefing at the river and let the fun begin!
The GRG tour and many like it includes a beach-side picnic lunch and you will hit the main rapids thereon out.

The rafting covers a 20km distance, and the shores are often teeming with local life and a few monkeys. There is also a cliff jumping spot for those who want to add some height to their day of adventure.
The camp (your rafting endpoint) will provide you with hot chocolate, popcorn, and a campfire before driving you the remainder of the way to Pokhara (7 PM arrival – give or take).
Trisuli River – 2 day
If you opt for the overnight adventure, the guides will make you dinner while you enjoy the poolside and eventually lay back for some stargazing, Nepali music and warm up by the campfire.
All camping gear is provided for you including sleeping bags – the only things not included in the package (at least with GRG) are the obvious items: visas, toiletries, travel/adventure insurance, alcohol, tips for guides etc.
If you reverse your course and go from Pokhara to Kathmandu along the Seti River for your overnight adventure, companies will charge you anywhere from $50-170 USD. I did not do the overnight trip due to budgeting and still had a great time, but I certainly would have enjoyed extending the adventure as well.
Pokhara to Chitwan: 2 DAY – $175 USD
Seti River – 2 day
You will depart from Paddle Nepal Lakeside Center in Pokhara at 7 AM on a private bus that will take you an hour and a half away from Pokhara to Damauli where the adventure will begin.
After a night of riverside beach camping, you will raft to the finishing point, which is about 3 hours from Pokhara. From there, you will be able to access local bus options that can take you down to Chitwan. You can ask around, compare pricing and discuss your options in Pokhara if you are interested.
1 pair of shorts/pants (it will undoubtedly be cold in the morning hours at higher altitudes)
Long johns (these can go undershorts to use as pants if packing lightly)
1 quick-wick t-shirt
1-2 quick-dry polypropene long-sleeve
1 rain jacket
1 down jacket for sleeping at night and for AM sunrise warmth
1 toque and 1 pair of gloves
2 pairs of socks (1 pair of compression socks are best for hiking and keeping leeches out of your boot – bonus!)
Underwear/sport bras
1 pair of hiking shoes (running shoes work but are not comfortable for the terrain and can more easily result in injury, not to mention they don't insulate your feet to keep them warm)
Sleeping bag (optional: sleeping bag liner)
Headlamp – possibly two or ensure you have extra batteries
Water supply and aqua tabs for backup
High calories snacks
Cash
Hiking permits (entry + TIMS)
Entertainment: reading book, journal, cards, etc.
Saltwater in a spray bottle for leeches if its rainy season or shoulder season
Bug Spray and Sunscreen
Personal medications
Electronics and accessories
Local Transportation in Nepal
LOCAL BUS from Kathmandu:
Ratna Bus Park and the Old Bus Park, (which is a five-minute walk from Ratna Bus Park) are the two main bus parks with local transportation to various spots in the Kathmandu Valley, and if you are really looking to save money, to larger cities such as Pokhara and Chitwan.
The local buses are fantastic for short trips to Boudha, Bhaktapur, Patan, Bandipur, etc. in the valley, but are known to have more accidents and fatalities on longer bus rides to bigger cities which is why most travelers stick to the tourist buses on long trips.
There are still plenty who opt for the rougher and more dangerous local transport for longer trips. Ask around and decide for yourself what makes sense for you.
NOTE: Local buses leave in intervals of 15, 30, 45 and 60 minutes
Thamel to Ratna Park: From Tibetan Peace Inn I just walked down the road 5 minutes and crossed the intersection there. (For the tourist buses departing Kathmandu for Pokhara and Chitwan, you do not cross the intersection, when you arrive at it, you just turn left and head down that road, and you'll see a bunch of tourist buses lined up waiting to be loaded.
For local buses, however, you need to cross the intersection). Once on the other side of the intersection, I crossed to the right side of the street (after consulting a local).

If you stop and ask anyone for "Ratna Park" they will point to where you can stand or need to go, and that is how I knew to be on the other side of the road.
There is no exact location to stand, when you see a bus coming you wave your arm out like you are hailing a cab and as they swing by you yell out "Ratna Park" and they either tell you yes or no. But you do need to be on the right side of the road to get a bus headed in that direction so just ask around if you are not sure and the locals will help you out.
After a few times going back and forth for different trips, I realized that it was only a 20-minute walk from Thamel and I was able to manage it okay with my photography backpack filled with overnight gear (8kg).
I did use Google Maps on my phone the first couple of times walking, and I used a Kathmandu map once as well.

If you have either of those options, it can be helpful, if not, you can always follow the directions below and stop to ask along the way to stay on the right track.
Step 1: Walk out of Thamel via Tridevi Marg
Step 2: Continue straight across the first intersection.
Step 3: Turn right at the next T-junction onto Durbar Marg, the road that leads straight out from the entrance of the Narayanhiti Palace Museum.
Step 4: Once you're on Durbar Marg, continue all the way down for about 15 min (you'll cross another big junction on the way), and you'll get to the bus park.
Bus Fare: 15 NPR [10-15 mins]
Walking: Free [20mins]
Ratna Park to Bhaktapur
Walk around and continue asking for Bhaktapur. The Bhaktapur Buses are usually in the middle of the parking lot close to the entrance.
People will keep sending you in the right general direction (and every once in a while, in the wrong direction) but once you get to the right area of buses, go along each one and ask the driver or people inside if the bus is going to Bhaktapur.
They will let you know. The buses closest to the front of the gates are the first to depart out of them. Ask the cost of the trip – it should not be more than 30 NPR as of 2019. I paid 20 NPR for most trips through the Kathmandu Valley.
I suggest going earlier in the morning to beat traffic or at the very least with a good amount of daylight upon arrival as it is easiest to navigate your way to your hostel or hotel in the light rather than the dark.
Taxis are also available to Bhaktapur if you're short on time and want to be delivered directly to your place but be aware that no vehicles (except motorbikes) can enter the old town, and if your hotel/hostel is within those borders, you will have to walk to the front doors.
The time it takes to get there will depend entirely on the traffic leaving Kathmandu and at what time you've chosen to take the bus. It can be anywhere from 30 mins to 60 mins despite the short distance. There are a million stories each mile when you look out the window so try to snag a window seat and enjoy the view!
The last bus from Bhaktapur to Kathmandu is at 6 PM. If you miss it, there will still be taxis that can take you. Staying the night is best as it gives you the whole morning to roam around the old town and have a nice rooftop breakfast before heading on your way. If you are visiting during peak season, book a guesthouse in advance.
Bus Fare: 30 NPR [30-60 mins]
Ratna Park to Patan (aka Lagankhel)
If you have data and a phone, just punch in Ratna Park from wherever you are and click on the walking symbol – it will show you a walk around 2km.

(An easy landmark to help you get there is to head straight to the Garden of Dreams from Thamel and as you see it across the road, head right up the street and continue straight until you get to the big pedestrian overpass).
From there, local will point you in the right direction from there.) From Ratna Park, there may be direct buses to Patan, but you will have to check using the local name Lagankhel.

If there are not you will have to get a bus to Koteshwor – ask and continually confirm with locals as you go.
When you arrive in Koteshwor, ask the locals there for the Lagankhel bus stop, and there will be several buses headed there.

When you are dropped in Patan (Lagankhel), you will be rewarded with a fascinating walk to Durbar Square in Patan. As always, start early if you can to beat traffic and have a full day of shopping and wandering.
Bus Fare: 30 NPR [30-60 mins]
Ratna Park to Boudha
Walk around and continue asking for Boudha (they do not know what you are talking about when you call it Bodhinath). People will keep sending you in the right general direction (and every once in a while, in the wrong direction) but once you get to the right area of buses, go along each one and ask the driver or people inside if the bus is going to Bhaktapur.
They will let you know. The buses closest to the front of the gates are the first to depart out of them. Ask the cost of the trip – it should not be more than 30 NPR as of 2019. I paid 20 NPR for most trips through the Kathmandu Valley.
Bus Fare: 30 NPR [30-60 mins]
Boudha to Kopan (walking is an option)
Ask around to the locals where you can catch a bus to Kopan and keep asking until you get to the bus and can confirm with the driver. I walked each time (5 or 6 times total) – it's about 30 minutes, maybe 45, with a heavier bag.
The first time I had to ask around a lot to get to the best exit from the giant stupa in the middle of Boudha's Square to head in the right direction to Kopan. Just be patient and keep asking along the way, and the locals will eventually get you there.
Bus Fare: 15 NPR [10 mins]
Walking: Free [30-45 mins]
TOURIST BUS:
Kathmandu to Pokhara: 700-2000 NPR ($7-20 USD depending on the company)
Ask your hostel and guesthouse, where the tourist bus station is and write down their directions. Confirm with locals along the way and call the bus company if you are anxious about arriving on time and to the right place.
Pokhara Chitwan: 600-800 NPR ($6-8 USD depending on the company)
Most tourist buses leave Pokhara via the Tourist Bus Park which guesthouses and locals can help you find. The Greenline Bus leaves from Damside. Pay attention to where you arrive in Chitwan as that is likely the place you will catch your next bus out from.
Chitwan Kathmandu: 600-800 NPR ($6-8 USD depending on the company)
Most Tourist Buses leave from a long road a couple of kilometers from the city center off the main road. It is easy to find, and the locals are helping to confirm you are headed the right way. The Greenline departs from a different location.
NOTE: Many bus companies have a number you can call if you find yourself waiting and it is getting close to departure. One of the companies I booked with (I can't remember who it was anymore) had a WhatsApp number so you could converse with them by text and confirm the meeting point and stay in touch until you were safely aboard.
This is very helpful as sometimes guesthouses and hotels will send you to the Petrol Station for pick up when your bus is departing around the corner and down the road from it leaving you worried you are going to miss your bus.
Pricing depends on who you are purchasing your ticket from. Hotels and guesthouses will decide on a price, and some will try to make money off the sale if they can, but it is also more convenient to purchase from whatever accommodation you are staying with, so it's up to you.
I often would ask around to find the actual ticket price or the lowest price, and I would tell them that it was the price agreed on by an agency down the road, and if it is within reason, they will match it or only ask for 100 NPR ($1) more as commission which is a reasonable option.
Safety Tips for Nepal.
Avoid hiking solo: As a solo female traveller who is used to hiking on my own, I recommend thinking twice about trekking alone, particularly in a remote place and during the off-season.
There are tons of people you can meet up with to go trekking if you start the adventure on your own on a busy route, but places like Langtang and Dorpatan Hunting reserve have had several lone girls go missing or who have been assaulted or raped.
These are rare occurrences, but they are happening more often than before, so it is something to be cautious of. I still wear a wedding ring when I travel and hike just because it deters a lot of unwanted attention. Most attention is harmless but be on your guard.
Avoid drugs: (and maybe Raksi and Khukuri (the locally made rice wines) if you don't want a killer hangover and the rare possibility of going blind). Drugs are illegal though you will hear many whispers on the street and be harassed constantly by those willing to sell to you.
Simply put, it's not worth it. It's not a secret to the police that drugs are being sold and when they decide to bust it up, you don't want to be in the thick of it. Nepali jails are becoming more dangerous in and of themselves and are not a place you want to spend a night.
Avoid couch-surfing. I've both used it and hosted people, and it works great in some areas, but Nepal is becoming more unpredictable and dangerous.
Avoid hitch-hiking. I know – it's usually a great experience, and I enjoyed my pick-ups in South America, Southeast Asia, and even Africa, but try to avoid this in Nepal if you can – the times I hitched a ride still cost money, and I was always with a local friend when I did it.
SWAP THIS FOR THAT
Not really into rhinos, elephants and jungle stuff? Swap out the four days getting to and from Chitwan and tack it onto an Annapurna or Everest hike.
Not into anything more than a nice day hike in the Annapurna region? Use the extra two hiking days to take a two-day rafting trip down the Seti river from Pokhara to Chitwan before you explore the jungle scene there!
There are plenty of hikes and walks throughout the Kathmandu valley as well that will give you a scenic taste of culture.
Like it? Share it! Pin it!