Religion and pilgrimages often go hand-in-hand. Making a journey as a show of faith and belief is something that is held sacred by many across the globe.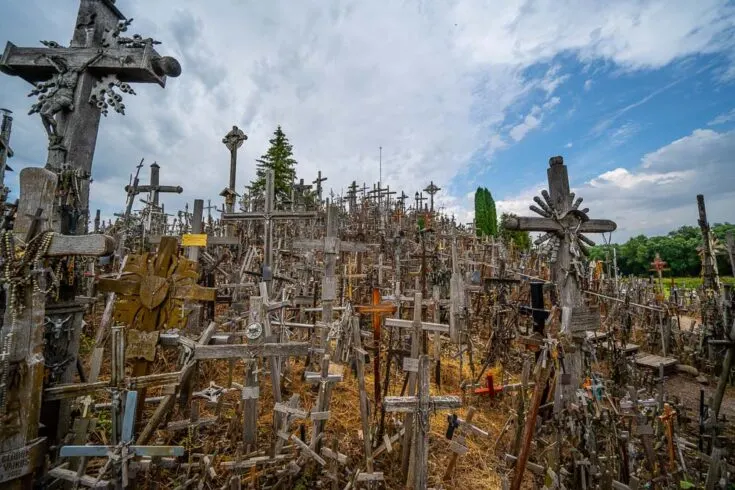 The Hill of Crosses in Lithuania is a pilgrimage site for Catholics and a sight to behold for anyone passing through.
It´s also one of the strangest tourist sites in all of Lithuania and well worth a visit even if you are not religious.
Several questions have popped up over the years regarding the number of crosses as well as their purpose and origin.

While it is partly shrouded in mystery, we can give you a peek beyond the veil with some interesting facts and bits of information on the hill as well as the surrounding area.
Lithuania has a host of hidden gems and wonderful places to discover, like the capital of Vilnius.

If you want to learn more about the unique and fascinating hill, keep reading below.
What is the Lithuania Hill of Crosses?
It is a genuinely awe-inspiring scene to visit the Kryžių Kalnas or Hill of Crosses.

This holy site is home to some fascinating history and is a symbol of the peaceful endurance of the Lithuanian people.
The hill started as a hillfort (a fortification on a hilltop active during war times) and has since taken on a new life.

It is said that people started placing crosses here after the 1831 uprising, also known as the November insurrection.

This was a tumultuous time when the Poles and Lithuanians rebelled against the Russians.
Because of the chaos going on at the time, it was often difficult to locate the bodies of perished loved ones. Thus, families took to putting up symbolic crosses at the site of the former hillfort.
A few times over the years, the hill was attacked and partially demolished, destroying numerous crosses. Nevertheless, it persisted and today is a testament to the endurance of an oppressed people—a true symbol of hope.
How Many Lithuania Crosses Are There?
It is estimated that there are over 200,000 different crosses on the hill! This number has grown immensely in recent years, as it was recorded in 1990 to contain only around 55,000 crosses.
You are welcome to help grow this number even more. You choose a decorative cross that was handcrafted by one of the locals to keep things local.

Adding a personal cross on the hill is a tradition that can be upheld even if you aren't Lithuanian. And it is this exact practice that has allowed the hill to reach the staggering number of crosses it contains today.
The crosses themselves range from three meters tall to tiny little carvings carefully placed on the ground.

Many of the crosses are made from wood. However, there are quite a few also sculpted from metal.
The Lithuanian Cross
While the cross itself is a major symbol in the Christian religion, there exists a unique version specific to the Lithuanian people.

Known as the Vytis Cross, it is a distinctive two-barred cross often depicted in the Lithuanian coat of arms.
It is one of the national symbols of the Baltic country, and variations of it are used by many other countries as well. It originally stemmed from the Hungarian coat of arms.
Other Religious Iconography
While crosses can be considered the majority of the symbols occupying the hill, there are a wide variety of other religious icons.

Statues of the Virgin Mary are quite prevalent, as well as various carvings, effigies, rosaries, and other symbols depicting Lithuanian patriots.
Significance in Lithuanian Religion
Despite the eerie look and the chilling wind that sometimes prevails on the hill, it is a beautiful sight. Many people leave a tribute to their loved ones, while others hope that their prayers will be answered.
Some of these crosses date back to the rebellion times as a way to quietly push back against the Soviet Union.

Nonetheless, in modern times it is a popular pilgrimage site, with many traveling from all over to pay their respects and leave a cross or two behind.
It was even visited by Pope John Paul II in 1993. He declared the hill a place of peace, hope, love, and sacrifice. After serving mass directly on the hill, he named Lithuania the country of crosses.
Where is the Hill of Crosses, Lithuania?
The Hill is located about 12 km from Siauliai, Lithuania. Nicknamed the City of the Sun, it is the fourth largest city in Lithuania and even featured as the capital of the Siauliai county for a period.
Siauliai has expanded into a small metropolis of activity and development. It houses a university (the smallest Lithuanian city to do so) as well as several shopping malls, theatres, and a large, modern sports arena.
There is also a major airbase, an airport with the longest runway in the Baltic states (3,500m), and cathedrals like Saint Peter and Saint Paul. All of this combines into a bustling city filled with local charm and mystique.
How To Get To The Hill Of Crosses
The most popular way to visit is either with trough a day trip tour from Vilnius, or driving here yourself if you got your own vehicle, but it´s also possible to visit the Hill Of Crosses on your own.
There´s no direct public transportation from either Vilnius or Kanus to the Hill of Crosses, so if you want to do it on your own, you will first travel to Siauliai.

From Siauliai to the Hill of Crosses, there´s no direct transportation to the site itself, but you can take the local bus from Siauliai bus station to the small village of Joniskis from Platform 12 at the bus station. From Joniskis to the Hill of Crosses is a 2km / 20 min walk. The local bus costs 0.82 Euro.

Or you can hire a taxi which should cost around 25 Euro for a return trip including waiting time.
You can also do a 2-hour private trip with a guide from Siauliai to the Hill Of Crosses, which cost around 30 Euro.

With Siauliai being the 4th largest city in Lithuania and located in the middle of the country, it´s no surprise the city is well connected to the rest of the country with both trains and local busses from all over the country and to Riga, the capital of Latvia which is about 2,5 hours way with buss.
There is no entrance fee to the Hill Of Crosses.
Vilnius To Siauliai
There are 6 daily trains between Vilnius and Siauliai, with the first one leaving Vilnius train station at 6 am the others leaving at 6.55, 10.43, 11.55, 16.50 and 18.35.

And From Siauliai to Vilnius at: 07.18, 8.26, 13.05, 14.29, 18.40 and 19.59. So it´s easy to plan a day trip from Vilnius. The Ticket price is 13.30 Euro for second class and 21.90 Euro for first class. The journey takes around 2.5 hours.

There are hourly busses from Vilnius to Siauliai, but they take 1 hour longer than the train between the two cities.
Accommodation in Siauliai Lithuania
Although you can't stay on the hill itself, there are plenty of places to stay in Siauliai. You can expect a variety of hotels, guesthouses, rentals, and B&B's to lay down your head.
Located about 8km (5 miles) away from the city center, you will find the Žvejų užeiga hotel. It is a perfect choice for those traveling in pairs or as a group, thanks to the several spacious rooms available.
Nearby attractions include the Siauliai Arena, St. George's Church, the two cathedrals, and the Square of the Cock Clock, as well as numerous museums and shops. You even have the convenience of being able to book a shuttle to/from the airport, making travel a breeze.
Check current pricing and book your stay here.
For a more classical hotel feel, there is the Park Hotel Šiauliai. To start off the day you can expect a full English/Irish breakfast, while the hotel's bar is a perfect way to end off the day.
Whilst staying here, you are in close proximity to some of the nearby attractions, with many of them being less than a few minutes' walk from the hotel. These include a variety of museums and curio shops, some local sculptures like The Iron Fox, and the popular Sundial Square.
Check current pricing and book your stay here.
Moving on to something a little bit more family-oriented, the Motel Panorama is a great choice, as it is relatively central. This accommodation does things a little differently, as it has some more robust caterings for families, like a children's playground, as well as family rooms.
Everything has a new, more modern feel to it and is something to look forward to when planning your stay here. As always, the museums, shops, and other amenities are a stone's throw away.
Check current pricing and book your stay here.
Situated right in the heart of the city, TIP TOP offers accommodation in a slightly different aesthetic. Rather than being a hotel, this home-away-from-home offers apartments up for rent, allowing for longer visits to really take in the majesty of Siauliai.
You can expect 2 bedrooms, with modern amenities like a flat-screen TV and a fully equipped kitchen with appliances. Also included is a washing machine, further cementing this as an option for more lengthy stays in the city.
Check current pricing and book your stay here.
Last, but certainly not least, the Minimalist apartments/studios offer a more simplistic vibe. True to the name, these units are modern and sleek, with little clutter and an efficient living solution.
It is also conveniently located less than 1km (0.5 miles) from the city center, with all the nearby amenities and entertainment options to pick from. This is geared towards longer stays and is the perfect solution for those looking to get a break from the norm.
These apartments are clean, tidy, and well looked after.
Check current pricing and book your stay here.
Cross it Off: Things to Do and See
Besides the revenant Hill of Crosses, Siauliai has some interesting entertainment options available to suit a variety of needs. There are museums aplenty, like the Museum of Cats, Bicycle Museum, or the Museum of Photography. The city also has a host of tours, attractions, and other sightseeing opportunities to choose from.
There is a private, 2-hour tour of the Hill that can be a great way to experience the mystery it offers while not being overwhelmed with a group of people. It is a small, guided activity with a friendly guide showing you the collection of over 200 000 crosses and religious iconography.
For something a little different, you might enjoy the full-day tour starting in Vilnius (the capital). It starts at 9 am and is filled with local history and interesting tidbits. You can expect sights like the Ukmergė District, which has some crosses and sights dedicated to the partisans.
The highlight of the tour is, of course, a visit to the cross hill itself, and you end things off at a local restaurant to get a taste of Lithuanian cuisine. This is a great day filled with activities, places, and things to see, as well as getting the chance to try some local food.
Another option is the mini Baltic tour, which includes a variety of stops at all the main sights in Bauska, Rundale, and the Hill of Crosses, before you return to Riga (the starting point). It is a stunning escapade and perfect for those who want to see all the sights but don't have a lot of time.
Siauliai Attractions
For such a relatively unknown city, Siauliai has some significant expansions into tourism and other sightseeing opportunities. While they may cater towards tourism to a certain degree, everything you see or experience will have a distinctly local flair.
Visiting the Windmill
The Žaliūkiai windmill, which is a great spot to take in the scenery while enjoying the calm. It was built at the tail end of the 19th century and is the only preserved and protected monument (made of wood) in Siauliai.
The Windmill is also a museum detailing the history of grain in Lithuania. As with many structures this old, it has been restored in recent years, helping to preserve the memory of the miller that worked here.
Historic Buildings and Architecture
Some other fascinating buildings include the expressionistic Immaculate Conception Church, which is a stunning masterpiece in its own right, as well as the Chaimas Frenkelis villa. Because of its stunning architecture, the villa is used as an entertainment venue for concerts, festivals, exhibitions, and more.
Shopping and Retail
In a surprising twist, the city has not only one or two but five sprawling malls to catch up on some retail therapy.

These malls actually form the commercial center of the city and are partly responsible for earning Siauliai the spot as the top Baltic States city in retail space per capita.
Sundial Square
The main town square is also a popular park, and its center houses the locally famous Sundial Square. In reality, it is a high pedestal with a metal sculpture of the "Golden Boy" residing at the top.

It is one of the more relaxing places in the city, allowing you to take in the scenery or go for an easy walk around the park.
Local Specialties
Moving on to a different type of entertainment, the craft beer scene in Lithuania is as vibrant and strong as any country. Its rich history in brewing dates back all the way to the 11th century.

Lithuania is known for its traditional farmhouse brews, especially in the northern regions.
The national dish of Lithuania is Cepelinai, so you can imagine this delectable meal will be found almost everywhere. It is based around potato dumplings that are stuffed with delicious, spiced ground meat.

These dumplings are rather large and are named after Graff von Zeppelin, as they have a striking resemblance to the airship.
Crosses on the Hill: Afterthoughts
Adding the Hill of Crosses to your travel plans is definitely recommended. Not only will you be able to experience the majesty of this monument, but you can also experience just a fraction of what it means to the local people.
It really serves as a wonderful reminder that the human race is capable of so much positivity, even in the face of strife and anguish.

Include this destination in your trip to add a spiritual experience to your Lithuanian adventure.