Riga is Latvia's vibrant capital – home to around 650,000 people, around a third of the country's population.
The city is known as a cultural center, with a medieval pedestrian-only Old Town, lively nightlife, and fascinating art and architecture. So there are plenty of things to do in Riga.
The city sits where the Daugava River meets the Baltic Sea. Riga was founded in 1158 by German Traders, and the city is today the largest city in the Baltics.
During ancient times it was a popular trading center for the Vikings on route to Byzantium before becoming a major port for the Hanseatic League.
To this day, you can see remnants of the ancient city in Old Town Vecrīga with its labyrinth alleyways and medieval buildings.
However, this is a city that has moved with the times; it also boasts Art Nouveau architecture, 19th-century wooden houses, pretty parks, museums and markets.
Riga is one of the most popular weekend trips in Europe for tourists from western and northern Europe due to the low cost and value you get in Latvia for your money.
Riga, Latvia, is the perfect long weekend destination to go to the dentist to fix your teeth, to go shopping, or just to relax and try the local food and alcohol since the price for all these activities is much lower than in western Europe.
Most of the city's sights are located in or around Riga Old Town, so it's the perfect city to discover on foot.
And if you get tired of walking, you can always do a beer stop in one of the hundreds of bars and restaurants that are dotted around the Old Town.
Take a look at the top Riga things to do and add a few, or all, to your travel plans. With this ultimate itinerary, you're sure to make the most of your visit.
Top Things To See And Do In Riga.
Spend time in Town Hall Square
Riga's Town Hall Square is a great place to begin your city exploration. This large city square boasts historic landmarks like Riga City Hall, Mentzendorff House filled with antiques and fine arts and statues of mythical knights.
However, the most impressive building is the House of the Black Heads. This impressive space was constructed during the Hanseatic era as a space for unmarried merchants and ship owners to party after long months spent at sea.
The structure you see today is not the original, as it was damaged during WWII. However, it was reconstructed in 1999 and brought back to its former glory.
It's as splendid as it was during medieval times, and you can take a tour inside to uncover its history, learn about the men who were members and see collections of antique silver hidden inside the vault!
Stroll or enjoy a small boat ride in Bastejkalna Park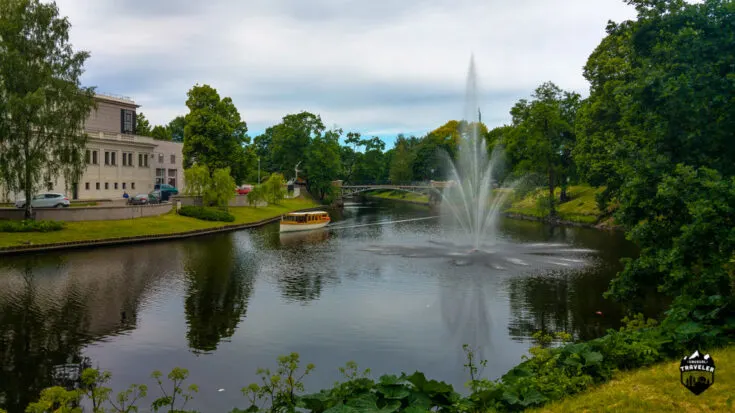 Beautiful Bastejkalna Park loops around the Freedom Monument on the eastern edge of Old Town Riga.
It's a verdant, elevated site with winding canals, pretty waterfalls, and tree-lined shores where you can picnic or enjoy the sunshine.
The park is home to over 100 rare trees, shrubs, and abundant flower species which bloom throughout the spring and summer months.
It's a photographer's dream, and if you head to Bastion Hill, you can uncover more history as it was once the site of Riga's old city fortifications.
Take in the Freedom Monument of Riga
Whilst you're in this area of the city, visit the landmark dedicated to soldiers who lost their lives during the Latvian War of Independence from 1918 -1920.
The Freedom Monument – a statue of a woman holding 3 golden stars aloft, stands 42 meters tall, built from travertine and red granite as an everlasting symbol of the Latvia Capital.
Around the base, several reliefs depict images from Latvian culture and historic events, alongside a record of national heroes.
Visit the Old Centre of Vecrīga
Riga's Old Town, known as Vecrīga, is the beating heart of the city.
Nestled close to the Daugava River, this UNESCO World Heritage Site is peppered with cobbled streets, art galleries, shops and charming restaurants. There is plenty of things to do in Riga's Old Town, and all of it is sure to knock your socks off.
Buildings are colorful, and Lutheran Churches like Saint Peter's and Riga Cathedral are ripe for discovery and you.
You can enter the city in the same way as traders did in medieval times, through the historic Swedish Gate.
After sightseeing, sit on a terrace, sip coffee and watch tourists as they capture memories on their phones. Or head to a bar and try Latvia's national drink – the Riga Black Balsam – a blend of roots, spices and herbs.
Don't leave Vecrīga without trying a pastry of the same name.
This choux pastry treat is served in cafes across the Old Town. It is filled with vanilla cream, curd and dusted with powdery icing sugar! Delicious!
Browse the Museum of the Occupation
In complete contrast to the charming, romantic buildings of Vecrīga, you'll find the Museum of Occupation of Latvia.
This oppressive charcoal grey block was built to educate locals and tourists about the 51-year occupation of Latvia by the USSR.
There are over 60,000 exhibits inside, including a reconstruction of a Gulag barrack, video testimonials from refugees and thousands of objects which were collected during this time.
It's an interesting place if you're interested in Latvian history and politics and is located close to the Old Town.
Have a look at some cats on a roof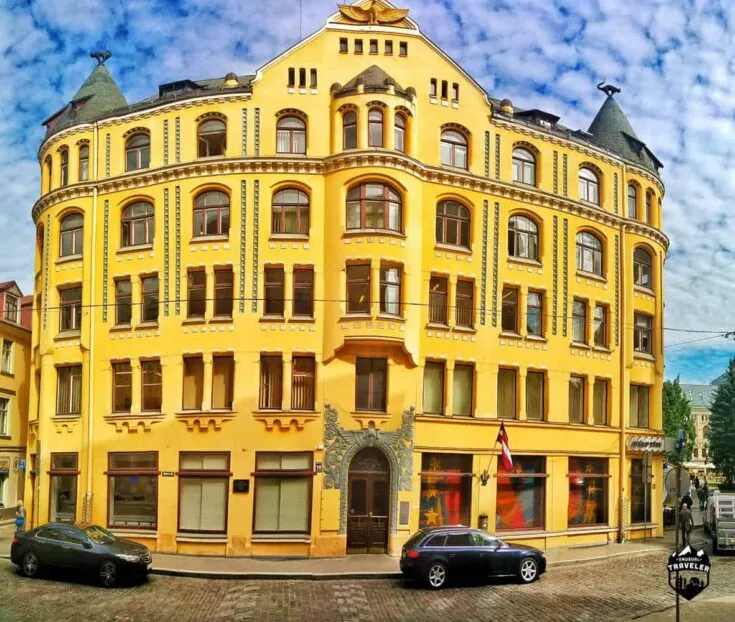 Almost as famous and maybe even more famous than the "House of Blackheads" is the yellow buildings with two metal cats on the roof.
It's one of the sights you would never know was a sight if you walked past it or nobody told you it's famous. The cats, with arched backs and raised tails, were apparently placed on the roof because of a grudge.
Read about the legends of the rats on the roof.
Explore

one of the many museums



There are tons of different Museums located in and around Riga, besides the fascinating Museum of Occupation. There's the Sun Museum, showing the history of sun mythology and its role in Latvian culture.
You also got a Chocolate Museum in the northern part of Riga, if you want to make things a little tastier.
And then you've got the important Latvian Holocaust museum telling the grim history from WW2. These museums can add a lot to your cultural experience of the capital of Latvia and will give you more information on this fascinating city.
But a more positive one is the Riga Motor Museum.
If you adore classic cars and how they are designed and constructed, a visit to Riga Motor Museum is a great choice for a half-day trip.
This fabulous museum, just 15 minutes drive from the Old Town, offers an interactive journey into the diverse world of motors.
With hundreds of antique vehicles to view, you'll learn about the individuals and milestones which shaped the motor industry. You'll also see cars dating from the 1920s, 1930s and 1940s, the Kremlin collection and those developed by the Soviet car industry.
There are motorsport vehicles and cult cars inside, plus a museum, especially for kids with plenty of hands-on activities!
Shop for food at Riga Central Market
Fresh local produce has been sold on Daugava River's shores since the 1500s, and today, the only thing which has changed is that the stalls are all in one place.
Riga Central Market is set inside several repurposed German zeppelin hangars with Art Deco and Neoclassicism designs.
Each hangar has been transformed into individual pavilions specializing in dairy, vegetables, meat, or fish.
Over 100,000 people enter the covered market each day, shopping for fresh produce and ingredients for their favorite dishes. And as there are over 3,000 vendors, there's plenty of choices!
Shop here for picnic food before venturing to Bastejkalna Park or simply visit to admire the innovative architecture. It's also a great opportunity to take in local life in Latvia and admire the foods produced from its lands.
Discover Art Nouveau in the city of Riga
Museum Riga Art Nouveau Centre is the only place in the Baltic States dedicated to all Art Nouveau.
There are almost 800 buildings in the Art Nouveau architectural style (that means "new art") øocated around Riga. Art Nouveaurefers to an artistic movement that swept through Europe between the 1880s and World War 1).
Art nouveau is characterized by flowing lines, curves, and whimsical incorporation of elements inspired by the natural world. In 1997, the city was added to the UNESCO world heritage list.
This museum is a haven for all history and architecture enthusiasts.
In addition to buildings, the museum showcases Art Nouveau objects ranging from furniture and crockery to interior design and clothing. Riga is a Mecca for fans of this artistic and architectural style and makes for some great Riga sightseeing.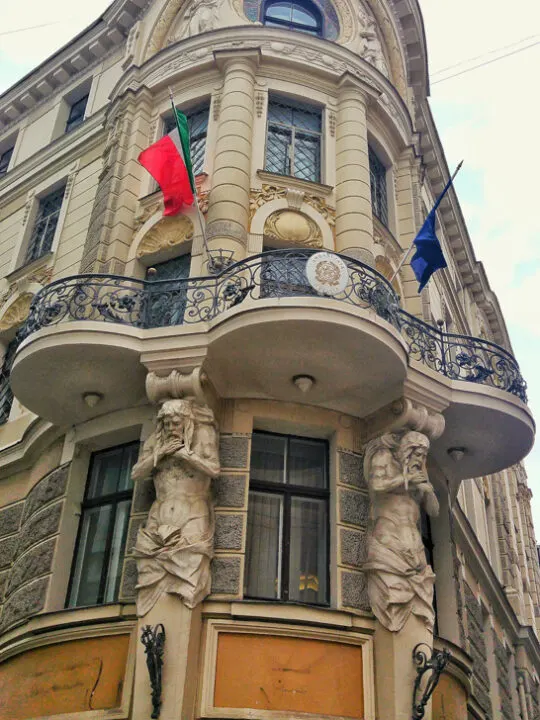 Following your museum tour, take a walk along adjoining Albert Street – a veritable outdoor art gallery lined with impressive Art Nouveau houses – many of which are listed as state monuments.
Experience Latvian National Opera performances
Within a short walk of the famous Riga meeting spot – Laima Clock is the stately 19th century Latvian National Opera House. Painted in white with colonnades and bas relief motifs, this building is a Neoclassical triumph.
Set amidst picturesque parks and trickling ornate fountains, the theatre was founded in 1912 and is impressive both inside and out.
Gilded balconies and seats of red velvet sweep in a horseshoe around the stage where opera singers share their craft and orchestras accompany with melodic precision.
The first performance at the opera house was Wagner's Flying Dutchman in 1919. Ever since, it's been a hotspot for the world's most famous operas and ballets, including Faust and Madame Butterfly.
Tickets can be booked online via their website should you wish to see a performance whilst staying in Riga.
Visit the Bremen Town Musicians Statue ( the animal statue)
On the backside of St.Peter's Church, it's a small statue of 4 animals on top of each other, a donkey, a dog, a cat and a rooster.
The statue is characters from the Town Musicians of Breman, a Brothers Grimm Fairytale, and is a replica of the original statue that's located in Breman, Germany.
Visit the Moscow building of Riga.

If you have previously been to Moscow, the capital building will look familiar, which is no wonder since it´s similar to the seven sisters in Moscow (7 skyscrapers in Moscow, Russia)
The ones located in Moscow are slightly more impressive but also harder to visit.
The one located in Riga is actually the Latvian Academy of Sciences which was built in 1953.
There is a viewpoint on the balcony on the 17th floor, which offers fantastic views over the city.
Sample Latvian cuisine
If you want to get to know Riga locals, get to know their food! Lunch is a big deal in this country, an important meal where you can sit and discuss events and chat with family and friends in pleasant surroundings.
There are many restaurants in the city serving traditional Latvian cuisine, but if you seek something a little different, try Entresol, which offers delicious Latvian tapas (Knapas) and The Catch, which serves Latvian fresh fish crafted into delicate Japanese style sushi.
Another good way to sample Latvian cuisine is by taking a city food tour.
Eat Riga offers food tasting, beer and black balsam tours, as well as Latvian cooking classes where you can learn practical cooking skills under the supervision of a head chef and taste all of your creations afterward!

This will also allow you to take the skills home so that you can create your favorite Latvian dishes for your friends and family.
If you need some help with finding cheap places to eat in Riga, so are this a great guide.
Enjoy a delicious Riga craft beer.
The locals in Riga love beer. There are tons of microbrews and beer houses around the city, with more and more opening up every month.
My favourite beer house is FolkKlubs Ala Pagrabs.
It's located on the edge of the old city. And it has 28 beers on taps, most of them brewed in the building, live music, and great food.
Wondering, "how much is a pint in Riga? Be aware that beer prices can vary a lot in Latvia's capital, from 8 Euro a pint to 2 Euro a pint.
Try Riga Balsam, the local liquor of Latvia.

Riga Balsam is to Latvia what Sake is to Japan, what Grapa is to Italians or what Coca-Cola is to the USA.
The Riga Balsam is a herbal liqueur made with many different natural ingredients mixed with pure vodka. You can get it in bottles of 30%, 40%, and 45% alcohol percentages. It's served in "every" restaurant and bar around the city. Riga Balsa goes well with every Latvian dish – at least according to the locals.
Admire the Three Brothers

The Three Brothers aren't people; they are three historic buildings in Old Town Riga!
These houses are the oldest dwellings in the city. They're located on Maza Pils Street, and between them, they showcase Gothic, Renaissance, Dutch Mannerism and Baroque architecture.
They are spectacular to photograph (preferably with a travel polaroid camera) and admire, and as they are in the heart of Old Town Vecrīga, they can easily be found on a walking tour of Riga attractions.
See Riga from the water
As Riga was once a Hanseatic port and most of its trading took place on the water, it would be a pity not to see the city from a similar perspective.
Fortunately, you can enjoy canal boat tours, rent kayaks, charter yachts or even join like-minded adventurers on a river ship journey.
As you glide past Riga's majestic spires, lush parks and historic structures, see them through the eyes of ancient mariners and imagine life in this Baltic Sea trading post all those years ago.
Have a drink and enjoy the view over Riga.
There are a few fantastic viewpoints around Riga, but one of the easiest to visit is the 26th-floor Sky-bar at Raddison Blu that is my favorite. It offers an almost 360-degree view of the city. The beer/drink prices are also surprisingly low.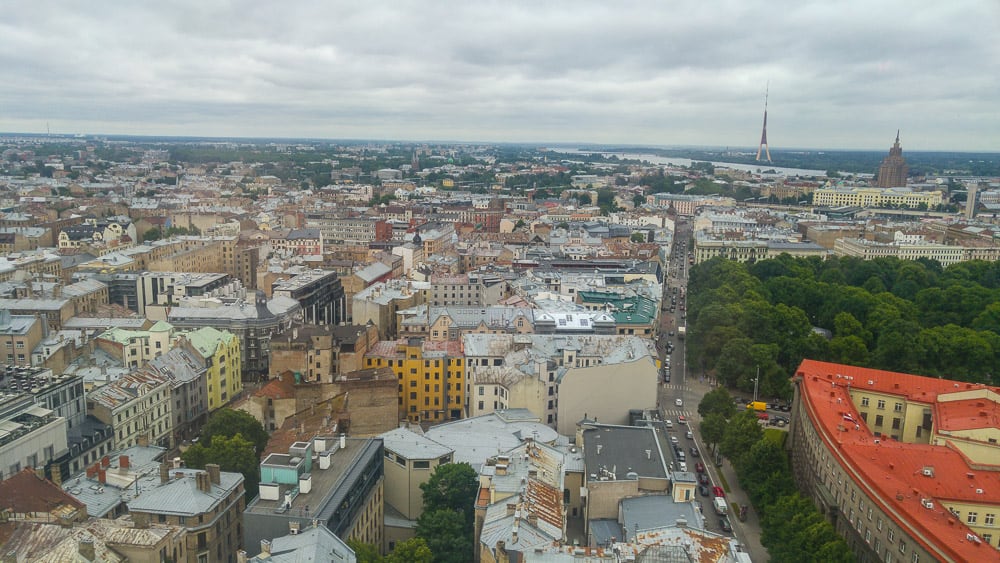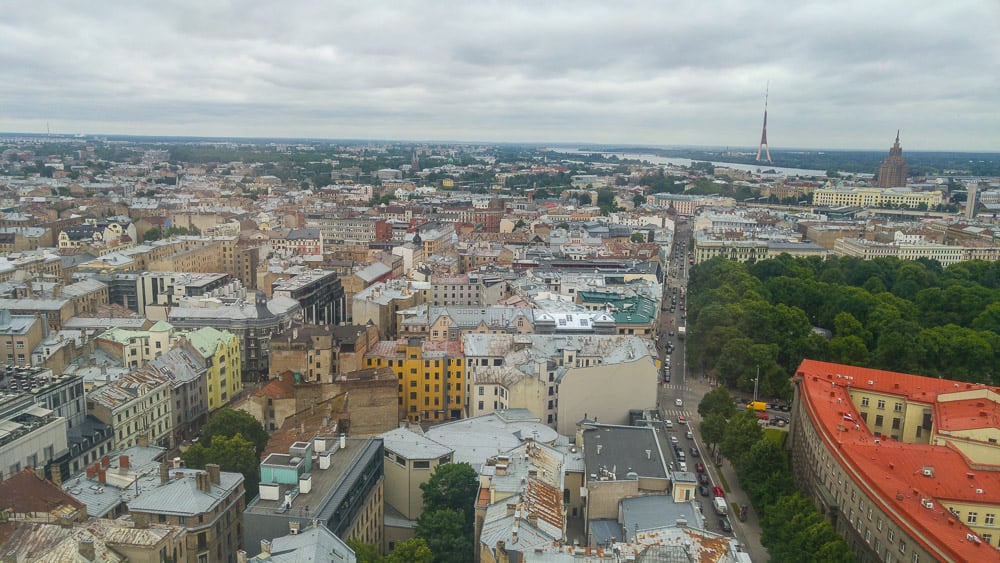 Take a day trip to the Beach
When you mention Latvia to friends, you don't often think of beaches, yet just 40 kilometers from Riga, you can be sitting on powdery sands or watching the sunset at Jūrmala!
This beach stretches for over 30 kilometers and gets pretty busy during the summer months, with city dwellers heading for the coast.
It's a bustling holiday resort with shops, bars, restaurants and museums, and surrounded by nature with pine forests to hike through and cross country trails to ski in winter!
If you're going to do one cultural thing in Jūrmala during your visit, venture to the Open Air Museum.
This hidden treasure in a nearby nature park is dotted with old wooden houses, remnants of the town's fishing village.
Embrace the Great Outdoors Near Sigulda
Just over 50 kilometers northeast of Riga is the city of Sigulda, the gateway to ancient Gauja National Park.
This park is the oldest in Latvia, and the largest – sprinkled with natural springs, lakes, forests and historic monuments. There are many exciting activities to participate in nearby.
You can visit an old paper mill village, try your hand at ancient games and crafts in Cesis Old Town or visit Araisi Lake Castle.
Alternatively, indulge in adrenaline sports with bungee jumping or bobsleighing.
The forests are teeming with flora and fauna, and if you take a ride in the cable car, you can see everything from an elevated perspective.
How to Get to Riga
Thanks to the Baltic's busiest airport – Riga International, major airlines can transport visitors from most European cities and former Soviet nations to the Latvian capital by air with little fuss.
To reach the old city of Riga from Riga airport, take bus No. 22 or minibus No. 222. The ride takes about 30-40min. And costs about 1,15 Euro.
If you prefer overland travel, Riga has regular bus services to and from Vilnius in neighboring Lithuania and Tallinn, the capital of Estonia.
There are also coach services operating between Russia, Belarus, Poland and Western European cities.
The Latvian city is also accessible by train from Russia – with a journey time of 12 hours from Minsk, 10 hours from Saint Petersburg and 16 hours from Moscow – however, be aware that border controls operate on these lines.
Visitors can also travel by train to Riga from Estonia daily, and as both countries are in the Schengen area, there are no border controls.
If you wish to travel via ship to Riga, Baltic Sea crossings operate from Scandinavia on a regular basis throughout the year.
Once you've arrived in Riga, it's pretty easy to get around.
Riga is compact enough to walk, or cycle, plus local trams, taxis and buses connect you to the airport and towns outside the city.
Final Thoughts What to do in Riga
There is so much to see and do in the capital of Latvia. Whether you're wanting to immerse yourself in the culture of the country, or you're wanting to dive headfirst into their amazing cuisine, this list has you covered. So pack your bags, and enjoy this unusual travel destination!