One of India's least visited states, Arunachal Pradesh, is known as the 'last Shangri La' of India.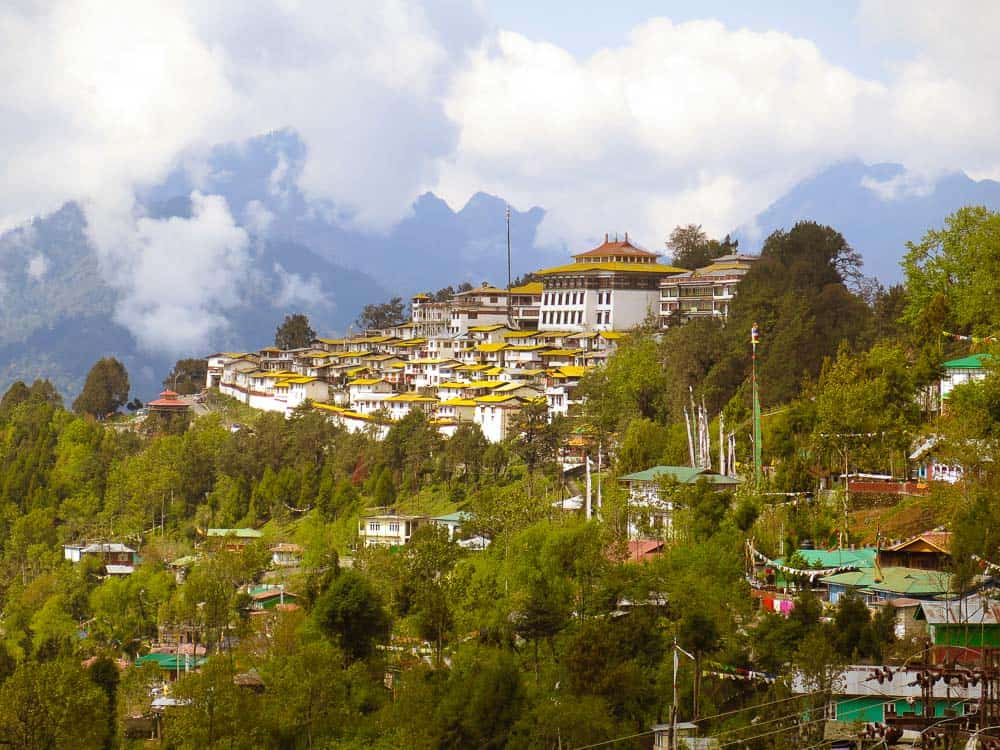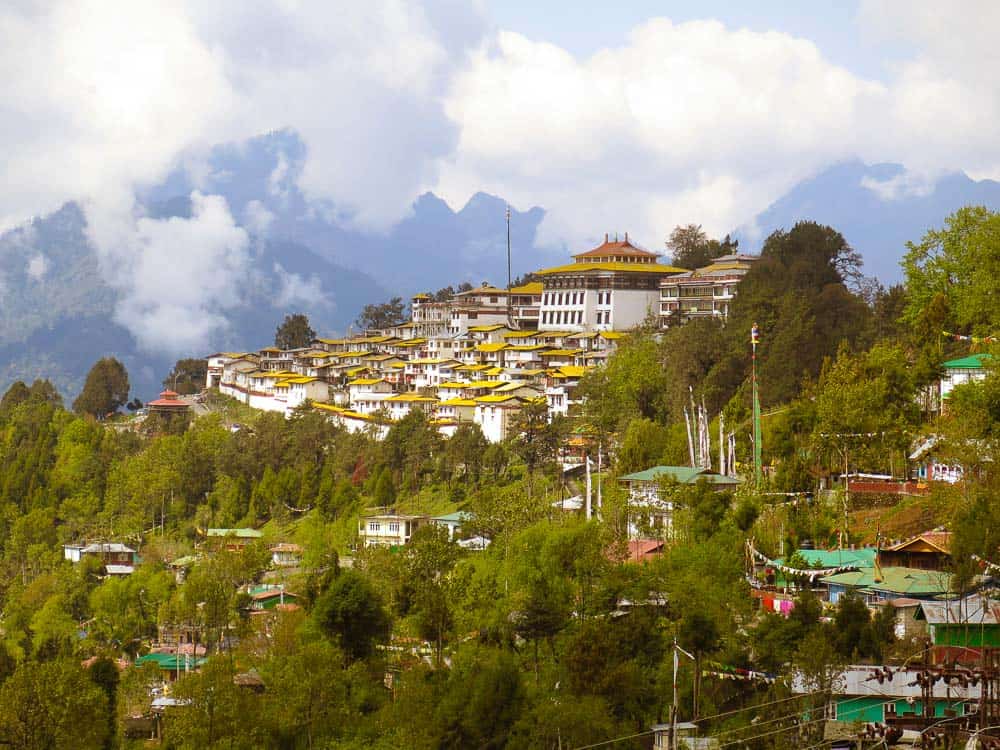 Arunachal Pradesh is one of the seven sister states and one of two Buddhist states together with Sikkim in North East India; Arunachal Pradesh is also the last state in the northeast of India where you need a permit to visit.
The easternmost state of the subcontinent, located in the wild and rugged northeast region, is characterised by snow-capped Himalayan peaks and deep valleys and ravines.
It's also home to 26 distinct tribal groups, many of which are more closely related to those in neighbouring Tibet and Bhutan.
However, the infrastructure in Arunachal Pradesh is poor at best, and it's one of only two states left that requires a travel permit.
Sometimes it´s faster to travel back to the state of Assam then renter back into Arunachal Pradesh later on due to the great roads in Assam and the bad infrastructure in Arunachal Pradesh.
Like if You want to travel From Tawang and to Itanagar, it´s faster to travel back down to Tezpur in Assam, and drive from Tezpur to Itanagar itself, then directly from Tawang to Itanagar.
While this certainly makes it a challenge to visit, it also rewards you with stunning views and the chance to visit the second largest Buddhist monastery in the world.
If you're curious about travelling to Arunachal Pradesh, then this guide will provide an overview of what you need to know to explore this fascinating and remote state in India.
Why visit Arunachal Pradesh?
Arunachal Pradesh is a completely unique experience in India. It's known as the "land of the dawn-lit mountains" and is one of the last frontiers of wilderness on the subcontinent.
You will meet very few travellers in Arunachal Pradesh, as even Indians also require a permit to visit the state.
Arunachal Pradesh is so different from the rest of India.
And for the most part, Arunachal is unexplored, so you still have places where no western tourists still haven't visited.
This means that it provides a truly great adventure into the Himalayas in this far northeast pocket of India.
There are also a number of attractions that draw intrepid travellers to Arunachal Pradesh.
The spectacular monastery of Tawang is the second largest in the world and is perhaps the most well-known attraction.
It sits perched on the edge of a dramatic mountainous landscape and is an incredible sight to see.
You'll also find pristine countryside, the dramatic road passes over 4000m and the unique Apatami tribe who inhabit the area around Ziro Valley.
There are so many unique things to see in Arunachal Pradesh that very few travellers know much about.
If you're prepared for long, arduous road trips and limited tourist infrastructure, then a journey through Arunachal Pradesh is one of India's best adventures.
What you need to know before you go

When I was researching Arunachal Pradesh before I decided to visit, I was very surprised that even the latest information was years old.
Even the newest edition of Lonely Planet India was completely useless, and enquiries made on various forums always returned the answer that it's not possible to travel there on your own – or you are required to have a guide, etc. You don't.
So, I decided, as I always do when I'm not satisfied with my research, to head over and figure it out upon arrival.
It takes quite a bit of planning to travel to Arunachal Pradesh.
Travel permits are still required by everyone before they enter the state, and this means you need to know where you want to go and what you plan on visiting.
There's more on this below.
Arunachal Pradesh is quite a militarized state, with police checkpoints and army bases scattered along many of the main highways.
This is due to the particularly sensitive border areas between India and China, with the exact international border not agreed on by either country.
However, foreigners don't have any problems, and you will only need to supply a copy of your permit and passport at these checkpoints.
It's a good idea to have a few photocopies of your permit with you so you can hand them out as you go.
There is a very limited tourist infrastructure around the state.
However, Tawang has seen a slow increase in tourism in recent years which means there are quite a few hotels and restaurants available now.
Outside of Tawang, though, you will find limited accommodation, with some more rural places in Ziro Valley offering mostly basic guesthouses and homestays.
There is limited phone reception in the state, and Wi-Fi is not as readily available and accessible as you would find in other Indian states.
Although things are changing rapidly, but currently, the major providers like Airtel work in the major towns and cities but are very weak in more rural places.
The food in Arunachal Pradesh is also quite different to what you might find in the rest of India.
Most of the tribes in the state share more cultural similarities with those in nearby countries such as Tibet, China and Bhutan.
This means you'll find things like momos on many of the menus. Rice is still a staple crop though, and you'll also find a wide range of spicy chutneys and pickles.
Apong is a traditional drink in Arunachal Pradesh and is a rice beer made locally. It's usually not too difficult to find some if you ask at any restaurant.
The first thing you will notice when you enter Arunachal Pradesh from Assam is that Arunachal Pradesh alcohol is tax-free.
There are alcohol shops just across the state border, and lots of Indians from the state of Assam are crossing the border just to buy alcohol – in a similar fashion to people back here in Norway travelling over to Sweden.
What´s The Religion in Arunachal Pradesh?
Like in the rest of India so do Religion play a big part in daily life in Arunachal Pradesh.
But it will depend on which part of the state you visit on what Religion you will encounter; while the southern part of the state is mostly Hindu or Christian, so are the northern part close to Tibet almost entirely Buddhist, and it´s common in this part for families to send their firstborn son to be sent to a local Monastery to become a Buddhist monk.
And since Arunachal Pradesh are home to 26 major tribes and more than 100 sub-tribes, so do almost every tribe have their own indigenous beliefs and religion. With some believing in Shamanism, others in the sky and earth.
No matter where you decide to visit in Arunachal Pradesh so, will you encounter different traditions and beliefs.
Permits for Arunachal Pradesh
The main thing you need to know about Arunachal Pradesh before you head there is about permits.
And luckily for foreigners, the permit has gotten a lot easier to obtain lately, and you no longer need to be at least 2 people to travel together to get the permit, at least for the most part of Arunachal, and now you can apply for the permit yourself at one of the Arunachal Pradesh commissioner's offices.
There are two types of permits, an Inner Line Permit (ILP) for Indians who do not reside in the state and a Protected Area Permit (PAP) for foreigners.
An ILP is valid for 15 days and costs 100 rupees.
It can be applied for both online and at issuing offices listed below.
A PAP can be valid for up to 30 days, and it costs 3500 rupees. You can either apply for this through a tour agency in India, but this usually costs more, or in person at one of the issuing commissioner's offices.
The following offices can issue Arunachal Pradesh Permits:
Resident Commissioner Office of Arunachal Pradesh in New Delhi
Deputy Resident Commissioner Office of Arunachal Pradesh in Kolkata
Deputy Resident Commissioner Office of Arunachal Pradesh in Guwahati
The office in Guwahati is open Monday to Friday, 10 – 17. But you will have to apply for your permits before 14.
It´s located on a small side street of the G.S. Road, almost just across Hotel Shoolin Grand.
Normally the permit process can take two to five working days, although you can ask for a same day service if you need for an extra cost.
What you need to apply for the Arunachal Pradesh Permit:
A photocopy of your passport.
A photocopy of your Indian visa in your passport
A passport photo of you
The application form that you will get in the office
And to pay 3450 Rs (50USD)
Solo travellers are slightly more restricted than those travelling in pairs or more.
Solo travellers are only allowed to visit Tawang (including Bomdila and Dirang on the way), Itanagar (the capital) and Ziro Valley.
Because of this, solo travellers are also often only granted shorter visas, depending on your planned itinerary.
When entering Arunachal Pradesh, you have to pass a checkpoint where you have to register your permit and passport information.
Is Arunachal Pradesh safe?
Arunachal Pradesh is generally safe for tourists to visit.
However, there is significant tension between China and India over the border of Arunachal Pradesh, and this can occasionally lead to flare-ups and clashes.
China still considers the state a part of Tibet and occasionally makes incursions across the Line of Control.
Although this often leads to diplomatic disputes and occasional confrontations between armies, there hasn't been a serious flare-up for years.
However, this is the reason the permit system exists, and you will need to have your passport and permit ready to show whenever asked.
Other than this, there is very little crime, and Arunachal Pradesh is a very safe place with extremely friendly and welcoming people.
When Is The Best Time To Visit Arunachal Pradesh
The Northeast states in India see some intense weather conditions, so you might want to plan your visit around certain seasons.
The best time to visit Arunachal Pradesh is during the warmer and drier months, from March until June.
An alternative time to visit is the short weather window between September and October, after the monsoon and before winter.
Winters are extremely cold, with heavy snowfall from late November lasting until February. Even with heavy snowfall, so is the highpass open to Tawang.
Many of the high mountain towns like Tawang are very quiet at this time, with many hotels closed for the winter, and it´s advised to check if your accommodation even has heating.
The monsoon runs from June until September and is best avoided if you can. Some years the Monsoon can start in mid-May and last until late September, so it´s best to check the wheater conditions before you plan your trip to this part of India, since all northeastern states of India are prone to heavy rainfall.
I visited this part of India in late May, and the Monsoon was just kicking in.
This can make roads dangerous and sightseeing, not a whole lot of fun.
How to visit Arunachal Pradesh
Arunachal Pradesh does not have a current functioning airport. This means that you must enter the state overland from Assam.
The main gateway for transport heading to Arunachal Pradesh is Tezpur in Assam.
This town is easily accessible from Guwahati by either regular trains, buses or shared taxis.
You can also easily reach Tezpur from other towns in north-western Assam like Sibsagar and Jorhat.
From Tezpur, you can reach Arunachal Pradesh by either bus or shared jeeps which are locally known as sumos.
You can purchase tickets for the bus from the ASTC station in the middle of town, with the jeep counters spread out in and around the station.
You can find transport to both Itanagar, the capital in Arunachal Pradesh, or to Tawang, to see the great monastery.
If you want to reach other places in Arunachal Pradesh, it's best to get to Itanagar first and then travel elsewhere from there.
Getting around Arunachal Pradesh
Arunachal Pradesh's road network is not great, to say the least. Many of the winding mountain roads are either in terrible condition or not fully complete.
This means that the journey times are long between places and the roads are extremely rough and bumpy.
However, you'll be blessed with incredible scenery, so it's often worth the pain.
There is a very limited state-run bus network within the state, and it does not service all places.
The main form of transport is the sumos or jeeps, which operate on a sharing basis between passengers.
There are usually 11 passengers, including the driver, and they tend to leave very early in the morning to allow enough time to reach your destination. They can be cramped and uncomfortable, so it's best to purchase tickets from the counters at least the day before if you want to secure a good seat.
Top Places to visit in Arunachal Pradesh
While there's not a long list of places to visit in Arunachal Pradesh, there are some incredibly fascinating things to see and do. The state is definitely worth a week or more of your time in India.
Itanagar
The capital of Arunachal Pradesh, Itanagar, is located just less than 400km from Guwahati, Assam.
It's a quiet city for Indian standards and has a few decent accommodation options if you have to stay a night to catch your transportation out the next morning, but be aware that Itanagar might be the most depressing city in this part of India.
There's not a whole lot to do there, but it's the main transport hub for the state, so you may find yourself visiting on the way to somewhere else.
If you find yourself with a day in the city, you could check out:
Ita Fort
Jawaharlal Nehru State Museum
The yellow-roofed Gompa
How to reach Itanagar
There are daily long-haul buses and sumos to and from Guwahati and Tezpur in Assam.
There is a main bus station in Itanagar and a row of sumo ticket counters outside heading in all directions.
Ziro Valley
Ziro has been slowly garnering some attention of late.
The lush green valley of Ziro is home to the Apatani tribe, known as one of the most advanced tribes in the state due to their farming techniques which have been recognised by UNESCO.
The Apatani tribes are easily recognizable by their face tattoos and huge nose rings.
They are also known to follow an animistic religion based on worshipping the sun and moon, called Donyi-Polo. Many of the women of the Apatani tribe also traditionally have nose plugs and face tattoos.
This completely unique cultural experience makes Ziro Valley one of the most fascinating places to visit in the state.
The villages around Ziro town are easily explored on foot or by cycling, and it's an incredibly peaceful place to kick back and relax.
The best way to fully experience the valley is by staying in a local homestay or guesthouse in Ziro.
This way, you can gain a local insight into the Apatani culture and traditions. You can also hire guides to take you hiking further around the valley.
Another reason to head to Ziro is to witness the annual Ziro Music Festival, which is held in September each year.
This is a great time to visit the state and is one of the best festivals in India. It's an outdoor festival that showcases the independent music scene and is one of the coolest things to experience.
but to reach Ziro, I was required to pass through Itanagar, the most depressing city in all of India.
How to reach Ziro
Ziro, or also called Hapoli, is four hours away from Itanagar.
There are daily sumos leaving in the early morning for the journey.
Bomdila
Bomdila is the nice halfway point between Tezpur and Tawang. The town itself is unremarkable, but there is a nice monastery to visit.
There are a couple of good hotels in town, which are used to hosting travellers on their way to or from Tawang.
Since the Lonely Planet informed me that the road is so awful, I decided to stop over in Bomdila, about half the way between Assam and my final destination in Tawang.
Like Tawang, Bomdila also holds stories about the Dalai Lama. The current 14th Dalai Lama passed through Bomdila when he escaped Lhasa in March 1958.
And it was in Bomdila when His Holiness the 14th Dalai Lama received the historic telegram from former Indian Prime Minister Jawaharlal Nehru granting him political asylum after his escape from Lhasa.
These days, Bomdila is not more than a sleeping village with three small monasteries, a few hotels and restaurants.
The road to Bomdila is not actually bad at all. The scenery during the journey from Bomdila to Tawang is even more stunning than the road from Assam to Bomdila, so I was looking out the window and enjoying the view all the way. In my opinion, it's some of the most stunning scenery in all of India.
Unfortunately, stopping in Bomdila proved to be a small mistake since I was really struggling to find a hotel that allowed foreigners to stay.
If I had known beforehand that the road to Tawang is not so bad, I would have continued my journey to Tawang on the same day instead of stopping over in Bomdila.
I really can't do justice to how stunning the road from Bomdila to Tawang and it is sure to be a highlight of any Indian trip.
I would say that the world-famous road from Manali to Leh in western India can't compare to the beauty of the Bomdila – Tawang road.
Unfortunately, I was taking a shared jeep on this part of the road.
If I had known that the road would be so good, I would have hired a private jeep and done a lot of stops on the way.
How to reach Bomdila
A bus and a few sumos leave Tezpur in Assam for Bomdila early every morning.
The journey time is around 7 hours.
Tawang
Tawang is a town perched in the mountains in the far western corner of the state, close to the borders with Bhutan and Tibet.
It's home to the largest Monastery in India and second-largest Buddhist monastery in the world, only after the Potala Palace in Lhasa Tibet, the Tawang Monastery, which sits perched at 3500m overlooking snow-capped mountains.
Tawang Monastery is still a functioning monastery with around 450 monks; you can walk around freely and hang out with some of the local monks.
I was even invited to be their English teacher for a day, invited to eat with all the monks and had countless cups of tea with them. A perfect day!
It's truly an incredible sight, and you can see the monastery from virtually anywhere in town.
The town is also home to the Monpa tribe of Arunachal, with many of the hills dotted with gompas and prayer wheels.
Tawang was also the birthplace of the 6th Dalai Lama, and his old home is a popular Buddhist pilgrim site, but, unfortunately, it was closed due to renovation when I was there, so I couldn't visit.
It's a great place to visit for both the beautiful landscape and Buddhist cultural experience.
The monastery is free to visit, and anyone is welcome to wander the complex and prayer halls.
One of the best times to visit the monastery is in the early morning for the puja or prayers, when you can witness the monks reciting their daily mantras.
Tawang is definitely the most tourist-oriented place in Arunachal Pradesh, with plenty of hotels to choose from.
However, it's still a relatively quiet and peaceful town, and it is nice to spend a couple of days to really enjoy it, or even more if you want to do some hikes around the area.
Tawang is everything Bomdila is not. Tawang is actually a very tourist-friendly place, there is even a working ATM there, and some of the guesthouses have working WiFi.
The town is small enough to walk around, but since it is very close to the Himalayas, it's not flat. There are lots of steep hills.
I never found a problem hitchhiking around the area; every car stopped; I assume they are not accustomed to seeing foreign tourists in the area.
For most people, the main reason to visit Tawang is the amazing Tawang Monastery. And with good justification, it's breathtaking. I have previously travelled to Tibet Lhasa in Tibet and visited Potala Palace.
While Potala Palace is even more stunning, it's a bit disappointing since Potala Palace has been converted into a museum, and you are not allowed to walk around freely.
How to reach Tawang

According to Lonely Planet, the road to Tawang is one of the worst in the world. In fact, it's not that bad at all.
In my opinion, the Lonely Planet is without use for Arunachal Pradesh and the rest of northeast India.
It appears that they have simply found old information online and put it in their book without having actually been to do their own research.
It is worth noting that there are a few checkpoints on the way to Tawang, where your Arunachal Pradesh permit will get checked.
Tawang is quite a long distance from anywhere. It's best reached from Tezpur in Assam and can be done in one long day of 14 hours.
Sumos leave from Tezpur station really early in the morning to make the tough journey.
Otherwise, many people decide to break the journey up with a night in either Bomdila or Dirang.
Both towns are on the road to Tawang from Tezpur, and the buses and sumos are happy to stop there.
The road to Tawang is not for the faint-hearted. It's incredibly windy and mountainous but certainly spectacular with stunning scenery.
The road is also quite high and crosses the Sela Pass at 4175m, where you'll also see a glacial lake, which was at one time the highest motorable road pass in the world.
Try to purchase sumo tickets a couple of days before to ensure you get a good seat.
Dirang
Dirang is not much further along the road than Bomdila and is another place to stop overnight on the way to Tawang.
The town is small with just the shops and a few hotels spread along the main road.
How to reach Dirang
A bus and a few sumos leave Tezpur for Dirang each morning, with the journey time being around 8 hours.
Mechuka
Similar to Tawang, Mechuka is a Buddhist town in the far north of the state that requires an epic, long journey to reach.
However, it's much less visited than Tawang and is situated in one of the most beautiful parts of the state.
It's located in a valley surrounded by snow-capped mountains near the border with China.
There's some beautiful walking to do there, with trails leading to beautiful viewpoints and even further to alpine lakes.
You can also explore gompas scattered around town, which are beautifully peaceful.
Because this town is far less visited than Tawang or Ziro, you will only find a few guesthouses and homestays available to stay.
How to reach Mechuka
Mechuka is definitely not easy to reach. You will have to break your journey up overnight with a stop in Along, which has a few hotels.
Mechuka is 8 hours from Along (sometimes written Aalo) by shared sumo and Along is around 10 hours from Itanagar by bus.
If you're looking for epic mountain vistas and a fascinating cultural experience, Arunachal Pradesh is one of the best destinations in India.
You just need to be prepared for rough roads and long journeys, but it's all worth it in the end.