Kangerlussuaq, your entry point into Greenland for about everyone that wants to visit the worlds biggest island; this is where the international airport in Greenland is located.
But most people just stop here for an hour or two before boarding their domestic flight to either the capital Nuuk or to Illiusut on the north.
The only tourist that sticks around Kangerlussuaq is one that wants to visit The Greenland Ice Sheet.
Or the ones heading to do the Arctic Circle Trail Hike or someone who hasn't done their homework and didn't know they had to book a domestic flight to get to anywhere else on Greenland since there´s no road between Kangerlussuaq and any other parts of Greenland.
Kangerlussuaq is no more than a tiny settlement with about 500 locals, two hostels, two hotels, one supermarket, one pizza restaurant, one bar, a post office, two coffee shops, one Canada goose shop and a few hundred dogs. The longest road in Greenland is also located here, which is only 40Km long and was built by Volkswagen to test their cars on the Ice Sheet.
And of course, the world´s most northern golf courses are also located on the outskirts of the town; it currently has nine members!
I flew into Kangerlussuaq so I could hike the 165Km/102 mile-long "The Arctic Circle" by foot, from Kangerlussuaq to Sisimiut, the second biggest city in Greenland, which is located on the west coast of Greenland.
But while preparing and getting my last logistics ready for the Arctic Circle hike, so did I decided to spend a full day in Kangerlussuaq and to visit the nearby "Greenlandic ice sheet."
Be aware that´s there´s no public transportation in Kangerlussuaq, so the only way to visit the Ice Sheet is to book an 8-hour day trip with Albatros Arctic Circle", using their 4X4 "Bus."
The day trip will take you along the 40km dirt road to point 660 while doing a few stops on the way to an old aeroplane wreckage from a USA military aircraft, a Lockheed T-33s.
Three Lockheeds from the American Army crashed on the outskirts of Kangerlussuaq during bad weather here in 1968 (you will only visit one of the crash sites) and before going to the Russel Glacier, a 60meter/197feet tall Glacier.
And If you're lucky, you will spot some of the local wildlife like Reindeer, Musk Ox, Arctic Fox, and various types of birds. I, on the other hand, didn't see ANYTHING because the weather was so bad that day.
Unfortunately, it also snowed, even in July, on the day I went to visit the Ice Sheet, so I didn't get to experience its full glory and beauty.
The weather was actually very, very miserable the day I made the trip, but luckily my next eight days on the Arctic Circle Hike had terrific sunny days.
But the cold weather prevented the notorious Greenland mosquito from being around on the first two days of my hike, so the bad weather was actually a good thing in the end.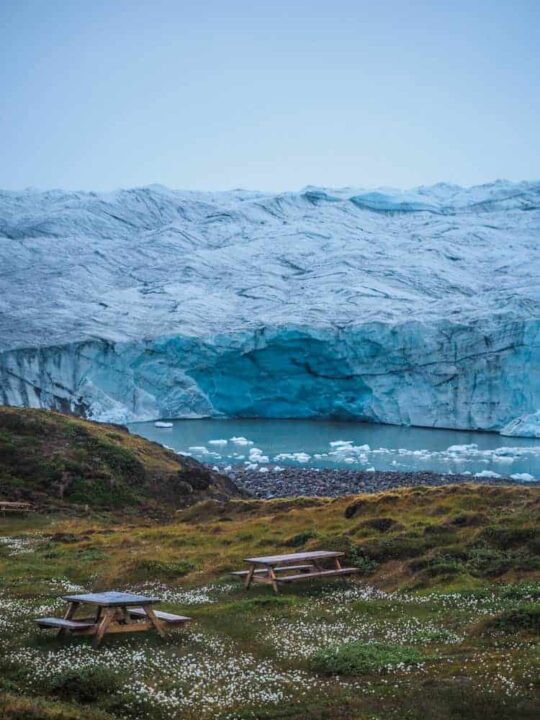 Russel Glacier is a great stop during the day; you will get a very easily approached closeup experience with the glacier and much closer than I have been with other glaciers I visited in the world; it's an amazing photo opportunity.
It´s fashionable to camp close to the glacier because of the facilities here that include a few toilets and benches. It is active, advancing 25 m (82 ft) every year, and a few parts broke off during my short stay here.
When finally reaching the ice sheet, will you first be met by "hills" of sand and rocks that you have to cross over a well-tread path before reaching the proper ice after 10 min of walking.
Even though there's no need for crampons, safety ropes or walking sticks on the ice, the sand and rock path are more slippery.
The Greenlandic Ice Sheet is almost 2,400 kilometres (1,500 mi) long in a north-south direction, and its greatest width is 1,100 kilometres (680 mi); that´s about three times the size of Texas.
Overall the day trip was good even though the weather ended up being awful; If I could have been luckier and had sun, the trip would have been amazing. Better luck next time, I guess.
Additional Information For Kangerlussuaq.
Where To Stay in Kangerlussuaq: During my stay in Kangerlussuaq, I stayed at The Old Camp.
The Old Camp is three old American Military Barracks now turned into a guesthouse, the location is a bit outside of the "centre" about 2km west of the Airport, but the guest house offers free Airport transfer. The room offers great heating, a common kitchen with breakfast included and four clean bathrooms.
What To Wear Warm Clothes! Even during the month of July did I experience cold snow like I mentioned a few times already; during my night in Kangerlussuaq, the temperature dropped to only 2+ Celsius/35,6 Fahrenheit.
And I will have to admit that I was cold on parts during the day trip, even onboard the 4X4 bus since there was no heating on board.
More Information: For all other information about Greenland, read This Post, where I explain everything from the cost of living to internet accessibility and transportation around Greenland.
Like It? Share It! Pin It!