Kashgar is the westernmost city in China, and it has been, and still is today, an important trading centre since the days of the Silk Road.
Reaching Kashgar is a real hassle. You can cross over the Khunherab Pass at 4,693 metres (15,397 feet) from Pakistan, on probably the highest-altitude bus route in the world while making world's best road trip.
Click here to read about visiting Tashkurgan, the first city on the Karakoram Highway and the Chinese side.
You can also take a three-day, almost non-stop bus ride through the desert from the nearest Chinese town of Urumqi
It's actually MORE than 4300km (2 672miles )to Beijing, or a 7-hour flight, just 1 hour less than flying from London to New York!
Maybe the most famous thing in Kashgar is the Sunday Market, which is open every day, despite its name.
It's also supposed to be the biggest market in all of Central Asia, with a history stretching back over 2000 years from the Silk Road area.
If you are planning to travel the Silk Road, check out this guide: How to travel from England to China along the Silk Road.
It's said that the population of Kashgar increases with about 100.000 on Sundays.
The market offers everything between heaven and earth, from dried snakes and reptiles, musical instruments, fur caps, kitschy souvenirs, carpets and kinds of plastic fantastic Chinese miscellaneous, I even got offered real snow leopard skin…
The market covers a vast area, with almost nothing packaged up or freighted in or prettified in any way. The food, most of it unidentifiable, is sold in mounds and heaps, or, if you're lucky, in a sack.
But maybe the most exciting part of the market is the livestock market that's located about 10km outside of town.
Here you can buy, camels, sheep, cows, donkeys etc., but no pork since this is the Islamic part of China.

While I saw no other foreign tourists in the town's market, I have seen more than 20 foreign tourists out there.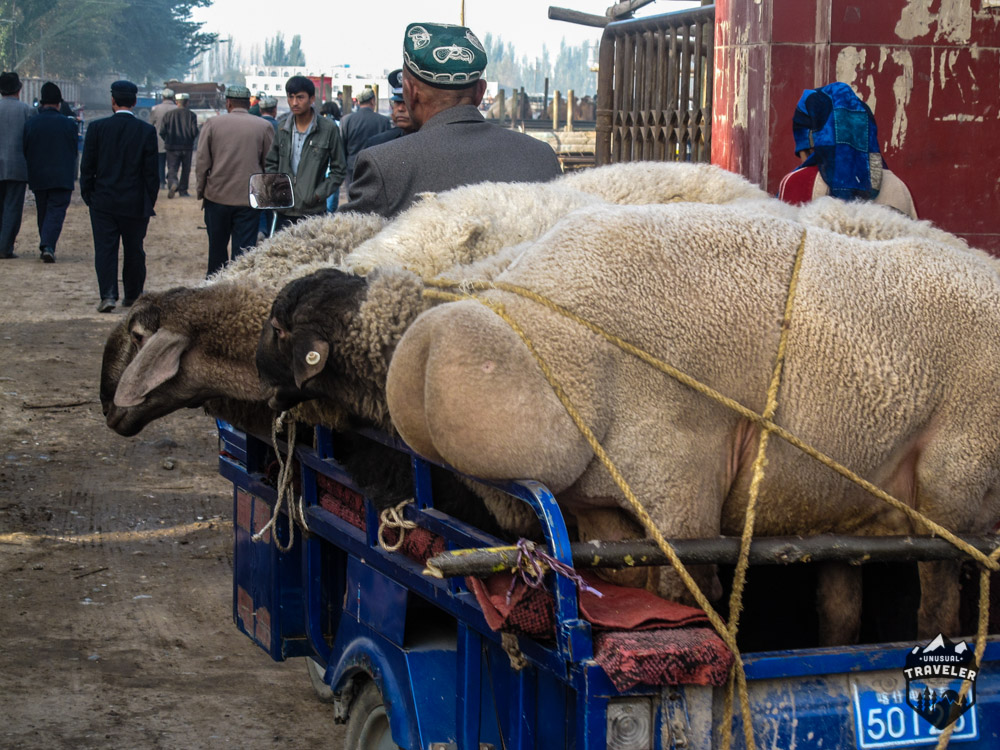 Additional information about Kashgar Sunday Market.
There's a heavy military presence in the whole Xinjiang province these days, so don't get surprised by all the heavily armoured military around the city.
The Karakoram Highway from Pakistan ends in Kashgar, there are buses and jeep direct to Kyrgyzstan, there are also trains to other parts of China, and there's even a "highway" to Lhasa, Tibet from Kashgar.
There are four trains a day from Kashgar to Urumqi and vice versa; the fastest train takes only about 16 hours these days and the slowest for about 24 hours.
There's NO entrance fee to the market; it can be reached by bus 17 and 20. And it will cost you about 20 – 30 RMB by a taxi to reach the livestock market.
Is the market worth a visit? 5/10
If you are lucky enough to be in Kashgar on a Sunday is it definitely worth a visit, but it's not worth waiting around in Kashgar for 3-4 days just to be able to visit the Sunday market.
Like it? Share it! Pin it!