The Pamir highway is the second-highest highway in the world. Just after the Karakoram Highway in Pakistan.
YES, there are actually even higher elevated roads in the world. For example, there's a road in Bolivia that goes up to a staggering 5.777m (18.953 ft), and there are more than eight roads in India that are higher than 5000m, but none of them is qualified as a highway.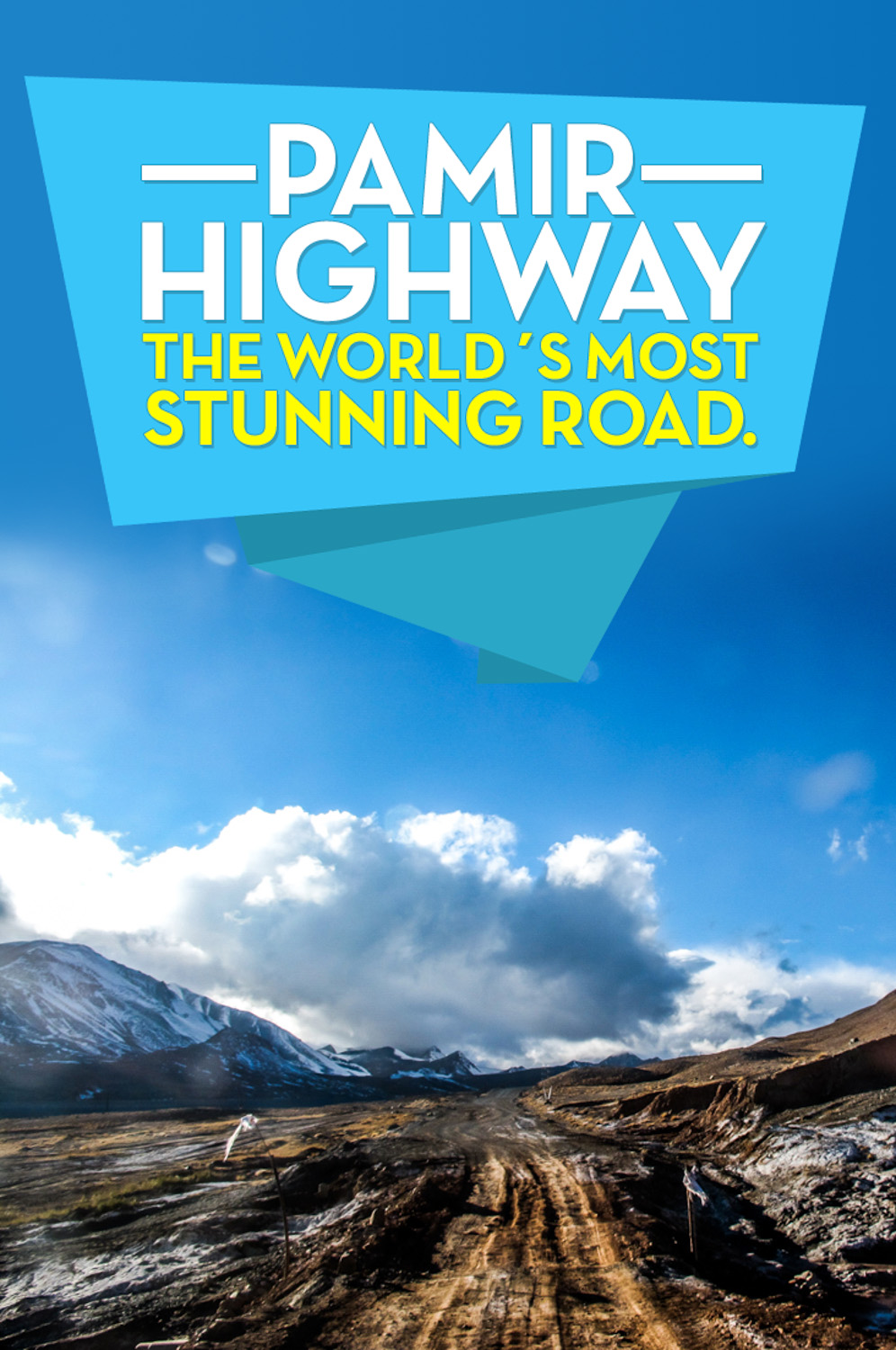 Officially known as the M41, the highway starts in northern Afghanistan and ends in southern Kyrgyzstan. At its greatest length, the M41 it goes through the whole country of Tajikistan with the highlight and most scenic part is the one that goes through the Pamir plateau.
Crossing the Pamir Highway with a bike had been a long dream for me, but it got cut short since my visa was expiring. I was too late in the season, encountered a horrible snowstorm. I also had the worst bureaucracy nightmare I had ever had to this day when I got my passport ripped into pieces by Tajik border guards, but back to that later.
This post is continued from where my post "Wakhan Valley, A legendary trip" ended.
Since my Tajik visa was coming to an end, there was no way I would make it to Murghab on time, and luckily I met two other travellers in Langar that were heading towards Murghab, with a jeep they had hired.
Here´s a more updated post if you are planning to travel the Pamir Highway with a car.
They hitchhiked all the way from Dushanbe to Langar but had been stuck in Langar for five days waiting for transportation to continue their journey. They finally had to hire a car with driver.
But since the other travellers didn't want to leave Langar before the afternoon, I at least managed to bike up to the highest point above Langar to get a million-dollar view.
I took a 5 hours bike ride (or rather said I pushed my bike uphill) before the jeep finally caught up with me. And it's no exaggeration to say that I was exhausted, my legs were completely done.
The roads through the Wakhan valley is made up of sand and gravels, but it's mostly flat, so it's still doable, but when your climbing uphill for hours on it, your legs eventually give up on you. And that's what happened to me.
Since the landscape in this area is so barren and desolated, it was very difficult to fire up my small stove, to enjoy a cup of tea and fast meal while waiting for the jeep.
But even with a Jeep this was a long day, and it would've probably taken me 3-4 days to bike the whole distance, and with no settlements on the way before reaching the M41 Pamir Highway, I would've also had to carry all my food and water for the same amount of days.
This stunning mountain view is the last I saw of the Pamir Mountains in Afghanistan, from now on, you have to turn north to reach the Pamir Highway.
But even if you end up losing the stunning mountain view, the new view is nothing to complain about either. The next section of the road is littered with small high altitude lakes (not drinkable), but surprisingly we did pass a few local people WALKING. I have no idea how they did it, they didn't carry any backpack, and it would have taken days if not a week to walk between the Langar and the first small settlement on the Pamir Highway.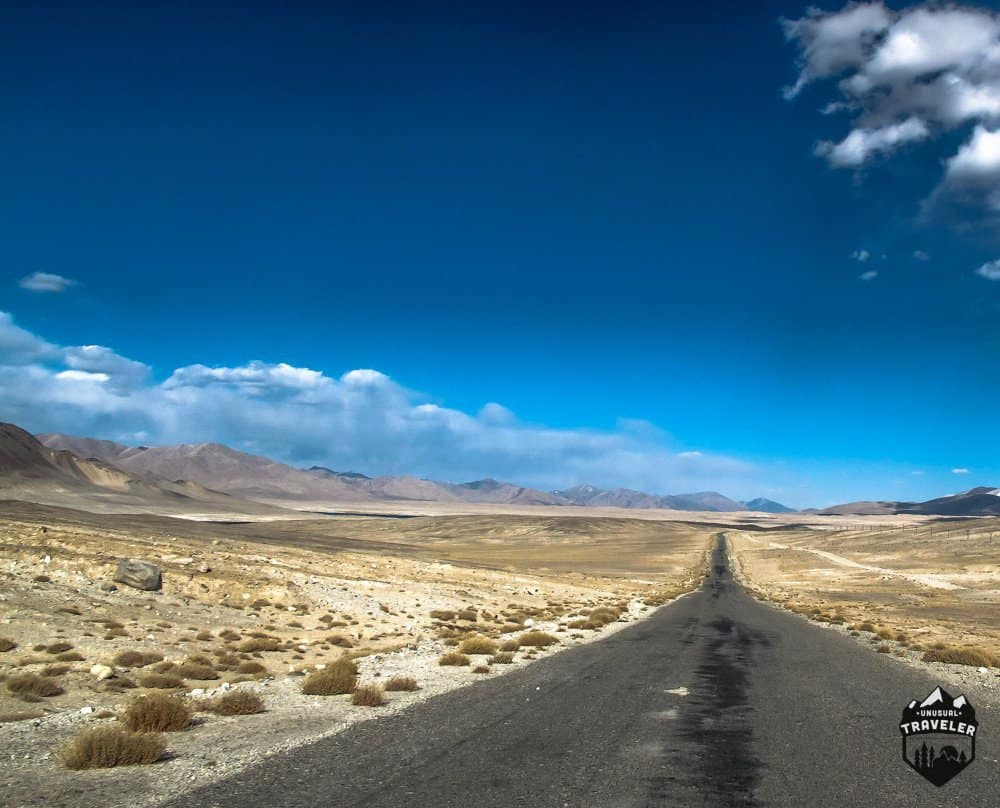 And after 4 hours of hard dirt road driving, with some parts being proper offroading, we finally reached the tarmac again. I have never been so happy to see a proper road ever. We ended up having a 30min rest just to stretch our legs and backs. I was exhausted.
There were a few tiny settlements on the way before we reached Murghab, but they all seemed closed down. According to the driver, the settlements were only seasonal living areas, where the nomads that roam the Pamir Plateau settle down during mid-winter, when the wheater conditions in the area get to hard, even for some of the toughest people on earth.
Reaching Murghab after another 2 hours was a pleasant sight, and that's a strange thing to say since Murghab looks like a town that has survived an Armageddon.
Murghab is by far the biggest town in the Pamirs, the population is about 4000 people and is at an elevation of 3,618 m (11,869 ft).
This is a cold area, and even during the summer month is July with an average temperature of 8.7 °C (47.7 °F).
Murghab doesn't really offer much, but for adventurer tourists passing by it's paradise.
Here you can get Chinese soft drinks, something that tasted like coffee, and even a shower, a real luxury in this part of the world.
When I reached Murghab, I realized that I would never manage to reach the border before my visa would expire, so instead of rushing, I waited around Murghab for another day so that I could travel with the couple to Kyrgyzstan as well.

While waiting around in Murghab, another person with a bicycle passed by.

After talking to him for a while, I realized that I would miss one of the highlights in the Pamirs, the Karakul Lake since every guesthouse in the area had closed down for the season.
So disappointingly, I and the couple headed straight to the border where I ended up living the biggest bureaucracy nightmare I have ever have experienced.
This is the last photos I have from Tajikistan, I did take more, but long story short, the Tajik border guards deleted my photos and RIPED out the information page of my passport.

Why? Because I tried to take a photo of the couple, I was travelling with near the border. They asked 200 USD to not delete the picture (that they had already removed).
We got stuck 8 hours in a TINY office with three aggressive and armed military guards. In the end, they took my head torch and cooking stove, but that was after they ripped my passport off.
We finally arrived at the Kyrgyzstan border at about 2 am, and long after the border had closed for the day. After A LOT of discussions and telling what happened on the Tajik border they let us through.

The Kyrgyzstan border guards were super friendly, and they explained it was not the first time they have had foreign tourist arriving with a broken passport from the Tajik border.

The first settlement you reach in Kyrgyzstan is a tiny place of Sary Tash.
Sary Tash is a major crossroad in this part of the world, head south and you reach Tajikistan, head east, and you reach China and head north to Osh in Kyrgyzstan.
If your heading north in Kyrgistan, be sure to check out the stunning Issyk Kul lake and some other things to do in the area.
All within a few hours.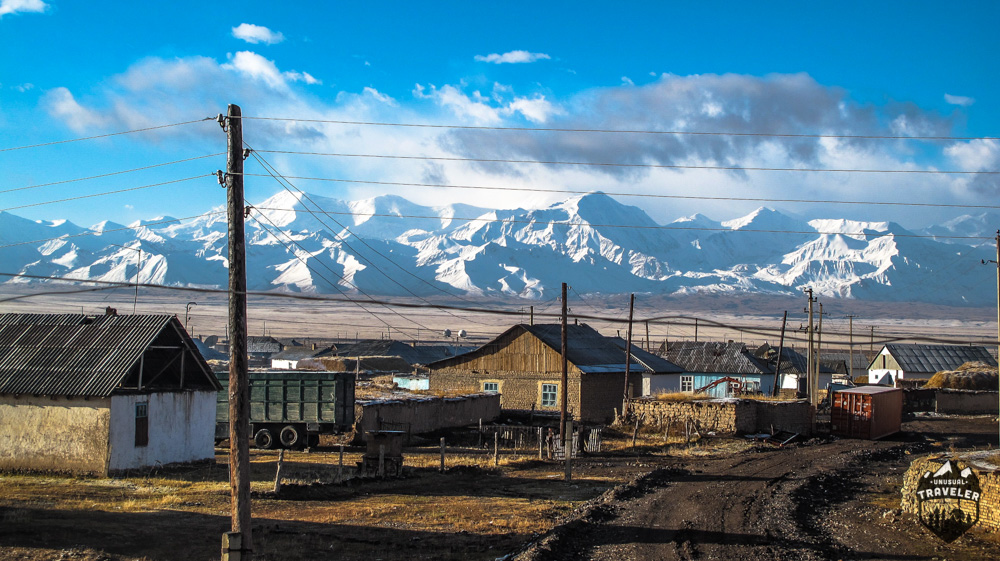 Sary Tash is a village that offers no more than 4 (!) guesthouses. The Scenery surrounding the village doesn't disappoint either. We ended up spending a day in Sary Tash since we were all tired after the Tajik border, and the locals explained that a horrible snowstorm was on the way. The storm lasted for two days, so for two days were we stuck inside drinking tea and just resting. But when the storm finally calmed down, the view was even more spectacular than before the storm.
The pass that you have to climb towards China.

Additional Information about the Pamir Highway.
Permit and Registration for the Pamir Highway.
You will need to have a GBAO permit to travel through the Wakhan Valley and later on the Pamir highway.
The permit was checked twice by local police while staying in Murghab and in one random checkpoint on the way to the border. The first thing the border guards also asked for was the permit.
Money and ATM´S On The Pamir Highway.
There are NO ATMs on this part of the trip, the first ATM you will reach when heading north to Kyrgyzstan is in OSH, and Khorugh if heading west.
But there were people offering money changing from USD and Euro in Murghab. You can also pay the driver, guesthouses, and food in Murghab with Chinese money, USD, and Euro.
Accommodation on the Pamir Highway.
There are at least four guesthouses, two hotels and even a few homestays in Murghab.
I paid 15USD for a guesthouse with a HOT shower, breakfast, and dinner.
Like it? Share it! Pint It!