After years of travelling around the world, seeing famous building overcrowded with tourist, historical places way to restore, and other overrated sites.
*UPDATE April 2021. Larung Gar is still closed for foreigners!!!
Larung Gar Buddhist Academy, also known as Serthar Buddhist Institute, sits in the Larung Valley at an elevation of 4,000 meters, about 15 km from the town Sêrtar, in Sertar County, Garze Prefecture in the traditional Tibetan region of Kham, in western Sichuan, China.
When you arrive at Larung Gar after what has to be one of the most uncomfortable and strenuous journeys you will ever go through anywhere in the world, your body will tell you to rest and take it easy the first day, but your mind it's blown away from the strange beauty of this place.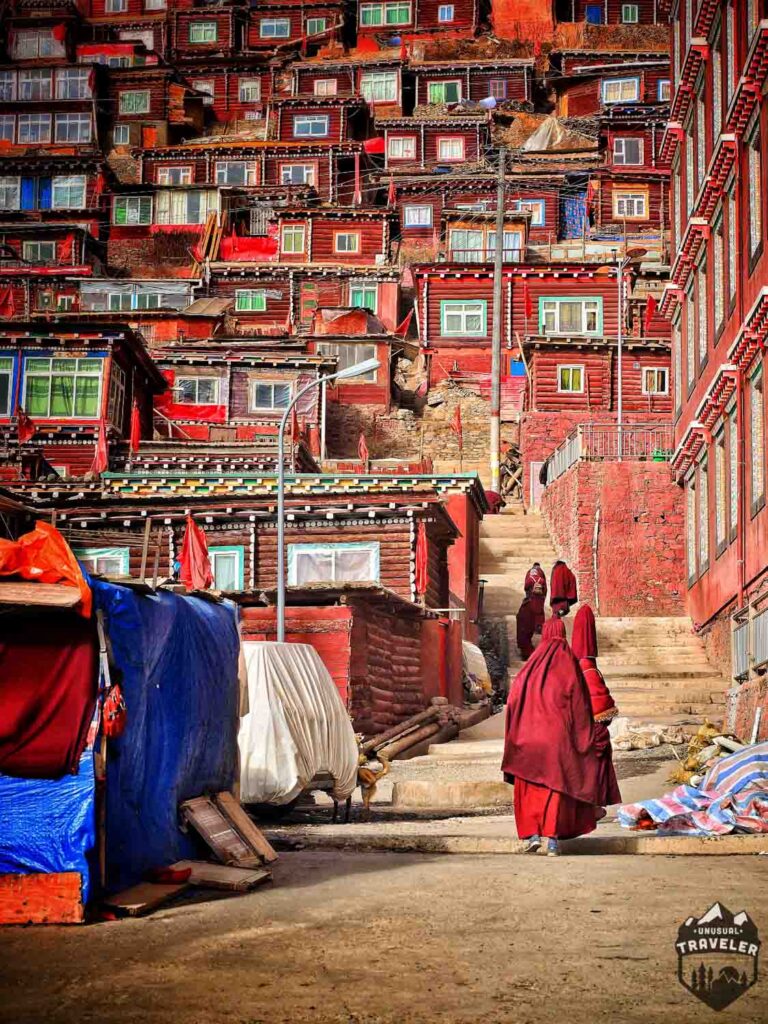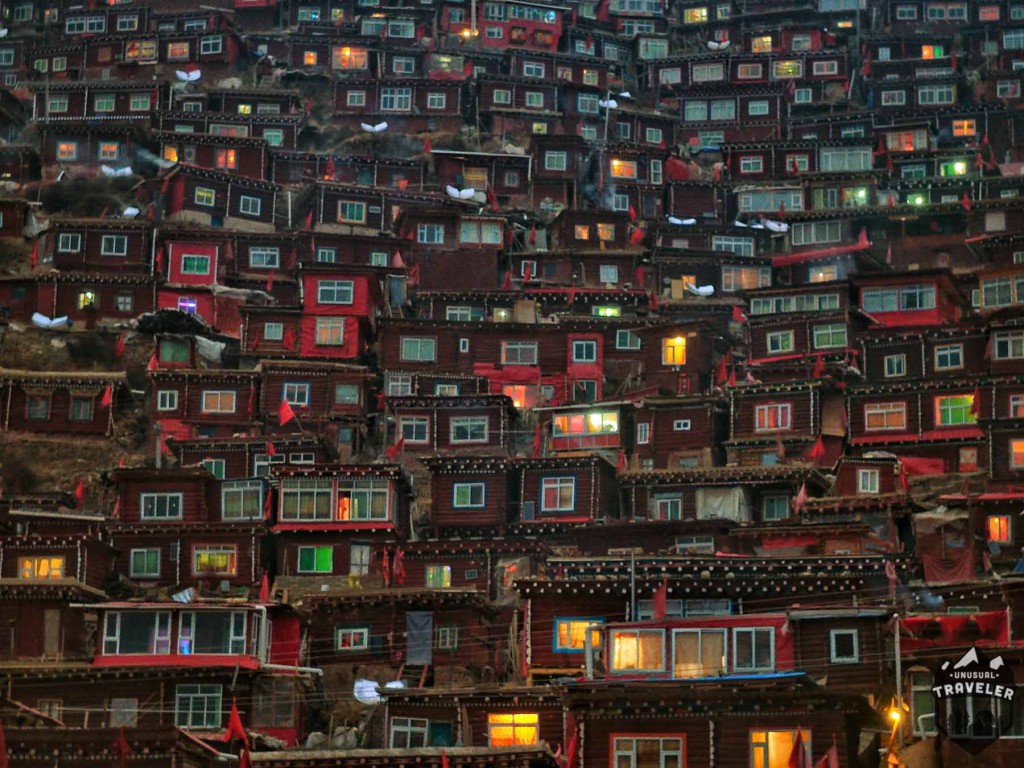 Since Larung Gar is at elevation 4000m (13.123ft) and upwards, you will quite fast notice the altitude if you're not right acclimatised.
Larung Gar seems like a maze when you walk around, and it's easy to get lost in the small alleys and streets, but that's just part of the fun. It didn't seem like it was any numbers on the houses, so how the monks and nuns find their way home is to be a mystery.
Except for walking around Larung Gar, you can visit one of the monastery's, the monks that speak some English will find you and try to practice their English and it's a big chance if you will get invited home to some of the monks for a cup of tea.
Another place worth a visit in Western Sichuan, is Yarchen Gar, similar to Larung Gar but mostly home to Nuns.
It, not much to write about Larung Gar in itself; it's one of those places you just have to go and experience it for yourself.
Larung Gar has since June 2016 been closed for all foreigners. And there´s no news when it will open again. It might open next week, or it might never open for foreigners again, just have to wait and hope for the best.
Housing Units in Larung Gar, I would never be able to find my house here.
Additional info about Larung Gar
How to visit Larung Gar.
Getting to Larung Gar takes about three days from Chengdu, using public transportation while having your own transport would take about one day.
NB. There are now two DIRECT buses from Chengdu to Sertar. There are usually two routes from Chengdu to Sertar, one is to arrive at Sertar(Serthar or Seda) through Maerkang, and the other is to arrive at Sertar through Kangding and Luhuo.Chengdu.
The buses leave Chengdu at 6.10 AM and 6.15 AM and are supposed to take 14hours. Everyone that has done the route knows that 14hours are VERY VERY optimistic.
The capital of Sichuan and your starting point into western Sichuan.
Chengdu is a huge city with a population of around 14million people; it's when of the most livable cities in China.
You can easily spend some days there exploring and visit the world-famous Chengdu Panda Research Base.
When you decide to move on to Larung Gar and western Sichuan you head to the Xīnnánmén bus station, also known as Chengdu tourism bus station since most buses going to the most famous places in Sichuan and even some places in Yunnan departs from there.
The bus station is quite small, some of the staff speak some basic English and are very helpful to get you on the right bus.
The busses from Xīnnánmén bus station to Kanding departure between 7 am to 14.00 costs about 130RMB.
The route to Kanding is only about 330km but will take you between 6 to 12hours.
Kanding
Kanding is a small mountain city at the altitude of 2600m (8,530 ft), you will notice the clean air compared to Chengdu straight away when you arrive. If your not in a hurry, Kanding you could spend a few days in Kanding exploring the mountains surrounding or visit one of the two temples in their area.
The bus station in Kangding is tiny and located in the "beginning" of the city, buses run to Chengdu from around 6 am to 15.00. Buses to other designations include Ganzi (Garzê) only goes about 6 am. The price is120RMB and takes around 6-12hours depend on how many locals it picks up and drops off on the way.
Ganzi (Garzê)
Ganzi, It's an important city in what is still seen as the indigenous Tibetan population as the historical region of Kham—situated in a large valley with grassy hills at an elevation of 3400 meters. It's got a fascinating Monastery overlooking the city. I recommend spending some hours exploring it.
It's another monastery about 30km away that you can easily spend a day checking out with some hot springs that you can spend some time relax your body for the extremely bumpy road to Larung gar the next day.
There´s no bus from Ganzi to Larung gar, but a few shared minivans going in the morning when full, normally between 7 am and 11 am for about 50-70RMB each person.
Larung Gar
There's a big change your ride will drop you off at the intersection were going to leave you to end up in the town Setar and going right you end up in Larung Gar.
If your ride drops you off in the Intersection it's another 5km to you reach where you want to go, just hitchhike one of the cars going by, it shouldn't be more than 10/20min wait.
If you do arrive after dark, its gone be easier to head to Setar (about 20min from Larung Gar) for the first night then take a shared minivan or taxi in the morning.
Where to sleep
Chengdu.
Chengdu got some world-class hotels, and I have stayed in most of them over the years, but my favourite is Flipflop hostel, it got by far the best location in the city located 5min from the main square and shopping street, Chunxi Road where you got the metro, bus stops and plenty of food options.
It's also a 15min walk away from the Xīnnánmén bus station.
The staff I super friendly and helpful, its a popular place for foreigners, so you're guaranteed to meet other travellers. From 40RMB for a bed in a 10bed dorm a night.
Kanding
The main place to stay in Kanding is Zhilam Hostel; it's run by a helpful American couple, it's located on top of a hill overlooking the city, it's a bit hard to find so be sure you got the name written down in Chinese on a paper.
The hostel is small and cosy, with great hot showers, the heating blanket for the beds, they offer western and local food and an amazing chocolate cake.
It's about 15RMB with a taxi from the bus station or about 30min to walk.
If its other foreign travellers in the area there's a big chance they are staying here. From 40RMB a night in a 6people dorm.
Ganzi
When leaving the bus station, just across the road is Chengxin Hotel, it got a big sign saying foreigners allowed, the hotel is basic but good, it has a heating blanket and WiFi.
There's a young girl working there that speaks some English and will gladly help you arrange transport to the monastery outside the city or for going to Larung Gar the next day. From 90RMB for a double room.
Larung Gar
Unfortunately, Larung Gar lacks options for accommodation, it's only one proper hotel, very overpriced but they got a million-dollar view overlooking the whole valley. The price ranges from 200RMB to 800RMB for a double room, the hotel only got an about 15rooms, so it's often fully booked.
There are a few very basic guesthouses, with no shower and the outdoor toilet, down the hill with the main gate to Larung Gar. If you're on a budget or the proper hotel is fully booked, those guesthouses are your only option of places to stay.
Safety
Like the rest of China, these places are completely safe with the only hazards and dangers being the road and traffic.
Altitude sickness (AMS) is a big danger when going to Larung gar; It commonly occurs above 2,400 meters (8,000 feet). With the symptoms off.
Lack of appetite, nausea, or vomiting
Fatigue or weakness
Dizziness or lightheadedness
Peripheral edema (swelling of hands, feet, and face)
Insomnia
Pins and needles
Shortness of breath upon exertion
Nosebleed
Persistent rapid pulse
And the only thing that helps is to go down to a lower altitude.