Take a deep breath, and dive right into Hampi!
Imagine living in a land of overwhelming prosperity, where religion, art, architecture, and culture were soaked in grandeur and pomp?
Well, for one, you'd have to be transported back in time to the early 14th and 15th centuries, and two, you'd somehow have to make your way into the Vijayanagara Hindu Empire in the southern part of India.
To a land known as Hampi – a land of incredible mythological significance and a land that was adorned with the best of the very best in all spheres of life.
Hampi served as the capital of the Vijayanagara Empire in the 14th century, an empire, which was, then one of the wealthiest and most powerful empires in the whole world!
Are you travelling to India and looking for a romantic place? Check out this place for 10 romantic honeymoon places in India.
Fast forward to the present day. Hampi is now a designated UNESCO World Heritage Site, it was added back in 1986, covering an area of sixteen square miles, and now home to the vast remains and ruins of an era of tremendous wealth and extravagance.
What went wrong, then?
Like all good things must come to an end, so did the good fortune of this once prosperous empire.
But before we get down to what went wrong, let's take a look at what went right for so many centuries for this mighty empire.
While Hampi changed dynasties under the same Vijayanagara Empire, it continued to serve as one of the biggest trading centres in the world through the centuries; one of the primary reasons for the astounding wealth and splendour in Hampi.
Merchants from all over the world journeyed to this distant land to trade in spices, cotton, silver, and gold.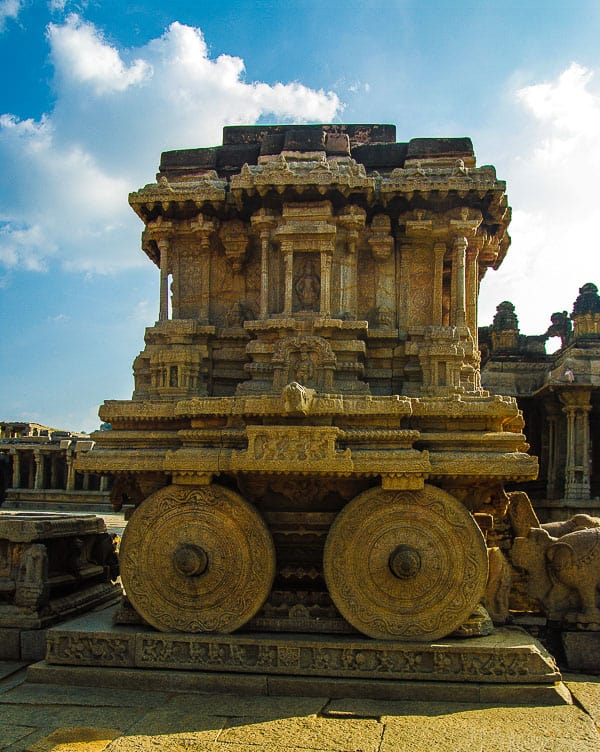 The empire had progressive trading practices that attracted business and prosperity. Soon enough, grand architectural elements sprang up all over the kingdom in the form of temples and palaces – a living testament to the good fortune of this empire.
But good fortune ran thin. With wealth and prosperity came enemies.
And the empire faced numerous attacks from a number of smaller kingdoms that united together as the Muslim Sultanates to bring about the ruin of the Vijayanagara Empire. And ruin it they did.
By the late 15th century, this once prosperous empire was pillaged, destroyed and ravaged in fires for nearly six months, leaving all but ruins.
Those ruins have now become a sight to behold for us visitors, so you can only imagine what it was like in its real form! I would have loved to see it in all its glory, but for now, I'll be happy about experiencing it in its ruins.
Historically speaking.
Hampi is a land of bygone glory, but what you see today is a testament of the sheer genius of a generation of individuals who knew they would make history in times to come, and they did. Everything you get to see and experience in Hampi will transport you, as it transported me, to a time when creativity was at its peak. Art and architecture were perhaps the greatest expressions of a kingdom that cemented their place in times to come.
Top Things To See In Hampi.
Hampi served as a bustling metropolis when it was at its peak.
As such, it had all the trimmings of a well-planned city, with scores of temples, temple complexes, market complexes, monuments, public squares, treasuries, water pavilions, fountains, community kitchens, and stables. In short, Hampi had everything.
Today, you'll get a glimpse of many of the public buildings, minus the glamour and grandeur of its original form, and, boulders!! Hampi is full of boulders!
I had a list of buildings that I thoroughly enjoyed visiting when I was in Hampi, and they also turned out to be the most popular spots to visit as well.
It helped that I read up on the history of the area, so I was better versed with what to expect. I could better connect the dots and make sense of the structures I saw before me (that would be my very first travel tip for Hampi – get to know the history, and you'll enjoy your visit even more!).
So here goes, and a few of the names are tongue twisters, but worth the tongue-twisting effort.
The Virupaksha Temple was a treat to my senses. It's located on the banks of the Tungabhadra River, in the midst of what used to be a bazaar or local market.
Inscriptions fill the walls of this temple that go back to the 9th and 10th centuries. Considered the oldest shrine, it is dedicated to the Indian God of destruction, Shiva.
The Vijaya Vittala Temple has a stunning architecture to boast of. Hallways, towers, gateways, and pavilions set this temple apart.
The highlight of this temple: musical pillars! The temple has pillars that depict musical instruments, and when the pillars are struck, it actually sounds like you can hear notes of music from the pillars!
The Stone Chariot is housed within the Vittala Temple Complex and is one of Hampi's biggest attractions.
The Queen's Bath showcases some fantastic architectural prowess. As simple as it is on the outside, it's that ornate on the inside. With a large sunken bath at the centre of this rectangular building, the arched corridors around the bath give it a stunning appearance.
The Archaeological Museum of Hampi has a whole lot of exhibits that offer glimpses into the history of the area.
From sculptures to artefacts like gold and silver coins, statues of deities, and galleries filled with precious stones, you'll get an idea of the opulence of that period. What you see in the museum are a few things that were not plundered and looted.
If you want to visit some other historical ruins in India, be sure to visit Mahabalipuram in the state of Tamil Nadu. Mahabalipuram is considered to be one of India's ancient crown jewels, a monument complex that's been designated a UNESCO World Heritage Site.
The Achyutaraya Temple exemplifies the Vijayanagara style of architecture.
It was considered the last grand temple to have been built before the empire was overthrown.
The temple stands between the two hills of Matanga and Gandhamadana, so it's not just architectural beauty but the surrounding scenic beauty of the hills that adds to the magical aura of this stunning temple.
In terms of must-have experiences, I've listed a few as well.
I spent a night on Hippie Island…you read that right! Just across the
(that I crossed in one of those coracle boats), are scores of little huts and lodges that you can stay in for a small amount of money. The views of the ruins from Hippie Island were pretty awesome. And I got to meet a lot of cool travellers as well!
Jumped into the Tungabhadra River…and got an elephant to snort water on me. Apparently, that is one of the must-do's in Hampi! I have to say; I enjoyed the experience.
I went on a 'Hampi by night' tour, and it was absolutely worth it. Conducted by the Department of Tourism, the five-hour-long tour took us through some beautifully illuminated temples and structures, and I got to hear over a dozen myths and historical stories related to the structures. The laser light and sound show at each of the structures we saw on the tour was amazing.
With so many boulders all around Hampi, it was only natural that I'd try my hand at bouldering. With endless trails of boulders strewn all over the city, it was too tempting to give it a miss. You can rent equipment from one of the many operators around Hampi, and if you're a newbie, you'll find locals who double up as instructors and do a pretty decent job at training you on the basics of bouldering.
I thoroughly enjoyed bicycling my way around Hampi. I rented a bicycle and made my way through the town and everything it had to offer. It's a great way to experience Hampi.
How To Get To Hampi.
Will depend on where you're coming from. While Hampi is located in the state of Karnataka in southern India.

The two closest metropolitan cities are Bangalore 350km/217miles away and Hyderabad 380km/236miles away.
State transport run buses operate between Bangalore and Hampi, and Hyderabad and Hampi.
Options of air-conditioned and non-air-conditioned buses are available, though you're better off in an air-conditioned bus.
But whatever mode of travel you choose, remember to book your tickets way in advance since this is a busy route from both cities (Bangalore and Hyderabad), and last-minute bookings might leave you disappointed.
If coming from anywhere else in India is train the best option. There´s no train station in Hampi itself, but instead, you have to disembark at the Hospet Junction; around 30min from Hampi with a tuk-tuk.
The most important trains to Hampi are:
From Bangalore: Train: 16592 Hampi Express.
From Goa:18048 Amaracathi Express.
From Hyderabad:17603 Kachedua express and 17003 KOP-HYD Express.
A second option is to take a train to Hubli, which is connected to all major cities in India, including New Delhi, Kolkata, Varanasi, Rajasthan, Kerala and more.
The closest airport to Hampi is Hubli Airport (HBX) around 144km/89miles away, Being really small and local airports they are only connected to cities in southern India like Hyderabad, Bangalore, Mumbai, Chennai and Goa.
Like It? Share It! Pin It!