Nagaland sits at the very north-eastern edge of India on the Myanmar border.
The state is known for its strong tribal culture and beautiful nature, which is full of green rolling hills, but with very few trees around.
However, it's one of the least visited states in the country, mostly due to its location in India's wild northeast.
This part of India is considered rugged, isolated and, at one time or another, a little dangerous.
However, this is also the appeal of visiting Nagaland, the home of the fierce Naga people, as it offers one of the subcontinent's last true adventures.
This travel guide will outline all the important things you need to know about travelling in Nagaland, including the best places you should visit in the state.
Nagaland is part of India is often known as the Seven Sister States of India, which comprises the seven states – Arunachal Pradesh, Assam, Manipur, Meghalaya, Mizoram and Nagaland.
Travel Guide To Nagaland
Why should you visit Nagaland?
Nagaland promises a real adventure. It's a state that is unlike any other in India.
It's most well-known for its tribal cultures, which is the main reason many people make the long journey to get there.
There are 16 different tribes recognised in Nagaland, with most people referring to them collectively as the Nagas.
Once most of the tribes were at war against each other, but these days most locals in Nagaland have converted to Christianity and live a "normal" life in the cities and towns around the state.
But there are still a few locals who try to live a more traditional way in the countryside, but at least they are all peaceful now.
They have been feared and respected over time, with the Konyaks, in particular, is known for their headhunting tradition. Which meant killing and cutting off the head of the other tribes there were at war against.
Most people who visit Nagaland hope to explore the Konyak villages around Mon in the northern part of the state.
The Konyaks once hunted their enemy's heads and displayed them in their villages, along with a range of decorations and carvings of animals and tusks.
These traditions soon faded once Christianity was introduced to the region.
However, many of the original headhunting warriors are still alive today.
You can distinguish a Konyak warrior by his face and chest tattoos and jewellery, a sign of his achievements in protecting the village.
The face tattoos that some of the older men's in the state have shown that the person was a warrior when he was younger and that he had killed a person.
But these days they are friendly and peaceful.
Despite the age-old traditions of headhunting being in the past, the Konyaks continue to be fierce defenders of their culture.
It's this chance of meeting the tribe that lures many intrepid travellers to the state.
The Konyak village of Longwa has welcomed visitors for many years and is the main destination people hope to reach when visiting Nagaland.
There's more about Longwa and how to reach the village below.
What you need to know before you go to Nagaland
There is very limited tourist infrastructure in Nagaland. As it's one of the least visited states, there is not a lot of hotels and guesthouses, and transport is very limited.
However, you will always find a hotel or somewhere stay; it just requires a bit of asking around, especially since many guesthouses/hostels in this part of India are not allowed to host foreigners.
Nagaland is also a little more expensive than the rest of India.
Most hotels and guesthouses will charge around 1000 INR for a basic room, so you might need to budget a little more for Nagaland than elsewhere.
A problem in Nagaland is that everything in the nature here has been overhunted, including rare birds like the Hornbill.
It's also important to know that shops in Nagaland close pretty early in the day, and you won't find a lot happening after dark in any of the cities or towns. Almost everything closes down when it gets dark in Nagaland, so no shops or no restaurants.
Nagaland is also a predominantly Christian state, and on Sundays, nothing is open. You won't find any restaurant, shop or transport operating on Sunday at all, even in the capital.
The only place I found open on a Sunday in Kohima was KFC!
Along with being a Christian state, Nagaland is very different from the rest of India in many ways.
You will find that the food is quite different, with many traditional Naga dishes being extremely spicy.
The people also look quite different, with the ethnic groups being more related to Burmese.
Alcohol is prohibited in Nagaland, and you won't find any for sale.
However, there's plenty of home-brewed stuff around, and it's not uncommon to see people drinking in their homes after dark.
The amount of English speaking locals in Nagaland is also much less than in other parts of India; it can often be hard to find an English speaking local in Nagaland.
You don´t need a permit to visit Nagaland anymore, but you will have to register with the police at the state border.
Nagaland is famous in the west, for one thing, that's not the headhunters, but for their Chilli: Bhut Jolokia or more famous as the Ghost Chili Peper or as the Naga Chilly.
In 2007, Guinness Book of Records certified that the ghost pepper was the world's hottest chilli pepper, 401.5 times hotter than Tabasco Sauce(2500). The Ghost chilli is rated at more than 1 (1,041,427)million, Scoville heat units (SHUs).
I personally love spicy food, but in Nagaland, I made the big mistake of ordering spicy food. I can't describe the shock I got when I took a big bite of the Bhut Jolokia, I instantly started to sweat, got a massive headache, and my hands started to shiver.
Is Nagaland safe to visit?
Safety in Nagaland is usually a big concern for travellers.
At one time or another, there has been a history of insurgency and rebel activity, and the Indian government has often considered the state unsafe for people to visit.
However, much of this is in the past now, with most of the state being completely safe for foreigners.
Even though the idea of visiting ex-headhunters may seem off-putting, there is no real reason to be concerned about safety in the Konyak villages.
Most people in this part of Nagaland are incredibly friendly and welcoming to foreigners.
But I did encounter kids throwing stones when I didn't have pens of candy to give to them.
However, it's best to stick to Longwa village, which is the main place people visit and somewhere that is used to having foreigners.
Otherwise, you can hire a guide if you want to visit more remote villages.
One thing you should be aware of is that opium is a huge problem in Nagaland and particularly in the Konyak villages in the north.
Many of the men in these villages smoke opium for most of the day, often starting in the early morning. The state smoke a lot of opium which are smuggled in from neighbouring Myanmar.
You should stay clear of the drugs yourself, and it's strictly forbidden in India, so is unfortunately common in some parts of Nagaland.
In general, it doesn't make the area unsafe to visit as most are extremely friendly people; however, be aware if you begin to feel uncomfortable and remove yourself from the situation.
It's also a serious offence if you're caught with opium or any illicit drug in India, so although Longwa is generally left alone by authorities, it doesn't mean it's safe for you to get involved.
When Is The Best Time To Visit Nagaland
The best time to visit Nagaland is during the cooler months around winter, from October until March. This provides relatively moderate and comfortable temperatures, with some colder evenings and overnight temperatures.
The mountainous state is not ideal to be exploring in the wet.
This means that it's best to avoid the rainy season from June to September as this can make some roads impassable, especially the roads up to Mon.
If you want to time your visit with one of the most incredible cultural festivals you may ever get to witness, then the Hornbill Festival is held every year in December. But there are also other interesting festivals held around Nagaland if you don't have time to visit Nagaland during the Hornbill festival.
This incredible annual show of Nagaland's tribal cultures is one of the most fascinating experiences and is not to be missed if you can time your visit for the start of December.
How to reach Nagaland
Nagaland is a relatively isolated state in India's far northeast region. However, it's not impossible to visit, but just time consuming if you plan on using public transport.
The main transport hub of the Northeast region of India is Guwahati in Assam, which has links to other states and is a great place to begin your journey to Nagaland.
You can fly or reach Guwahati by train and bus from other cities in India. From Guwahati, you can then take a train to Dimapur in Nagaland.
This is by far the easiest and most comfortable way of getting to Nagaland by land transport.
If you prefer to fly, then you could take one of the daily flights direct from New Delhi to Dimapur in Nagaland.
This would cut a lot of travel time out of your trip, and flights can be relatively inexpensive.
From Dimapur, you can continue to explore Nagaland by bus or shared jeep to Kohima and then onto Mokokchung and Mon.
If you only want to visit Longwa village, then you can also avoid Kohima and Mokokchung completely by travelling from Assam into northern Nagaland.
From Guwahati, you can continue travelling north in Assam until Sibsagar by bus. From there, you can take a bus to Mon and then head to Longwa the next day.
However, it's a good idea to reserve some time for exploring more of Nagaland than just Longwa.
Getting around Nagaland
Transport in Nagaland is a relatively challenging endeavour.
The roads are some of the worst in the whole country, and there's a very limited transport network. So to be patient is very important in this part of India.
And it´s important to know that there´s no public transportation on Sundays at all around Nagaland.
Buses and shared jeeps are the main forms of transport, and you'll have to possess a lot of patience to get where you want to go.
Nonetheless, it simply makes travel in Nagaland much more rewarding.
Dimapur is the main transport hub in the state and has the best connections to neighbouring states like Assam.
It has the main airport, train station and bus station for Nagaland.
However, once you find yourself in Dimapur, the only way to explore the rest of Nagaland is by bus and jeep.
Nagaland State Transport has a bus network and schedule connecting some of Nagaland's main cities, such as Kohima and Mokokchung.
These buses often run only once or twice a day with tickets purchased at the stations in the city.
The other main form of transport is jeeps or otherwise called Tata Sumos. They are the main form of transport into northern Nagaland and any remote places in the state.
They are privately run and usually have ticket counters in the towns that they service where you can buy a ticket the day before.
These jeeps are shared by many passengers, often up to 11, including the driver. This means that you need to be prepared for an uncomfortable journey with strangers!
However, they are much quicker than the buses, and if you buy a ticket early enough, you can usually score a good seat.
Top Places to visit in Nagaland
Although Nagaland is not on the well-travelled circuit in India, there are a number of interesting places to visit.
Most people aim to get to Longwa and the headhunting villages around Mon towards the north of the state and right on the Myanmar border.
However, you can also explore a couple of other cities on the way, including Kohima and Mokokchung.
Dimapur
Dimapur is a typical bustling Indian city. It's located 75 km northwest of the state capital, Kohima in Nagaland.
It's the state's main transport centre with connections to neighbouring states of Assam and Manipur. There's not a whole lot to see in Dimapur, except the Kachari ruins that date back to the 13th century on the riverside edge of town.
How to reach Dimapur
You can reach Dimapur easily from Assam, with a daily train connection between the two cities. Dimapur also has Nagaland's main airport, so you can fly into the state from Delhi or another major city in the country.
Kohima
Kohima is the capital of Nagaland and a lively city that is increasingly expanding with new shopping additions replacing some of the more traditional markets. It's still an interesting place to wander the streets and be introduced to the Naga people.
There are a couple of things to check out while you're in the city, including:
Nagaland State Museum: An interesting museum with displays from various tribes in the state.
Kohima War Cemetery: A memorial to the soldiers who died in the Battle of Kohima in 1944.
If you find yourself with some extra time in Kohima, you can try to explore some of the traditional villages around the city.
Both Kisama and Khonoma are short drives away and offer an insight into some of the tribes.
Khonoma, in particular, has been labelled a "green village", meaning the traditions of the village have been carefully preserved, including beautiful rice terraces irrigated by bamboo pipes.
The best way to explore these villages is by hiring a taxi from Kohima, as there is a very infrequent transport system that reaches them.
How to reach Kohima
You can reach Kohima from Dimapur easily by bus. There is no train station in Kohima, so a bus is the best way to reach the city.
Mokokchung
Mokokchung is the third-largest city in Nagaland and is a vibrant hillside town.
It's a particularly good base for exploring some of the surrounding areas and for onward travel north to Mon.
There are some interesting Ao villages nearby, including Longkhum, which has a small museum worth visiting if you have the time.
How to reach Mokokchung
There is a daily bus from Kohima to Mokokchung, which takes about six hours. There is also a long overnight bus that connects Mokokochung with Guwahati in Assam.
Mon
Mon is an isolated town in the far northeast of Nagaland. It's the regional capital of the area and is the main base for people who want to visit the nearby Konyak villages.
Although Mon town is not an overly exceptional place, it's unavoidable, and you'll likely find yourself passing through the town and perhaps even staying the night.
How to reach Mon
From Assam: Assuming you are already in North East India, the first thing you have to do is to head to the city Sivasagar in the state of Assam, from Sivasagar there're 2 busses leaving a day for Mon If there are enough passengers, it's only about 100 km between those in towns, but the road is absolutely horrible and can take up to 8 hours! It´s not a comfortable ride.
There are also a few shared jeeps a day, which takes 6 hours.
You will not make it all the way to Longwa from Sivasagar in a day, so you will have to spend a night on Mon.
Mon is not an easy place to reach from Nagaland either. From Mokokchung, there is a daily shared jeep that leaves early for Mon.
The journey is a long 10-hour ride, and the jeeps actually leave Nagaland, enter Assam and then come back because of the terrible road situation in northern Nagaland.
It's a tiring journey but the only way to reach Mon from within Nagaland.
Where To Stay in Mon:
There are a few guesthouses in Mon, but only two that I could find that accepts foreigners:
Paramount Guesthouse
Located above the SBI Bank (Which is the only bank accepting foreign bank cards), so the location is central.
800-1000 Rps for a double room with a western toilet and shower, the owner speaks good English and can help you with transportation around the area. There´s a small rooftop restaurant on the top of the hotel.
Helsa's Cottage
Located a bit out of town, but it´s the most guesthouse for travellers.
Basic room for 1000RPS
Longwa
Around 42km east of Mon is Longwa village. This is the most well-known of the Konyak villages and the main place that welcomes visitors to explore their culture.
The village sits in a very unique location straddling the border of India and Myanmar.
In fact, the village chief or 'Angh' (he also likes to call himself the King Of Logwa) has his house built right on the borderline, so depending on which side of the fire you sit in his kitchen, you could be sitting across the border in Myanmar.
It's also customary for any visitors to the village to meet the village chief or 'Angh', and your host will likely take you for a visit to his home.
You are supposed to ask for the King of Longwa permission to stay, and you should bring a gift for him, preferably a bottle of whisky, that you bought with you from neighbouring Assam since Alcohol is illegal in Nagaland.
It's an extremely interesting place, as it's still built in the traditional style with an open fire in the middle. You can also still see some of the bones and animals' carvings decorating the walls.
The King himself has 60! Wifes, he claimed.
The village is quite spread out along a dirt road that runs through it.
You'll see a combination of thatch and tin rooves dotting the green hills surrounding the road.
There are no restaurants and just a couple of informal shops where you can buy snacks and a handful of locally grown produce.
The village is relatively friendly towards visitors, but it's best to arrange to stay the night in Longwa, but you should be aware that opium smoking is common in Longwa by the elders.
There are a few homestays that have popped up in the village where you can get a bed, meals and a guide (usually the host) for however long you want to spend there.
This is the best way to explore the village and allows you to get a real insight into the Konyak's unique culture.
You can try Jeilei's Homestay or Longsha Homestay, they usually have signs on their houses, or anyone in the village will be happy to show you.
This also means that your host will likely play the role as your guide, and this is a great way to be shown around the village and introduced to former headhunters.
Of course, the real highlight of visiting Longwa is to meet these old warriors, and people will happily show you where to find them.
Many of the ex-headhunters are now in their 80s, and none of them speaks English.
Longwa is the best place to meet the headhunters of Nagaland.
This is where your informal guide comes in handy as they can translate as you ask questions.
Most of the headhunters I met were happy to have a chat and be photographed, although they charge a 200 INR fee for this privilege.
But you decide a night or two in Longwa, is it a big change that some of the locals will try to invite you for a hunting trip the next morning, a hunting trip in Nagaland means ancient hunting rifles, dynamite!! and fishing with electricity!
Disappointingly the hunt was a bit of a letdown. We didn't catch anything, but I didn't expect to catch anything either since it seems like the locals have been overhunting for years, even walking around the thick jungle for hours, we didn't even see or hear a single bird. The Konyak tribe have killed everything in the surrounding hills already.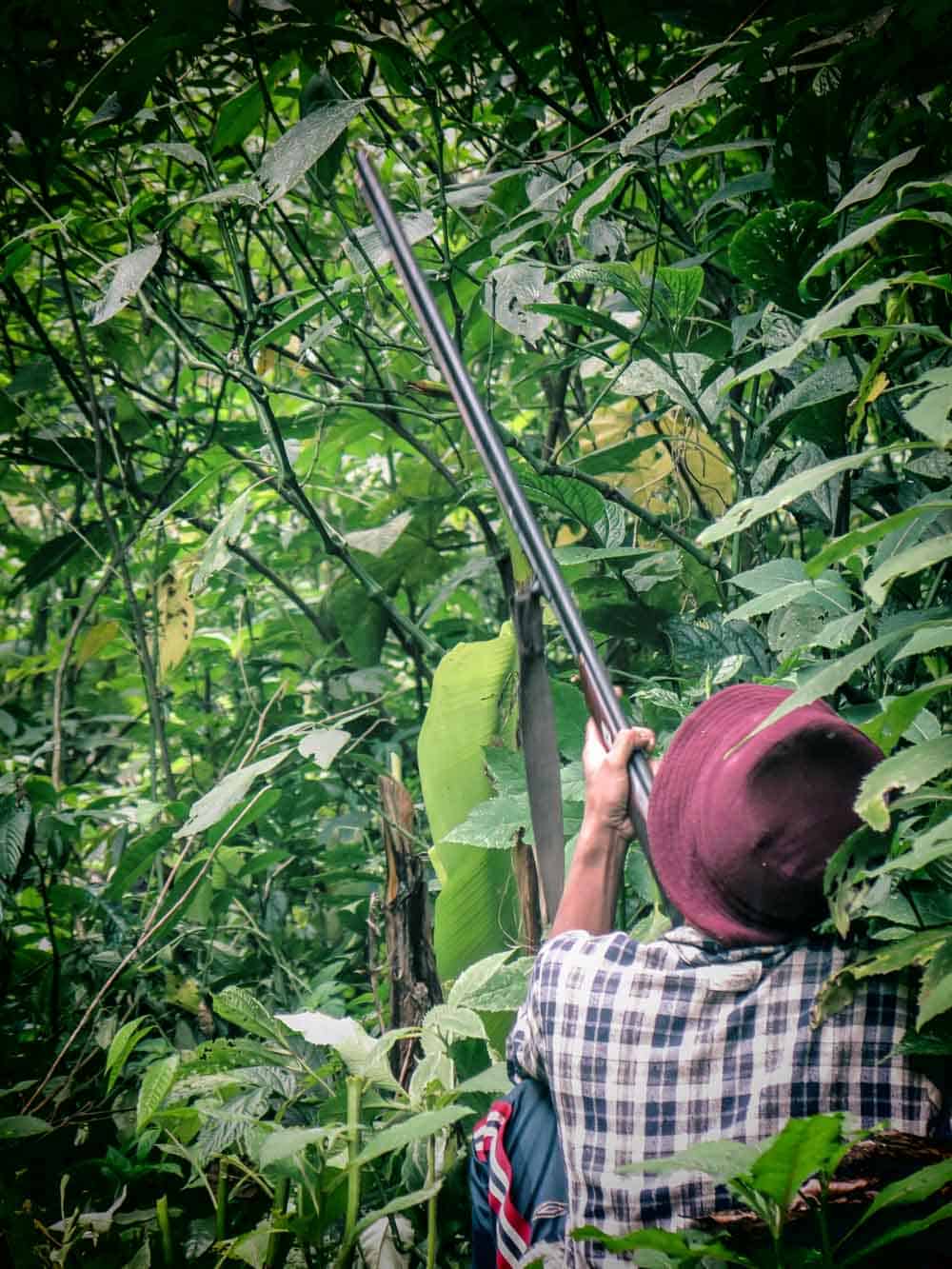 When I got back to the village after hours of tough hiking, I got to meet some very stoned locals, which were high on opium.
The only thing the locals seem to be doing is to smoke opium and walk around.
And of course, since the next day was a Sunday and Sunday = no transportation, I got stuck for another day. That day I used to seek out some one of the headhunters for some photos.
How to reach Longwa
There are a daily shared jeep and a bus from Mon to Longwa, which leaves in the early morning.
The journey is around two hours on a dirt road.
These same jeeps make the journey back to Mon each morning from Longwa, and your homestay host or anyone else in the village will be able to help you get a ticket.
The distance from Mon to Longwa is only about 35 km, and that road is probably the best in all of Nagaland, but it will still take 2 hours coz it's very narrow and steep.
I took the jeep to get to Longwa, but the bus back to Mon, the bus was more comfortable than the jeep, BUT everyone on the bus was sick and was vomiting the whole way, so you are in for a treat if you take the bus.
Be aware that all transportation from Longwa back to Mon leaves, Longwa around 6 am
You will most likely also have to spend a night in Mon on the way back towards Assam.
Where To Stay In Longwa
There´s a couple of homestays in Longwa, but non has a sign, so you will have to ask around.
But probably the most popular one is Longsha's Homestay: Which charges you 1000 Rps a night, plus 150 rupees for each meal, and remember there are no restaurants in Longwa, so this is kinda your only real choice.
Longsha can also arrange a local English speaking guide to take you around the village and arrange for you to meet with the Headhunters and the king.
You should call or send a message to their nr at +91 8974390751, so you are sure that they will be home.
Attend A Nagaland Festival
Nagaland is home to various colourful festivals, with the Hornbill festival, which is usually held from 1–7 December and takes place at the Kisama Heritage Village, which is 12 km from Nagaland's capital Kohima.
But the Hornbill festival is not the only colourful festival in Nagaland worth visiting; another great festival is the Aoleang Festival, also called the Harvest Festival of Nagaland, which celebrated by the Konyak people and held in the first week of April in the Monin the first week of April and coincides with the start of the Konyak New Year
The Aoleang Festival celebrates the arrival of spring and prays for a good upcoming harvest.
While the Hornbill Festival is a festival catering for foreign tourist, so is the Aoleang an authentic tribal festival arranged by the Konyak tribe only, where people from the Konyak tribe dresses up in their traditional warrior clothes.
The Aoleang festival is full of Konyak indigenous dances, songs and games combined with the modern music talents of the district of Mon.
If you have a real sense of adventure and plenty of time, travelling through Nagaland to Longwa village is one of the most interesting trips you can take in India.
If you're considering a visit to the remote Northeast region, you won't regret adding Nagaland to your itinerary.