Koror by far the largest city in the small nation of Palau with a population of 11 000, and the place you most likely will be staying if you are visiting Palau, the tiny country in Micronesia.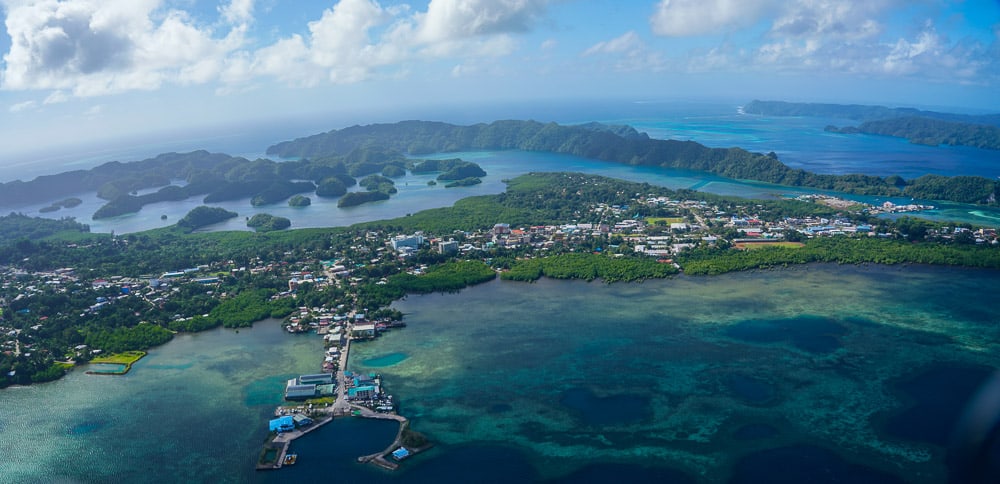 Koror was the capital of Palau until it was changed to Melekeok in 2006, Melekeok is now the smallest capital in the world, with a population of just 250.
While almost every tourist visiting Palau is here to Scuba dive or to Snorkle around some of the world´s most pristine waters, so can also non-scuba divers keep themself busy for a few days here.
But there are not a ton of things to do in Koror itself, but there's are enough to keep the average tourist busy for a day or two, and even a week if you do day trips with one of the many local tour companies offering trips to sites like the Jellyfish lake, The Rock Islands or travel all the way to Kayengel the most northern part of Palau.
But it´s highly recommended to rent a car or to do a day trip with one of the many local travel companies which are operating out of Koror.
When talking about Koror so de people open to refer to the whole area which includes Koror island, Malakal Island and Meyungs all which are different islands and towns but often referred to as just Koror, especially by tourists.
But Malakal island is were the local ferries in Palau departure from and Meyungs which is the second-largest city in Palau and home to most of the top-end resorts in Palau.
But now all three of the islands have almost "grown" together and therefore are difficult for the average tourist to tell when you are leaving on of them and entering the next one.
Luckily so is the area small enough, so it´s easy enough to walk and explore all the three islands in just one day. But be aware, the sun is strong.
Top 10 Things To Do In Koror.
Visit The Two Museum´s In Koror
Belau National Museum
The National Museum of Palau and the oldest museum in Micronesia offers both an open-air and indoor exhibition.
A very educational Museum which tells the story about the history of Palau and Micronesia with a lot of historical artefacts, traditional canoes, houses and old weapons used during the bloody battle of Peleliu during WW2
The Belau National Museum has about 4,500 objects on display, showing everything from anthropology, local art, the history of Palau and Micronesian and natural history of the whole region of the south pacific ocean.
Etpison Museum
This small museum located only a small walk from Koror centre also displays the history of Palau but also telling the story on foreign influence in the region.
Displaying traditional stone money, the famous 1st childbirth ceremony in Micronesia, traditional canoes, wood carvings and fish traps,
rare seashells, locally carved storyboards, relics from WW2.
The Etpison is the places to go in Koror if you want information about all endemic birds of Palau.
This small nation is a very popular destination for Birdwatching.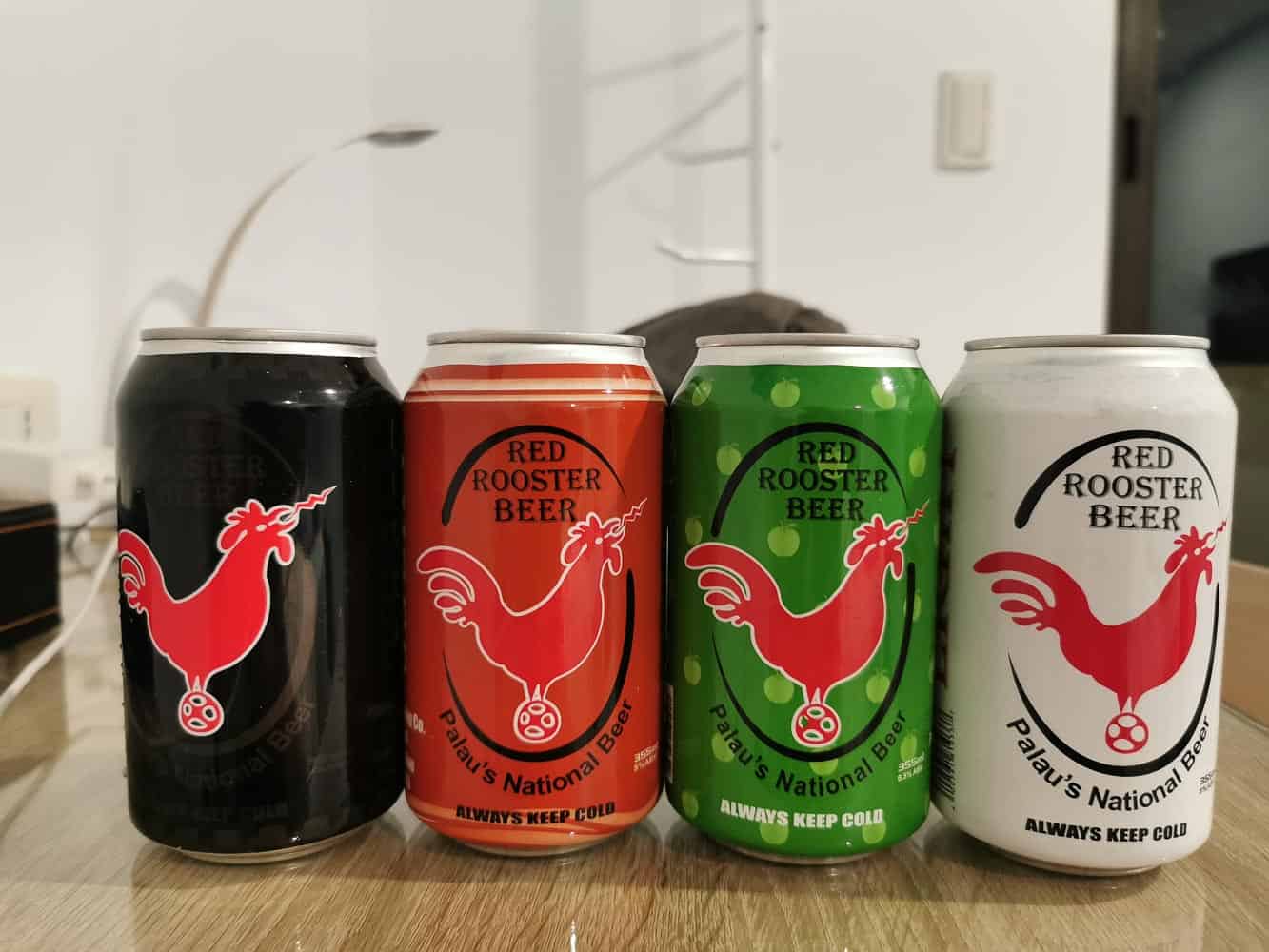 For Beer lovers so is it easy to try all the local beers brewed in Palau since it´s only one brewery in the country, the Red Rooster, Palau´s National Beer.
While about every local shop and supermarket sells the local beer on cans, so will you have to visit either the Canoe House or the Red Rooster Cafe if you want to try one of the seasonal beers which only sold on tap.
The Rock Island in Palau is one of the most beautiful natural sites in the world and where most activities in Palau are located, from some of the most pristine waters in the world, visit a one of a kind lake where you can swim with millions of harmless jellyfish, or what about taking a mudbath at the Milkyway or just relax on a paradise beach.
But be aware that visiting the Rock Islands are not possible to do without booking a day tour with a local travel agency.
You can also do longer day trips to the remote atolls in the far north, the Kayangel or a day trip to Peleliu island where one of the bloodiest battles in WW2 happened, the island is still full of old relics from the war.
Rent A Car And Explore Palau On Your Own.
Since there´s not too much to do in Koror, and you can explore the rest of the main island in Palau in just 1 day if you have your own vehicle.
There are a few car rentals dotted around Koror and Malakal, where you can rent everything from small sedans for just 35 USD a day, to Ford Mustang Cabriolets for 220 USD a day.
No matter which car you get, so can you drive around the whole country in less than 4 hours, and best of all, there´s almost no traffic, and the roads in Palau are excellent.
Go Souvenir Shopping at the Palau Prisoner Shop
Just behind the main street in Koror, a are shop which allows good-behaviour inmates at the Koror Jail, to carve out traditional wooden storyboards featuring local Palauan legends and sell them to foreign tourists.
While the art is not in any way cheap, so do it encourage the prison inmates to behave well since they get the money from the sell.
This is probably the most authentic souvenir you can get in Palau.
Visit The Aquarium, The Palau International Coral Reef Center.
A small aquarium in the centre of Koror, which is more about education both the locals and tourists about the marine life in Palau.
The aquarium has an open-air habitat exhibition and a single room of different aquariums showcasing the local aquatic life.
The whole places if full of displays with information about the local species found in the waters around Palau.
The aquarium has a recreation of a mangrove swamp, made exactly like in the country, a seagrass aquarium; an inner reef aquarium; and an exhibition of corals in Palau.
And the last exhibition showing the jellyfish, and deep-water aquariums and a couple of local salt-water crocodiles. Yes, there are saltwater crocodiles in Palau.
Visit The Night Market
Twice a month on every other Friday is there a local night market in Koror along the main street, filled with food stalls, where local artist from all over the country come to sell their local handcraft and art, locals also normally put on a dance show where you can join, this is a perfect place to share a beer with locals.
One of the best things you can do in Koror and Palau is to book a scenic flight, a 45min trip with a small flight over Koror and the Rock Islands.
This is the only way you can get to see how beautiful Palau are from a bird's eye view; the flight will flight on low altitude over both Koror and the Rock Island with an open door, it might not be for everyone, especially if you are afraid of flight or heights.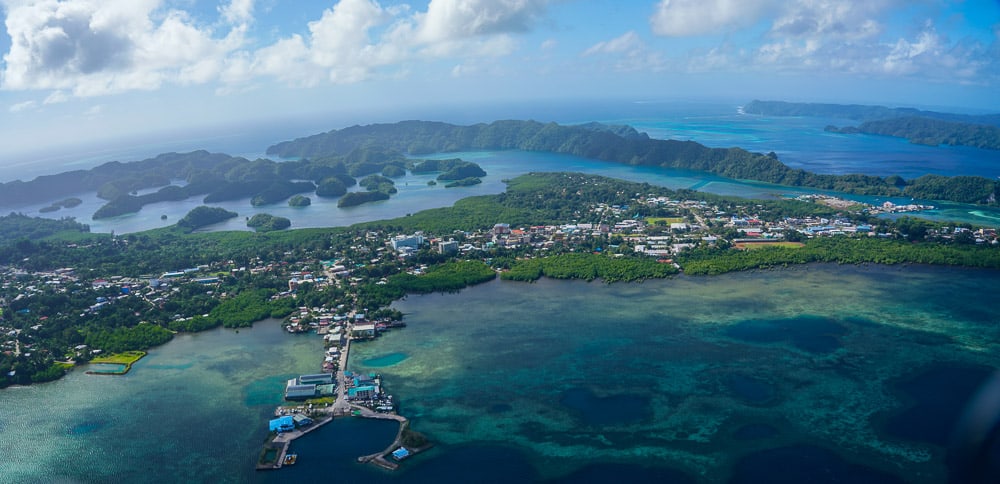 But still, it´s an awesome experience and well with the price.
Relax On The Only Public Beach In Koror
To most peoples surprise so do Palau lack free public beaches, you are in the pacific ocean after all.
Almost all beaches in Palau are either located on private land where you will have to pay an entrance fee to use, or at an expensive resort, but there is one exception, the small beach by the Rip Tide Beach Bar & Grill on the southern part of Malakal.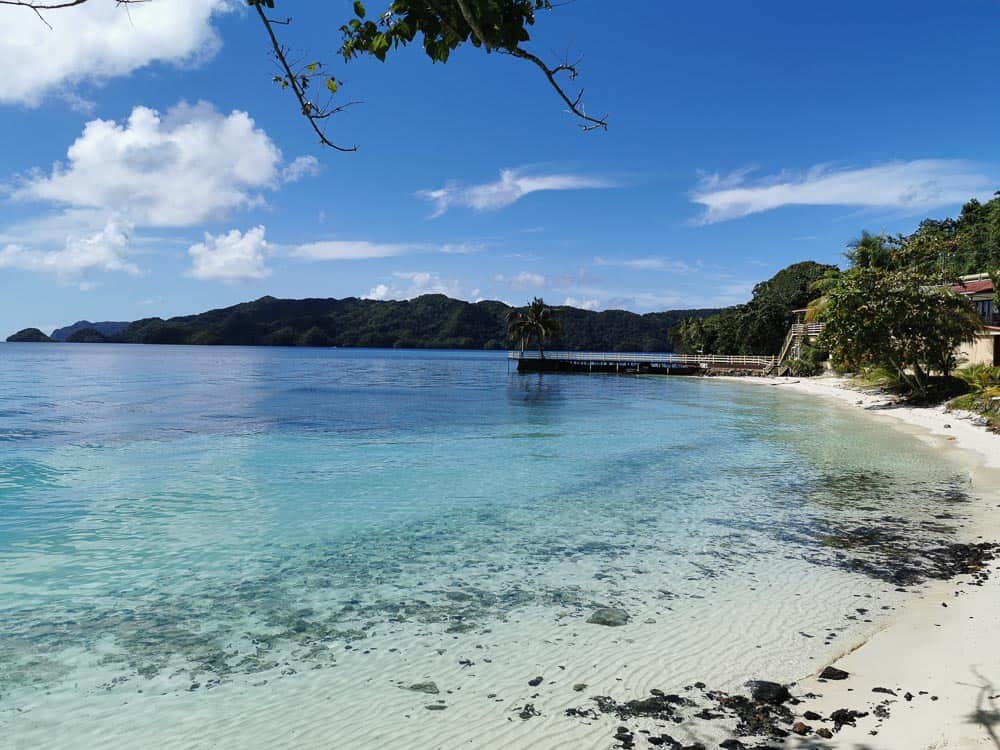 It´s a pretty small beach, but the water here is crystal clear, and the snorkelling just of the shore is not to bad, and if you want something to eat or drink so do the Rip Tide Beach Bar & Grill serve snacks and food, plus beer on tap.
On the other hand, if you want to relax by a swimming pool, so can you use the swimming pool at the Drop Off Bar and Grill as long as you have some food or drinks there.
Visit The Dolphins Pacific Center.
Love it or hate it.
The Palau Dolphins Pacific is the world's largest dolphin research facility which offers environmental education for everyone that wants to visit, but on the other hand, so are the Dolphins also captured and hold looked swimming pools.
Here you can learn everything you need to know about dolphins and swim and interact with them, but it depends on your conscience if you want to visit this place or not.
However, it´s a popular place to visit for families with kids, especially for those not scuba diving, and it´s also the most fun activity do in Palau if you are here with your young kids.
I personally didn't visit, but most other tourists I meet during my visit to Palau did visit it and the one with young kids, loved it.
Where To Stay In Koror?
Where you stay in Koror is not really important since you can walk to about anywhere in less than 10min, and since all dive shops, travel companies offer free pick up and drop off if you book trips with them, and even almost all restaurants will pick you up from your hotel and drive you back to your hotel after your dinner for free.

There are only about 20 hotels in Palau offering booking online, and the cheapest options often get booked out early, so once you start planning your trip to Palau, should booking your accommodation be one of the first things that you should do.
There are a few cheaper accommodation options for 60 USD a night, but most hotels charges 130 USD+ a night, so Palau are far from a budget-friendly destination.
I did stay most of my trip at the Palau Hotel which I can highly recommend, it´s one of the newest hotels in the country, has a super friendly staff and breakfast included in the price.
How To Get Around Koror?
As already mentioned so are Koror small enough to explore by foot, and even walking from Koror itself down to Malakal only takes 20/25min, but there´s not much shade along the way.
There are a few taxis around, but they often don´t have a sign, so you often have to get your hotel to call them in advance, a ride from central Koror down to Malakal cost 7/8 USD.
There´s a shuttle BBI bus running everyday day from around 17.15 to 22.3 the shuttle starts from the Palau Pacific Resort on Meyungs to the Palau Royal Resort on Malakal, and the entire stretch of the main street through Koror.
The Ticket price is 8 USD and is valid for 1 week.
Where To Go Shopping in Koror?
You should bring everything you need to Palau since there´s not much to be bought here, while there are a few shops around the main street in Koror, so don´t expect much.
But if you did forget something, so are the second floor on both "shopping malls" the place to go.
The WCTC shopping mall is the biggest one, with a few different shops on the second floor, including a large convince store with a liquor store inside on the first floor.
Best Place To Go For Coffe And Drinks In Koror?
While about every hotel serves free coffee all day to their guest, but if you want to go out for coffee so are Coffee Berry Cafe the most popular place in town, this is the places both locals and ex-pats come to work on their computers.
The Coffee Berry cafe has also been used in a popular Japanese tv show, so expect a lot of Japanese tourists to come here to take a selfie.
But my personal coffee favourite in Koror is the small coffee shop inside the Rur Gift Shop.
Money In Koror and Palau.
Every shop and hotel in Koror accept credit card payment with VISA and Mastercard and be aware that almost nowhere in Koror and Palau accept American Express.
If you want to withdraw money there´s one ATM inside the WCTC Shopping Mall; there are also two banks about 1 km west of WCTC with ATM´S.