Although to many, it may not seem possible, you can definitely travel around LA on a budget, especially if you get around to doing everything in 1 day!
This 1 Day in Los Angeles itinerary will take you through all the main sites in Downtown LA, Hollywood, and Beverly Hills while also saving you money.
Everything on this itinerary is completely free to visit, and the only expenses will be for some cheap meals along the way, a few parking meters, and a car rental for one day.
How to Get Around Los Angeles
Unfortunately for us budget travellers, the USA is incredibly lacking in good public transportation, and LA is no different. (This is a huge reason why living abroad is the best!)
There are buses that can get you around, but the timetables are unreliable, and you definitely won't be able to see everything in 1 day.
Even if you are on a budget, renting a car is still the best option when travelling in Los Angeles and the rest of California, and especially if you want to visit more places in the golden state, like San Fransico, which is located about 6 hours north of Los Angeles, making it a bit too far as a day trip destination but perfect as a weekend destination from Los Angeles.
You will be able to see more in 1 day and get to places that aren't accessible by public transport anyway.
What to Wear in Los Angeles
Since you are trying to stick to a budget, there will be a lot of walking in this itinerary!
Make sure to wear good walking shoes and maybe consider bringing a change of hiking clothes to keep in the car.
LA is quite hot as well during the day but can cool down a lot at night.
The best part about renting a car is that you can bring an extra jacket and just leave it in the car if you don't end up needing it.
Where to Stay in Los Angeles
Although this itinerary covers Downtown LA, Hollywood, and Beverly Hills, you can save money by staying outside of the city instead.
You can even stay at one of the many beautiful beaches near LA so that you can get a taste of the California coast while on your trip while also getting a break from the chaos of the city.
Venice Beach is a great budget option, while Santa Cruz, Malibu, and Santa Barbara would be more expensive.
Top Places To Visit In Los Angeles
Downtown Los Angeles
The first stop is Downtown Los Angeles, where you get a bit of a New York feels among the skyscrapers. You can park for around $4-$6 per hour. Planning a trip to Los Angels and want to make a bucket list for your trip?
You can pay with your change or a credit card at the meter and then walk to the rest of the areas in Downtown LA from that parking spot. You should pay for around 2 hours, especially if you love bookstores!
The Last Bookstore
Even if you aren't big into reading, The Last Bookstore is a perfect stop for a budget trip to LA. It's free to enter, and it is the largest used and new bookstore in all of California.
They have over 250,000 new and used books on two floors, but there is more to see than just books at this bookstore.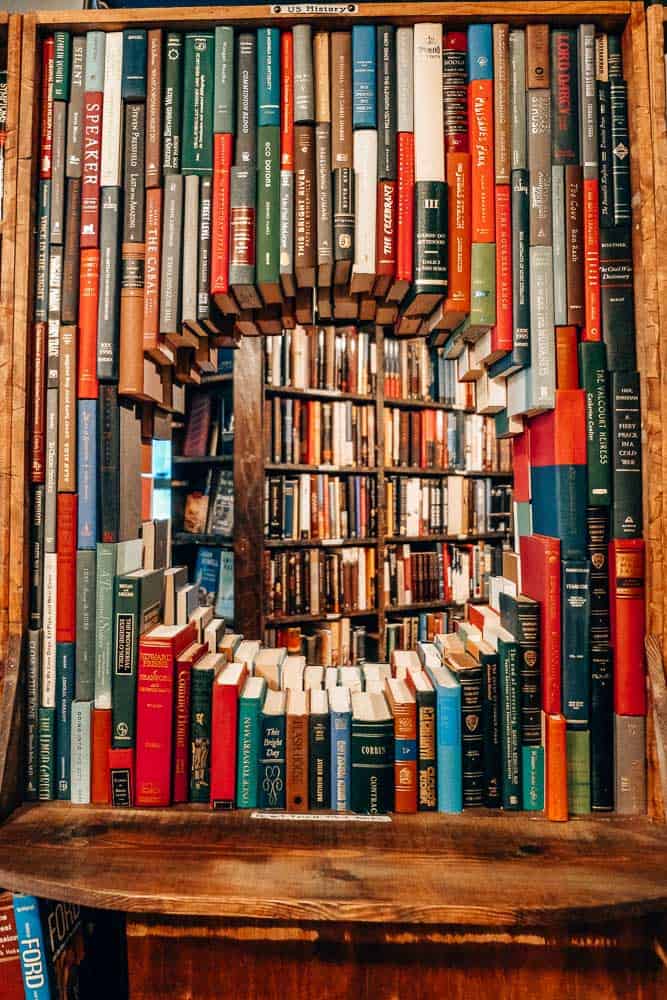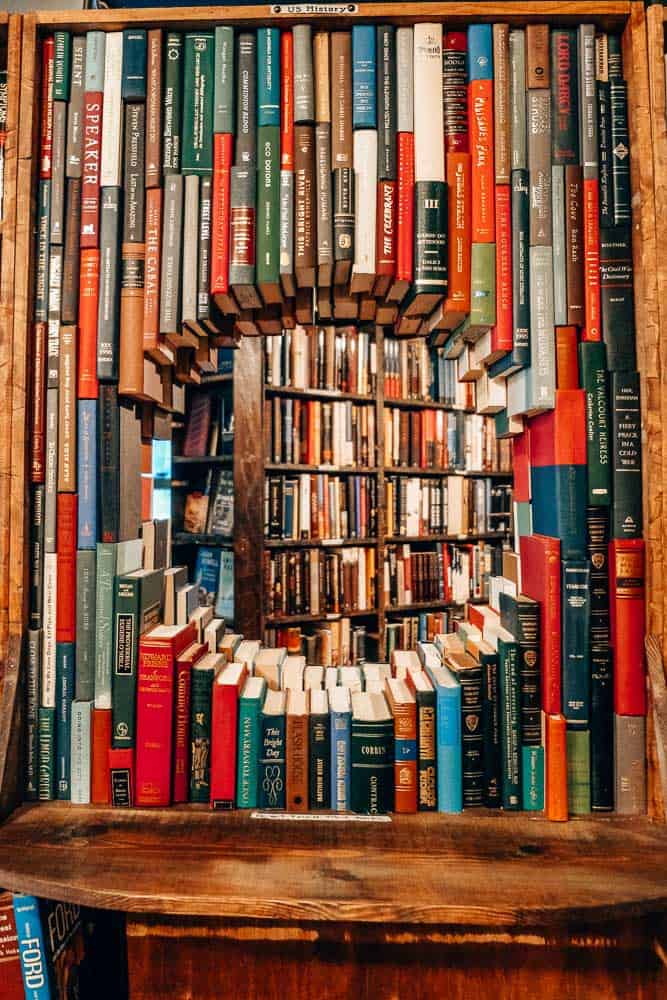 Throughout the store, they have art galleries, vintage stores, and a huge section of vinyl records.
On the second floor, you'll find themed rooms like "The Danger Room", where you'll find crime novels as well as a tunnel made out of books!
You will most likely recognize the Instagram-famous shot in the back of the second floor, where you can pose in a circle frame made out of books.
There are also books in every genre, and you can spend hours there just scanning book titles. You can find used travel books and memoirs for around $5.
They also have a huge array of foreign language books and language learning books that would be a perfect gift for a friend learning a language or for you to start learning!
The Fashion District
After the bookstore, it's just a 17-minute walk to the best bargain section of The Fashion District: The Santee Alley.
There are hundreds of vendors, and the whole alley is focused on bargain shopping.
However, if you aren't much into shopping and the walk seems a bit far, you can head back to your car from The Last Bookstore and drive around The Fashion District instead.
Try Some Of The Best Donuts In Los Angeles
Southern California is home to some of the best donuts in the world, so naturally, LA is going to have some amazing hole-in-the-wall donut places.
Plus, donuts are the perfect budget breakfast for just a dollar or so per donut.
The best place to get authentic donuts in LA is California Donuts, which is conveniently right on the way to the next stop!
In case you decide to hunt down some more of the best donuts in Los Angeles, here are a few to get you started:
Primo's Donuts
SKS Donut & Croissant
Randy's Donuts
Walk The Hollywood Walk of Fame
A trip to LA wouldn't be complete without Hollywood. However, you should definitely manage your expectations for the Hollywood Walk of Fame.
Most California locals will warn you that the Walk of Fame isn't what you've seen in the movies.
Of course, it is exciting to see a star or two with a celebrity's name that you like, but the excitement wears off quickly.
There are quite a few homeless people on this street, so consider bringing money to give to those in need.
Here are some names to look out for a while walking the Walk of Fame:
Paul McCartney & The Beatles
Marilyn Monroe
Walt Disney
Snoop Dogg
Simon Cowell
Mark Hamill
There's definitely lots of names that you will recognize and spot along the way!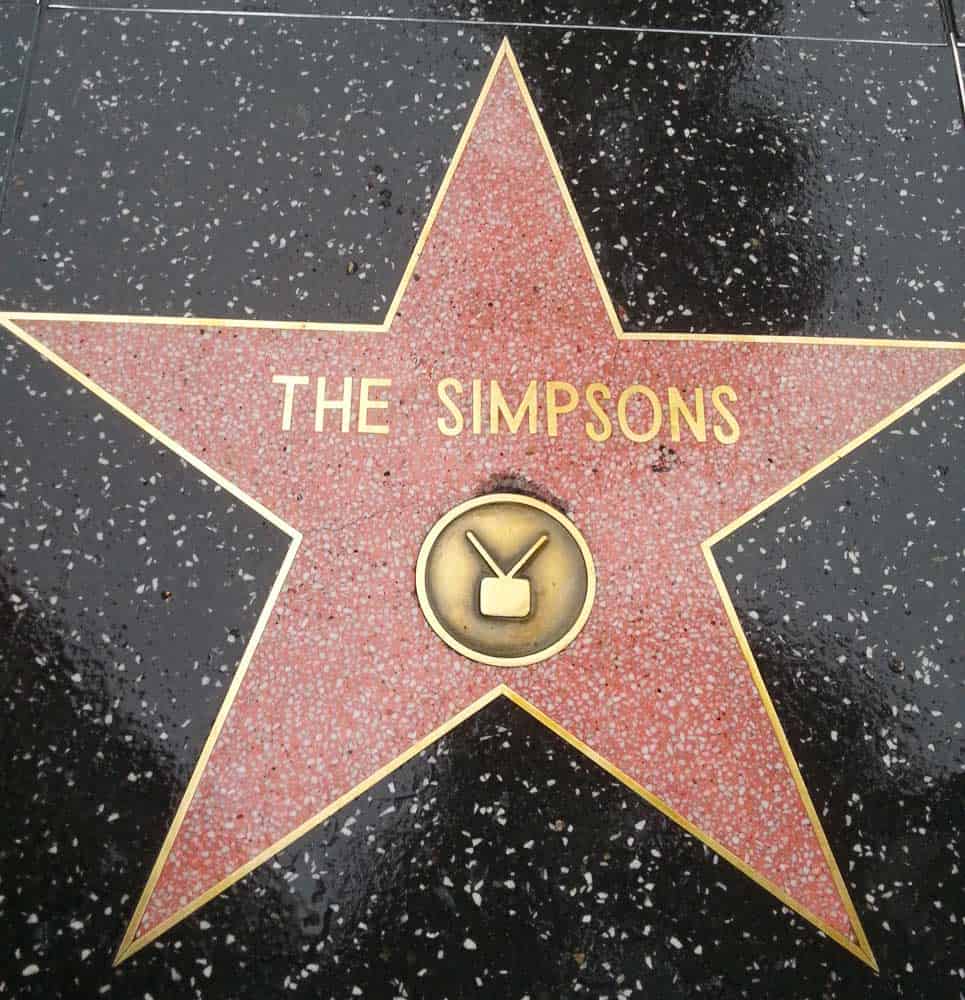 The main part of The Hollywood Walk Of Fame is 2.1km / 1,3miles long and runs east to west on Hollywood Boulevard, from Gower Street to the Hollywood and La Brea Gateway at La Brea Avenue, and by April 2021, so there 2964 different stars on the Hollywood Walk Of Fame in Los Angeles.
Dolby Theatre
Since we are on a budget, walking is the way to go! The stars go all the way to the Dolby Theatre, where you'll find all kinds of wacky characters in costumes like Elmo and Spiderman.
The Dolby Theatre is free to enter and also has a view of the Hollywood Sign.
Hike to the Hollywood Sign
Depending on where you are staying and how you like to travel, you can choose to do the Hollywood Sign hike first thing in the morning instead of in the afternoon.
The morning will likely be less crowded. However, the afternoon may have better views and lighting.
Or you can choose not to hike to the Sign at all and just snap a few pictures from the viewpoint on Beechwood Drive!
There are two main ways to hike to the Hollywood Sign, by Beechwood Drive or by Canyon Drive.
The first option is much shorter, at about 3.3 miles total. However, that entrance is technically closed to the public.
The residents of Beechwood Drive took it upon themselves to close it, so it is quite controversial, and most believe it should be reopened.
If you choose to go this route, you will pass by signs that say that Beechwood Drive is private and only for people who live there.
Apparently, the people who live on that street are pretty tired of so many people parking on their street and put those street signs up themselves.
You will have to park along the narrow street and go around the gate, which is very easy to do.
The main problem with this route is that you may be risking a ticket if a resident were to call the police.
If you don't want to do the hike but just get a closer look at the sign, you can drive up Beechwood Drive and park for just a few minutes and take pictures at the viewpoint.
There is an incredible view of Downtown LA as well as Griffith Observatory.
If you'd like to go the second route, you should follow these instructions. The hike will be twice as long at about 6 miles, and it will take about 2-3 hours.
Griffith Observatory
Just a short drive from the Hollywood Sign is Griffith Observatory. This iconic spot has been featured in tons of films such as LaLaLand, Rebel Without a Cause, Charlie's Angels, and Yes Man.
In order to get up to the observatory, you can either park at Griffith park for free and hike up to the observatory, or you can pay $10 per hour to park closer.
If you are tired from all the walking but still want to stick to your budget, you can drive slowly past the observatory and get a lot of the views without having to park at all!
From the Observatory, you have some of the best views of the Hollywood Sign as well as more amazing views of Downtown LA/Los Angeles below.
Try Some Of The Best Tacos in Los Angeles for Lunch
Whenever you start to get hungry (which you definitely will be after all that walking!), the best cheap lunch in LA is definitely tacos.
Here are a few affordable taco places in between Griffith Observatory and Beverly Hills that have raving reviews:
Los Tacos
Pinches Tacos
Tacos Galivan
Leo's Taco Truck
Beverly Hills
The good thing about Beverly Hills is that there isn't too much walking involved in order to see the rest of these sites! You can rest for a bit and enjoy the views from your car while hopping out here and there for a picture.
Los Angeles County Museum of Art
The first stop in Beverly Hills is the Los Angeles County Museum of Art. You can choose to go inside if you want, although the ticket prices are definitely not budget-friendly at $25 per adult.
The main reason this made the list is because of the beautiful "Urban Lights" exhibit that was featured in "No Strings Attached" and "Valentine's Day." It has 202 lamp posts that are all from the 1920s or 1930s that were refurbished by the artist.
They light up at sunset, but they are also stunning during the daytime. There are also a few other exhibits on the grounds of the museum that you can visit for free.
Rodeo Drive
Not far from the museum is Rodeo Drive (which you absolutely must drive down while listening to "Old Town Road").
Of course, as this is a budget-friendly itinerary, there won't be much shopping to do on this street.
You can choose to either drive down the street or pay for parking and visit some of the luxury stores like Louis Vuitton and Saint Laurent.
They are so beautifully decorated that they are almost museums as well, and they are completely free to enter!
Beverly Hills Sign
Don't miss the Beverly Hills Sign and fountain just off the main road and very close to Rodeo Drive.
Hop out for a selfie, or just grab a picture as you drive by!
Visit Celebrity Homes in Beverly Hills
The last thing on this itinerary (if you managed to get it all done in one day!) is to hit up some celebrity homes.
Instead of paying for an expensive tour like you see on TV, you can Google the most famous addresses in the area and find them yourself!
From Madonna to Hugh Hefner, you can get a peek into the life of the extremely wealthy as a perfect end to our "budget" trip to LA.
Keep your eyes peeled for helicopter pads!
Although this is meant to be a 1 Day in LA Itinerary, don't feel bad if you don't get to everything in 1 day!
Pick and choose the activities that interest you the most, and just skip the rest or save it for another day/trip!

Bio: Dayna Brockbank is a budget-crazy travel blogger at Happily Ever Travels.
She has lived in 8 countries, has gotten lost in every single one, and somehow still has miraculously never broken a bone even after scootering around Southeast Asia for 2 years.

She speaks 3 languages and is a bit obsessed with Duolingo.
Facebook Instagram