Have you ever thought about traveling to Madeira?
A beautiful Portuguese archipelago located out in the North Atlantic Ocean, about 1000 km/620 miles from the coast of so southwestern Europe and around 520 km/323 miles, west of Morroco in Africa.
Madeira consists of two inhabited islands: The largest one being the Madeira Island and a slightly smaller Porto Santo, which only a short 15min flight away.
As they are connected with a daily operating ferry, you can explore both during one trip.
Here are some of the best idea on what to do on Madeira and tips for planning your trip.
Top Things To Do In Madeira
When planning your trip to Madeira Islands, make sure it is at least 10 days long.
Although it is a relatively small island, there are so many places to see and hikes to explore that one week is not enough.
Here are some great ideas on the best things to do in Madeira & Porto Santo.
If you are an active explorer, go for
Best Hikes and Viewpoints on Madeira
Madeira's vast trails network makes it a perfect hiking destination.
You will have enough options to hike along Levadas, which are water channels built to transport water from the mountains.
Many of the most well-rated hikes run through lush green forests full of huge ferns, through tunnels and under waterfalls.
The most popular among tourists hikes are probably the Levada das 25 Fontes (Rabaçal – 25 Fontes) and Levada do Caldeirão Verde. Although beautiful, they tend to be crowded.
We recommend checking out a couple of other, less popular hikes, such as Levada Fajã do Rodrigues (Fajã da Amã – Ribeira da Janela) and really take your time to enjoy their beauty.
There is an affordable app called WalkMe, which is a nice help for all hikers, showing the recommended trails, maps, exact locations, ratings, and even indicating which bus can take you there.
You can also hike in the mountains. The most popular hike is probably the PR1 – Vereda Do Pico do Areeiro (Pico do Areeiro-Pico Ruivo).
This hike is rather difficult, so if you are not as experienced, you can instead try the shorter PR 1.2 – Vereda Do Pico Ruivo (Achada do Teixeira – Pico Ruivo).
This beautiful and comfortable trail takes you straight to Pico Ruivo, which is the highest peak on Madeira Island (1,861 metres / 6,106 ft).
We would highly recommend starting all the mountain trails early in the morning because that's how you will have an amazing opportunity to observe the sun rising above a fluffy carpet made of clouds.
Seeing Madeira's sunrise on Pico Ruivo, Pico do Areeiro, or Ponta de São Lourenço will be an unforgettable experience.
Except for mountain trails and levadas, you can also hike along the coast (Vereda do Larano) or on the stunning peninsula Ponta de São Lourenço (Hike Baia d´Abra – Cais do Sardinha).
There is even an official trail through…. banana plantations called Rota da Banana (Banana Route) in a charming little town Madalena do Mar.
This hike, together with "Um Caminho para todos" (Queimadas to Pico das Pedras) and Vereda dos Balcões (PR11), are considered the safest and thus most family-friendly walks on Madeira.
Madeira Island is really a heaven for hikers, but what makes it amazing is that visitors with mobility issues also will be able to enjoy its amazing landscapes.
Many of Madeira's best viewpoints are easily reachable by car and offer stunning views without the need to hike.
There is even a company specializing in helping people on wheelchairs explore some of the hard-to-reach places.
Recommended viewpoints are Miradouro da Ponta do Rosto, Eira do Serrado, Balcões, Miradouro das Cabanas, Miradouro do Guindaste or Véu da Noiva. Cabo Girão is a particular one, because it is a glass-floor viewpoint located on a 580m high ocean cliff.
Swimming & water sports
Easily accessible, comfortable beaches on Madeira are scarce, and the ones we find are dark sand or pebble/rock.
Two lovely beaches to visit are Seixal Beach and Prainha Beach.
There are two white-sand beaches on Madeira, but those are artificial beaches made of sand imported from Africa.
Madeira is famous for its volcanic pools built by nature, but that's not the only water activity you can do. You can rent a boat, try surfing, coasteering, kayaking, diving or dolphin and whale watching tours.
You can even swim with dolphins in open ocean waters, that is, their natural habitat. Dolphins in Madeira are not kept in captivity.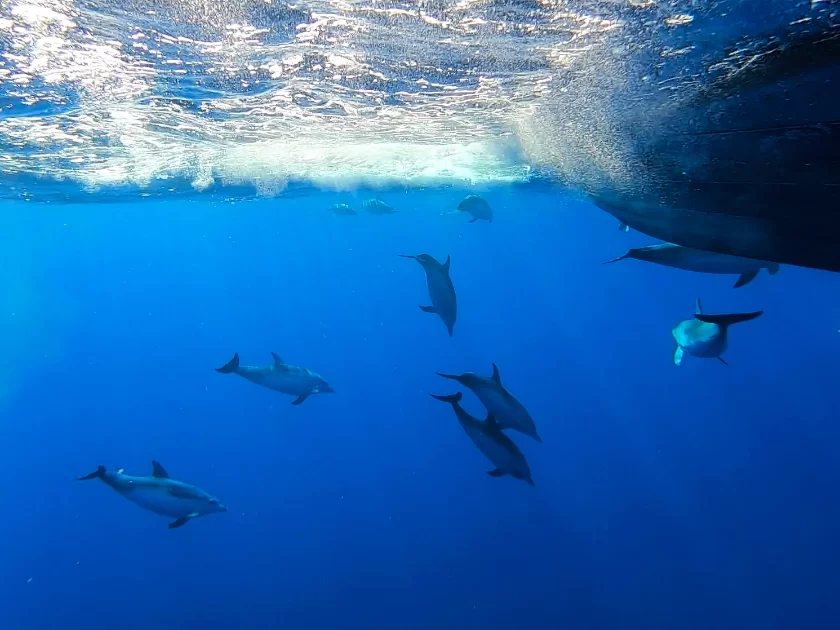 Two activities we would recommend on Porto Santo Island are cave kayak tours and rock pool snorkelling.
If you love beautiful beaches, Porto Santo Island must definitely be on your list, as it does have a stunning beach, considered by some to be one of the prettiest beaches of Europe.
If you love flowers
Madeira is also famous for its beautiful botanical gardens: the Monte Palace Tropical Gardens & Madeira Botanical Garden. You can reach both of them with a cable car.
After visiting the Monte Palace garden, some tourists decide to try out a unique Madeira attraction – wicker sleds called Monte Toboggan taking tourists down to Funchal by sliding on public roads.
And if you are really into flowers, be sure to visit Madeira in May, when the Flower Festival usually takes place.
The main highlight of this event (Called Festa da Flor) is a long, colourful and cheerful Flower Parade.
If you love city life
If you wonder what's there to explore in Madeira's cities, I would recommend you to explore its unique museums, such as Universo de Memorias, as well as its street art.
You will find street art installations and murals all over Madeira. The three towns best in these aspects are Funchal (Zona Velha – Old Town), Machico and Câmara de Lobos.
It is the fishing village called Câmara de Lobos where we will find, for example, a trash-art installation of the famous Portuguese artist Artur Bordalo – Bordalo II.
When in Funchal, take your time to explore the charming Old Town, churches and pop-up art galleries.
Maderia For Wine Lovers
Madeira is where the famous Madeira Wine is being produced. Madeira wines are rich and exotic, fortified wines ranging from dry to sweet and 18-20 percent alcohol by volume.
If you would like to know how Madeira wine is produced, learn its history and have a wine tasting – check out Blandy's Wine Lodge in the centre of Funchal.
And if you prefer regular wine above Madeira wine, do not miss the wine tasting tour at the hard-to-reach Quinta do Barbusano winery around São Vicente in the north of the island.
Madeira wines are not, however, the only popular drink on the island.
Try also traditional Poncha, which is a strong alcoholic drink made with Aguardente de Cana (distilled alcohol made from sugar cane), honey, sugar, orange/lemon juice.
Different types of Poncha are being served in Poncha bars, even a kiwi Poncha, but the traditional Poncha is made with lemons.
And if you love quirky hidden gems, there are enough of them spread all over the island.
There are some unique places you can visit, but also unique places to stay on Madeira.
Madeira's Remote Spots You Should Visit
One word – fajã. If you do not know what it means, that's probably because it is something typical for Madeira.
It means a flat land located at the bottom of a cliff, cut off on one side by the cliff, on the other by water.
They tend to be secluded, quiet, relaxed and really unique. In the past, the only way up the cliff was by hiking a rather dangerous & steep path.
Nowadays, most of those fajã's have a cable car bringing tourists up and down.
A cable ride down is a great adventure in itself.
Examples of such unique hidden gems are: Fajã dos Padres, Fajã da Rocha do Navio in Santana or Fajã da Quebrada Nova in Achadas da Cruz.
Be sure to visit and explore at least one of them!
A similar place, which does not have a cable car, is Calhau da Lapa, where you not only have a chance to swim in what is considered the clearest waters of Madeira but also… spend the night in a cave!
And since we are talking about hard to reach places and unique stays…
Unique stays on Madeira
There are also some interesting ways to stay in Madeira. Secluded cottages, cabins, cliffside tents, domes, tipis, soul glamping (as well as RV's) – all that can be easily booked on Airbnb.
Waking up to a beautiful sunrise or relaxing in complete silence at your cottage down a secluded cliff is an amazing experience. Check out this list of 10 unique Madeira stays.
Final Thoughts
When planning your Madeira itinerary, make a list of places you would like to visit, but keep it flexible.
As a mountainous island, the weather on Madeira can be rather unpredictable and can vary greatly between regions.
It is completely normal that when one part of the island is rainy and cloudy, you can swim and sunbathe on the other.
That's why you should always check the weather conditions first and then decide on your day plan.
Luckily, there is quite a number of webcams on Madeira & Porto Santo, which can help you check current weather conditions and optionally adjust your day plans.
Even if you are not planning to hike a lot, you might change your mind after arrival and seeing the beautiful landscapes of Madeira.
As levadas might be slippery, shoes are also important for your safety, so do pack a good pair of trekking shoes.
Most of all, always check the safety regulations and an up to date list of recommended hikes that are open on the official website of Visit Madeira.
How To Travel To The Maderia Islands.
Maderia is easiest reached through The Cristiano Ronaldo International Airport, yes the airport is named after him, which offer flights to most of the large cities around Europe, with almost all major European Airlines.
If there are no direct flights to the island from your home country, so is the easiest connection through Lisbon, which is only about 1,40 hour away and has more than 10 daily flights.
Bio
If you are looking for more information on Madeira Island, go to Say Yes to Madeira Blog – a great source of free information about Madeira Island & Porto Santo, in English.