Once known as Leningrad and before that Petrograd, Saint Petersburg, Russia, is the country's second-largest city. Set next to the Neva River, close to the Baltic Sea, this city is home to over 5 million people.
It's the world's northernmost city, founded by Peter the Great and named after Saint Peter the apostle. Once home to the Tsars of Russia, it is today known as the country's cultural capital.
With iconic sights such as Hermitage Museum, Nevsky Prospect, Peterhof Palace, and so much more, it has a fascinating heritage ripe for exploration.

Without further ado, let's dive into the 13 best things to do in St. Petersburg.
Top Things to do in St. Petersburg, Russia
St. Petersburg, Europe, has grown into one of the top tourist destinations on the continent. Although it might get very cold in winter, there are still plenty of things to do – and the summers are absolutely perfect! Saint Petersburg is one of the prettiest cities in all of Europe.
Keep reading for some of my favorite choices.
1. Visit The World Famous Hermitage Museum

One of the city's most popular attractions (with over 3 million items in its esteemed collection), State Hermitage Museum showcases everything from fine art to ancient artifacts.
Even if you don't plan on entering inside, the exterior is an architectural gem in itself. The columns are all in white with green/gold facades that can be viewed from the river or Palace Square.
If you're visiting St. Petersburg, Russia, your trip would not be complete without stopping past this world-famous landmark.

It's also a great activity to do no matter what time of year you are visiting – and a perfect way to escape those cold Russian winter days.
There are six buildings in the museum complex in total. Five of which – Winter Palace, Small Hermitage, Old Hermitage, New Hermitage, and Hermitage Theatre – can be accessed by the public.
Within, you'll be treated to Egyptian collections, artifacts dating from ancient Mesopotamia, and classical Greek jewelry, pottery, and sculptures. This is any historical culture lover's dream.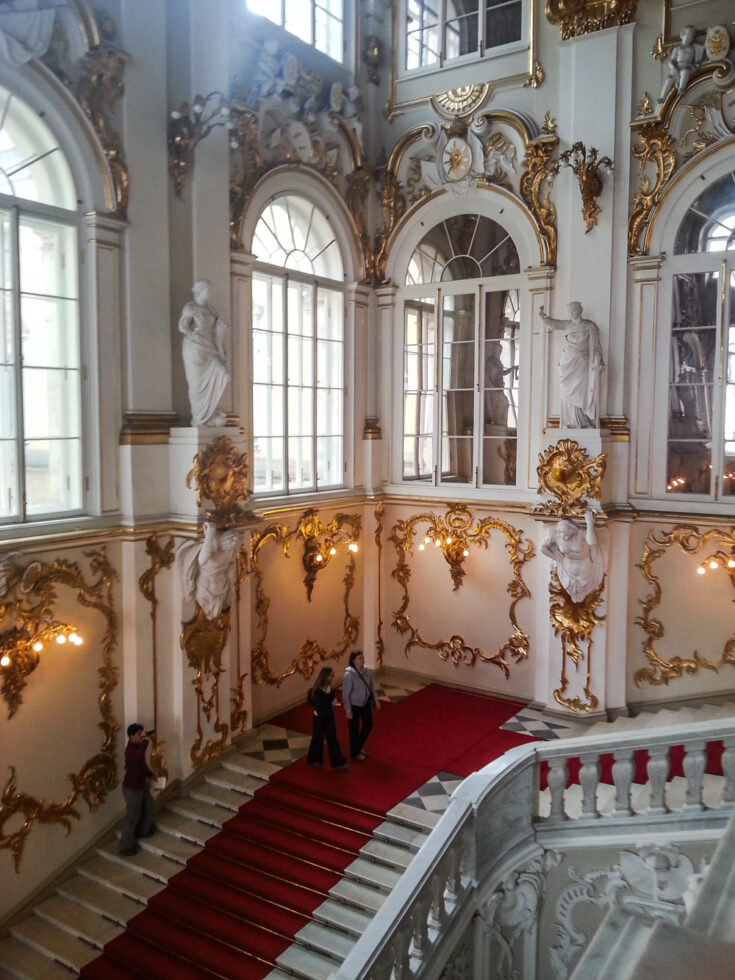 Keep exploring, and you will find collections of prehistoric relics from the Palaeolithic era to the Iron Ages, European fine arts, Impressionist works, Catherine the Great's personal collections, and so much more.
In fact, you'll need an entire day or possibly longer to explore this incredible museum complex. If you only have limited time in St. Petersburg, be sure to add this museum to your itinerary!

There are also guided tours available if you want a more educational experience.
Did you know? The Hermitage Museum is the world's second-largest art museum.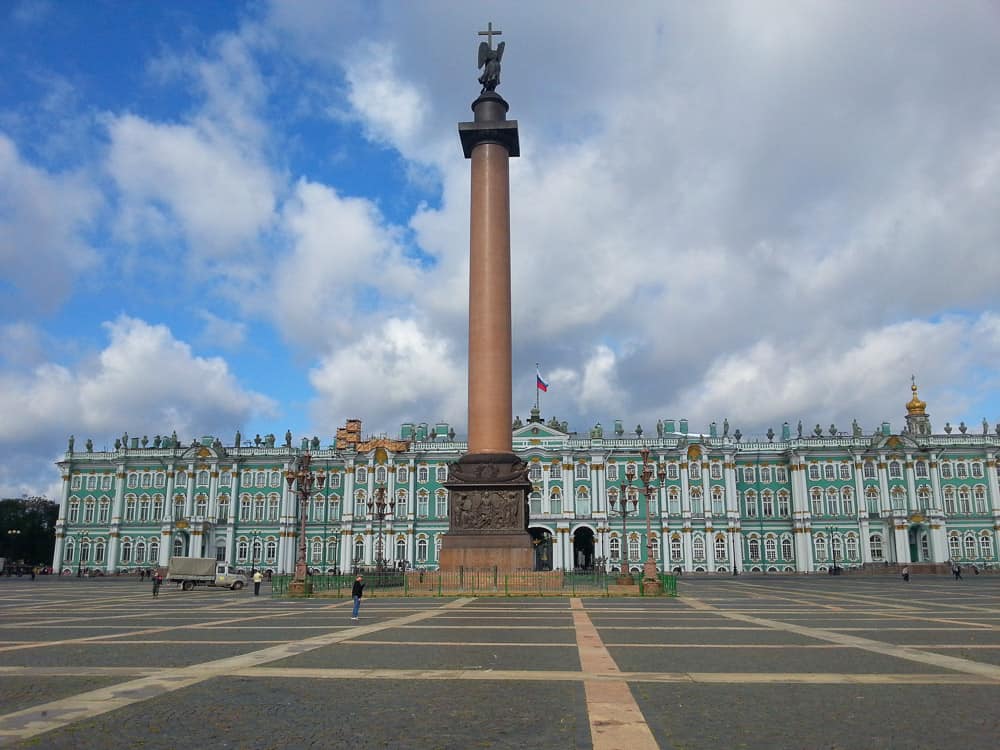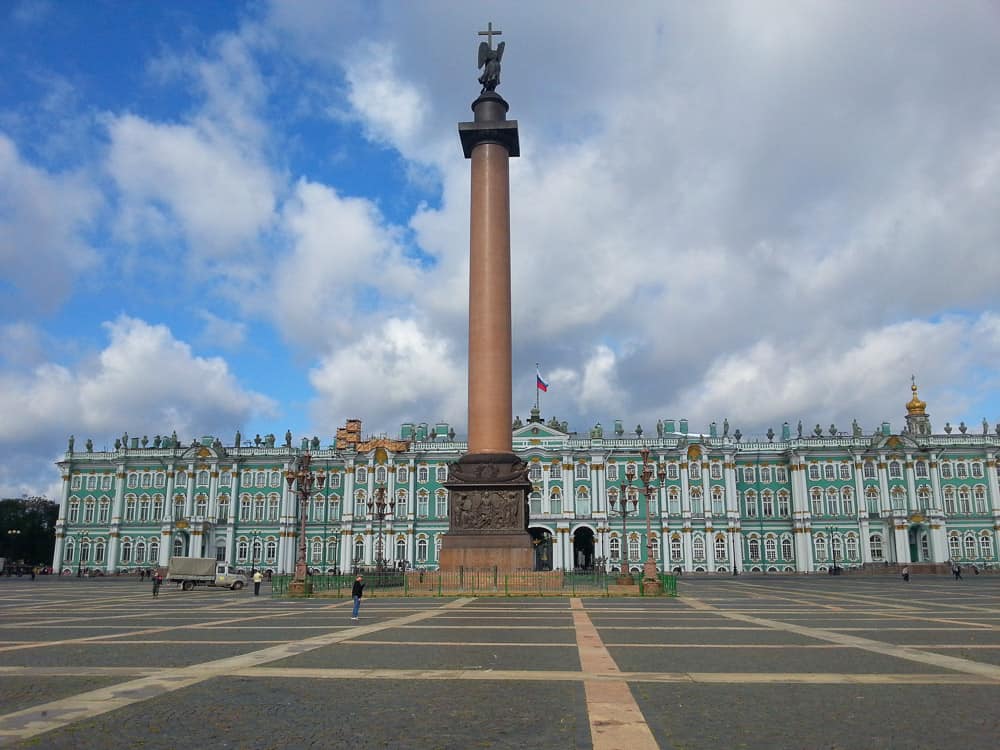 2. Take in a Performance at Mariinsky Theatre
The Neoclassical Mariinsky Theatre is home to Russia's revered opera and ballet companies.
The theatre – named after the wife of Tsar Alexandra II, Empress Maria Alexandrovna – has been here since 1860 when it was known as the Kirov Theatre.
This magnificent building, since it opened, has hosted stage performances and premieres from Tchaikovsky and Mussorgsky and famous ballets such as Sleeping Beauty, Swan Lake and The Nutcracker.
Today, in addition to hosting live performances, the theatre has its own record label, which focuses on releasing music by Russian composers Stravinsky, Tchaikovsky, and Rachmaninov.
If you enjoy the arts and are going to be in St. Petersburg for several days, book tickets to see a world-class performance – you won't be disappointed.
3. See Jewelled Eggs at the Faberge Museum
The House of Faberge was founded in St. Petersburg in 1842 by Gustav Faberge. Originally a jeweler, he became famous for designing jewel-encrusted eggs for the Tsars of Russia and is arguably the most famous goldsmith of the modern era.
Today, you can view these iconic collection pieces in the Faberge Museum. It showcases 4,000 items in total, including Faberge Easter eggs, jewelry, silverware, home decor, and fantasy-themed objects.
The incredible jeweled eggs are famous all over the world, and there are several museums dedicated to them.

But if you want to learn about Gustav Faberge, his family, and how it all began, this is the museum to visit.
You can purchase a ticket in person or online.
4. Spend an Hour Canal Cruising
St. Petersburg is built on 42 islands, and once upon a time (before bridges were constructed), cruising was the only way to navigate the city.
On a Golden Ring boat tour, you'll see some of St. Petersburg's iconic sights along the Kryukov Canal, including St. Nicholas Cathedral, Saint Isaac's Cathedral, and the Mariinsky theatre.
You'll dip beneath the famous colored bridges on Neva River whilst enjoying views of Peter and Paul Fortress, Vasilyevsky Island, and the Summer Garden.

This is truly one of the most breathtaking ways to take in all the beauty that St. Petersburg has to offer.
This tour also only takes around an hour, so you'll have plenty of time to revisit your favorite spots throughout the day!
5. Discover Church of the Savior on Spilled Blood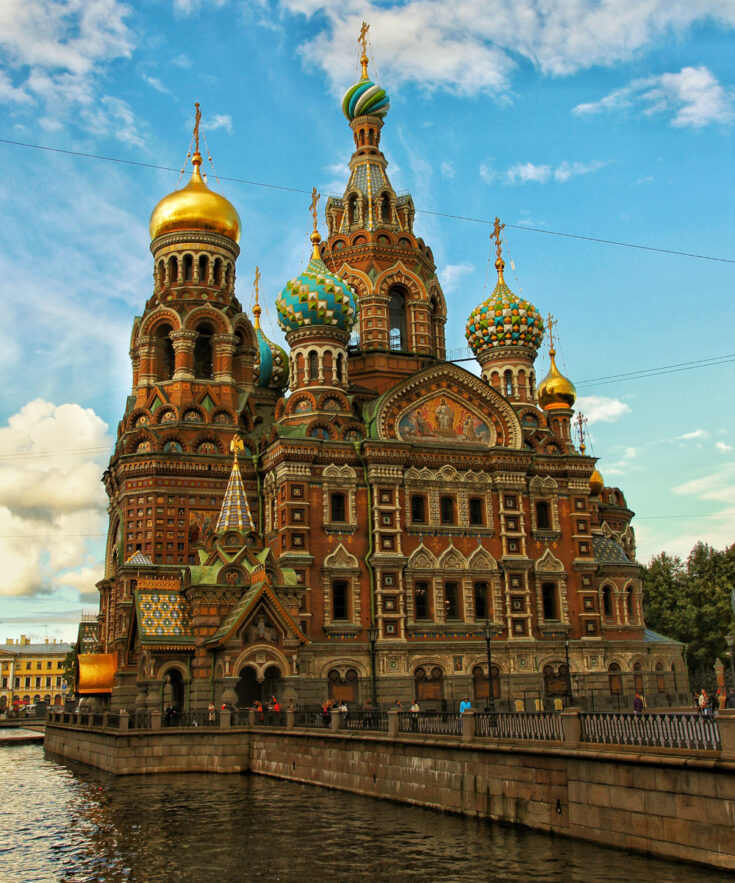 One of St. Petersburg's architectural masterpieces is the Church of Our Savior on Spilled Blood.
This former Russian Orthodox Church was completed in 1907 and is built in Baroque, Neoclassical, and Russian Revival design. It is one of the city's main attractions, with ornate domes, intricate frescoes, and 7,500 square meters of mosaics inside.
If you don't wish to enter, you can gain incredible views from Griboedov Canal. But if you do venture inside, you'll be rewarded with interior frescoes and mosaic works depicting biblical scenes and figures created by celebrated Russian artists of the time.
The Church of the Saviour of Blood is built on the spot where Emperor Alexander 2 was assassinated in 1881 – hence the name. So, not only will you be able to appreciate the fine architectural designs, but also explore an important part of Russian history.
6. Take a Rooftop Walk-in St. Petersburg
If you have viewed the city from canals and rivers, try it from the rooftops! You can take a guided rooftop walk in the city, seeing streets and skylines from an elevated perspective.
One particular tour to highlight is the Official Rooftops Excursion of St. Petersburg. Just a few minutes from Nevsky Prospect, these sites offer vistas of Fontanka River and Trinity Cathedral – and that's just the first roof.
The second roof boasts views of St. Petersburg's old center, St. Isaac's Cathedral, Kazan Cathedral, and the Church on Spilled Blood.
This is a truly incredible way to see the city in all its glory, plus the tour provides you with binoculars so you can see everything in great detail.
7. Admire Nevsky Prospect's Magnificent Architecture
The main street of St. Petersburg is Nevsky Prospect. Begin at the intersection at Stroganov Palace before venturing to Kazan Cathedral. While you walk, take in the monuments dedicated to Catherine the Great and browse goods at The Passage – Nevsky Avenue's premier department store.
This store was quite the trailblazer. It opened its doors in the late 1840s and was one of the first buildings in Russia to use gas for lighting. Then, in 1900, an electric station was installed on an underground floor.
Once you've finished shopping and enjoyed a fresh cup of coffee, continue to the Russian National Library – the oldest public library in Russia – and Alexandrinsky Theatre (which was built for the Imperial troupe of Petersburg).
8. Visit the Island of Peter and Paul Fortress
Set on an island connected by bridges, Peter and Paul Fortress is instantly recognizable from its needle spire, which dominates the skyline. The fortress was originally built to defend the maritime city from Swedish invaders.
However, Peter the Great defeated the opposition before it was even completed! It has since served as a military center and prison for political dissenters and, latterly, as a museum.
Inside the vast complex, you can see Peter and Paul Cathedral, visit the resting place of the Romanovs, and watch military processions or the firing of the noon-day gun.
It's a great day trip for anyone interested in Russian, maritime or military history. There are also plenty of group walking tours available.
9. Sample Russian Vodka in a Ryumochnye
A visit to Russia wouldn't be complete without sampling the local drink – vodka, and the best place to do this is in a Ryumochnye. This is a specific style of 19th-century Russian drinking house that not only offers some of Russia's best vodka but also a short history lesson.
You could call it a bar, but it's more than that – most mainstream Ryumochnye have a definite Soviet vibe and are places for working men to kick back and enjoy vodka with their buddies.
Beverages come in bottles or shot form, and some places offer self-service and snacks.
If that sounds too hardcore for your taste, there are updated versions of Ryumochnye in the city, like Mayak in St. Petersburg, where you can gain a similar experience.
10. Enjoy local Saint Petersburg Craft Beer
Although most people think of vodka when visiting Russia, you can also enjoy some of the best craft beer in Saint Petersburg.

Russia's second-largest city has an exciting, rapidly growing craft beer scene, in part due to its history and geography.
Historically, the Russian empire was influenced by Northern Europe, and the Dutch & English beer-drinking culture eventually made its way here.

Today, Saint Petersburg is home to a growing number of modern microbreweries, cool taprooms, and stylish bars.
Saint Petersburg is also home to Stepan Razin Brewery, the oldest brewery in Russia (now, of course, owned by Heiniken).

It opened in 1795, but today the building is known as the Saint Petersburg Beer Museum, showcasing the history of beer in Russia and the Soviet Union.
Russia's largest and most popular brewery, Baltika, is also located in Saint Petersburg, and it's possible to take a tour of their huge brewery.
11. See the Majestic Catherine Palace
A stately palace of blue and gold, Catherine's Palace is located 26 kilometers south of St. Petersburg. Named after the wife of Peter the Great, this place was originally a two-story modest building commissioned in 1717.
The exterior, which stretches for one kilometer in circumference, is surrounded by woodlands, lawns, gilded balconies, and reliefs. However, the interiors are even more impressive.
With great halls, a white dining room, an amber room, and more. It's the perfect place to step back into history and discover what life was like as a Russian aristocracy.
12. Explore Peterhof Palace
If you're going to visit Catherine Palace, you should tour Peterhof too. It's a 40-minute drive away, but you can even take a hydrofoil speed boat from right behind the Hermitage in Saint Petersburg center.
Sitting close to the Baltic Sea, Peterhof Palace was constructed by Peter the Great to be Russia's version of Versailles. The opulent residence surrounded by sculptures, fountains, and tiered staircases leading to the grand entrance evokes mystery and the history of a bygone era.
Inside it is lavishly decorated with dazzling chandeliers, one-of-a-kind artworks and beautiful ceiling frescoes.
On a guided tour, you can learn more about the palace's history. Discover the Throne Room, Portrait Hall and Peter the Great's Oak Study.

You'll see dining rooms set for dinner, grand ballrooms where dancing and gatherings would take place, and décor which defies time.
The palace offers great insight into his life and legacy, and if you are interested in history, art and interior design, you'll love it.
Want to know more about Peterhof?
13. Spend a Day by the Finnish Border at Vyborg
Just over an hour from central Saint Petersburg by train is the city of Vyborg.

It sits on the Gulf of Finland and was first settled back in the 12th century. The city has been occupied by Finnish and German forces and suffered extensive damage during the Second World War.

However, it has since been rebuilt.
It's a charming center to wander around, with narrow cobbled streets, a medieval castle, and Finnish art nouveau structures sprinkled throughout.

An easy day trip from St. Petersburg, it can also serve as a stop-off point if you're crossing into Finland to continue your adventure.
Want to know more about Saint Petersburg?
Where is St. Petersburg | Is St. Petersburg in Europe?
If you want to know "Where is Saint Petersburg?", you've come to the right place. Beautiful St. Petersburg is located in northern Russia. Russia is a massive country, so it is no surprise that many people want to know "Is Saint Petersburg in Europe?". The answer is yes.
How to Get to Saint Petersburg
The maritime city is well linked to Europe by air, sea, rail and road. Depending on where you're traveling from and the rest of your itinerary, you can use one of the following ways to arrive at St. Petersburg.
By Air
You can fly into Saint Petersburg through Pulkovo International Airport. There are around 1,100 international flights a week and 1,200 domestic flights operating in and out of the local airport.
Although many flights from European cities to Saint Petersburg are direct, you may have to change flights if flying from further afield.
By Train
It's also possible to travel to St. Petersburg by train. The most popular (and most frequent) routes operate from Moscow, Helsinki, and Tallinn. However, there are options to travel from other areas in central Europe, central Asia, and eastern Europe by rail.
By Bus
There is a central bus station in Saint Petersburg, with services to and from Moscow, Pskov, Novgorod, Vilnius, Riga, Tallinn and Helsinki. Some of these journeys can be long and arduous.
Therefore, thorough research and choosing the right bus company is important.
By Sea
Baltic Sea Cruises also operate to St. Petersburg as part of a larger itinerary, and St. Peter Line Ferry sails from Helsinki in Finland and Tallinn in Estonia.
Exploring Saint Petersburg, Russia
Saint Petersburg is the 5th most populous city in Europe and also a leading tourist destination. Although people sometimes forget about Russia, this city is breathtakingly beautiful and provides plenty of cultural and historical attractions.
Now that you know where to go, I hope you have an amazing time in Russia's most beautiful city.