If you're visiting Sintra, you'll find yourself truly spoiled for choice when it comes to site-seeing. The historic town is located just a short hop from the capital of Portugal, Lisbon and is dotted with landmarks and tourist sites.
You could easily spend several days touring Sintra's stately homes, castles and gardens. If you have less time, it's well worth picking out just one or two of the major sites and leaving some time to explore the town itself, as well as its more low-key attractions.
But be in mind that Sintra is famous for its mist and it often covers the whole area, making it impossible getting a clear view over the stunning landscape and castles.
With that in mind, this guide looks primarily at the wonders of the stunning and quirky Quinta da Regaleira. It also touches on some of Sintra's other delights, including a couple that may not be quite so prominent in the usual guidebooks.
Looking for something special to do in Lisbon? Here are 15 offbeat things to do in the Portuguese capital.
Looking for the best places to visit in Europe during Autumn?
The Quinta da Regaleira isn't that easy to describe, but a fair description would perhaps fall somewhere between Gothic folly and Disney castle! There's plenty to see, so it's worth allowing at least a couple of hours.
You pay €6 for standard adult entry or €10 for a guided tour.
The Quinta was a private residence for many years, changing hands three times before it was purchased by Sintra's town council in 1997. Most of the ostentatious development was completed while the property was owned by António Augusto Carvalho Monteiro, also known as "Monteiro the Millionaire."
Monteiro really went to town on the property, especially the external areas. He commissioned features built around his passions and interests and added new lakes, fountains, and even an aquarium.
It's well worth spending a significant amount of your time at the Quinta da Regaleira exploring the gardens. Some areas are largely left to their own devices, as per Monteiro's passion for primitivism.

Elsewhere, there are various structures, including ornate benches and fascinating "wells." These are, in fact, inverted towers – used for ceremonial purposes, not for gathering water.
The main Regaleira palace is a fantastic structure, and wonderfully "over the top." Inside, it's been largely preserved as a family home. Large ground floor rooms include the former billiard room (which now displays historical portraits of Portuguese kings). There's also a stunning octagonal room with tall windows letting in the sun. These rooms are quite a contrast to the smaller servants' quarters on the higher floors.
The small chapel is just metres away and is perfectly preserved, complete with plenty of symbols from the Knights Templar.
The Tunnels.
Quinta da Regaleira holds more secrets below ground, in the form of a network of tunnels. These link to various above-ground parts of the estate, including the inverted wells mentioned above and the striking "Portal of the Guardians."
The underground tunnel network is cold, spooky and atmospheric. These tunnels do get crowded, so it's worth trying to visit at a quieter time to fully experience them.
Elsewhere in Sintra.
Sintra is very much on Portugal's tourist trail, so you will inevitably find yourself traipsing from sight to sight with other visitors. It's definitely worth seeking out the smaller, more low-key attractions.
More Palaces
Quinta de Regaleira is just one of several key sights in Sintra. The striking Palácio da Pena, which is also UNESCO world heritage site could easily fit the bill as yet another Disney palace and is a similar hotchpotch of influences and design choices.
The Palácio Nacional de Sintra look almost staid in comparison to Regaleira and Pena. However, it shares the gothic feel and stands imposingly in the middle of the town.
A few miles out of town is yet another palace, the Palácio de Monserrate. It was home to Sir Francis Cook, a textile merchant and once England's richest man. Like the Quinta da Regaleira, it boasts an extensive network of gardens, which – in contrast – are laid out in an ornate and conservative way.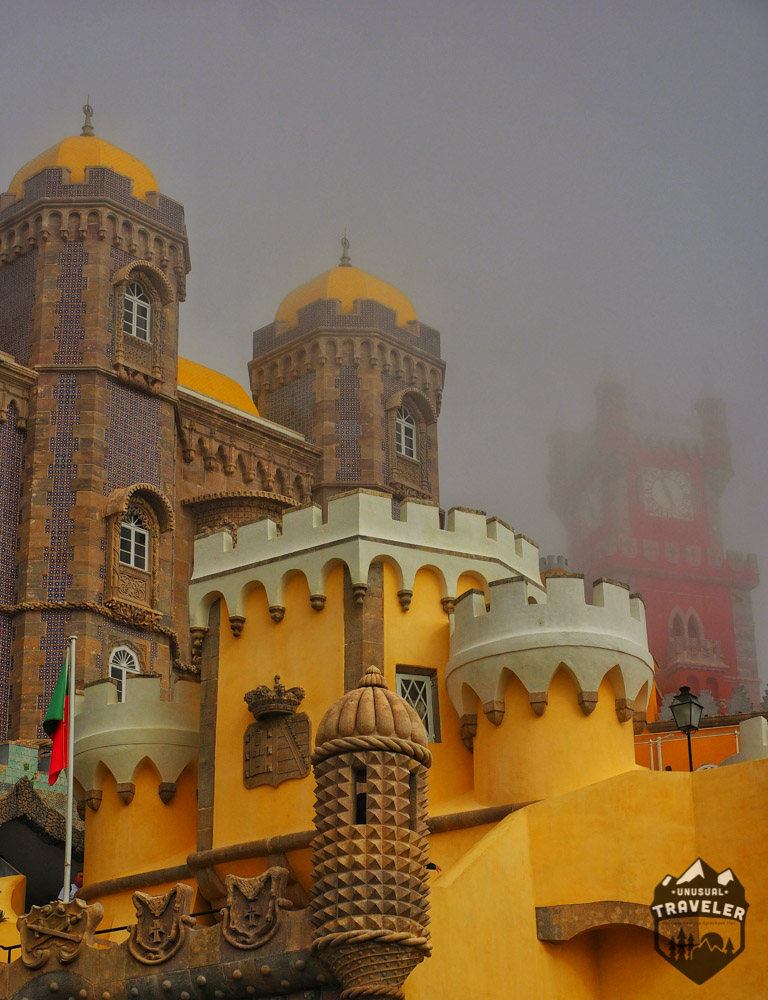 Castles and Convents
We're far from finished! The Castelo dos Mouros (Moorish Castle) overlooks all of Sintra. It actually forms part of the grounds of the Palacio de Pena but is a separate attraction (with a separate entry price). The views of the area for miles around are definitely the main attraction here.
The Convento dos Capuchos is also worth a visit – although it's a short drive away from Sintra town centre. This Franciscan monastery, built from boulders and local cork, really serves to show the simple life the monks had here. This is also very much an "off the beaten path" sight, which few visitors to Sintra get as far as.
The Sintra Toy Museum
If you find yourself overdosing on historic buildings – something that's quite possible in Sintra – a great change of pace is the town's fabulous toy museum.
With over 40,000 toys from the third century to now, it's a great place to show children how many choices they have nowadays! From ancient stone toys to "retro" boardgames from the 70s, the toy museum really illustrates how the world never stops evolving.
As stated above, Sintra really can be more than just a day-trip. Truly soaking up the atmosphere of just a couple of the sights, and perhaps viewing some more from the outside, is arguably the best way to make the most of a short visit.
Cabo da Roca the westernmost point of the European continent.
Another popular place to visit on a day trip from Lisbon which can easily be combined with Sintra is Cabo da Roca which is the westernmost point on the European continent also known as the end of the world.
From Sintra can you take bus 403 which takes around 40minutes.
Food in Sintra.
One thing you won't want to ignore is a queue for Quijada's. These traditional pastries are a local delicacy and are made with light cheese, cinnamon and egg yolks. They are a triumph of texture as well as taste, and incredibly moreish. You can get Quijada's across Portugal, but it's fair to say that the best are those you find whilst visiting Sintra.
How to Get to Sintra.
Most people heading for Sintra start their journey in Lisbon, Portugal's vibrant capital.
There are frequent train services from various Lisbon stations, the most convenient of which is a direct service from Oriente, taking just 47 minutes. Travelling by car from Lisbon is another option.
It only takes around half an hour (albeit on some rather hectic roads) but does give you the convenience of moving easily between Sinta's sites. Some of these are rather spread out, with steep hills in between.
If you are heading straight for the Quinta de Regaleira, it's a 15-minute steep uphill walk from the train station. But there´s also a hop-on-hop-off tourist bus going between all the sites in Sintra which is convenient.
Like It? Share It! Pin It!