Havana (or as the locals call it, "La Habana") is Cuba's biggest city and the capital.
Famous for all kinds of reasons, from being Ernest Hemingway's home for 21 years and a dangerous Mafia hangout. The city then imposed a total ban on tourism and now it's a tourist's dream destination – La Habana has seen and done it all.
Before we move onto my favorite things to do in Havana, I want to stress that it isn't the untouched gem a lot of travelers dream about.
The Old Town of Havana, La Habana Vieja, that many people idealize is in fact very touristy.
The newer parts of the city are also experiencing a Havana tourism boom, with new international restaurants and boutique hotels opening up every week.
So if you're dreaming of visiting the Havana Hemingway knew, following in his footsteps, and finding your own little bar to read a book in while drinking ice cold Old Havana club rum, you're at least seven years too late.
Long gone are the days when the streets of Havana were filled exclusively with classic American cars, known in Cuba as "Yank Tanks".
These days you will see many new Asian vehicles on the roads. But just because the Cuban capital has lost some of its old-world charm doesn't mean it's not worth visiting – in fact, the opposite is true and there still remain some old Havana attractions and wondrous city gems.
Because of the boom in tourism, there are loads of incredible Havana tourist attractions.

There's plenty of reasons for visiting Cuba and this guide will shed light on what each of these attractions in the capital city entails.
12 Fun Things to Do in Havana, Cuba
If you're wondering what to do in Havana, Cuba, as a newbie to the city, fear not! Just because you've never been to Havana, doesn't mean you need to book yourself city tours and spend unnecessary money on a guide to each destination.
These activities in Havana, Cuba, can be explored on your own path, with some of them boasting an experience of the city's past.
1. Get Lost in La Habana Vieja
The charm of Havana can be found tucked away in the small back streets of the old part of the city.
This is where you will experience the romantic, local side of la Habana you've been dreaming of. Even though you can still get a sense of the original Havana here, things are changing fast.
Today, you'll find a lot of fancy shops in these streets selling imported goods, since local families are getting money from their relatives overseas and growing richer.
But despite this new shift, exploring La Habana Vieja is still one of the top things to do in Havana.

2. Discover the Local Craft Beer Scene
Havana and Cuba are more famous for their Havana club rum than their mojitos. But that could soon change. There are already two microbreweries in Havana popular with locals and visitors alike.
The quality of Cuban craft beer might not be up to Western standards just yet, but it's damn good after you've been walking around in the sun all day. Try some of the other local Cuban beers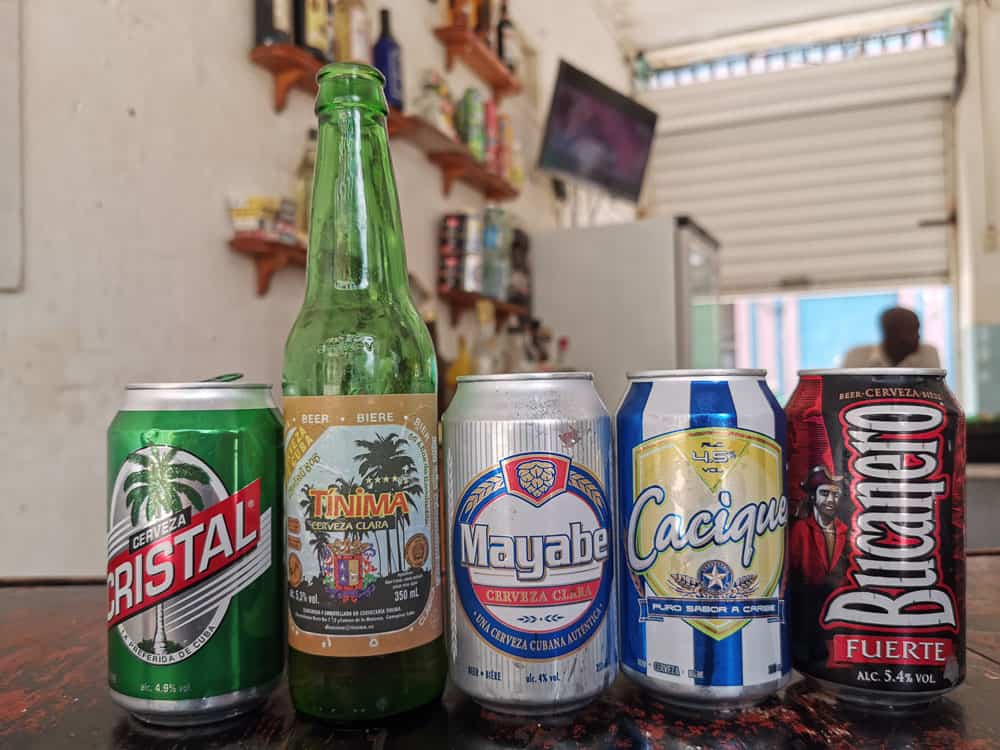 3. Go on a Havana Attractions Bus Tour
I'm not usually a big fan of the red hop-on-hop-off buses. You know, the ones designed for tourists to see the major sights in big cities around the world.
But this one is definitely worth your money and is one of the best things to do in Havana. Especially at the low price of 10 CUC.
The Havana bus tour doesn't just take you to the important landmarks in the city. It also goes to parts of the capital and Cuba attractions you would never get to see otherwise.
Sightseeing in Havana, Cuba, means you're going to be exposed to tons of direct sunlight. Just remember to put on sunblock if you decide to sit on the upper open deck – I got seriously sunburned after my trip.
4. Visit the Four Historical Squares
There are four historical squares in Old Town Havana, all with their own rich historical backgrounds.
Plaza de la Catedral
Plaza de la Catedral (Cathedral Square) is one of the most famous Havana landmarks, home to the Catedral de San Cristóbal.
The cathedral and most of the other buildings within this square date back to the 18th century.
One of the best and most romantic restaurants in Old Havana is also located right here.
Plaza Vieja
Laid in 1559, Plaza Vieja (Old Square) used to be known as New Square. It was initially used for military exercises then later served as an open-air marketplace – which is one of the main tourist attractions in la Habana.
Today, it's the most vibrant and touristy square in the city. Most of the buildings within the square host modern restaurants and coffee houses.
One of Havana's two craft beer breweries is also located here.
Plaza de San Francisco
The Plaza de San Francisco is the second oldest square in Havana, found inland just off the harbor where the big cruise ships dock.
This square is the first sight many tourists see when they arrive in Cuba. That's why the restaurants here are some of the most expensive in the country. The old stock exchange and main post office are also located here.
Plaza de Armas
Havana's oldest square, Plaza de Armas (Arms Square), was laid out in the early 1520s, soon after the city was founded.
It was first named Plaza de la Iglesia (Church Square) after a small church that stood there until 1741 before it was destroyed in an explosion.
The square got its current name in the late 16th century when the colonial governor used the square to conduct military exercises.
Most of the buildings around it date back to the late 1700s.
There's a second-hand book market daily Tuesday-Sunday where you can pick up old treasures.
You'll find tonnes of classical Cuban books which are out of print now, magazines dating back to the 1940s and '50s, and newspapers and posters from the days of the revolution.
5. Take a Trip in a Yank Tank
One of the best Havana, Cuba, tourist attractions is to take a tour around the city in an old American Cabriolet.
Havana is like a daily museum when it comes to old classical American cars.
The price for an hour-long ride varies from 15-30 CUC. Just remember to negotiate hard before you get in.
6. Visit Revolution Square
Another square, but it's not as historical (yet!) as the four squares in the Old Town. The Revolution Square is where Fidel Castro used to host political rallies.
It's also the location of the famous Che Guevara portrait and the Jose Marti Memorial.
One of the easiest ways to visit Revolution Square is to go on a Havana bus tour since it's one of Cuba's sightseeing stops.
If you want to visit more Che Guevara locations around Cuba here are some fantastic Santa Clara places worth exploring.

7. Visit Castillo de Los Tres Reyes del Morro (El Morro)
The famous landmark that guards the entrance to Havana, Castillo de Los Tres Reyes del Morro was built between 1589 and 1640 to protect the land from pirates and invaders.
The fort offers impressive views of the sea and the city. It's also home to the Maritime Museum of Cuba – one of the Havana must-sees for history buffs.
8. Follow in Ernest Hemingway's Footsteps Around Havana.
The legendary American writer Ernest Hemingway was a big drinker. It seems like he visited almost every bar in Old Havana and today, most of the bar's cash in on this bit of trivia.
Unfortunately, some of his old drinking joints have turned into tourist traps that sell extremely overpriced daiquiris.
The daiquiris at his favorite hangout, El Floridita, were probably the biggest disappointment during my trip.
There's a bar next door that sells much better daiquiris for less than half the price. Even if you're not really into Ernest Hemingway, popping into a cocktail bar is still one of the most enjoyable things to do in Cuba, Havana. Especially after a long, hot day of sightseeing!

While El Floridita is very overrated, the rooftop of the Ambos Mundos Hotel is highly recommended.
The food and drinks here are expensive but fantastic. The panoramic view is also one of the best in the city. It's easy to understand why Hemingway enjoyed this place so much.
9. Smoke a Real Cuban Cigar
I'm a non-smoker, but I even tried a few cigars in Cuba. There are some legendary cigar houses in la Habana.
And it feels like you get offered Cuban cigars from almost everyone the minute you leave the airport, making it hard to refuse.
Just be aware when locals approach you with 'authentic' Cohiba cigars. Unfortunately, 99.9% of them are fake.
Visit a proper cigar house for the real deal and let a shop expert teach you how to cut them while having a glass of Havana Club rum. It's a classic Havana tourist adventure.
10. Go Shopping at the Craft Market
If you want a souvenir of your visit to la Habana, go to Almacenes de San Jose. This open-air market boasts arts and crafts from all over the country; from paintings by local artists to handmade humidors.
You can even find Cuban cigars here for a very reasonable price. Just remember to haggle to get a good deal.
If you get tired of shopping or just tired of your partner going into all the shops, pop into one of the microbreweries next door for an ice-cold beer.
11. Watch the Sunset from the Malecón – the Most Famous Street in Havana
Wondering what to see in la Habana when the weather is superb?
Cuba's most famous street, the Malecón is an 8km seaside promenade where locals and tourists go in the evening to watch one of the most beautiful sunsets in the world.
It's one of the most pleasant things to do in the city, Cuba, and you've absolutely got to stroll along the prom.
The Malecón is a great place to go for a bit of people watching while enjoying a cocktail or cold beer from one of the small street stalls.
Unfortunately, if you're a single man hanging out here, you will be approached by persistent prostitutes.
12. Hit the Beach Outside Havana
While there are plenty of incredible things to see in Havana, Cuba, there's no beach in the city itself. But there are many beaches you can get to in less than 30 minutes on public transport.
These beaches might not be as impressive as the famous resort beaches in Cuba, but they're still a great place to spend the day if you want a break from the city.
Be aware that the beaches close to Havana aren't really designed for tourists – they're more popular with locals.
As one of the non-touristy things to do, when I visited, it wasn't long before I was invited over by a group of locals to enjoy a cold beer with them.
Extra Tips About What to Do in Cuba, Havana
Nothing can prepare you for the incredible memories you'll be making in this charming city. However, there are some important things to keep in mind before starting your adventure around Havana.
If you're arriving at Havana José Martí international airport, taxis are the only way to reach the city. A ride should cost you 20 CUC.
There are two official money exchangers at the airport which offer the same rate as the money exchangers in Havana.
There are no ATMs at the airport, so the only way you can get Cuban currency is to exchange money.
Ready For Your Havana City Adventure?
A trip to Havana exceeds expectations. When you're wondering what to see in Havana, Cuba, it's as simple as strolling around the center and letting the beauty find you.
From rooftop bars to open-aired markets, and cigar lounges to Ernest Hemingway's beloved cocktails, attractions in the city please all kinds of wanderers.
For even more advice on traveling to Cuba from someone who's actually been there, check out my Cuba Travel Tips: 19 Things You Need to Know Before You Travel to Cuba.