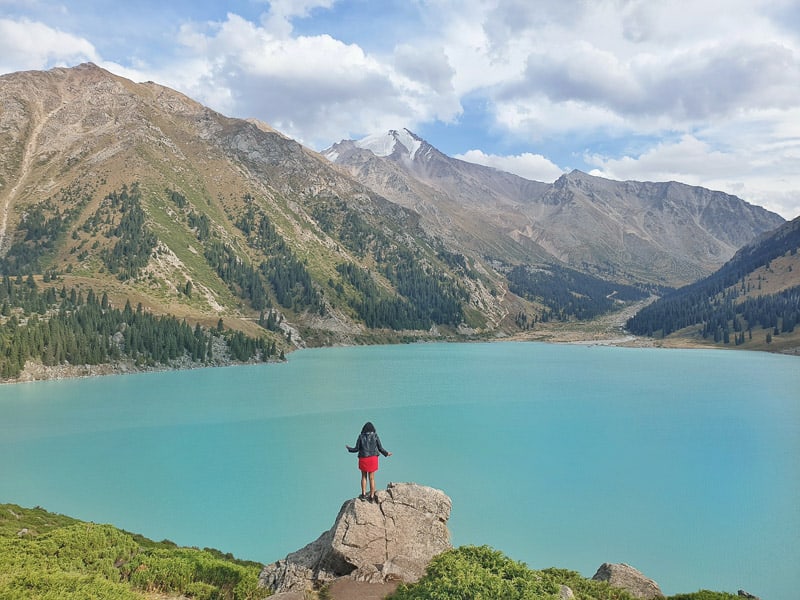 Did you know that Kazakhstan – the land of wanderers is literally just 3 hours away from India through a direct flight and 6 Hours from Central Europe.
Kazakhstan is one gorgeous country; from arid plains, endless steppes to stunning lakes, canyons and snow-capped mountains, and unique cultural experience, they have it all. For years, it has escaped our prying eyes, but with ever-improving air connectivity, easier visas – the cat is out of the bag.
Kazakhstan is the 9th largest country in the world, and yet it is untouched and falls under the off the beaten path destination. Before mass tourism hits this country in a big way, take my words, add this destination to your bucket list.
After spending almost two months in Central Asia, I can tell you Kazakhstan is definitely worth visiting.
Here are my 10 reasons why Kazakhstan should be on your travel bucket list.
The landscape in Kazakhstan is incredible.
The landscape in Kazakhstan is strikingly diverse. At one point, the humongous Tian Shan mountains will be looming over you with its snowcapped peaks glittering in the distance, and suddenly within a few hours, you will be driving through the endless desert steppe while spotting a sand dune in the middle of the Atyen Emel national park.
Only in Kazakhstan you will find such huge landscape contrasts from glacier lakes to desserts to canyons. The sheer diversity of landscapes you can encounter in Kazakhstan is simply mind-boggling.
How about Skiing right in the middle of the city?
Shymbulak Ski Resort (shymbulak.com) is a short 30-minute drive from Almaty city Centre, making it ideal for a quick ski session.
It's the most advanced ski resort in Central Asia. The ski season begins in December and runs till April. It also encompasses a Soviet-era ice skating rink just a stop away from Shymbulak. In summer, the area becomes a hiker's paradise.
Arizona in Almaty?
Kazakhstan has its own enormous canyon, and it is no less than the Grand Canyon itself. After driving for 3 hours from Almaty through endless Kazakh steppes, you will reach the Charyn Canyon.
For more than 12 million years, wind, water and sand sculpted Charyn's red sandstone to form unique shapes and shades that vary from deep orange to light brown. It's quite a sight standing on the top and looking at the canyon.
The unreal Lake Kaindy
Kaindy lake is an Instagram worthy place. It is a lake that I have never seen before; it is so strikingly unique with glass tree trunks sticking out of the water, which lends it such an ethereal and magical look. It is also one of the best places to visit in Kazakhstan.
Lake Kaindy, which lies a sunken forest which was created by an earthquake in 1911, which triggered a landslide that broke the natural dam surrounding a spruce tree forest. The water submerged the forest and formed a magical looking lake.
Explore the world's most beautiful Alpine Lakes
Kolsai Lakes is a system of three lakes (some say there exists a fourth lake too). The first lake is pretty easy to reach. The second lake requires some hours of hiking to be done. The third and fourth lake is close to the Kyrgyzstan border and currently closed as cross border hiking is not permitted.
Let's not forget the big Almaty lake. This lake, for sure, will blow your mind with its different shades of colour, ranging from blue to turquoise. Look at that colour. I have never seen anything like that.
Singing sand dunes
You might be wondering; we were talking about snowcapped mountains and glacier lakes a few minutes back, and suddenly from where sand dunes came into the picture. Exactly why I mentioned earlier, the landscapes around Kazakhstan will blow your mind; they are so diverse!
Driving around endless Kazakh steppes, out of nowhere, you suddenly spot a crescent-lined pyramid – The singing sand dunes of Altyn Emel national park. A sand mountain that rumbles but never moves.
Experience the Kazakh nomadic culture
Kazakhstan has an incredibly vibrant culture. With modernization, barely any Kazakhs live in yurts nowadays, but people do choose to migrate to the mountains in summer.
But if you travel beyond the cities, you will feel as if you have travelled back in time and see people still living the nomadic way. With the most accessible nomadic life, endless high-altitude alpine lakes to dreamy meadows filled, breathtaking 7,000-meter peaks, and huge landscape contrasts, Kazakhstan is home to some of the most beautiful scenery I've ever seen.
The nomads live in a yurt which is a movable round tent comprised of a wooden frame covered over with animal skin or felt. It's incredible how it has been used for centuries by nomads, but the design has remained mostly unchanged throughout time!
Visit the Birthplace of Apples
Kazakhstan's former capital Almaty comes from the Kazakh name 'Alma-Ata', which means 'father of apples'. It is believed that the Almaty region is the birthplace of the first apple on earth. According to a legend, the Garden of Eden was located somewhere in the city and the place where Adam picked the forbidden fruit.
Fascinating local fare
If you're a big meat-eater, you'll love Kazakh cuisine. Much of their culinary traditions revolve around meat, especially horse meat.
You can give a try to beshbarmak, which is also considered the national food of Kazakhstan. It's basically boiled horse or mutton meat served with a pasta sheet and broth called sorpa. Are you feeling a bit adventurous? Try their national drink—fermented horse milk, also Kazakhstan's national drink.
Experience a slice of the Silk road in Turkestan
Amongst the many jewel cities of the ancient Silk Road, Turkestan in Kazakhstan will give you a good sense of what the glory days of the Silk Road in Kazakhstan were like. Kazakhstan's highest contribution to the Silk Road trade was
Fur. And if you want to experience more of the silk road, just take a train from Almaty to Tashkent and enter Uzbekistan.
Uzbekistan lies at the core of the ancient silk road, it a country which is home to the three most important silk Road cities, Samarkand, Bukhara, and Khiva.
Now, if you have made up your mind to visit this stunning country, check out this Kazakhstan Travel Guide to help you plan your tour.
---
"This guest post was written by Shilpa Shashidhar from TenderfootTraveller. Shilpa works a 9 to 6 job so that she can indulge in her vice – travelling.
Currently, based in Bangalore, India, with an eye on the rest of the world. More often than not, she microblogs on Instagram sharing her travel pictures, experiences, and journeys.
She works in the space of Diversity & Inclusion by the day, and crafting travel plans and writing travel stories by the night, loving both jobs and never wanting to give either of them up."