The best city in South Africa is all up to personal preference and can be based on a wide range of factors such as affordability, quality of living, and natural beauty.
But no matter what you're looking for in a city, South Africa has something that's sure to satisfy your tastes.
We've ranked the best cities to visit in South Africa in a few different categories, making it easy to find exactly what you're looking for.
So whether you're looking to have a wine adventure in Stellenbosch or a relaxing visit in Ramsgate, there's a city in South Africa willing to provide.
Cities with the Best Tourist Attractions in South Africa
South Africa is home to some of the most fascinating tourist attractions in the world.
Here are some of the best cities to find them in.
Cape Town

Port Elizabeth

Kimberley

Johannesburg

Pretoria

Durban
Safest Cities in South Africa
While often the safest places in a country are small towns rather than large cities, there are a few cities that do provide safety. Here are some of the safest places to visit in South Africa.
Cape Town

Port St. Johns

Cape St. Francis

Yzerfontein
Quiet South Africa Vacation Spots
If you're looking for a reprieve from the crowds that frequent the most popular cities in South Africa, then here are a few quiet vacation spots that are sure to give you that holiday feeling.
Tankwa Karoo

Northern Drakensberg

The Village of Rhodes

Vermaaklikheid

Smitswinkel Bay

Hluleka

The Richtersveld

Lady Grey
Most Popular Cities in South Africa
There are cities in South Africa that are visited far more frequently than others. Here are the most popular cities in South Africa.
Cape Town

Johannesburg

Port Elizabeth

Durban

Pretoria
Overall Best Cities in South Africa
Now that you've got an idea about what kind of city you'd like to visit, here are our favourites.
These are considered the best places to visit in South Africa.
Cape Town
Beloved Cape Town is the most visited city in South Africa, and it's not hard to figure out why.
Table Mountain forms a stunning backdrop to the city that stretches out under its shadow before reaching the glistening waters of the V&A Waterfront.
Lively, yet laid back, Cape Town is a multicultural city that boasts of diversity, both amongst its people and its nature.
The city itself is home to an eclectic range of restaurants, bars, nightclubs, and cafes, as well as museums and inner-city parks.
Along its outskirts, you'll find wine farms, hiking trails, and sea-activities by the dozen.
Taking a whale watching tour, or enjoying a diving experience are just a few of the must-do activities for any tourist visiting Cape Town for the first time.
Of course, there's no shortage of history in Cape Town, and visiting Robben Island, or the Bo-Kaap is a great way to learn about the city's past troubles.
Durban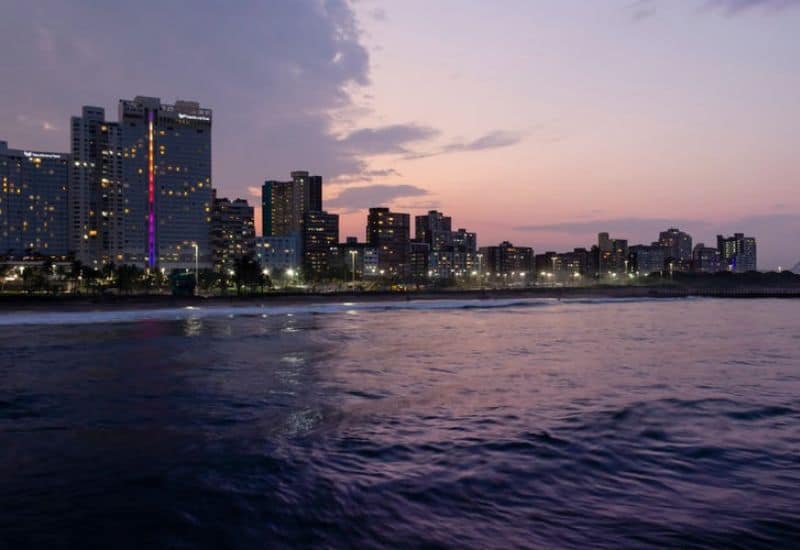 Durban lies along the eastern coastline of South Africa, with much of its activities and points of interest located along the Indian Ocean.
With warm weather all year round, and humidity that satisfies all warm-weather-lovers, Durban is the perfect tropical-like getaway.
Boasting a large port and waterfront area, Durban is a bustling hub of activity and home to diverse ethnic groups.
Because of the city's large Indian population, it has heavy Asian influences that can be seen in the many street markets and restaurant cuisines.
The beaches are lined with palm trees and become packed in the summer months. But this shouldn't deter you from visiting.
Although during the winter months you can experience equally enjoyable weather without the crowds.
Visiting Ushaka Marine World is a must for any sea-lovers, the theme park is loads of fun with water rides, slides, and tubing.
You can also learn a lot about the sea life that can be found along the Durban shores at this wonderful facility.
Venture a little out of Durban City, and you'll come to the awe-inspiring Drakensberg Mountains which are home to hundreds of activities and adventures.
Johannesburg
If you're looking to explore vibrant urban culture in South Africa, Johannesburg is where you need to be.
The city is the economic hub of the country, home to over ten million residents.
Unfortunately, over half of those residents live in townships in the areas surrounding the city centre.
Visiting Johannesburg is an eye-opening experience, as you'll get a glimpse into the country's past and the unfair split of economic wealth.
Visiting the Apartheid Museum is a great way to put this into perspective.
The city is alive at all times of the day and night, with restaurants, nightclubs, and bars boasting a plethora of activity.
It's not hard to find something to do in this big city, with events popping up all the time. So whether you want to explore the cultural theatres or the big sporting scene, Johannesburg will provide.
Just outside the city lies the Cradle of Human Kind, where you can discover the beginnings of all humanity.
If you're into wildlife, then take a safari at one of the many national parks located near the city to spot the Big Five along with other interesting species.
Pretoria
Pretoria is situated just 50-kilometres from Johannesburg and was once the central hub for the cruel Apartheid regime.
Because of this, you can explore its tainted history on just about every street corner.
The city is far more beautiful than Johannesburg, with trees and lush greenery springing up throughout the city.
It also has a more vibrant nightlife scene than that of its neighbour. Enjoy the old architecture peppered around streets, and in springtime (September – November) you can see the Jacaranda trees that line the streets in full bloom.
If you're looking for a safer and more laidback experience than the one you'll have in Joburg, then Pretoria is a great alternative.
Port Elizabeth
Port Elizabeth is an old industrial town that has been rapidly built up over the past couple of years.
The city itself is not the prettiest one you'll find in South Africa, but it has its charms.
You can find old architecture buildings throughout the town, in between industrial structures.
The reason most people visit Port Elizabeth, or PE as the locals call it is for the magnificent beaches it provides.
With warm Indian Ocean currents, you can enjoy hours in the water.
There are also plenty of water sporting activities on offer which makes any beach vacation a winner.
It's located in close proximity to some of South Africa's best-loved attractions.
Addo Elephant Park is just a short drive away and gives visitors the opportunity to indulge themselves on game drives and get the chance to spot the Big Five.
If this isn't enough to allure you, then we really don't know what will!
Knysna
This is one for nature lovers. The city is surrounded by ancient forests and lies at the bottom of an impressive mountain, next to a stunning lagoon.
If location is everything, then Knysna takes the cake. Located along the Garden Route, you simply won't find a more scenic city.
Its quaint harbour is home to a significant number of yachts, which you should definitely make use of while you're staying in the city.
Taking a yacht onto the lagoon and sun tanning on its decks, or skiing around the lagoon are much-loved pastimes of the locals.
There's a wonderful range of accommodation options as well as a fascinating selection of restaurants that need to be visited during your time in Knysna.
If you'd like to venture past the outskirts of the city, you'll find the Tsitsikamma National Park, which is particularly worth visiting.
East London
East London is set along the eastern coastline of the Eastern Cape. It's a rather bland town and doesn't have too much to offer in its city centre.
Its waterfront, however, is a different story, so get ready to be enthralled by its many charms.
One of the city's major attractions is its great surf. The beaches are perfect for those looking to spend hours sprawled out on the golden sands.
And the waves are what every surfer would describe as gnarly.
The most popular beaches in the area are Nahoon, and Cave Rock, so be sure to give those a visit when you're in the area.
Final Thoughts on the Top South Africa Cities
South Africa is filled to the brim with incredible destinations. Its cities are abuzz with activity and events and are ready to welcome you in.
Whether you're just wanting to relax and absorb the stunning scenery, or you'd like to engage in unique cultural activities, there's a city that can provide you with that experience.
Zipline through the treetops in Durban, relax on the white-sand beaches in Cape Town or explore the vibrant nightlife in Joburg.
You're sure to have an awesome experience in the best cities in South Africa.
Are you planning to visit neighboring Namibia or Botswana next during your Africa trip?