Namibia is a country of great diversity, with canyons, deserts, some of the best wildlife in Africa, and savannahs on the southwest coast of Africa.
But it´s also home to a lot of nothing, and the name Namibia literally means "vast place of nothingness," which shouldn't be a surprise since Namibia is the world´s second least densely populated country in the world, only after Mongolia.
And when driving around Namibia, so, will you drive for hours on straight barren roads with nothing except endless open fields around.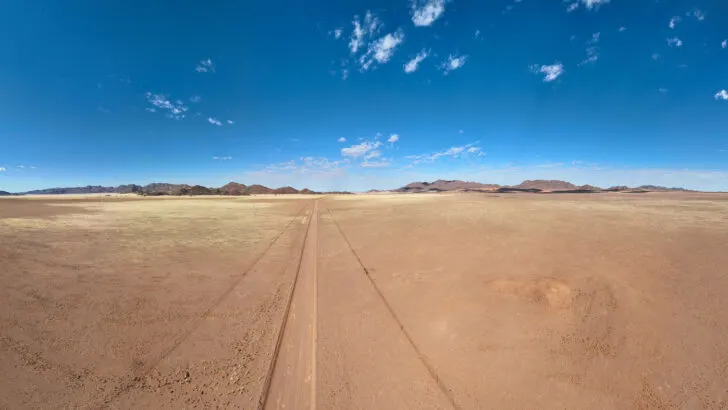 Namibia is home to settlements once used for diamond mining, which are now ghost towns, verdant countryside, wetlands, sand dunes, and some of the best stargazing opportunities in the world.
However, only a few of the roads in Namibia are paved, and a good 4×4 is required for parts of the country.
Whatever you seek, there are lots of exciting and memorable things to do in Namibia that you won't experience anywhere else in the world.

But be aware that distances in Namibia are massive, and getting between places often takes a lot longer time than you expected.
Top 20 places that you should visit in Namibia
Sossusvlei, the most famous site in Namibia
Located in Namib-Naukluft National Park, Sossusvlei is home to some of the highest sand dunes on the planet and some pretty spectacular scenery too.
One of the highest (and most photographed) is Dune 45. The 85-meter tall dune is red in color – remnants of the Kalahari Desert and Orange River, which blew here in the breeze.
All of the dunes in the area, known as star dunes because of their unusual shape, are accessible via climbing (early morning is best) or by 2 x 4 vehicle.
Also, don't miss hiking the 'Big Daddy' dune. This is the tallest, standing at 325 meters high, and it's possible to trek along the top for incredible views over Deadvlei.
Kaokoveld
Kaokoveld borders Angola to the north, the Skeleton Coast to the west, and Etosha to the east.
This unique and remote place is an uninhabited wilderness with a harsh desert and mountainous environment.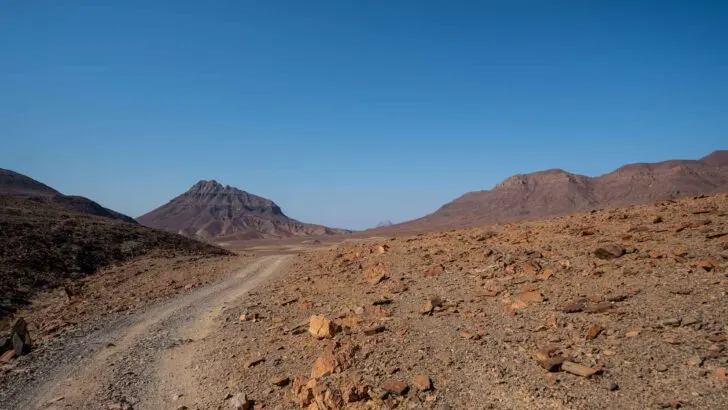 It's home to the Kaokoveld elephant and some of the region's most fascinating rock art. While traveling through, look out for elephants, rhinos, and lions by the river beds for some incredible photos.
You can also meet the semi-nomadic Himba tribe. Their peoples are skilled navigators and trackers with a great understanding of the land and its wildlife.
They still dress in traditional clothing and jewelry, and if you arrange in advance, you can enjoy a responsibly managed tour of their village to learn about the Himba culture and their lives.
Damaraland
Part of the Kunene Region of northwest Namibia, Damaraland, can be found between Sesfontein and Brandberg.
Its rocky, sparse terrain is home to rare flora and fauna and desert-adapted elephants. Some highlights include the centuries-old rock drawings at Twyfelfontein's petrified forest and the Living Museum, showcasing the culture of the Damara people.
You can see how clothes, leather goods, tools, and crafts are made, and enjoy singing, fire making, and traditional games during a visit.
The tour offers a great insight into life in the desert, and it gives you the opportunity to learn about a completely different culture. Outdoor adventurers will enjoy walking the Etendeka Trail and spending evenings under the clear Namibian skies stargazing.
Kolmanskop Ghost Town
Today, it's hard to believe that Kolmanskop was once the richest town in Africa. The town was founded around 1908 around the site of a small railway station, just before diamonds were discovered in the area.
As word spread of the diamonds, and adventurers, prospectors, and treasure seekers arrived, the region developed and thrived, that is, until the First World War started and production was halted.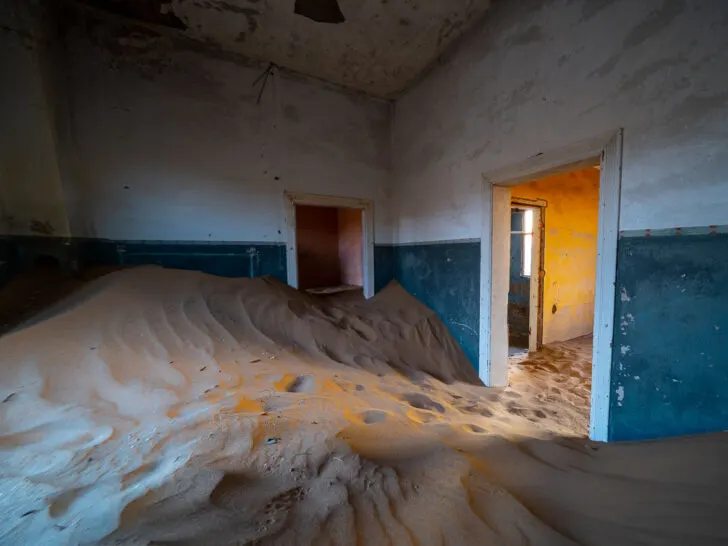 The area was then taken over by South Africa from the Germans. Diamond production began again after the war, continuing until the late 1930s when deposits began to deplete and people began to move away.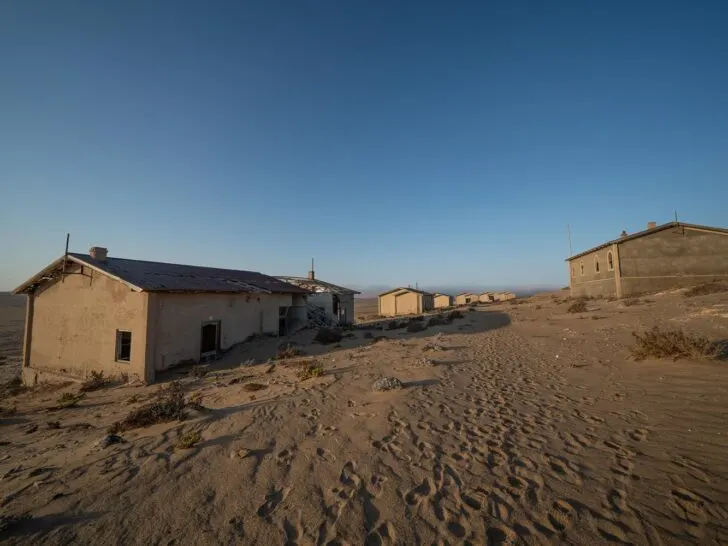 The last person left in the late 1950s, and since then, Kolmanskop has been deserted, an eerie ghost town dotted with empty buildings, stories, and remnants of glory days past.
Take a tour to gain a unique insight into life here during the diamond boom, and venture inside some of the empty houses to see how people lived.
Okonjima Nature Reserve
If you're into wildlife and photography, there's a high chance of seeing leopards and Cheetas in their natural habitat at Okonjima Nature Reserve.
Okonjima Nature Reserve is one of the best national parks in all of Namibia, with an amazingly friendly staff, the campsite here might also be the best campsite in Namibia, even tho the place is not cheap, so is Okonjima well worth a visit.
This area, set amidst the Central Highlands of Namibia, is essentially a big cat sanctuary.
The animals roam free here along patchwork landscapes and parched savannahs until they are healthy enough to be released back into the wild.
In addition to leopards, you may also catch glimpses of cheetahs, the rare nocturnal brown hyena, pangolins, and aardvarks. Take an evening tour for a unique perspective on the landscapes as stars shine brightly above.
Solitaire is the lonely settlement with the best apple pie.
Solitaire is a small settlement with an abandoned Route 66 vibe, but in the desert with an African twist. Back in 1948, it was just one cottage, and the name Solitaire was given due to its remote location.
Solitaire is a typical stop if you are driving south towards Sossusvlei or north towards Walvis Bay / Swakopmund, I stopped while going both directions.
Today, it's home to a shop, cafe/bakery with what´s known as the best apple pie in Africa (every piece of apple pie or coffee purchased contributes to the area's conservation efforts), and a gas station where you can buy some basic supplies and refuel or adjust your tire pressure.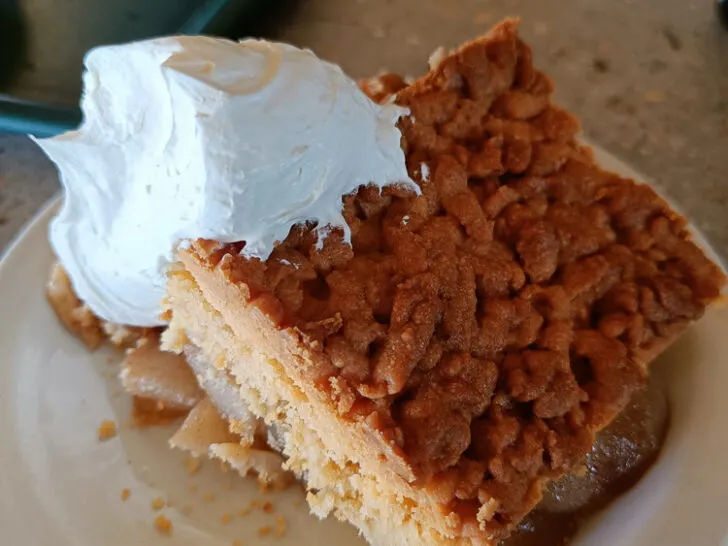 It´s also a guesthouse, public toilet, a church a few old car wrecks around.
If you decide to spend the night in the guesthouse, so don´t forget to look up, this part of Namibia has some of the star gazing in the world. There´s also a Cheetah Sanctuary for rescued big cats in the area.
Etosha National Park
Etosha National Park is one of the finest safari destinations not only in Namibia but in all of Africa. The landscapes are a mesh of woodland savannah, grass, and a giant salt pan so huge that it can be seen from space!
Etosha National park is home to over 110 species, including the endangered black rhino and four of the Big Five.
It's an oasis in an arid land, with plenty of watering holes that almost guarantee wildlife sightings. On a safari tour, expect to see rare black-faced impala, cheetah, elephants, giraffes, leopards, and over 340 bird species ranging from parrots to owls and flamingos.
If you're an intrepid traveler, who enjoys photography and adventure, Etosha National Park should be high on your Namibia itinerary.
Quiver Tree Forest (Kokerboomwoud)
Quiver Tree Forest can be discovered near Keetmanshoop in the region of Karas, close to the South African border.
Around 250 Aloe dichotoma, known as quiver trees, grow here. The trees are so named for the bushmen who once used their branches to make quivers for their bows.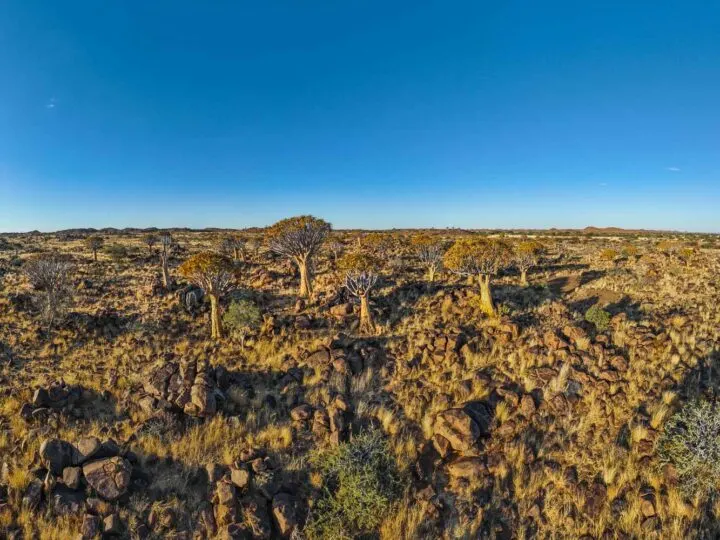 The forest is a beautiful, yet unusual site, punctuated with rocks and grassy patches. It's a great place to visit at sunset, too – as the light catches the landscape, it appears almost magical.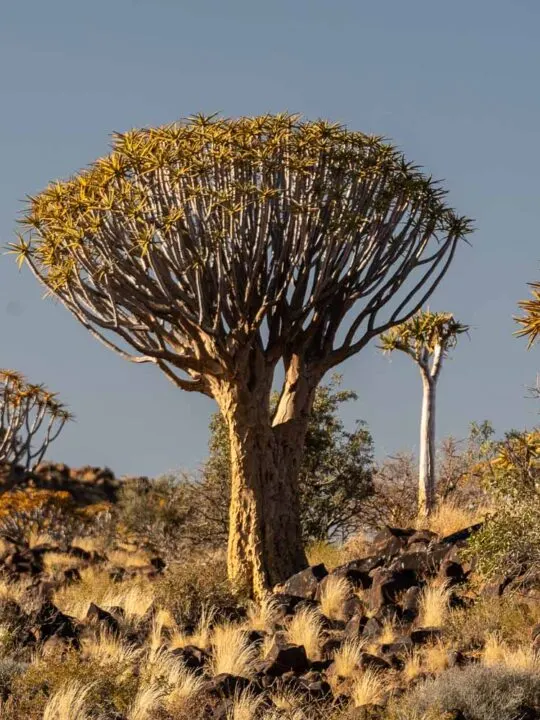 Campsite to stay:
Walvis Bay Flamingos and Pink Salt Lakes
Walvis Bay, the second largest city in Namibia, is an industrial coastal city and economic center with a busy harbor.
While the city is not the most popular destination for foreign travelers so do they have a couple of nice sites, it´s pink salt lakes, thousands of pink flamingos (during the right season, there between 40 000 – 50 000 flamingos here), and whale watching (Southern right whale) or take a daytrip to Sandwich Habour.
The pink lakes nearby are a result of the levels of salt in the region, caused by microorganisms that release beta-carotene, which is reddish pink in color – the unusual feat of nature allows for great photos, particularly at sunrise and sunset.
Sandwich Harbour
Sandwich Harbour is one of the real hidden gems of Namibia where the oldest desert in the world meets the Atlantic Ocean. And a place only possible to visit when the tide is low.
Located just south of Walvis Bay, but still unknown and rarely visited, the spectacular place is part of Namib-Naukluft Park, home to the Ocean and the sand dunes. The lagoon area is home to around eight endangered species and wading birds. Seals, wild ostriches, and jackals.
Archaeological sites containing shells and mussels can be found, evidence that thousands of years ago, the area was home to coastal dwellers who lived here a hundred years ago, these days, only small remains of their homestead remains.
Once a trading and fishing port, today, it's one of the most spectacular wetlands in Namibia, nestled between the Atlantic Ocean and the Namib is the oldest desert in the world.
It's a great place to walk the dunes, stop for a picnic and photograph the wildlife and landscapes.
A guide is required to visit the place. And a permit that your guide will have to get in advance.
Skeleton Coast
Skeleton Coast park in Namibia is an unforgiving landscape, like a place, that time forgot.
A place where wild animals roam, over a thousand rusty shipwrecks and whale skeletons lie stranded on beaches, and plants grow from the fog moisture deriving from the Atlantic Ocean.
The park is divided into two areas, however, it's only the southern part that is accessible. The coastal stretch is popular with anglers, and seal colonies at Cape Cross can be viewed on a day excursion. The beaches are accessible by 4 x 4, and you may even see spotted gully and hound sharks in the sea.
But be aware, even how sound it might sound to drive the whole skeleton coast, the road it´s actually really boring.
Twyfelfontein UNESCO World Herirage Site
Twyfelfontein translates to "uncertain spring" in the Afrikaans language. It's the site of hundreds of ancient rock paintings and engravings.
The site is said to date back over 6,000 years and was a place of worship and shamanic rituals, many of which are depicted in the etchings.
As Twyfelfontein has one of the largest petroglyph concentrations in Africa, it was deemed a UNESCO World Heritage Site in 2007. Expect to see drawings of large giraffes, handprints, a four-toed human foot, and much more during an exploration.
Brandberg and White Lady Painting
The Brandberg mountain range is located to the west of Namibia in the Erongo region. The range is 30km long and over 20km wide, with its name deriving from the blazing colors of the sun as it sets, casting a light on the terrain.
This is another area famed for its rock paintings, with over 50,000 of them discovered here.
The best known is 'The White Lady', discovered in 1917 by a German Explorer. The 45cm high painting of a warrior woman is part of a larger group of paintings, accompanied by medicine men believed to be performing a ritual.
A local guide is required to see the White Lady and other rock art, however, many guides will not allow flash photography for fear that it may damage the visual.
The highest mountain is Konigsstein at 2570m which can be hiked when the weather is temperate, but a local guide is required for the hike.
The Barndberg white lady campsite, which is located just north of the rock paintings, is one of the best campsites in the whole of Namibia, and well worth a night or two stays.
The Tropic of Capricorn Sign
Situated inland between Sossusvlei and Walvis Bay, you'll find the Tropic of Capricorn.
This marks the latitude of 23.5 degrees south and is the subsolar point at the December solstice.
It's one of five primary circles of latitude marked on earth maps, and only a tiny 3% of the world's population lives below it in the southern hemisphere.
The Tropic of Capricorn isn't fixed, in fact, it's edging further north every year, but today in the Namibian desert, you can see the signs depicting the famous line and log it on Insta-stories when you return to your lodge.
Puros
The areas in and around Puros village offer a unique way to experience the Himba culture of Namibia.
Visitors can discover the rituals and daily activities of local tribes, including craft making and red ochre grinding (a skin paste for their faces).
It's also a popular region in which to explore 4 x 4 trails, photography, and more. Stay in a nearby campsite, shaded under Ana trees, and enjoy game drives, guided walks, and trips to the conservation village.
Visit and learn about the Himba people
The Himba people are an indigenous group that mostly lives in the northern part of Namibia and in the southern part of neighboring Angola.
The Himba people are a semi-nomadic group, one of the last in the world. The Himba people are very, very photogenic and famous for applying a coat of red ochre to their bodies and hair. Which last for weeks at the time.

In the Kaokoveld, you will come across them in some of the most remotes parts of the area, still living their traditional ways herding their livestock. In contrast, in the parts where tourists a common, so do the Himba people now depend on the income from tourists visiting instead of their traditional way of life.
Fairy Circles of Namibia
The Fairy Circles of Namibia stretch across the Namib desert, patterned patches of earth interspersed with long grass across 1700 kilometers in distance.
These circles can range from 10 – 65 feet in diameter, and reports have claimed that they were formed as a result of everything from alien invasions and vegetation conditions to termites and underground gases.
However, local Himba tribes say that the circles are works of the Gods and spirits. If you're interested in learning more and wish to form your own conclusion about this great mystery, the best way to view the 'fairy circles' is from an elevated perspective, ideally from a hot air balloon or with a drone.
In fact, it´s almost impossible to notice the fairy circles if you don´t know they are there.
Büllsport / Naukluft National Park
Büllsport is the starting point for hiking around the Naukluft Mountains and the Naukluft National Park.
The mountains around Naukluft are home to leopards, mountain zebras, and big groups of baboons.
And with 14 marked hiking trails around the mountains so are this the sole hiking destination in Namibia.
While Billsport it´s not famous among foreign tourists so are Bullsport, and Naukluft are popular weekend destinations for locals living in Windhoek or Swakopmund, especially when the hot summer months arrive in Namibia since the mountains around here reach 2000m, and the mountains are full of refreshing rock pools and waterfalls in the area.
Naukluft is also a popular destination for horse riding and some challenging 4×4 driving.
Palmwag Concession
You could be mistaken for believing you're the only living being left on earth when you visit the vast Palmwag Concession.
The protected lands in northwest Namibia are remnants of basalt landscapes curated by Magna eruptions over 100 million years ago. The otherworldly terrain can be accessed via self-drive or a guided tour.
Look out for rare aloe plants, hook-lipped rhinos, desert elephants, mountain zebras, antelopes, and giraffes. Drive past the almost dry river where animals feed and admire this magnificent space which appears to change color as the light of day alters the landscape.
But be aware that some of the smaller roads around Palmwang require that you are in a group of a couple of cars to drive together. You are in such a remote area, so if your car breaks down, its necessary that there are more cars in your group.
Swakopmund
Swakopmund is often said to be more German than Germany itself, the sleepy town on the Atlantic coast is considered to be the adventure capital of Africa, with numerous fun activities like Sandboarding, quad-biking, skydiving, desert driving, even camel trips into the desert.
But Swakopmund is also a great place to relax for a couple of days if you have been driving around Namibia for some weeks already, some of the best restaurants, shops, and bars are located here. And if you visit here during the warmer months so is one of the few swimmable beaches in Namibia also located here in Swakopmund here.
Swakopmund is also the gateway to the Skeleton coast.