India is one of those countries that end up on every travel enthusiast's bucket list at some point.
People might dream of going to see the Taj Mahal in Agra or explore the royal palaces in Rajasthan.

Others might find themselves intrigued by the mesmerizing hillside landscapes of Darjeeling and Rishikesh or the picture-perfect beaches of Goa.
Whether you're going for an epic luxury vacation or a peaceful backpacking excursion, start planning your trip by going through this list of top-tier travel destinations across India.
Top Famous Places To Visit In India
If there was one symbol to capture the true essence of India, it would be the Taj Mahal. The Taj Mahal attracts millions of tourists from around the world to visit Agra every year.
It isn't all about one monument, though. Agra has a rich and diverse history – one that you'll see in various examples of timeless architecture from the 16th to 17th century.

Filled with beautiful Mughal monuments such as Akbar's Mausoleum, Itimad-ud-Daulah's Tomb, and Agra Fort – this makes Agra a must-visit city for tourists in India.
Despite the overwhelming crowd and chaos, New Delhi provides tourists with the perfect blend of modernity and heritage.

Old Delhi has some of the country's most cherished attractions, like Jama Masjid, Red Fort, and Chandni Chowk. New Delhi, on the other hand, is one of the most politically relevant and cosmopolitan cities in Asia – home to diplomats, cultural centres, and a thriving nightlife.
Some of the top tourist attractions in New Delhi include India Gate, Lotus Temple, Humayun's Tomb, and India's tallest minaret, the Qutub Minar.

You can explore these stunning attractions and refuel at the city's legendary street-side eateries or luxurious restaurants.
Mumbai Home To Bollywood
If you want to experience a more luxurious side of India then head to the bustling coastal city of Mumbai.

Tourists flock to the city's lavish five-star hotels and gourmet restaurants.

And if those activities are a little out of budget then head on to Marine Drive for a peaceful cruise amidst several examples of British colonial architecture.
One can also experience the more authentic and local side of Mumbai by going to the Thieves Market or Churchgate railway station, where thousands of lunch boxes are packed and delivered to the city's office workers every day.
Make sure to spend a day at the Sanjay Gandhi National Park and the 2,000-year-old Kanheri Caves.
Translated to 'Land of Kings', this city oozes with the rich culture of the kings and queens of past centuries.

This western state deserves a spot in your trip to India solely because of its charming palaces, lavish forts, and lively festivals – and few places encompass the complete experience the way Jaipur does.
Called 'The Paris of India', it's known for its luxe City Palace, pink buildings, and jewellery stores.

Neighbouring cities like Jodhpur, Udaipur, Jaisalmer ooze beauty and romance and offer tourists the chance to lodge in settings that were actually owned by the kings of old.
Rishikesh The Yoga Capital Of The World
For spiritually inclined travellers, Rishikesh has been on the radar since the late 1960s – primarily because of the time The Beatles spent in Maharishi Mahesh Yogi's ashram.

It is now an abandoned property that has become a tourist attraction for some fans of the musical group – you'll find Beatles inspired graffiti through the alleyways of this quaint, serene place.
Nestled in the foothills of the Himalayas on the banks of the Ganges River, Rishikesh serves as a destination for Hindu pilgrimages and yoga.

There are also two suspension bridges on the banks of the Ganges River, providing a mesmerizing view of the water body. But you should be careful because the bridges are home to local monkeys.
Arguably one of the holiest places in India, Varanasi is naturally one of its most popular tourist attractions.
Tourists find their version of spiritualism by taking sunrise boat rides, releasing holy flowers that float on the Ganges River, and watching Hindu Ceremonies from the steep ghats – some of which can attract people in the millions from all over the world.
Legend has it that there still is no accurate map of the city, and once you visit the maze-like city for yourself, you'll be willing to believe it – no visit to Varanasi is complete without getting a bit lost inside.
The 'Jewel of Punjab' is easily one of the top places to visit in India because of its mesmerizing Golden Temple.

One of the holiest destinations for Sikhs, the stunning structure is a sight for sore eyes, and serves as a great place to get in touch with your inner self while serving the poor and destitute.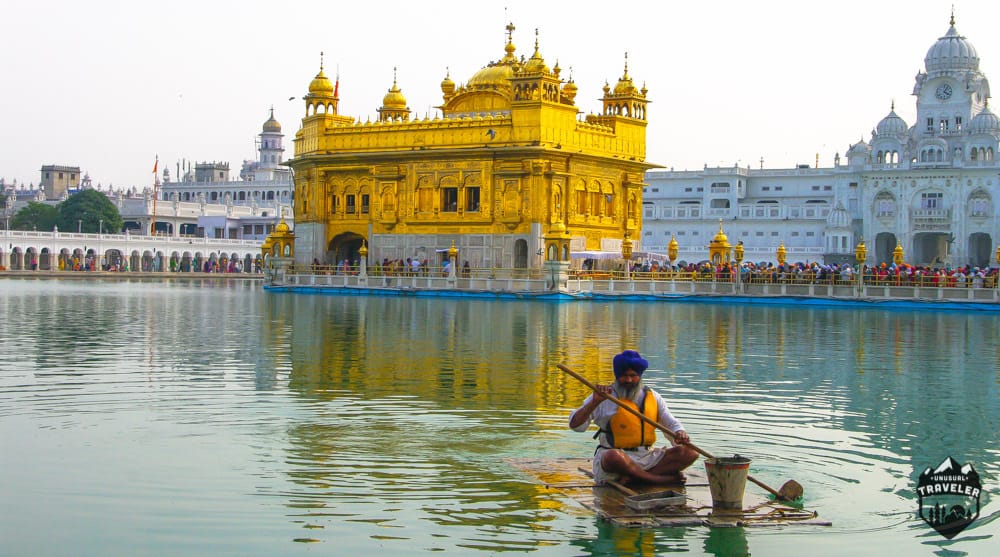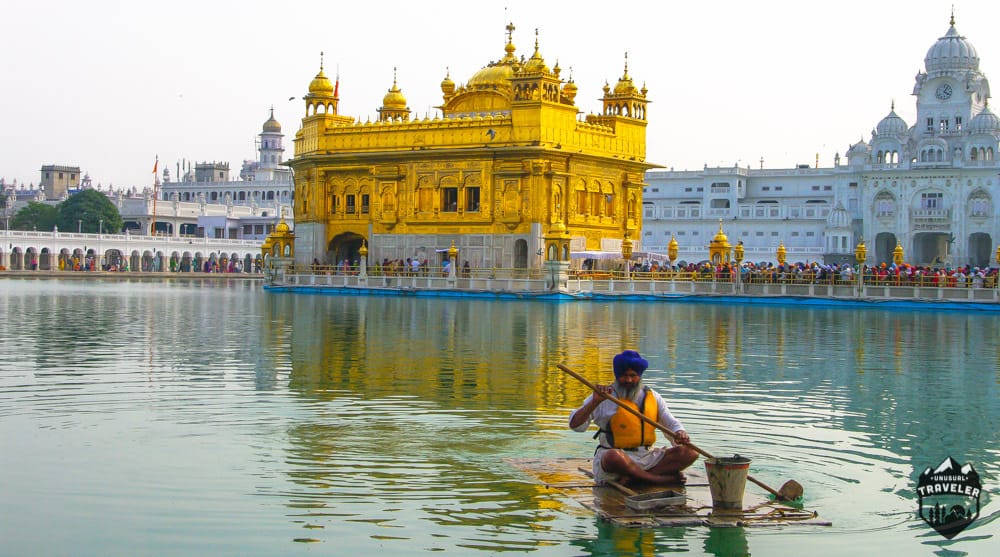 The monument also boasts the world's largest community kitchen that serves 100,000 diners, including tourists! Make sure to visit this city to experience the remarkable Golden Temple.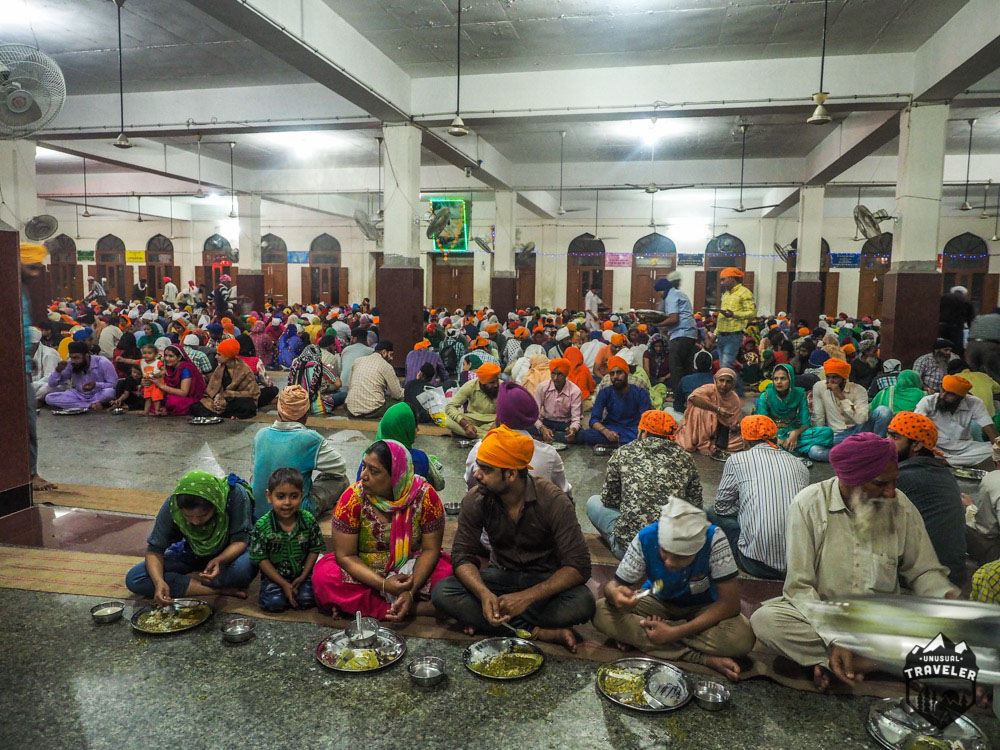 Goa The Old Hippie Paradise
India isn't only filled with big cities and holy sites; it also has breathtaking beaches down south in Goa.

The stretches of golden sand along the Arabian Sea provide something for every kind of tourist.

Whether you're looking forward to hanging out with the backpacker crowd in serene beach huts or having a luxurious getaway at a five-star resort, Goa has it all.
Goa has an immaculate blend of Portuguese and Indian cultures.

From its Baroque architecture and cathedrals to its delicious seafood dishes and spicy vindaloo curries, you'll also be able to take part in world-famous music festivals, watersports and a great global community that now calls this seaside paradise home.
Kerala God´s Own Country And Home To The Backwaters Of India
Head down south from Goa and you'll trade beaches with the peaceful backwaters of Kerala.

Nothing beats hopping aboard a traditional houseboat in Alleppey (also called Alappuzha) and calmly floating through palm trees, lagoons, and rivers.
You can relinquish hot Indian food on the houseboat while soaking in the mesmerizing natural sights and wildlife.

Kerala makes for the perfect peaceful getaway in comparison to intense cities Mumbai, New Delhi, and Rajasthan – it even has some of the best spa experiences in the world and absolutely delicious local cuisine.
Whether you're looking for the tea estates of Munnar or the palm beaches of Varkala, you're sure to find the peace and relaxation you're looking for.
Ajanta and Ellora Caves
The Ajanta and Ellora Caves in Maharashtra can take you back in time with its stunning and intricate carvings which are at least 1,500 years old. Both of these caves feature in the UNESCO World Heritage Sites.
The Ajanta Caves feature around 30 Buddhist cave monuments sculpted into the rock dated as far back as the 2nd century BC. The Ajanta Caves are the oldest of the two monuments.
The Ellora Caves, which is close to 100 kilometres from the Ajanta Caves, consists of approximately thirty-six Jain, Buddhist, and Hindu carvings.

The most famous carving is the Kailasa Temple (cave 16), a humongous structure devoted to Lord Shiva that contains life-size elephant structures.

The majestic caves at both these sites will leave you filled with wonder – and a sense of just how ancient Indian culture really is.
Darjeeling
Holidays in India don't get much better than what you'll find in Darjeeling.

This hill station in West Bengal is famous for its lush green tea plantations, stunning snow-capped peaks (including the world's third-highest mountain, Khangchendzonga), and awe-inspiring Buddhist monasteries.
One of the most famous things to do in Darjeeling is to take a ride on the Darjeeling Himalayan Railway.

The 140-year-old "Toy Train" is powered by an antique steam locomotive and takes tourists on a two-hour joy ride from Darjeeling to Ghum, a journey that's continuously taken as one of the most serene train rides in the world.
Kolkata The City Of Joy
India's third-largest city is a masterpiece of former British India. Oozing with colonial-era architecture, the best things to do in Kolkata include seeing the Victoria Memorial, a white marble structure with dozens of galleries, and the famous thoroughfare, Park Street, especially during the holiday season.
If you love quaint alleyways with cobblestones and vintage buildings, then make sure to visit North Kolkata while you're here.

The city somehow takes you on a journey of emotions, embracing you with the highs and lows of life with its roads, structures, and food.
Ahmedabad
The largest city in Gujarat is an overwhelming and noisy metropolis that somehow attracts tourists from all over the world.

Ahmedabad earned the title of India's first UNESCO World Heritage City in 2017 for its mesmerizing architecture, walls and gates, and prominent Jain and Hindu temples.
Tourists can explore Sabarmati Ashram on the western banks of the Sabarmati River.

Sabarmati Ashram was Mahatma Gandhi's asylum from 1917 to 1930. The museum inside talks about the freedom fighter's life and displays the iconic Charkha or spinning wheel.
While you're traveling the city, make sure to try the street food – some people say it's the best in the country!
Shimla
When the heat gets unbearable in cities like New Delhi, Rajasthan, Mumbai, and other cities in India, people often flock to hill stations, the most famous being Shimla.
The overcast weather and thickly forested hills make for a much-needed escape from the unbearable heat.

The atmosphere in the central part of town, where traffic is banned, is the perfect location for tourists who love quiet and scenic retreats.
While you're in Shimla, make sure to board the Kalka-Shimla Railway, a UNESCO World Heritage Site.

The 96.6-kilometre-long railroad has been running for over a century and is famous for its breath-taking views and old-world charm.
Mysore
Although culturally poles apart, South India is as mesmerizing as the north. Visit Mysore to experience the beauty of South India.
The third-largest city in Karnataka is lauded as the cultural capital of the state.

Mysore is celebrated for its premium-quality silk, paintings, and awe-inspiring Hindu temples with humongous deity sculptures.
Most tourists flock to Mysore to visit the World Heritage-listed palace.

Its unending mirrored décor, carved wooden doors, and subtle mosaic floors take Indian extravagance to the next level.

The palace is considered to be one of the country's best examples of Indo-Saracenic architecture.
Make sure to visit the palace at night when it's lit up with hundreds of lights.
Conclusion
It is impossible to get bored of exploring the markets, temples, and quaint streets of India. The rich and diverse culture of India offers a variety of experiences for tourists that'll remain with them forever!

And there are also tons of off the beaten path destinations in India.
The toughest part of traveling to India is figuring where exactly to go on your journey – it is a pretty large country, after all.
But with this list of the top places to visit in India, you can plan your trip with ease.