Cartagena sits on the Caribbean coast of South America, a major trading port with rich history, and is among the most popular destinations in Latin America.
The Old Walled City of Cartagena is a UNESCO World Heritage site that has incredible architecture, with churches, palaces, and ancient stone gates which allow entrance to the center, while laid-back bohemian neighborhoods are vibrant and colorful with street art, craft shopping, and fantastic food.
There are beaches in Cartagena too. The seafront area known as Bocagrande is awash with modern skyscrapers, restaurants, clubs, and art galleries and is fast becoming a Latin American tourist hotspot, while outlying islands accessed by boat offer diving, nature walks, and plenty of relaxation.

Cartagena might remind you of Havana, the charming capital of Cuba.
Things to do in Cartagena
There's much to see and do in Cartagena, aside from visiting historical sites and learning about the city's history.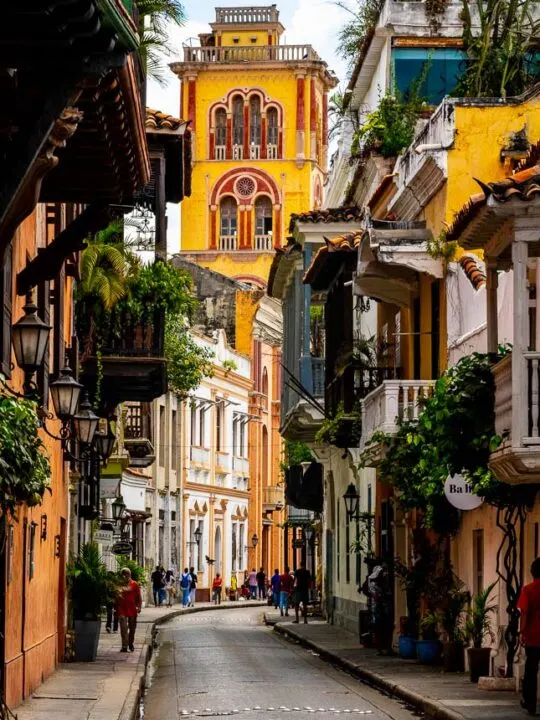 You can visit the small gold museum, sample delicious street food, shop for emerald jewelry, see colorful architecture, and venture to parts unknown on a day excursion! Here are a few ideas to start off your itinerary.
Discover Castillo de San Felipe de Barajas
The castle commands a strategic location atop a hill in San Lázaro
just outside the Old City of Cartagena. The fortress was built by the Spanish to ward off future invaders arriving from the sea, and unsurprisingly was never taken despite many attempts.

The foreboding fortress has been involved in many battles throughout the past centuries, and in its early days, it housed over 200 soldiers.
Walk through the grand entrance to gain amazing vistas from the ramparts while learning about the history behind the walls, explore the maze of tunnels below, or stay for one of the many cultural events held here.
Browse Artefacts at Museo del Oro Zenú
Although the capital Bogotá boasts the country's main Gold Museum, Cartagena has a smaller one, but it's just as interesting.

The building displays an interesting collection of pottery and gold artistry from the Zenú people, an indigenous group who lived in the region prior to the Spanish conquest.

It showcases their works and gives tourists an insight into the people, their culture, and their craft curated in a limited, yet, beautiful display of artifacts.
Wander Cartagena's Old Walled City
Many days can be spent wandering the winding streets of Cartagena's Old Town.
Brightly painted houses decorated with plants and flowers, make way for colonial architecture and leafy squares with live music and dancing at sunset.
You can browse Bóvedas market, where shops sell handicrafts, bags, and souvenirs inside the city's old prison cells.

Find a favorite restaurant, dining alfresco on the street with locals, or visit the Museum of Modern Art on San Pedro Claver Square. It displays inspiring works by Obregon and Enrique Grau.
Walk around on the top of the Old City wall.
The old city of Cartagena is rounded by an 11 km wall that was built in order to protect the city.
The Cartagena walls were a project that took almost two centuries to build after the construction started in 1614 and was completed in 1796. The wall was built to protect the city from pirates' attacks after most of Cartagena was burned down by the British privateer Sir Francis Drake.
Cartagena was the main port in Latin America for the Spanish for export of silver from Peru and import of African slaves.
Walking around on the top of the wall is one of the best ways to get an overlook over the old city of Cartagena and away from the busy traffic that often can hold up the narrow streets.
A Trip to Playa Blanca
This beautiful beach is just 40 minutes from the Old City by car, taxi, or speedboat, or a budget-driven combination of all three.
Playa Blanca offers clear turquoise waters, soft white sands, and swaying palms. It's a popular beach destination for locals and tourists, with jet skiing, kayaking, boat rides, and even ecosystem plankton tours!
The seafood is fresh and delicious, with plenty of restaurants offering simple, yet appetizing menus. If you decide to stay for the evening, be aware that some budget hotels and hostels here don't have hot water, air conditioning, or reliable electricity, so remember to research prior to booking.
Learn how to Salsa Dance
Dancing is a big part of daily life in Colombia. You will often find locals dancing in city squares and bars, and the music of salsa can be heard on almost every street corner.
If you want to learn salsa dancing for yourself, there are some lively places in Cartagena, such as Café Havana. This famous club in the Getsemani neighborhood has live salsa music on the weekends, and another bar, 1968 Salsa Show, has professional dance performances held nightly.
If you require a place less touristy, try Donde Fidel on Plaza de los Coches or Quiebra-Canto, a traditional club with live bands, DJ's, and old-school-style salsa.
Take a portrait of a Palenquera (and buy their fresh fruit)
The most iconic photos from Cartagena are not of a building or a place, but the local fruit woman, named Palenquera, a photo of these iconic women, was even on the front cover of the latest Lonely Planet Colombia Guide book.
All over Cartagena, you will see various local women in bright color dresses, selling fresh tropical fruit either from baskets they are carrying on their heads or others from stalls around the old town.
Shop at Mercado Bazurto
If you wish to experience the daily life of a Cartagena local, visit Bazurto Market. Located around 3km outside the city, this crowded labyrinth of vendors is gritty, intoxicating, and incredibly lively.
This is a place where beer is drunk in the mornings, impromptu jam sessions take place, lunch is eaten from newspaper wrappers, and people shop for meat, fish, flowers, and other fresh produce.
It isn't a regular tourist haunt, therefore, it's wise to remove valuables before you go, but if you do decide to venture here, this is one shopping experience you will never forget.
Climb Aboard the Party Bus
If you enjoy great nightlife and want to meet other travelers and locals, you may consider climbing aboard one of Cartagena's party buses. Also known as 'Chivas', these hand-painted artisan buses are colorful in bold shades and easy to spot rolling down the street.
This part drinking/part socializing/part sightseeing experience is a good way to navigate the city after dark with friends, old and new. You can enjoy non-stop local music, and complimentary drinks and learn all about the fascinating history of Cartagena with a few fun landmark stops along the way.
Visit the Palace of the Inquisition
Anyone interested in Colombian history will enjoy a visit to the Palace of Inquisition in Cartagena. This building was the seat of the Inquisition in the city, completed in the 1770s. It contains historical artefacts used during this time period and has been transformed into a museum.
The building itself, even from the exterior, is one of the finest examples of colonial architecture in Cartagena, and the museum displays a collection of maps, weapons, coins, furnishings, and photographs.
Take a Street Food Tour
A Cartagena street food tour transports you to amazing local shops and stalls in the Old City and takes around 2.5-3 hours.

It's a great way to get to know the local cuisine, dining the same way locals do and purchasing food from the same vendors.
During these tours, you can sample homemade lemonade, try arepa de huevo (corn fritters filled with eggs), Patacones with Costeño cheese (plantain, deep-fried, and smothered in garlic and topped with cheese), shrimp cocktails, and kibbe (bulgar wheat, beef, and onions) to name a few!
The great thing about Cartagena is that it has culinary influences from all around the world, with street food from Africa, the Middle East, Spain, and the Americas, and on a food tour, you can try them all.
Spend time in Getsemani Neighbourhood
It's easy to see why this authentic neighborhood in Cartagena attracts creative people from all over the world.

It's bold, it's bright, brimming with shops, eateries, and local art, displayed both in galleries and in the streets, and even the traditional houses are painted in bright colors!
One highlight is Plaza Trinidad, where you can while away for hours, watching people dancing, chatting, feasting on street food, and sipping on a cold beer or mojito.

It's an inclusive place, where locals and tourists blend together in harmony, as street performers and musicians play, and it's charming, a place to truly feel part of the Cartagena experience.
Enjoy the sunset from Cafe Del Mar
One of the most famous and iconic sites in Cartagena is Cafe Del Mar, located on the top of the old city wall, this is the perfect spot to enjoy a cold drink and watch the sunset over the Caribbean sea.
However, it´s also the biggest tourist trap in Cartagena as well which also means the prices here a higher than elsewhere, but still. It´s worth paying the price for one or two drinks.

But the food, you can give a pass. There is a number of better restaurants in the area, with better food and cheaper prices.
But be aware if you do want to enjoy the sunsets so does the place open at 16.30, and people normally start lining up outside 30min before it opens.
Best Day Trips from Cartagena
If the city heat and busy streets become too much for you, spend a day exploring the surrounding areas of Cartagena.

There are beautiful beaches, interesting dive sites, and fishing villages where time appears to have stood still.
Visit the Rosario Islands and Isla Grande
Islas del Rosario & Isla Grande is located in an archipelago of around 30 protected islands in the Caribbean Sea, around an hour by speedboat from Cartagena.
These islands are part of a national park, with protected coral reefs and abundant biodiversity, ideal for snorkeling and diving.

You can take an excursion from Cartagena, which includes swimming, snorkeling, and seafood lunch, and still have time to explore Isla Cholón, a party hotspot that attracts many young people.
Alternatively, stay on a private island, taking in beautiful sunsets, visit the mangroves or view tropical fish from a paddleboard or while scuba diving.
Choose to stay the night and be amazed by a natural wonder lighting up the shores like stars – bioluminescent plankton, which glows white as waves lap the sand.
El Totumo & Salinas de Galerazamba
Around 54km outside Cartagena, is Volcan El Totumo, a mud volcano in which you can bathe in.
The mud is said to have medicinal properties, which help to heal and exfoliate the skin. It's a fun experience, you're covered in mud from head to toe, and shared or private tours can transport you here.
If you have extended time, visit nearby Salinas de Galerazamba. The sea has a look of strawberry milk; however, the pink hue is caused by the salt-loving pink microbes.

It's a must-see if you are traveling to Colombia during February and March, as these are the only months the pink sea is visible, the rest of the year, the water is blue.
Learn to Fish at La Boquilla
If you want to connect with nature, this tiny fishing village is just 20 minutes from Cartagena. You can spend the morning on the river, drifting past mangroves, then learn traditional fishing skills from local fisherfolk.
Your catch of the day is then prepared and served with coconut rice and deep-fried plantain by your hosts. The tour, which is just half a day long, allows you to experience a unique, authentic side of Colombia which many tourists don't get to see.
Where to Eat in Cartagena
If you've visited other Colombian cities, you will already know that the cuisine available encompasses everything from the Mediterranean, Caribbean, and Colombian to Peruvian, Argentinean, and Asian cuisine.
Restaurant Magoga offers Mediterranean options in a delightful setting and has a Michelin star to its name. The food is creative, the presentation elegant and it's not overly priced for its accolades.
For reasonably priced, Caribbean, Latin, and seafood dishes, La Mulata ticks the boxes. Their menu del dia is a set of three courses consisting of a starter, main, and dessert, and they are famed for their seafood.
Also, don't forget to sample the street food and explore the cafes of the Old City and Getsemani, there are gastronomic gems hidden all across the city!
Where to Stay in Cartagena
There are many neighborhoods to choose from when deciding where to stay in Cartagena, but to find the best one for your Colombia stay, here are a few ideas for inspiration.
The Old City of Cartagena
This is one of the most picturesque areas of Cartagena. With colorful colonial buildings, superb restaurants, historic attractions, and buzzing nightlife, it's a great choice for first-timers to the city.
Within the old walls, there are luxury, mid-range, and budget hotels, plus, affordable Airbnb's to choose from. There are two main areas in the Old Town, El Centro, if you want to be in the heart of the action, or San Diego, which is a little more peaceful, but still offers easy access to attractions.

I personally stayed at a new place named B Haus Hotel Boutique, which I can´t recommend enough, the place was amazing, with a small swimming pool on the roof, one of the best cafes with amazing wifi on suite, which seems to be one of the most popular cafes for digital nomads in Cartagena.
Bocagrande
With a seafront that could be mistaken for South Beach Miami, Bocagrande attracts tourists with glitzy new hotels and condo complexes aside from beaches, shops, fine restaurants, and bars. It's a great place if you are looking for lively beach life and city attractions encased in a modern environment.
Getsemani
This relaxed, trendy neighborhood is a creative paradise with abundant street art, cheap hostels, boutique hotels, and plenty of reasonably priced bars and eateries around. It's a lively area, people are friendly, and you can really immerse yourself in the culture of Cartagena.
Best Time to Visit Cartagena
In reality, there's no best time of year to visit Cartagena, Colombia. Temperature variations are minimal throughout the year, although, late December to late April is classed as high season. These are also the most pleasant months to visit weather-wise.
If you enjoy basking in the heat and are planning a stay centered around beach fun, June, July, and September are the hottest months, with daily temperatures reaching up to 33°C.
The rainiest months in Cartagena are October and November, although if you don't mind a shower or two, you may find some amazing hotel deals at this time of year.
Top Tips for Visiting Cartagena
If you're planning to visit Cartagena, Colombia, for the first time, here are some top tips to help you out during your stay.
Reserve Tables at Restaurants
If you're planning on dining at a top restaurant in Cartagena, it's wise to book a table in advance. Many of the best places book up weeks in advance, and you can't just walk in off the street and eat as you can in other Colombian cities.
It's Cold in the Evenings
Although temperatures may reach 27–36°C during the daytime in Cartagena, after dark, it gets cold and can be breezy, particularly if you are staying near the seafront. It's wise to bring a jumper or lightweight jacket with you on your travels.
The City is Safe
Cartagena, as with other cities in Colombia, gained a bad reputation over the past few decades, however, today, you won't find many problems.
The city is safe, for the most part, aside from a few pickpockets in crowded areas – as is the norm in most large cities. The areas of El Centro, Bocagrande, and Getsemani are tourist-friendly areas and safe to walk around.
The Best Beaches are Outside the City
Cartagena may sit on Caribbean shores, but the city is actually in a bay, and it can be quite industrial in parts, therefore, not great for swimming or sunbathing.

Although Bocagrande has decent beaches, the best ones are outside the city, up to an hour away. Some of the finest, Playa Blanca and the Rosario Islands, can be accessed on excursions or privately via taxi or car.
Know Your Gemstones
Cartagena has a whole host of shops selling emerald jewelry, as over 80% of these precious green stones are found in Colombia.

If you plan on purchasing an item of jewelry while you're in the city, make sure you go to a reputable jeweler and get a certificate of authenticity for your stones to avoid disappointment.
Research reviews prior to your shopping trip, know which questions to ask, and ensure you're happy with the answers you are given before handing over your credit card.
Getting to Cartagena
There are many flights, both direct and indirect, to Cartagena from the USA, South America, Central America, and Europe, and Amsterdam directly with KLM.

However, many flights transfer through Bogotá, the Colombian capital.
On arrival on the Caribbean coast, Cartagena's Rafael Núñez International Airport is located in Crespo to the north, close to major tourist areas and the city centre.

There are many ways to transfer from the airport into Cartagena via bus, taxi, or private transfer, which all take between 15-20 minutes.
If you are traveling domestically, there regular daily flights from Bogotá to Cartagena via Viva Air, Avianca, and LATAM.

Prices are cheap for a one-way ticket and can cost less than €30 if booked in advance, and there's a level of flexibility.

The journey takes around 1.5 hours. It's also possible to fly from Medellin and other regions to Cartagena.
Buses operate from Bogotá to Cartagena, with over 20 departing each day.

The journey is arduous at almost 24 hours, so for the extra few euros, it's better to take a flight, unless you plan to stop off along the way.
If arriving in Cartagena from Barranquilla, it's a two-hour journey via bus or private car service.
Getting Around Cartagena
It's pretty easy to get around Cartagena, particularly El Centro, which can be navigated on foot.
If you're looking for easy access to tourist attractions, there's a "hop on, hop off" tour bus, but the simplest way by far to get around the city is by a yellow taxi.

These taxis are licensed and easy to hail in the street, unless at night. However, always remember to agree on a price in advance before taking the journey.
Shared taxis (collectives) are also a popular way to travel and can carry up to 4 people.

Private cars can be hired for around the same price as a regular taxi, and motorcycle taxis (moto-taxis) operate in some, although not all, neighborhoods. It's also possible to book an Uber in Cartagena, directly via the dedicated app.
Local buses serve the city too, which require a pre-paid card which can be topped up during your stay.

These cards are purchased at the bus stations but can be topped up in a number of locations.
If you're considering driving in Cartagena, be aware that the roads are busy, and there are certain restrictions to avoid over pollution during weekdays.

Therefore, it's wise to only rent a car in Cartagena if you plan to venture outside the city.