Located out in the Caribbean sea, around 45 km southwest of Cartagena in Colombia, is an archipelago, the Rosario Islands (Islas del Rosario), which is home to the San Bernardo Corals National Natural Park, one of the 46 national parks in Colombia.
The Rosario archipelago has approximately thirty islands in total, with Isla Grande being the main one and by far the largest, although only a few are open to the public.

And a few private ones, which are available to rent.
The other islands are all owned by wealthy families and celebrities, and the notorious Pablo Escobar once also had a house here! Which is still left here.
Isla Grande, due to its proximity to Cartagena de Indias, is a popular day trip, and it takes just an hour by boat to reach here.

Especially during weekends and public holidays, so do the place gets crowded for a few hours every day when the rich locals from Cartagena show up in their multi-million dollar yachts, but luckily they leave after only a few hours of loud music and party.

However, many intrepid adventurers prefer to stay longer. It's an idyllic paradise for those who want to digitally detox for a few days and to experience authentic island life after the tourists depart.
This island is a place to kick back and relax, feast on fresh seafood and sway on a hammock beneath palms while sipping a mojito just like you would do in Havana.
There's snorkeling, diving, trekking through forests, paddle boarding, and canoeing to enjoy, but one of the main highlights appears after dark when bioluminescent plankton lights up the shores like tiny white stars.
It's one of only a few places in the world to showcase this natural phenomenon, therefore, definitely worth staying to see!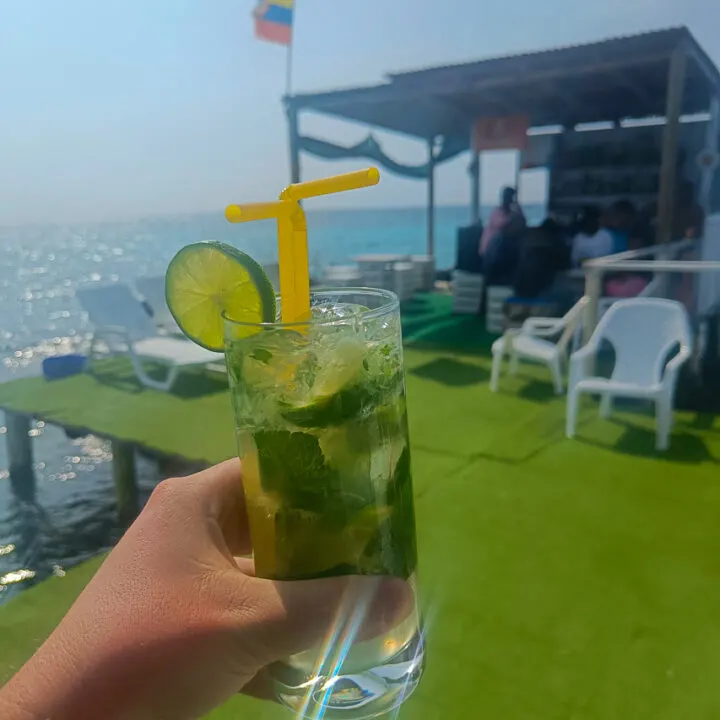 If you're seeking the best things to do in Isla Grande, Colombia, or simply wish to know how to get here from Cartagena, here's our guide to inspire you.
Things to do on Isla Grande
If you're looking for theme parks and high-octane adventures, Isla Grande perhaps isn't for you.

However, if you're seeking relaxing downtime, where you can be at one with nature, whether it be in the water, on the beach, or hiking along forest paths, then you'll adore this place.

Here are our best things to do on Isla Grande to give some ideas of how to spend your days.
Snorkeling and Scuba Diving
Isla Grande is part of a natural park, and underwater, you can discover everything from colorful coral reefs to an old aircraft of Pablo Escobar's on the seabed.
There are approximately 170 species of tropical fish, plus, 52 coral species and sponges to see, and diving here is suited to all levels of expertise.

If you plan to learn to dive on Isla Grande or want to ensure you are diving with a reputable company that doesn't harm the fragile ecosystem of the ocean, booking with Diving Planet in Cartagena is a great option.

They have 20+ years of experience in scuba diving around the islands and have a PADI Green Star Award. A portion of your lesson payment also goes to teaching people with disabilities how to scuba dive. You can book your dive trip online or in their booking office in Cartagena.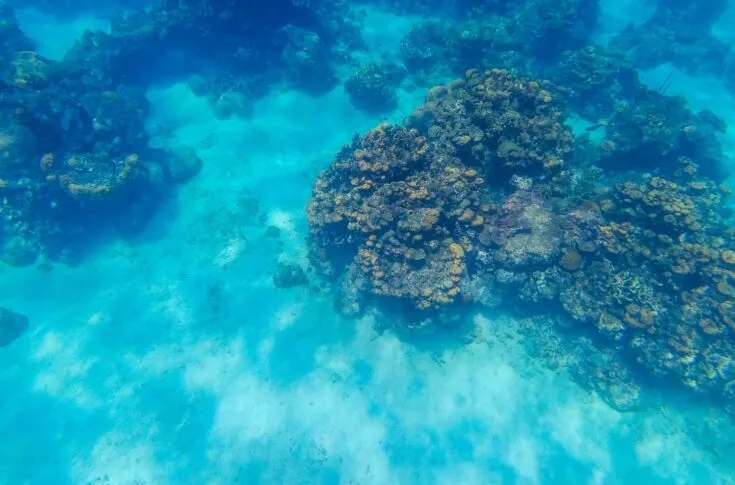 Alternatively, there are also diving schools on Isla Grande if you wish to wait until you arrive. Ensure you find a reputable one with sustainable credentials so that you can leave the natural park in the pristine condition in which you found it.
Find a Beautiful Beach
The beach at Gente de Mar on the eastern tip of the island is blanketed in white sand with trees dotted on the beach and hammocks where you can have an afternoon siesta or admire the sunset, cocktail in hand.
On the opposite side of the island, Bora Bora Beach Club invites tourists with a delightful location, comfortable day beds beneath canopies, and swimming pools perfect for a refreshing dip, and fine food served alfresco.
However, most beach clubs charge a hefty day rate for sunbed hire and use of facilities, this is why Playa Libre, the island's best public beach, appears to be the most popular with tourists.

With soft sands and clear azure waters, it's possible to spend an entire day here without wishing to move a muscle. Especially since the bars and restaurants have staff serving you right on the beach.
There's a nearby restaurant serving snacks and drinks when you need a break from the sun, and the beach is one of the most accessible on the island, within walking distance of all hotels.
If you plan to stay overnight on Isla Grande, venture to Playa Libre in the mid-late afternoon when the day-trippers leave.

You'll have the beach mostly to yourself, and it's a great place from which to view majestic Caribbean sunsets.
Go Canoeing Through the Mangroves
Should you wish to view the island from a different perspective, book a canoe trip through the mangrove forest.

The waters are calm in the connected lagoons – a place where you can seamlessly drift through a series of natural mangrove tunnels, observing unusual bird species and listening to their calls.
The peaceful atmosphere is alluring and relaxing and combined with the wild, natural landscape, this should be high up on your things-to-do list for Isla Grande.
Visit the best-located bar in the world
Where you would least expect it, but the best-located bar in the world is located just outside Isla Grande, the small bar of Bar la piscina which is located on top of a tinny island.
The praise bar, which is located a couple of hundred meters from the shore of Isla grande is only possible to visit is either by a small boat, kayak, or stand up paddleboard (SUP), theoretically you should be able to swim across, but according to the locals, the current is strong here.
The bar gets a bit crowded during the day, and especially during the weekend when the crowds from Cartagena visit for day trips, but luckily they leave around the afternoon, so if you visit later than that, then you will have the whole place for yourself, and the place is perfect for a sunset drink.
Visit Orika Village
Orika is the largest (yet still small) village on Isla Grande with colourful buildings, shops, a pizza restaurant (which is amazing), and a café, and a supermarket. It's easily accessible on foot, via the forest pathways, and centrally located for most hotels.
It's a place to browse fresh fruit and groceries, learn about local culture, and if you time your visit well, you can even pop into the local disco to dance to Reggaeton music and get to know the locals and island way of life. But bring earplugs, the music is just insanely loud.
See Bioluminescent Plankton at Enchanted Lagoon
There are only a handful of places in the world where you can see bioluminescent plankton lighting up the shoreline like thousands of twinkling stars, and Isla Grande is one of them.
The Enchanted Lagoon on Isla Grande is the best place to see this natural phenomenon after dark. The lagoon is abundant with phytoplankton which tends to glow in the dark.

It's worth noting that this doesn't occur during a full moon as there's too much light, visiting around a new moon when skies are dark is preferable to gain the full effect.
You can swim in the lagoon, observe from the shore between the mangroves, kayak – and travel solo with a guide or as part of a group adventure. However, if you wish to gain the full effect of this natural wonder, pop on a snorkel and get in the water for a swim!
Visit Escobar's Old Crumbling Mansion
Located on the far side of the island, Pablo Escobar's infamous party palace stands in structural decay, a crumbling plethora of grandiose buildings which appear to mirror the downfall of the man himself.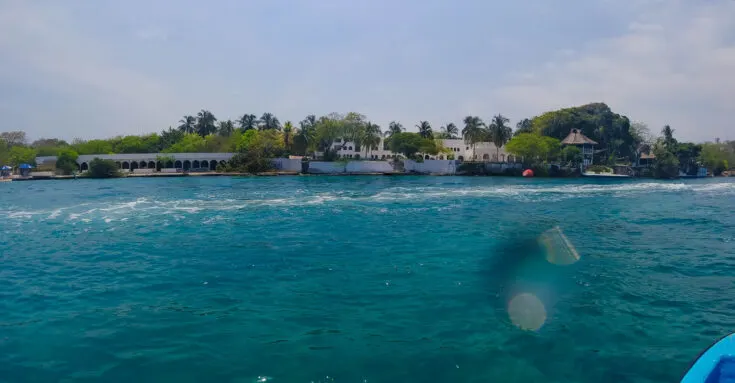 This house was known as his 'secret party palace'. It's surrounded by giant palm trees, with a swimming pool, helicopter pad, and waterfront apartments – all in addition to the mansion itself. In its heyday there were 300 rooms catering to guests that came to the island to party – today, it's overgrown and crumbling to rubble.
If you wander through the forest, you will be able to see what remains of the building – cracked walls with retro color schemes, once opulent lobbies, an overgrown garden, and an empty pool.

However, the easiest way to reach the desolate mansion is by speedboat. You can gain incredible views from the water and imagine what it was like here in the 1980s when the palace was a hive of activity.
Go on a Forest Trek Around the Island
Isla Grande can be navigated on foot or by boat, depending on where you want to go. Tropical forests are lined with well-trodden dirt tracks, which are safe for walking along – the only wildlife you're likely to encounter are iguanas and some friendly local dogs who will probably join you on your walk.
The entire perimeter of the island is only around 6 kilometers, therefore, it's possible to walk all around the island in just a few hours.

It is advisable, however, due to the heat, to stop for snacks, drinks, and a swim regularly on the route.

And luckily enough there's enough small stalls around the island where you can have a break and an ice-cold beer or soft drink.
Visit some of the other Rosario Islands
If you are staying for a few days or longer, you may wish to explore some of the other islands out there.

You can spend a few hours at Oceanario Aquarium (a day trip favorite for families with kids), where you can learn about their conservation programs and see a variety of marine species, like dolphins, sharks, and turtles. While I do hate places like this. It´s a normal stop if you do book a daytrip for snorkeling and visiting other islands.
Venture to the nearby snorkel zone to admire the colorful tropical fish, or sail to the exclusive Pao Pao Beach Club for lunch and a swim.
Top Tips for Visiting Isla Grande
It's always a good idea to be prepared if you're travelling to new places, especially those off the beaten path. Therefore, if you plan to visit Isla Grande, Colombia, here are a few top tips to consider before you go!
Bring Cash!
There are no ATMs on Isla Grande at all, therefore, cash is the only way to pay for dinner, island excursions, and impromptu accommodations.

Don't be caught out; take out the money you need for your trip in Cartagena prior to arrival. However, most of the hotels accept card payments.
The Island has Limited WiFi and electricity
The archipelago has limited WiFi, and aside from the more exclusive hotels, there's no internet access in most of the hostels and eco-lodges. But your local Colombian sim card will work.

It's worth mentioning to family and friends that you may be "off the grid" for a few days, just in case you can't email, call or upload your photos online until your return to Cartagena. There´s also limited electricity on the island, and power breaks are common, but luckily so do most hotels do have a generator, but often it only works for certain hours a day.
Bring Decent Walking Shoes
The only way to navigate the island's beaches and small towns is either on foot or by boat if you can get a local to take you.

Therefore, if you have to trek for a few kms or more along rugged forest paths, it's wise to bring sneakers or walking shoes – flip flops may simply be too challenging.
Be Respectful of the Environment
Increased tourism to the islands, in turn, increases threats to the fragile eco-system of the natural parks and coral reefs. Always remember to dispose of litter and containers responsibly so that you can leave this beautiful archipelago the way you found it.
Where to Eat on Isla Grande
If you want to eat like a local, seafood will be high up on the menu, and the fish dish you end up with will mostly depend on what the fishermen's catch of the day is!
Although there are a couple of pizza and hamburger spots on Isla Grande, most restaurants are laid back, serving traditional Colombian and Caribbean dishes which can include a variety of fish, street food options, and rice, beans, and salad.
Some hotels have chefs who can prepare food catering to dietary requirements including a variety of veggie options.
Where to Stay on Isla Grande
Isla Grande has accommodations suited to every budget. From 3 and 4-star hotels with their own private beaches, restaurants, WIFI, and air-conditioning, to island eco-hotels and quirky hostels with more limited amenities.

But be aware of the best and cheapest places book out far in advance, especially around weekends and public holidays.
There are several luxury hotels on this, and surrounding islands, with outdoor pools, restaurants, private beaches, spa treatments, air-conditioning, and WIFI, these include Cocoliso Island Resort, Hotel San Pedro de Majagua, and Gente de Mar Resort.
Eco-Hotels such as Rosario EcoHotel, Eco-Hotel Isla del Sol, and El Hamaquero offer an insight into island life with comfortable, albeit more basic amenities.
Alternatively, there are affordable hostels such as Paraiso Secreto where you can meet other like-minded travellers and enjoy bonfires on the beach and live music from DJ's.
Personally, so did I stay three nights at Rosario EcoHotel, which got pretty mixed reviews online; however, I really liked the place, and I will highly recommend the hotel.
Best Time to Visit Isla Grande
The temperatures year-round in Isla Grande can be humid, therefore, it's wise to prepare for this, regardless of the time of year you're traveling.
If it's dry weather you seek, January, February, and March are the driest months. However, you can expect some winds.

The busiest months on Isla Grande are December, June, and July when many locals seek a city escape. During these times, prices tend to rise, and hotels are more expensive. Also around easter, most hotels get booked out weeks if not months in advance.
April, May, September, and October are classed as rainy seasons; therefore, the island is best avoided during these times if you can. However, I did visit Isla Grande in mid-April and I had 0 rain during my 3 nights and 4 days on the island, but one of the evenings got extremely windy.

November can be a good time to visit, with cheaper prices and decent weather.
How To Visit Isla Grande
It takes around one hour to reach Isla Grande from Cartagena by speedboat on a day trip, and you will usually find that your Cartagena hotel has a pick-up schedule to transfer you to the La Muralla port.
The cost for the trip can range from 62,000 COP (€15) up to 200,000 COP (€47) depending on what you want to include (ie. lunch, hotel facilities, activities).

If you plan to stay longer on the Rosario Islands, opt for a transport-only option which is priced at a lower rate, plus, you should factor in a mandatory port tax of around €4-5 on top.
Some tour speedboats may make a detour to Baru and the Oceanario Aquarium on the route – ideal if you want to see other locations before you arrive on Isla Grande.

Also, some boats only leave the port when they are at full capacity, therefore, it's wise not to have a strict deadline.
One thing to remember is to always arrive at the port in Cartagena between 08.00 and 09.00 as no departures are allowed after around 10.00 am each day.
If you are traveling in a large group or simply want more flexibility on your trip, you may consider renting a private speedboat or yacht, although this can be expensive.
There are also a few local speed boats with locals leaving for Cartagena, and Baru every morning, however, these can not be booked online, you will have to get your hotel to book these boats for you.
Getting Around Isla Grande
There are no cars or motorbikes, or even proper roads on Isla Grande. Therefore, the only way to get around the island is on foot or by bike cycles along well-trodden dirt tracks through the forest.

You may encounter local wildlife (friendly dogs and iguanas), which are harmless, and as the entire perimeter of the island spans only 6km in total, it's an adventure to explore and stop off at different beach bars and cafes on your journey.
If you fancy travelling further afield, some hotels and hostels offer excursions to other islands or locations, or you can ask about hiring a boat and driver for the day to curate your own itinerary.

Many local boat owners are happy to transport you to where you want to go for a pre-negotiated price.