Uzbekistan is one of those countries where the average people would have the problem to place on the map. But it's a fantastic country.
I have been to Central Asia twice now; things are changing very fast there now, it's quite hard to recognise the place now, – compared to when I first visited the place in 2010.
They even got a high-speed train these days in Uzbekistan now. Even Norway didn't manage to build that yet.
Most people don't think of Uzbekistan as a typical tourist destination, but that's a shame.
They got more historical places than most other countries in the world.
If the great Registan had been located in France or Spain instead of Uzbekistan, then without a doubt it would be one of the most visit tourist spots in the world. But since it's located to where it is, the place is still nice and quiet; no big lines and no hassle.
One of the reasons why Uzbekistan is not a famous tourist destination might be coz of the hassle of getting the visa.
You have to get an invitation from an official tourist agency registered inside the country, which that's actually pretty easy to obtain. After receiving the invitation, you have to head to the embassy.
Loaded with the invitation, you should be able to get the visa from the embassy in the same day.
Looking for a complete guide about travelling cost in Uzbekistan? Check out my friends at Lost with Purpose guide.
Tashkent the capital of Uzbekistan
Most people arrive in Uzbekistan, around the capital of the country Tashkent (except if crossing the border overland from Turkmenistan)
The capital is a nice and very clean city, with big wide boulevards, parks and the normal western restaurants would expect to find in a capital. Tashkent got a few interesting sights like the flea market, and the old city, but I would recommend moving on since the city is A LOT more expensive than the rest of the country.
Samarkand is by far the most touristy place in Uzbekistan. You got a decent amount of western restaurants, some good coffee shops, a lot of souvenirs stalls and even a few bars selling ice cream and cold local beer.
Samarkand was one of the main stops on the old historical silk roads from China to the west. This city has so much to offer that you can easily spend 4/5 days if not a week to explore the city and surrounding area.
Bukhara was one of the great trading spots on the historical Silk Road. You can easily spend another four days exploring Bukhara; it has so much to offer.
The Ark is a massive fortress located in the city of Bukhara, was initially built and occupied around the 5th century AD.
In addition to being a military structure, the Ark encompassed what was essentially a town that, during much of the fortress' history, it was inhabited by the various royal courts that held sway over the region surrounding the city.
The Ark was used as a fortress until it fell to Russia in 1920.
Bukhara is another great city in Uzbekistan. It's one of the most historically important cities in the world, but still unknown. Bukhara has a fair chain of hostels, souvenir stalls, some great restaurants, and some of the best food I got in all of Uzbekistan; I got here in Bukhara.
Along with Samarkand and Bukhara, Khiva is important and often overlooked historical site on what was once the Great Silk Road.
According to legend, Khiva founded about 2.500 years ago when a son of Noah, Shem, discovered a well in the middle of the desert exclaimed "Khi-was!" (which locals will take delight in roughly translating as "sweet water")
This squat minaret is an iconic symbol of Khiva, mainly because of it's exquisite blue and green tile work and the fact that it remains unfinished. It was originally supposed to rival the Kalon Minaret in Bukhara.
However, the architect fled before seeing it finished, fearing he would be put to death by the khan. Technically, you aren't allowed to climb to the top of this minaret, but guards have been known to give visitors "unofficial" tours of the interior structure, for a fee.
I found Khiva to be my favourite city in Uzbekistan, booth Samarkand and Bukhara got a lot more to offer in terms of sights and history, but it was something about the atmosphere in Khiva that I liked, the city seemed laid back.
Additional info about Uzbekistan.
Transportation in Uzbekistan
Getting around Uzbekistan was so easy, they got a well-working train system.
Between Tashkent – Samarkand – Bukhara you got a high-speed train twice a day, you can get from Tashkent to Samarkand in about 2 hours and to Bukhara in another four and a half, and you also got overnight sleeper train from Tashkent to Samarkand (quite comfy, I took it) The overnight train was about 17usd for sleeper with your own bed.
There's no train station in Khiva, but you can take the train to Urgench about 40 km away then either take a bus or shared taxi to Khiva.
They also got a well-working bus system, but I would recommend taking the train instead, it's very long distances between the cities, and it didn't seem like they the busses where the best quality, but if you are going off the beaten path you don't have much choice.
There are shared taxis going between the cities all the time, its gone be much faster than taking the bus and probably much comfier too, etc. I paid 10usd for a shared taxi from Bukhara to Khiva, that's a 470 km trip.
The best place to change your money is on the "black market" around the local bazaars, I personally never had any problems with doing that, the exchange rate when I did it was about 100 USD- 260 000 som, but that varies a bit from day to day, discuss the rate before you agree on the amount you get.
Money/Price
1Usd – 2.55 Uzbek Som (UZS) better rate on the black market.
ATMs within banks DO work with foreign cards. Money can be withdrawn only in Tashkent and other major cities, such as Samarkand and Bukhara, But when I was in Uzbekistan most of them were out of cash for days, so you SHOULD carry a decent amount of USD/Euro with you do the exchange.
Uzbekistan, in general, is a very cheap place compared to Europe
1L Bottle of water – 0.5 USD.
0.33L Coke/Pepsi – 0.6 USD.
A meal in a local restaurant – 2-4 USD.
A meal in a good restaurant – 10-25 USD.
Hamburger meal with fries and drink – 4-6 USD.
Coffee in a coffee chain – 2 – 4 USD.
Pack of Cigarettes (Marlboro) – 2 USD.
Beer local 0.5L can – 1 USD.
Beer imported 0.33L (Heineken) – 3 USD.
Gasoline (1 litre) –1 USD.
Accommodation
Accommodation in Uzbekistan can be a pain; it's very important that you have a registration stamped for EVERY night while, in Uzbekistan, they will get checked on the border, and only hotels/guesthouse that officially registered will be able to give you the paper. The paper itself it's just a receipt with a stamp and the date you stayed there, but it's very important that you get it.
Tashkent
I didn't stay overnight in Tashkent; I took a night train out.
Samarkand
Bahodir B&B 9USD for dorm + 3usd for big breakfast.WiFi
By far most popular place for travellers, great location about 1min from Registan and 1min from the supermarket, you are guaranteed to meet other travellers here, big courtyard, clean western toilets and very helpful English speaking staff, got the stamped receipt without asking for it
Bukhara
Madina & Ilyos B&B, 10USD for single room with breakfast, shared bathroom and toilet.
Central location just minutes from old town, a bit hard to find, English Spoken.
Khiva
Alibek B&B, 10USD for dorm with breakfast, WIFi
Very good location, just across the West entrance of the old city, a few restaurants just steps away and about 10min walk to a decent supermarket.
Clean, good shower and toilet seat, English was spoken.
Other
As mention under the accommodation section, it's very important to get registration receipt for every single night in the country, if taking any night trains, save the ticket to when you leave the country, you will be asked in the immigration desk on the airport/land borders when leaving the country,
I personally didn't have any problem with it, and the guy in the immigration desk I used didn't seem to care about it, but the other tourist that was in the immigration desk next to the one I was using had huge problems coz he missed some of the receipts.
IF flying out, get rid of your Uzbek Som BEFORE going through the immigration on the airport, it's difficult to find money changer after immigration, and the few shops inside ONLY accept Euro or dollars.
Beer
Even Uzbekistan is an Islamic country; it's never a problem to get beer or vodka.
About every supermarket sales, it, "every" restaurant offers it. The cheapest places to get the local beers are normally the stalls at the local bazaar.
One of the main beers you will see all around Uzbekistan is Sarbast brewed by Carlsberg.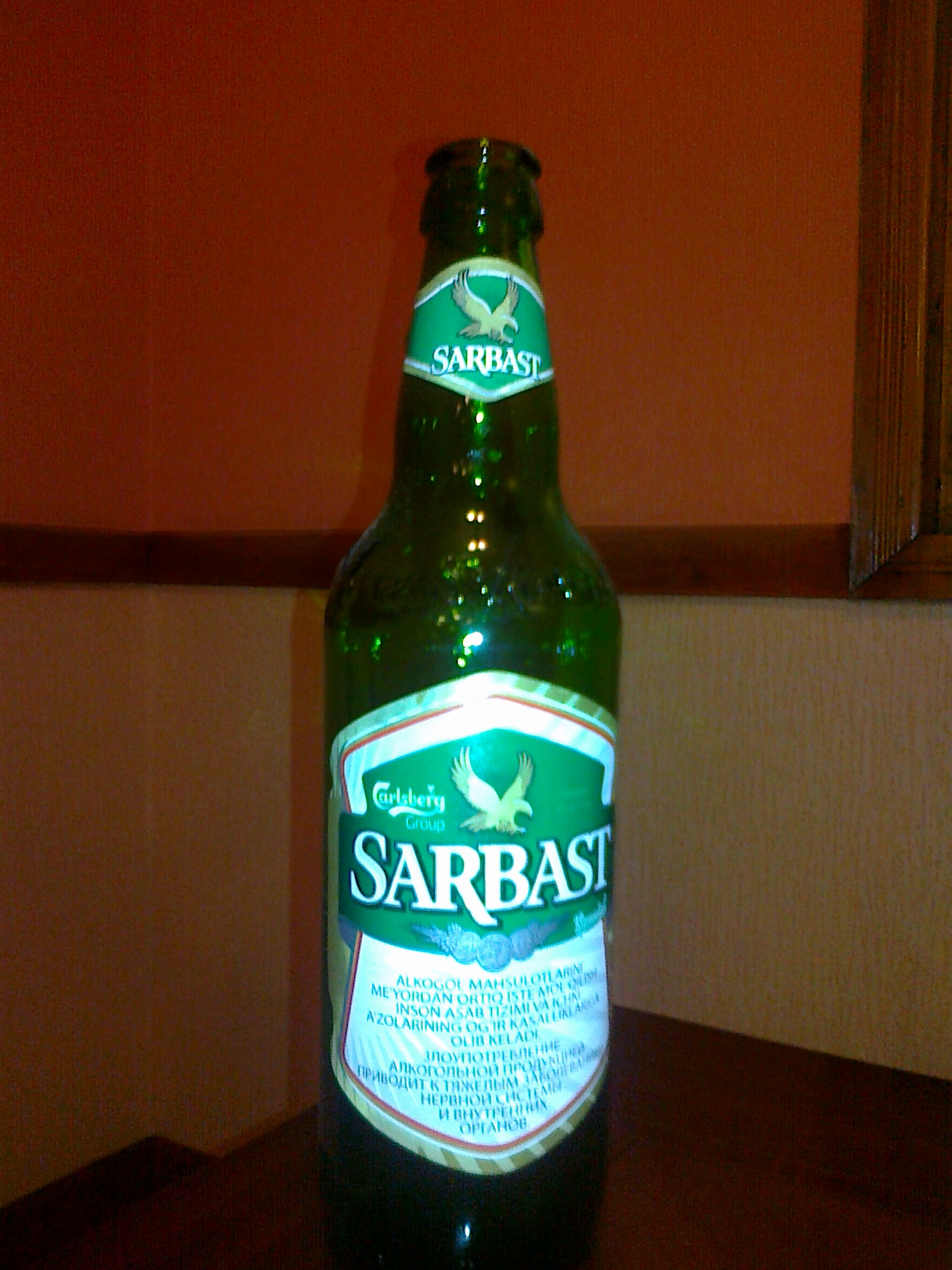 Sarbast Original
Type – Pale Lager
Strength – 4.2%
Price – 1usd
Taste – Grass and hay aroma, light gold colour, light-body, vert mild beer taste
Hangover – none.
The beer would never sell back in Europe, but in Uzbekistan, it's not too bad.
4/10
Have you remembered to read my post about how to visit the Aral Sea in Uzbekistan?
Like it? Share it, Pin it!