Fakarava atoll is the perfect place to visit if your dreams contain the following: walking out into some of the most transparent waters in the world and being surrounded by harmless reef sharks and giant fish with no other tourists around.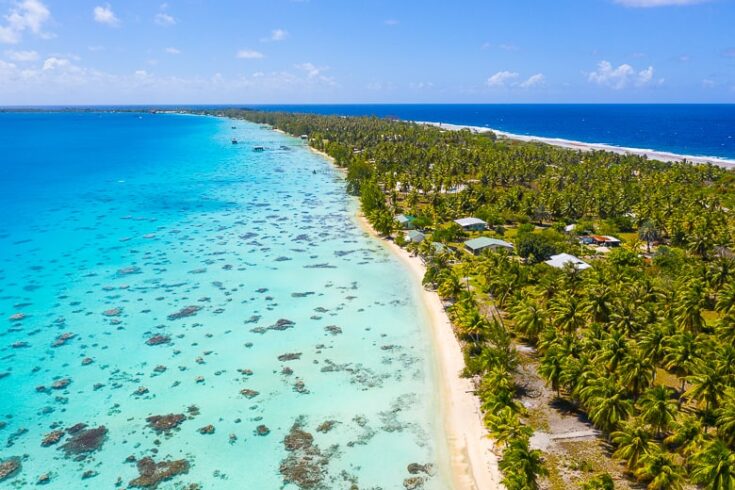 Biking around for an hour and having the road entirely to yourself, and then having fresh seafood for dinner every day before sleeping in your hammock to the sound of waves.
If this sounds like your idea of paradise, then you should visit the small atoll of Fakarava in French Polynesia. Personally, this is the best place I've been to so far in the world. A paradise with only 837 inhabitants, but what feels more like 50, far out in the south Pacific Ocean.
And before I forget, the waters around here are in the UNESCO Biosphere Reserve list of protected areas, so get ready to swim with hundreds of sharks, manta rays, turtles, and even whales if it's the right season.
This is also the reason why most people you will meet in Fakarava are here for scuba diving. National Geographic has claimed that the waters here have the world's highest concentration of gray reef sharks.
A Complete Travel Guide to Fakarava
If you're planning a trip to this little paradise, you'll want to know what to expect. After all, nothing dampens a vacation quite like being badly unprepared.

So keep reading to find out all you need to know about what to do in Fakarava, what to expect, what to pack, and more!
Where is Fakarava?
Fakarava is part of the Tuamotu Archipelago, one of the five Archipelagos that make up the country French Polynesia in the South Pacific Ocean.
Fakarava is, in fact, the second-largest atoll in all of French Polynesia. An atoll, for those who are unsure, is a ring-shaped island, coral reef, or series of small islands.
The Tuamotu atolls are home to less than 16 000 people which are living across 78 atolls (not all are inhabited) that form the most extensive chain of atolls in the entire world, over an area of 850 square kilometers (328 square miles), almost the same size as western Europe.
Fakarava is roughly rectangular shaped and is 60 kilometers (37 miles) long and 21 kilometers (13 miles) wide. The widest part of the atoll is around 300 meters (984ft), and the shortest part is only around 30 meters (98ft) across.
The interior lagoon is so big that you can't even see across to the other side. The center of the lagoon was once a volcano, but it has now plummeted over 1,000 meters into the Pacific Ocean floor.
The Fakarava Channels
Fakarava is separated by two passes – the northern pass, the Passe Garuae, and the Tumakohua (Tetamanu) southern pass.
Both passes are considered by Scuba divers to be among the best dive sites in the world.
In fact, Fakarava is so (relatively) big that, when locals are talking about it, they will talk about Fakarava like it's two different atolls; North and South Fakarava.
The two parts are not connected by land, and a one and half hour boat trip are required to reach the southern part from the northern part.
Fakarava is a short 1hour and 5min flight east of Tahiti, the largest island in French Polynesia and home to the only international airport in French Polynesia.
Why You Should Visit Fakarava Atoll
Most people that visit Fakarava are here for scuba diving, as there's not much to do here that doesn't contain water as a big part of your activity.
But Fakarava is by far the best place I've been in the entire world to recharge your batteries, lay in a hammock, read a book and just watch the time go by.
The word Paradise has been used so much by travel bloggers around the world that it has completely lost its meaning.
Like on other islands and atolls in French Polynesia, everything here operates on Island Time vibes, so it's impossible to stress.
Fakarava is the best place in the world to do nothing, so be sure to bring enough books to read.
Top Things to Do in Fakarava
If you want to relax and unwind, you're looking at the right place. All of the best things to do in Fakarava are blissful, fun, and mellow.
Fakarava North
Bike to the end of the atoll and the Garuae Pass lookout. This is the widest lagoon pass in all of French Polynesia.
From Rotoava to the northern tip of the atoll is a comfortable 10km bike ride. The first 4km is on the tarmac, before the last 6km past the airport is on a bumpy but good dirt road.
It's not advisable to go swimming or snorkeling at this point due to very powerful currents, but most of the dive sites on this part of the atoll are around here.
So don't be surprised if you see divers surface close to shore at the end of their dives.
While the northern tip is not recommended for swimming, there is an excellent spot for swimming and snorkeling around 1km back along the road, the PK9 Beach (Meaning it's 9km from Rotoava).
There are only two historical sites on this part of Fakarava. To be more precise, two lighthouses.
Taputavaka Lighthouse (Phare de Taputavaka) is one of the oldest lighthouses in French Polynesia, dating back almost 100 years. It looks like a small Mayan Pyramid similar to the ones found in central America.
Topaka Lighthouse (Ancien Phare de Topaka) is a 15-meter tall pyramid-looking lighthouse dating back to 1957. During emergencies, a fire would be lit atop to sign to neighboring atolls.
Like almost every atoll in French Polynesia, lagoon tours are offered here as well. I didn't do this one since I've had already done lagoon tours on both Bora Bora and Moorea, but I heard that the lagoon tour here is even more impressive than the two I did.
I instead decided to make a day trip to Fakarava South and to do a dive down there.
Click here to read my own post from my visit to south Fakarava and my diving at the South Pass.
North Fakarava Diving
The northern part of Fakarava is not considered to be as good as the southern part and Tumakohua Pass. But similar to the southern part, drift dives are the main thing here, so all dives are scheduled around the current.
You will dive from a small boat and drift with the current back into the lagoon. Be sure to follow your divemasters instruction. You can get swept away (like I did). The current is crazy strong, and swimming against it is close to impossible.
Drifting along with superb visibility, which is 40+meters, while seeing hundreds of sharks and fantastic marine life. Don't forget to look up; there are other big sea creatures swimming above you.
It's just insane and hard to explain to people that haven't done it themselves. It's one of the best dive experiences I've ever had.
I also went diving in the Maldives this year, but diving in Fakarava was miles better.
Some of the things you can see when diving the North pass are Manta rays, various types of sharks (black-tip, white-tip, grey, hammerhead, tiger, silky, reef), tunas, barracudas, and turtles). Fakarava shark sightings are an experience to remember.
There are three dive centers on the northern part of Fakarava, all doing the same dive sites. I'm not gone recommend one specific dive center you should use.
Instead, you should go and talk with all of them yourself and see which dive sites they are going to for the next couple of days day and how big the dive groups are.
And just decide yourself which dive center gives you the best vibes.
The day I went diving, there we only three people in my group while one of the other centers were going with 16 people. Your preference may lean either way, so it's great that there are options.
Find the dive tour options here:
TopDive: The biggest dive operator in French Polynesia, with dive centers in Moorea, Bora Bora, Tahiti, Tetiaroa, Rangiroa, and Fakarava. They offer discounts there more you dive with them around French Polynesia.
Fakarava Hotels | Best Accommodation on the Island
Upon arrival at the airport in Fakarava, you will notice a massive poster with all accommodation around the atoll.
I would recommend you to call and book in advance at the accommodation you have chosen so that you can get picked up at the airport. The airport is located 4km west of Rotoava, Fakarava, the village on the island.
There's no bus or taxi from the airport to town, so if you haven't arranged a pickup, you will probably have to walk the long way back to town. Not recommended for those who came here to relax!
Hotels in Fakarava | Relais Marama
Like every other budget traveler I decided to stay at Relais Marama. This is the place to stay in Fakarava. Relais Marama is run by Jacques, a friendly fellow that has lived here for around 30 years.
Relais Marama has seven one-bedroom open-air bungalows.
The bungalows are quite basic, with two beds, a mosquito net, a power socket, and a balcony. There's no fan, but the breeze from the ocean just a few meters away will keep the mosquitoes away. I loved this Fakarava hotel.
There's no bathroom in the bungalow, but there are two shared bathrooms with warmish showers at the property for the guests to use.
There's a well-equipped shared kitchen, a BBQ place, and a book exchange here. Jacques offers free airport pickup and dropoff, plus free bike rental for his guests.
This is the place to stay if you are traveling on a budget as a backpacker or with your family. Free WIFI and Breakfast included.
Be sure to call in advance to book a room, I called and reserved a bungalow one week in advance, and I got the last one. During my five nights here, was it fully booked every day.
If you're camping Fakarava, Relais Marama has a big open garden where you can pitch your tent (for a fee) and a few trees you can hang your hammock between.
I also noticed a camping place around 5km south on the atoll and another camping place a few km north of the airport. Both those places are a bit remote and far from Rotoava.
Where to Eat in Fakarava
Dining options on Fakarava are pretty limited (and expensive, like the rest of French Polynesia), but all guesthouses have a guest kitchen where you can cook your own food.
There are three supermarkets on the atoll; the best stocked being the gas station next to the harbor.
Don't expect anything else than canned food, pasta, and rice on the supermarket's shelves. Like every other small atoll in French Polynesia, there is a big lack of vegetables in the shops.
All shops close at 7 pm and are not open on Sundays.
There are a few dining-out options that we'll look at below.
NB: It's not uncommon for restaurants to run out of groceries and supplies that can not be produced locally.
NB: Only drink bottled water in Fakarava. There's no natural water source here. All the water on the island is from collected rainwater.
Small food shack next to the gas station (cheapest place for beer and food, also the place you can buy beer the latest on the atoll).
Rotoava Grill: One of the best and most popular places. Burgers, BBQ Fish, and BBQ Beef.
LA Paillote: Small bar with snack food, a perfect place to relax with a book and beer.
Chez Elda: Super friendly staff and amazingly fresh seafood.
Kori Kori: Maybe the best-located place, located on a sun deck right next to the water. Great food. The only place that had proper salad during my visit to the atoll.
Havaiki Lodge: Restaurant attached to the most expensive hotel on the atoll.
Food Truck next to top dive: Food Truck run by a friendly French woman. The best menu on the atoll, duck, garlic bread etc. One of the few places that's open on Sundays.
Where to Drink in Fakarava
There's no nightlife on Fakarava whatsoever, but there are a few good places to sit down and enjoy a beer or two. My personal favorite was LA Paillote, the small French-owned bar right next to the waterfront.

This is also the place with the best drink selection on the atoll. Keep an eye out for French Polynesia's best local beers.
Havaiki Lodge has chairs and tables placed out in the water, a great place to hide away from the sun.
It's popular to bring a few beers back from one of the supermarkets (the gas station doesn't sell beer) to Relais Marama, having a few beers around the table and sharing travel stories with fellow travelers.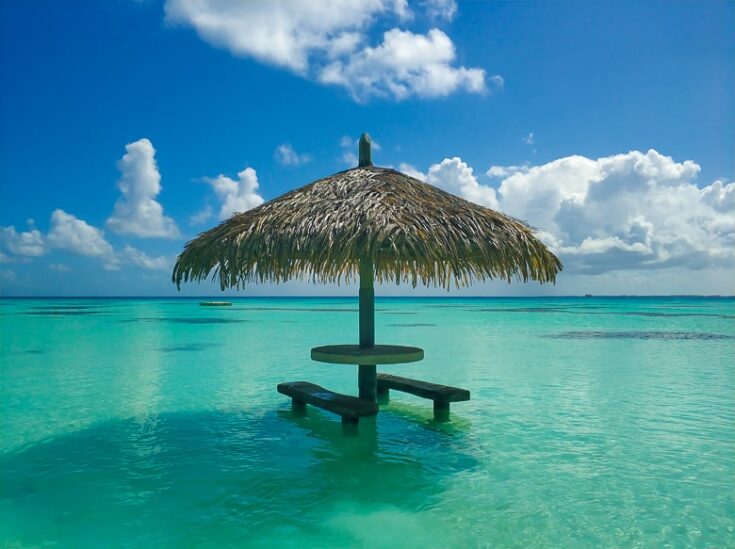 Getting Online
The Internet is somewhat limited on Fakarava. All accommodation on the atoll offers free wifi but don't expect much. The speed is extremely limited, so Fakarava is definitely not a place for a digital nomad.
If you have bought a local sim card with internet for French Polynesia, you will only get an EDGE connection here.
This is the reason you should always call to book your accommodation early if possible. Guesthouses can be without an internet connection for days here, so if you have tried to email some of the guesthouses and didn't get a fast reply, don't blame them.
Money
There's no bank at Fakarava, but the local post office in Rotoava has an ATM that works with VISA & Mastercard.

All Fakarava accommodation options and dive shops accept payment with bank cards and in USD or EURO. However, the restaurants seemed only to accept payment in local currency.
NB: The ATM can often run out of cash, so be smart and bring extra money with you from Tahiti.
How to Get to Fakarava, French Polynesia
By plane: By far, the easiest way to Fakarava is by flight with Air Tahiti. There are five weekly flights between Tahiti and Fakarava, all stopping over in neighboring Rangiora.
The flights to Rotoava from Tahiti are flying on Monday X2, Tuesday, Saturday, and Sunday.
There are also flights from Rangiora to Fakarava, which is operated on Wednesday, Friday, and Saturday.
NB: Be aware the flights to and from here are often delayed due to poor weather conditions. My plane from Fakarava back to Tahiti got delayed 5 hours because of bad weather.
By boat: The Cargo Saint Xavier Maris Stella IV runs between Tuamotus and Tahiti 2 times a month. Locals said it was possible to join as a passenger, but I wasn't able to get a schedule.
There's no ferry to the neighboring atolls, but Fakarava is a popular destination for private sailboats, so it should be possible to hitchhike with one.
Getting Around Fakarava
The only way to get around the atoll is by foot or bicycle. There's a 10km flat paved road that runs from the Fakarava airport and 10km south.
The rest of the atoll is dirt roads. The only reason you want to leave the paved road is when heading to the K9 beach and the northern part of the island, and if you're going to explore the remote places on the southern part of the atoll.
There's no taxi or bus on the atoll. But don't worry, Fakarava is almost entirely flat, and you won't meet more than five cars a day when you're biking around.
If you want to visit the southern part of Fakarava, a boat is the only option.
What to Pack for Fakarava Island
You will need to pack absolutely everything that you will need for your stay at Fakarava with you. There's literally nothing to buy here.
Snorkeling gear
Books so you have something to when you are not scuba diving
Suncream, but be advised you are recommended not to use suncream when going diving
Extra memory card for your camera – you can't get a new one here
A hammock to put up on the deserted beaches
A flashlight for walking around the streets at night and go shark watching from shore
Safety on Fakarava
Fakarava is an extremely safe destination. The locals are among the friendliest and most welcoming in the world, but there's a lot of street dogs here, and they love to follow you when biking around in the late evening.
Be aware that the current here can be extremely strong, especially at the northern tip of the atoll. There's no hospital on the island, so if you do get unlucky, you will have to get flown back to Tahiti.
Dive insurance is highly recommended if you decide to go scuba diving. By law, you are forbidden to dive deeper than 27 meters in French Polynesia.
Reef Sharks are normally harmless, but they can become dangerous in the presence of food, and they tend to be more aggressive if encountered in open water rather than on the reef. It's not unheard of for reef sharks to bite people that are wading through shallow water.
Ready for Paradise?
Armed with this guide, your experience on this little atoll is sure to spark warm remembrances for years to come. Lazing your days away on the warm sand or softly swaying hammocks is an ideal way to unwind.

Mix that with a little scuba diving, snorkeling, reading and beer drinking, and you have a perfect vacation on your hands.
Like It? Share It!? Pin It!