Beirut on Lebanon's Mediterranean coast is the country's largest city with a population of over 2 million people, and it's also one of the world's oldest cities, as it has been inhabited for over 5000 years.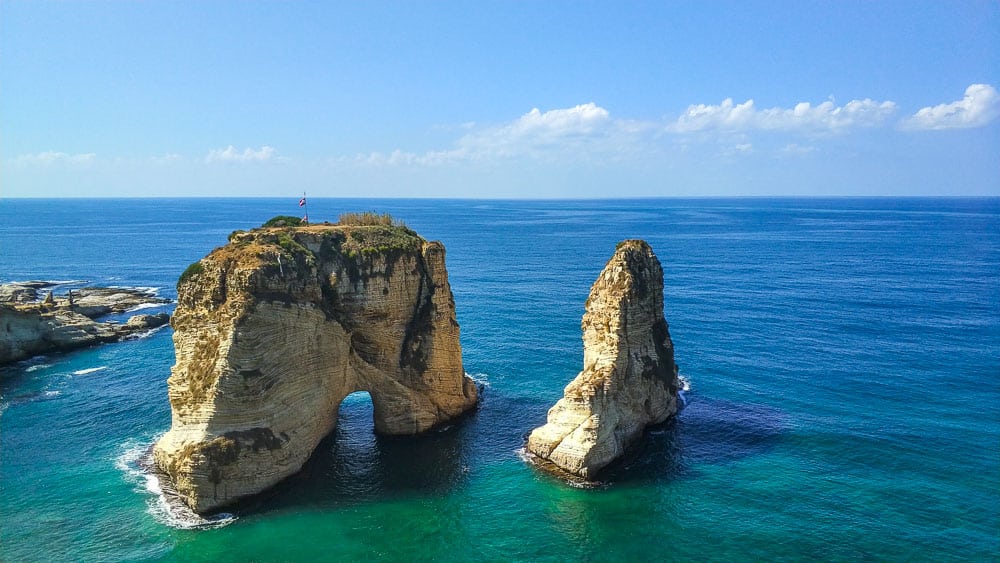 Its rich history blends effortlessly with the present to create a melting pot of architecture, restaurants, nightlife and cultural experiences.
The city may have had a tumultuous past with a civil war that lasted from 1975 to 1990, but today it's a hip metropolis and the Middle Eastern centre for banking and tourism.
With seafront promenades, green neighbourhoods, ancient ruins and cobbled streets with vendors selling handicrafts, clothing and food, this is a city that will captivate from the moment you set foot in it.
Top 14 Things To Do In Beirut
Take a Walk Along Hamra Street
Hamra Street is one of Beirut's main streets and the main economic hub in the city. It's often referred to as the Champs Élysées of the Middle East for its sidewalk cafes, shops, theatres and gardens.
The commercial district is home to several universities, pubs, clubs and restaurants – a place where all religions and free thinkers unite to enjoy each other's company, shop and dine together.
Each year during autumn months, the street holds a huge festival, becoming alive with musicians, artists and performers – if you find yourself in Beirut during this time, Hamra Street is the place to be.
Soak Up the City in Nijmeh Square
Nijmeh Square (Place de l'Etoile), which means Star Square because of the 6 streets surrounding it, is the beating heart of Beirut, the central square in Downtown. Home to the Lebanese Parliament building, two cathedrals, cafes and impressive Art Deco architecture.
One highlight is the 1930s Rolex clock tower, a gift from Lebanese/Brazilian Michel Abed to the government.
It's a favourite spot for locals, tourists (and pigeons) and a great place to soak up the city's vibrant atmosphere or enjoy Lebanese mezze with friends.
Delve into Lebanon's Past at Beit Beirut
Prior to the 1970s, Beirut was the Paris of the Middle East.
This chic coastal city on the Mediterranean Sea with centuries of history, attractive architecture, cafes, and restaurants enticed visitors from all over the world.
When civil war broke out in the mid-1970s, this ended overnight, and Beit Beirut, in the heart of the city, was an area affected the most.
The Bakarat building or "yellow house" was a major casualty as it was located exactly on the border between warring factions – in a sector known as the Green Line.
The once beautiful structure was almost completely destroyed. However, today, post-civil war, it has been lovingly restored as a museum space.
With exhibits, 'before and after photographs and stories from survivors, Beit Beirut offers a glimpse into the era, serving as a reminder of past events, yet looking towards the future with hope.
See the Pigeon Rocks
Raouche Peninsula sits close to Ramlet el-Bayda, Beirut's public beach.
Years ago, it was an area only frequented by the fishermen who lived here – today; it mesmerises with natural harbours, clifftop walks and Pigeon Rocks – a 60-metre high duo of rocks dating to prehistoric times.
You can take a boat trip to see them close up. Alternatively, head for Corniche el-Manara to the north.
This pedestrianised seafront promenade punctuated with palm trees is a romantic location for couples.
Vendors sell snacks, pieces of bread and drinks, and you can relax, enjoying changing colours of the Mediterranean sunset as it illuminates the water.

Visit the National Museum of Beirut
This archaeological museum in Beirut began its collection after the First World War, although it didn't open its doors until the early 1940s.
Today, around 1,300 artefacts discovered on excavation sites across Lebanon are displayed, dating from prehistoric times all the way to the medieval Mamluk era.
Highlights include The Byblos figurines, a statuette of Reshep in gilded bronze, the seven wise men mosaic and a marble statue of Aphrodite.
If you love archaeology, history and learning about ancient civilisations, this museum should definitely be on your Beirut itinerary.
Relax Along The Beirut Corniche
The Corniche in Beirut a are 4.8 kilometres (3.0 mi) long stretch along the waterfront in the city, a perfect place to go for fun, fishing, running, swimming either in the Meditrerien sea or in one of the public swimming pools.
Another popular activity along the Beirut Corniche is people-watching during the evening when the locals come for a walk and to enjoy snacks sold from one of the many food stalls along the way.
Feast on Middle Eastern Food
You can't visit Beirut without sampling some of the country's most famous dishes.
Lebanese cuisine can be traced back centuries with culinary influences from the Phoenicians, Egyptians, Byzantines, Arabs, Persians, Romans and Greeks!
Their Mediterranean style diet is healthy for the most part, with a large focus on fruits, vegetables, whole grains, white meat and seafood.
You'll find delicious dishes on menus suitable for all diets, including baba Ghanouj – a delicious char-grilled eggplant dip, falafel – deep-fried chickpea patties and shawarma – a marinated meat kebab.
In local restaurants, small 'mezze' dishes similar to tapas are served to the table with hummus, bread, salads and dips, with Lebanese Bulgur Wheat, which is also known as Tabouli or Tabbouleh, a dish you must try while in Lebanon.
When it comes to desserts – baklava made with layered filo pastry drizzled in honey and filled with nuts is a popular sweet treat, as is Meghli – a spiced rice pudding usually served at celebrations.
See Beirut's Blue Mosque
Even if you don't follow a particular religion, it's still worth visiting the Mohammad Al-Amin Mosque of Beirut.
It's the largest mosque in Lebanon, distinctly Ottoman in design with inspiration taken from Istanbul's famous blue mosque.
Its 48-metre high dome of blue with towering minarets on each corner can be seen from all across the city.
Although it suffered damage in 2020, it's a monument of such significance in Beirut; you should at least go and see it from the exterior.
Visit Art Galleries in Saifi Village
Saifi Village in the heart of Beirut is the city's upscale art quarter.
With cobbled streets, green spaces, French colonial architecture and tree-lined avenues, it's a pleasant neighbourhood to browse or stop for coffee and mezze.
The charming village boasts over 50 art galleries, design studios, antique shops and boutiques where you can pick up unique souvenirs of your stay in Lebanon.
In addition, every Saturday morning, vendors converge on the neighbourhood to sell their fresh, organic produce and handicrafts around Souk el Tayeb.
If you wish to procure products for a picnic or a gift for friends, this is the place to visit.
Whilst here, you can take a 10-minute walk to historic Downtown Beirut and Martyr's Square with its poignant statues.
Discover the Ancient Roman Baths
Just 15 minutes' walk from Saifi Village, you'll discover the ancient archaeological site of Beirut's Roman Baths.
These bathhouses were once social meeting places for local people, with four major thermae complexes.
The remnants of these rooms are still evident, however, today, one site is used as a concert venue, and another has been transformed into Mediterranean style gardens in which to grow medicinal plants.
Many of the plants grown today were also used during Roman times as bathing balms to nourish and heal the skin!
Experience Beirut Nightlife
The busiest neighbourhoods in Beirut after dark are Mar Mikhael and Gemmayzeh.
In the evenings, the city springs to life with clubs, bars and pubs like Central Station, Anise and Torino Express.
You can drink, dance and dine like a local in the areas around Gouraud and Armenia, where trendy bars, international restaurants and clubs are open until the early hours.
Beirut might be home to the best nightlife in all of the Middle East.
See Exhibits at Sursock Museum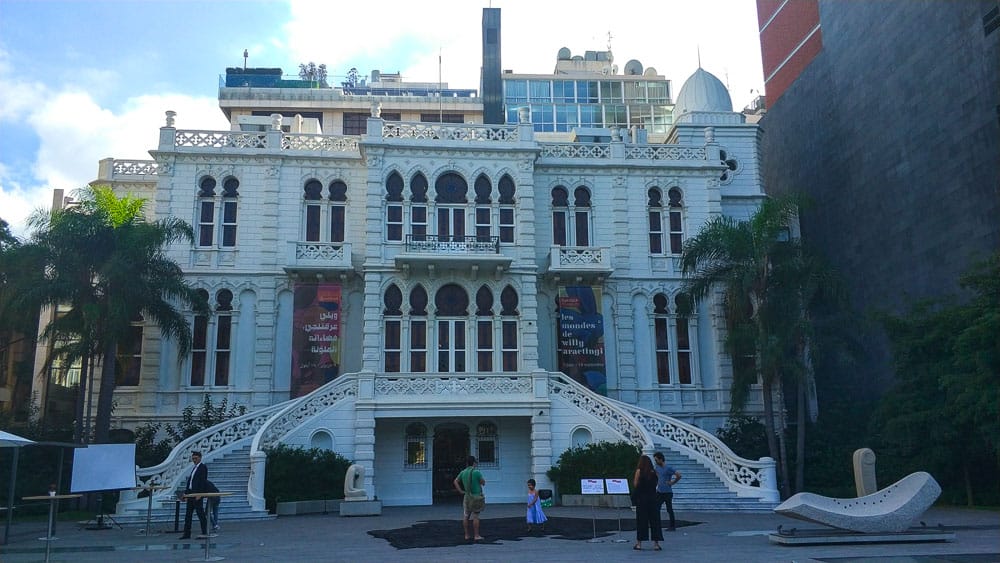 This spectacular private villa was built by Nicolas Ibrahim Sursock in 1912.
When he passed, he bequeathed the beautiful structure of the city, and today It houses unique collections of modern and contemporary artwork in Beirut.
It boasts permanent collections by a host of Lebanese and International artists, Japanese engravings and Islamic art. Plus, there are over 800 sculptures, paintings and graphic artworks to explore.
Take a Day Trip To Byblos
Just 30 minutes drive south of Beirut is a favourite spot for both locals and tourists. The coastal city is one of the oldest in the world, dating back to 7000 BC.
ts old souks tell stories of past inhabitants in labyrinth alleyways, quaint shops and cafes hidden inside residences.
There's evidence of the Crusaders having visited with ruins of a 12th-century castle overlooking the city, and Roman columns stand on the land surrounding.
The main highlight is Byblos Harbour – once a vibrant hub of Phoenician trade, it's now a peaceful place to sit by Mediterranean shores, watching fishing boats as they sail into the harbour with their catch of the day.
Historic Architecture of Baalbek
Less than 2 hours northeast of Beirut, you can discover the magnificent temple complex of Baalbek.
Nestled at the top of Bekaa Valley, this is one of the most revered holy places on our planet.
Once, it was the largest stone construction in the world, and it became known during Roman times as Heliopolis 'city of the sun'.
Remnants of temples still stand, their tall columns solid beneath a seemingly unending sky, and on the ground level, bas reliefs, huge stone walls, carvings and structures show foundations of one of the world's first cities.
The best way to see Baalbek is on a guided tour, to learn about its history, architecture and the citizens which once called this city home.
How to Get to Beirut
Beirut is Lebanon's main transport hub. Buses arrive here from Damascus, Homs, Aleppo in neighbouring Syria.
The country is compact and easy to get around. In fact, it takes less than 3 hours to travel the entire length from north to south along the coast.
If you wish to travel from Beirut to the winter ski resort of Mount Hermon on the Syrian border, the travel time is around the same.
You can also fly to Beirut from most major European cities, areas of the Middle East, Africa, Australia and Singapore.
As the country's main airport is just 5 kilometres from Downtown Beirut, the capital city is easy to access once you land.
When it comes to getting around Beirut city, you can walk to most attractions and landmarks. There's a 'hail and ride bus service and taxis.
A handy tip for the taxis – there are no meters, therefore always agree on the fare before beginning your journey.