Istanbul is Turkey's largest city, a cultural, historic, and economic center of this vast country in the eastern corner of Europe.

Once known as Constantinople, it was a major trading post along the Silk Road and served as an Imperial capital for several centuries.
Its influences are Roman, Byzantine, and Ottoman, and evidence of these eras can still be seen in its ancient buildings, historic mosques, and bazaars today.
It's a fascinating city to visit, the sights, sounds, colors are intoxicating, and if you stay awhile, you'll discover some of Istanbul's best-kept secrets.

This city of two halves sits on either side of the Bosphorus River, bridging the continents of Europe and Asia.
Top Things To Do In Istanbul
See the Jewel of Istanbul – Hagia Sophia
Hagia Sophia is one of Istanbul's most commanding structures. It anchors the Old City, serving as a place of worship for dual religions.
It was built on the instruction of Emperor Constantius in 360 A.D. However, the first version was destroyed in decades by fire during political riots.

After another failed attempt, another version was commissioned, based on the original elements, but with a tiled domed roof instead of a wooden one.

Marble from the Anatolia region of Turkey was transported for the build, along with over 100 columns from Ephesus and Egypt.
Today, Istanbul's architectural gem still stands, with atmospheric lighting, frescoes, artwork, and statues, attracting 3.5 million visitors a year.

It's a monument to Turkey's resilience throughout the centuries and one of the most popular tourist landmarks set inside the UNESCO Archaeological Park along with Topkapi Palace.
Another historical religious place worth a visit in Turkey is the Sumela Monastery located outside Trabzon located in northeast Turkey.
Sultanahmet Square.
Located in the historical part of Istanbul are the remains of the Hippodrome, these days known as the Sultanahmet Square.
The Square is surrounded by all the famous Istanbul landmarks, the Hagia Sophia, and the Blue Mosque.

But also the Museum of Turkish and Islamic Arts, Archaeology Museum, the Egyptian Obelisk(Obelisk of Theodosius), Basilica Cistern, and the Serpent Column are located around Sultanahmet Square.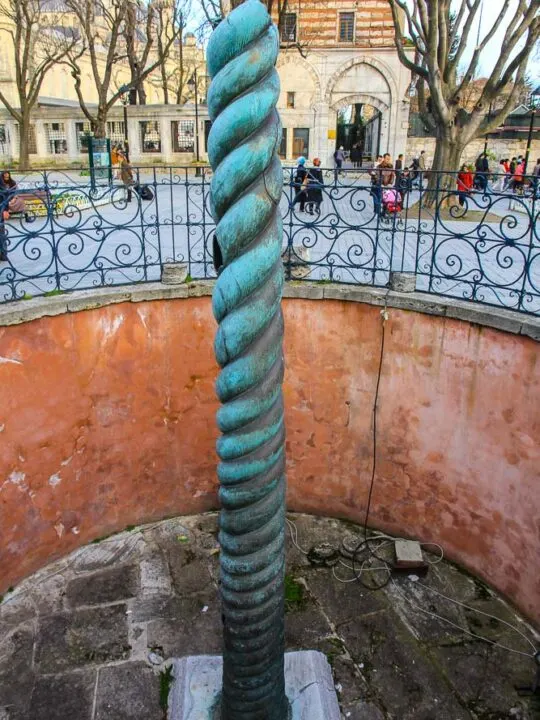 Visit Majestic Topkapi Palace
Topkapi Palace was originally built for sultans of the Ottoman Empire following the 15th-century conquest of the city.

It remained their official residence until the empire fell in the 19th century and now stands as a fascinating museum displaying exquisite collections from the Ottoman era.
The palace consists of four courtyards. The outer courtyard was once a trading area for vendors arriving from the east and now offers access to the site's archaeological museum and the charming Byzantine church Hagia Eirene.
If you wish to see the Tower of Justice and Palace Kitchens, enter through the Gates of Salutation into the second courtyard.

You can explore the collection of sultan's costumes and religious artifacts of the third courtyard or enjoy a meal with views of the Bosphorus from the garden of the fourth courtyard.
However, you decide to spend your time at Topkapi Palace, it will be an enlightening journey, as you step through time from the Ottoman Empire to the present day.
Go Underground at Basilica Cistern
One of the most resplendent and memorable sites in Istanbul is Basilica Cistern. Located southwest of Hagia Sophia, this vast underground cistern was built between 527 and 565 by Emperor Justinian.

It was constructed with mystery and myth in mind, and during Byzantium rule also met the water needs of the nearby palaces and other buildings in the region.
However, during Ottoman rule, different water facilities were established, and the cistern was no longer used until it was rediscovered many years later.

More recently, Hollywood-based scenes from Dan Brown's 'Inferno' on Basilica Cistern, although most scenes were shot in a studio to prevent damage to the historical structure!
Experience the World's Oldest Shopping Mall, The Istanbul Bazaar
If you seek retail therapy in Istanbul, look no further than Grand Bazaar. This was one of the world's first shopping malls, constructed in 1455 after the Ottoman conquest initially to trade jewels and textiles.

Today, the vast covered market comprises over 60 streets, 4000 + shops, 60 restaurants, mosques, fountains, and even a local school!
There are dedicated streets selling gold and jeweled items, furniture, carpets, leather goods, clothing, and second-hand books.

Browse until your heart's content, then break for a cup of strong Turkish coffee and soak up the lively atmosphere around you.
Delve into Istanbul's History
Istanbul's Archaeology Museums are often overlooked by tourists. Made up of three sections, they are filled with classical relics and antiquities that can't be discovered anywhere else in the world.

There's the Archaeology Museum, The Museum of Ancient Orient, and The Tiled Kiosk Museum, all in the same location.

Visitors can see a sarcophagus of Alexander the Great, one of the world's first-ever treaties, and a whole host of beautiful Turkish tiles and ceramics.
Visit the Peaceful Süleymaniye Mosque
If you prefer to browse your structures in relative peace minus the crowds, avoid the Blue Mosque and Hagia Sophia and head for Süleymaniye Mosque instead.

This spectacular structure was designed by architect Sinan for Sultan Suleyman I in around 1550. It took over 3500 craftspeople to complete the building, which includes a praying hall, kitchen, bathhouses, a caravanserai for travelers, a hospital, and four schools inside the grounds!

Explore the tombs of Suleyman, and the sunken tea garden café tucked away behind the trees losing yourself in this magnificent oasis.
See the Whirling Dervishes
One of the most popular attractions in Istanbul is a trip to see the Whirling Dervishes. This unique, mystical dance ceremony originated from Konya in Turkey and dates back several hundred years.

The Sufis, also called Dervishes, dedicated their lives to a spiritual path and close relationships with the divine.

The ancient dance ceremony is part of this connection, a spiritual ascent through the mind, complete with a complex musical repertoire and lots of whirling in beautiful traditional costumes and tall hats.

One of the most authentic places to see the

Whirling Dervishes in action is at Galata Mevlevi Lodge – a museum with Turkish calligraphy and exhibited music items from the Mevlevi culture.
Cruise Along the Bosphorus
Cruise along the Bosphorus River and travel between two continents – Europe and Asia.

Enjoy views of historic monuments, mosques, and fortresses, or step off to explore aromatic spice markets bursting with color.
Ortaköy is a former fishing village with preserved wooden houses, cafes, and restaurants.

Then there's the Bosphorus Bridge, the first bridge to connect east and west. Dolmabahçe Palace offers insight into the spectacular architecture of Baroque, Rococo, and Neoclassical styles, plus, it boasts some amazing exhibits too.
Alternatively, venture to Çamlıca Hill – a scenic, pine tree-infused hilltop blessed with magnificent views of Istanbul.

There are several different cruises to enjoy, which can include Istanbul's islands, breakfast on a luxury yacht, or half-day morning, afternoon, or thrilling evening cruises.
Discover the Blue Mosque and Sultanahamet District
The historic heart of Istanbul, this UNESCO World Heritage district is where you'll find the Blue Mosque, Topkapi Palace, Basilica Cistern, Great Palace Mosaic Museum, and Istanbul's archaeological Museums.

As everything is in such proximity, you can imagine the Old City as it stood during the Byzantine and Ottoman eras.
The Blue Mosque is a major highlight of the district. With six minarets, a prominent dome, and stunning interiors, this Ottoman-era structure was constructed between 1609 and 1616.
The mosque was named after the hand-painted Iznik ceramic blue tiles inside, adorned with representations of flowers, cypress trees, and fruit.
The upper levels of the Blue Mosque are also decorated in blue with over 200 stained glass windows, chandeliers, and calligraphed religious verses.
It's worth remembering that the Blue Mosque in Istanbul is still a place of worship, so time your visit well so that you can gain access to most areas.
Gain 360 Views from Galata Tower
Galata Tower is a distinctive landmark of Istanbul, the current structure dating back to the 14th century.

The Genoese-style brick tower overlooks the city, rising to a height of 62 meters above the base.

During the Ottoman Empire, the tower was used as a prison, for the military, and as a fire tower.

It was also the site where a local man strapped on some artificial wings and managed to fly from the top of the tower to the opposite side of the river!
You can climb to the top of an observation platform to discover exceptional 360-degree views of the city across to the Historical Peninsula and Princes' Islands, so don't forget your camera!
Indulge in a Traditional Hammam Treatment
It would be a travesty to visit Istanbul and not indulge in a traditional hammam treatment.

Turkish bathhouses may be popular worldwide, but there is no place quite like Istanbul for authentic treatment.

If you're a first-timer, you can expect bubble massages, heated marble slabs to lie on, and lots of skin scrubbing and pummelling.

Although it doesn't sound very relaxing, it is completely blissful, and as an added benefit, the architecture of many of these hammams is pretty impressive too.
Experience Istanbul's Buzzing Nightlife Scene
Istanbul has an amazing nightlife. Fact. You can see local performances, sip cocktails on a rooftop overlooking the city, attend a concert, or dance till dawn in the hip, open-air venues.
On the European side of the city, popular areas for superb nightlife include Istiklal Street, Galata, Taksim, Nevizade Street, and Beyoglu Districts.

On the Asian side of the river, Kadikoy, Iskele Street, and Bahariye Street offer atmospheric taverns, restaurants, and lively nightlife.
Mesai Bar in Beyoglu is a city favorite – a place where you can enjoy signature cocktails and delicious snacks overlooking Istanbul's iconic landmarks.

Alternatively, check out 16Roof Swisshotel in Besiktas, which offers dinner with live DJ performances.
The Best Day Trips from Istanbul
If you wish to retreat from the hustle and bustle of Istanbul for a day, here are a few of the best day trips from Istanbul.
Venture to the Istanbul Suburbs of Bebek and Ortaköy
Bebek is a unique and interesting area of Istanbul. It's located away from tourist attractions, nestled on the shores of the Bosphorus River with spectacular waterfront views.

It boasts traditional cafes and restaurants along the sheltered bay serving local delicacies with tea or coffee – a perfect start to the day.
Follow this with a walk along the waterfront, observing views of the city beyond the river and using the bridge as your landmark.

There are options to take guided bike tours, explore the Rumeli Fortress and walk along the walls, or you can walk or cycle to nearby Ortaköy, an attractive neighborhood with great entertainment, shopping, and nightlife.
Spend a day on Princes' Islands
A short, scenic ferry ride from Istanbul is Princes' Islands, a favorite weekend hideaway for residents and tourists with scenic vistas, pretty beaches, seafood restaurants, and exclusive mansions.
The largest of four main islands is called Buyukada, popular for its lush pine forests and panoramic views from the hilltop church and monastery.

For natural beaches, Kinaliada is less visited by tourists – a place to relax and unwind, but if you're after a quaint country vibe, ice cream shops, and abundant harbourside seafood restaurants, Burgazada ticks all the boxes.

It takes around 40 minutes to 1.5 hours on the ferry from Istanbul, but if you do plan to visit the islands, they are best viewed on weekdays and out of season to avoid crowds.
Visit the Black Sea Village of Kilyos
Kilyos is located around 35km north of central Istanbul and popular with city dwellers who visit during weekends and summer months.

The main draw of Kilyos is its beach clubs flanked by restaurants and cafes, and there are bars and restaurants with live DJs playing sets in the evenings.

This Black Sea retreat is popular for windsurfing and kite surfing and can be reached by bus or dolmuş (shared taxi) from Istanbul in around 1.5 hours.
Go Hiking in Belgrad Forest
This ancient forest close to the city is the perfect place to connect with nature after several days in Istanbul.

There are hiking and trekking trails, nature walks, and even places where you can stop for a picnic or barbeque.

It's popular with locals on weekends, so to avoid the crowds and enjoy the natural beauty in peaceful solitude, head here during the week.
Where to Eat in Istanbul
There are many amazing places to eat in Istanbul. For dinner with a view, try 360Istanbul on Istiklal Street. The restaurant is set inside a 19th-century apartment block and boasts panoramic views of the city.

Feast on Turkish meze sharing platters accompanied by a glass of wine or two, whilst enjoying vistas of the city skyline.
Alternatively, Spago Restaurant and Bar in Nisantasi, close to Taksim, is helmed by celebrity chef Wolfgang Puck with a unique menu and outstanding city views from the rooftop terrace.
Mehmet Gurs pioneered Istanbul's contemporary restaurant scene. In his award-winning restaurant Mikla, you can mingle with the hip crowd whilst sipping wine as Istanbul illuminates.
If you're looking for something a little more authentic and Turkish, dine on juicy kebabs at family grill restaurant Guler Ocakbasi Harbiye.

Locals love it and say everything tastes incredible. Or experience traditional Ottoman cuisine at Asitane.

The owners use original cooking methods and recipes to create dishes that were enjoyed over 500 years ago!
Where to Stay in Istanbul
Most people choose their Istanbul hotel based on three things – local attractions within walking distance, hotel amenities, and budget. Fortunately, there are hundreds of hotels in Istanbul to choose from.
If you prefer traditional, boutique, luxury, or budget hotels, you can find a place to stay in Istanbul to suit your requirements.

Whether you want 5-star luxury by the river or in the historic quarter, a mid-range hotel close to entertainment, shopping, and nightlife, or wish to stay on the opposite side of the river in a boutique hotel with the finest views of Istanbul's landmarks, there's a hotel for you!

A couple of my personal favorite accommodations in Istanbul.

Angel's Home Hotel
My personal favorite in the old historical part of Istanbul, a small hotel with a nice rooftop with a view over the Blue Mosque. Super friendly and welcoming staff.
Located just a few steps away from the Bosphorus river in Findikli district, while the hotel is not close to the historical part of Istanbul, so is a tram station located just outside the hotel with a direct line to the historical part of town and a ferry port with local boats to Princess Island just a few min away.

However not all the rooms at this hotel are good and clean, so be sure to ask for one of the rooms with a view over the Bosphorus river.
One of the best hotels in Istanbul, located just a few hundred meters away from Galata Tower. A small charming hotel with brand new rooms. Has a rooftop with a great view and super friendly staff, not the cheapest option but a highly recommended hotel.
Top Tips for Visiting Istanbul
Istanbul is a vast metropolis, so if you're short on time and only visiting for a few days, here are some top tips for visiting Istanbul.
Plan your time wisely
Look at a map and decide on the landmarks and things you want to do most. Then divide each area into days. For example, if you want to visit Hagia Sophia, Topkapi Palace, and the Blue Mosque. Allow one day to explore the UNESCO World Heritage District of the city.
Alternatively, if you plan to take a cruise across to the Asian side of Istanbul or visit the Grand Bazaar, allow another day for this.
Take a Guided Tour
If you are eager to delve deep into the complex history of Istanbul, formerly Constantinople, then you may wish to take a guided walking tour with a local who knows the area and can impart information you would never get to know from a guidebook.
Dress Respectfully When Visiting Religious Buildings
Tourists can enter the mosques in Istanbul; however, modest dress is required. Women must cover their heads, shoulders, and knees, and men mustn't enter in vests and shorts. Photos aren't allowed during prayer or worship times, and shoes must be removed in many mosques.
Try to Learn the Local Language
Even learning the basics can help endear you to locals. It shows that you're trying to get to know their culture, and simple phrases such as "please," "thank you," and "hello" are great places to start. Download a language app before your visit, or take a guidebook with you on your travels.
Try the Local Food
Turkish Delight, Greek Gyros and Doner, and Testi Kebabs are all popular dishes to try in Istanbul. Rucka is the national drink, a licorice flavored spirit similar to Ouzo.
Getting to Istanbul
Getting to Istanbul is relatively easy thanks to great connections by air, rail, sea, and road.

Most European airports are within a 2-4-hour flight, and travelers arriving from North America can reach Istanbul in around 10-12 hours.

The new Istanbul Airport (IST) opened in late 2019, replacing the old and rundown Ataturk Airport.

Istanbul Airport, one of the greatest airports in the world, is located 30km northwest of the city center. Currently, only a taxi or bus is an option of transportation to get into town.

However, the new M11 metro line is planned to open in early 2022 will connect Istanbul airport with the city center once it´s open.

The National airline, the Turkish Airlinese, is one of the largest airlines in the world, with flying to 254 international destinations in 126 different countries and 50 domestic destinations inside Turkey, Making Turkish Airlines the airline which serves the most non-stop destinations around the world. Istanbul airport has the best connection to countries like Iraq, Baghdad, and Iran, Tehran.

Making Istanbul one of the easiest destinations anywhere to reach in the world.


Most flights will land at Ataturk Airport, around 30 kilometers from Istanbul, and there are shuttles, buses, and taxis operating from the airport to the city center.

If you wish to try out the local metro, you can travel via subway and tram, which takes around 45 minutes to an hour.

However, they do not operate 24 hours and are closed through the night from midnight until 6 am.
Istanbul can also be reached by train from Athens, Vienna, Belgrade, Bucharest, Budapest, and Munich.

There are two main railway stations in Istanbul, Sirkeci Station on the European side of the city and Haydarpasa Station on the Asian side. Most trains from Europe arrive at Sirkeci.
If you plan to drive to Istanbul, Turkey boasts an extensive network of motorways and highways from all the major cities, or if you are arriving in Istanbul by sea, several cruise ships and international ferries dock at Karaköy.
Getting Around Istanbul
Istanbul is a sprawling city with several vast districts. Most neighborhoods with tourist and historic landmarks are easy to walk around, and the city has four modern tram lines and funicular lines.

The T1 operates across Galata Bridge and past the main historic sights. The T5 tram stops in the neighborhoods of Eyup, Balat, and Fener, while the T3 runs throughout Kadıköy on the Asian side of the city.
There are also Metro lines that extend for miles outside the city into Istanbul's suburbs.

A separate, underground rail system known as the Marmaray transports visitors under a river tunnel from the European to the Asian side of the city.
Ferries are also a great way to get across the river or to Princes' Islands.
Minibusses operate throughout Istanbul, picking up and dropping off at designated stops in Istanbul, and there are yellow dolmuş' – shared taxis that operate between certain destinations.
The city also has bus networks, although they are a bit harder to navigate unless you know some Turkish. Two main hubs are near Taksim Square and Eminonu near the ferry docks.
Taxis are readily available in Istanbul, although some have been known to overcharge foreign visitors.

It's better to take a cab from your hotel or a designated stand, although always agree on the price beforehand to avoid any unpleasant surprises later.