In central Mexico, outside the small charming town called Morelia, there's an incredible UNESCO World Heritage site.
A fantastic phenomenon was happening every winter from November to March; countless monarch butterflies show up in the Monarch Butterfly Biosphere Reserve, which is 3 hours from the west of Mexico City, 1.5 hours east from Morelia and 3hours south of the great city of San Miguel De Allende a must-visit city during your visit to Mexico.
Monarch butterflies from all over North America and even far as Canada migrate here every year, and that´s up to 4023KM/2500Miles of travelling.
Over time, it takes the Monarch Butterflies four generations, born and die to make this incredible journey.
However, the migration patterns of monarch butterflies are changing now because of climate change.
It´s impossible to even think about counting the number of Monarch Butterflies here. But to give you an idea, we can assume a Monarch Butterfly weighs, on average, about half a gram. This can vary from about 0.27 grams (a very small monarch!) to about 0.75 grams.
Planning a 2 week trip to Mexico but not sure where to go? Here´s a great 2 week Mexico Itinerary idea.
Since there so many Butterflies clustering together on the branches of the pine and oyamel trees in the Reserve, so trees branches often break from the weight of butterflies, which are clustering together during peak season in late December, according to the guide.
I visited the park in mid-November and still found it completely overwhelming to walk around and see all the butterflies.
Meanwhile, I also need to struggle to keep them out of my mouth and eyes; I can barely imagine how it will look like in a month later when the numbers will double, as my guide claimed.
The Monarch Butterfly Biosphere Reserve was only discovered for 43 years by western researchers, and it was declared as a natural biosphere reserve by the Mexican president back in 1980. And it eventually got added to the UNESCO world heritage list in 2008.
The nature reserve contains eight sections, with only two are open to the public. According to my guide (required), there's nothing in the two open parts that can be compared to the other six ones that are closed to the public.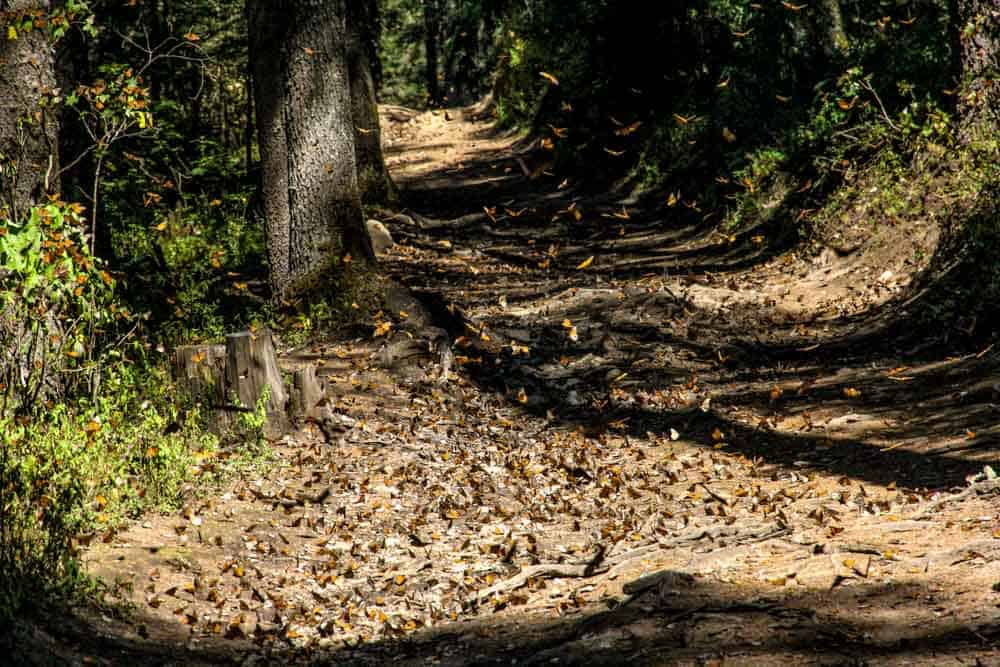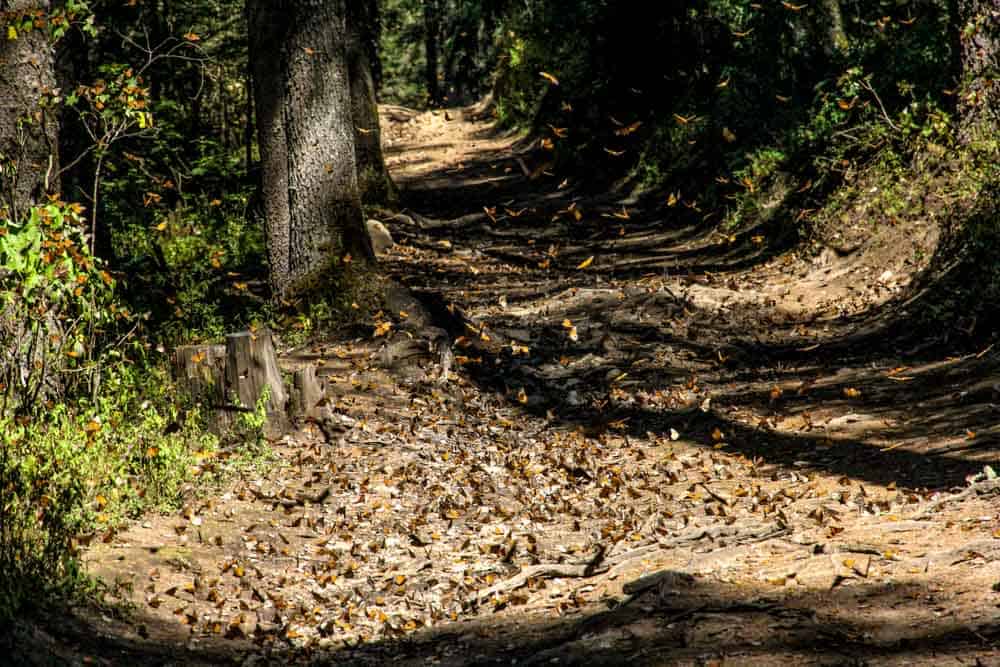 But my guide was also sad that they have seen a significant decrease in the Monarch Butterfly here over the last few years, some were blaming climate changes, but the most significant impacts of the area are the heavy logging, mining, and farming, which are continuously going on in the surrounding areas.
Additional Information about The Monarch Butterfly Biosphere Reserve.
To visit the Monarch Butterfly Biosphere Reserve, it is possible from both Mexico City and Morelia by a day trip with local travel companies in both cities.
A return trip from Mexico City with all including cost 550MXN/30USD.
A day trip from Mexico city starts typically around 8 AM and return around 77:30 PM.
It will take nearly 4 hours to drive each way to reach the parking lot, from where you will need to hike for approximately 30 min (horses are available) with your guide. A guide is mandatory.
There´s also a small museum, toilet and a few restaurants and shops around the parking lot.
Make sure to get some water with you from there.
At the beginning of the climb, you might wonder if you're in the right place since you won't see any butterflies at all.
As a matter of fact, you won't see any butterfly until you are done with the climbing. And then, suddenly, there are thousands of them all around you.
Like It? Share It! Pin It!