Few people have had the opportunity of experiencing Saudi Arabia. Up until 2019, Saudi Arabia was the only country that didn't accept tourists. But Saudi Arabia has so much to offer.

Only soldiers, expatriates, Muslims on religious trips, and government officials were allowed into the country before it opened up to foreign tourists from all countries in 2019.

Making the Kingdom Of Saudi Arabia one of the least explored countries in the world for tourists.

It's a country filled with multiple tourist hotspots, mesmerizing landscapes, monuments, and mouth-watering restaurants. A trip to this corner of the world is stunning.
10 reasons why you should visit Saudi Arabia.
A Spiritual Sanctuary
Two of Islam's holiest cities are situated in Saudi Arabia: Mecca and Medina, which are revered by over 1 billion Muslims.

Mecca is home to the building constructed by the prophet Abraham and Ishmael called the Kaaba. Medina holds the tomb of Prophet Muhammad.

Muslims believe Prophet Muhammad was the final "messenger of God" after Jesus and Moses.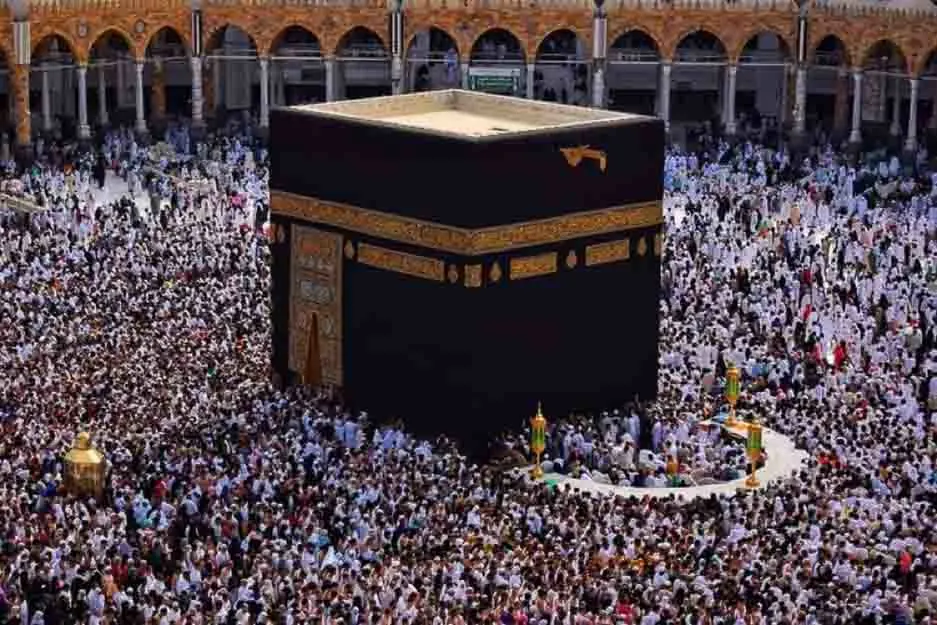 If you share the same spiritual beliefs or have a fascination for Islam, then you must make it a point to soak in the beauty and spirituality of these cities.

Religious sentiment becomes even more evident during Hajj, an annual pilgrimage that all Muslims must make at least once in their lifetime. During Hajj, over 3 million Muslims gather in Mecca to complete their pilgrimage.
Mesmerizing Pre-Islamic History
Saudi Arabia is home to some of the most fascinating discoveries that changed the face of history.

These are the 9,000-year-old Al-Magar site, a human footprint almost 85,000 years old, and the Pharaonic inscription of Ramses the Third. Most historical sites in Saudi Arabia were unknown to the outside world until recently, when Saudi Arabia started to open up for foreign tourists.
You can also visit Hail, a province that contains a wide variety of pre-Islamic rock art.

Hail covers almost 10,000 years of Saudi Arabia's history. The tombs of Mada'in Saleh will mesmerize you with their craftsmanship and size.
Endless Diversity
Close to a third of Saudi Arabia's population are immigrants.

These citizens come from various backgrounds and different cultures. You will be able to experience this diversity when you visit this beautiful country.
Saudi Arabia is also famous for its historical diversity. You can visit sites inhabited by local kings like the Barzan area in Hail and the Shubra Palace in Taif.

You can move on to sites made by Islamic empires like Abbasid Darb Zubayada and the castle of Tabuk, which was built by the Ottomans.
Awe-Inspiring Scuba Diving
If you aren't much of a history freak, Saudi Arabia is home to countless beaches situated on the Red Sea. Many of these beaches are undiscovered.

People offer boat rides from cities like Yanbu, Al-lith, and Jeddah. If you're lucky, you may spot remnants of ancient shipwrecks.
If you're looking for something more, the Red Sea offers an amazing scuba diving experience.

You can soak in the exquisite marine life of the Red Sea, where you may spot sharks, turtles, colorful fish, and morays.
Additionally, if you're interested in birdwatching, both the Gulf Coast and the Red Sea are home to a wide variety of birds.
Mountains of Asir
If you didn't already know, Saudi Arabia is environmentally diverse as well. Yes, the majority of the country is filled with deserts, but there are beautiful beaches and mountains too.
The Mountains of Asir are among the most untouched destinations in the world.

Located in the southwest corner of the country, these mountains have deep and beautiful ravines with "hanging terraces" that are homes to animals like the baboon, eagle, and blue lizard.
If you're longing for a breath of fresh air and the peace and tranquility of the mountains, then you must make a trip to Asir.

The mountains of Asir, like the country's coral reefs, remain one of the most untouched tourist destinations. During the peak of summer, you may find a juniper forest turned white because of a sudden hailstorm.
A Gastronomical Paradise
Of the 10 reasons why you should visit Saudi Arabia, this is the most endearing to food lovers. Traditional Arabic food is one of the most loved and revered cuisines in the world.

Trying out Arabian food is an important aspect in experiencing the culture of the country.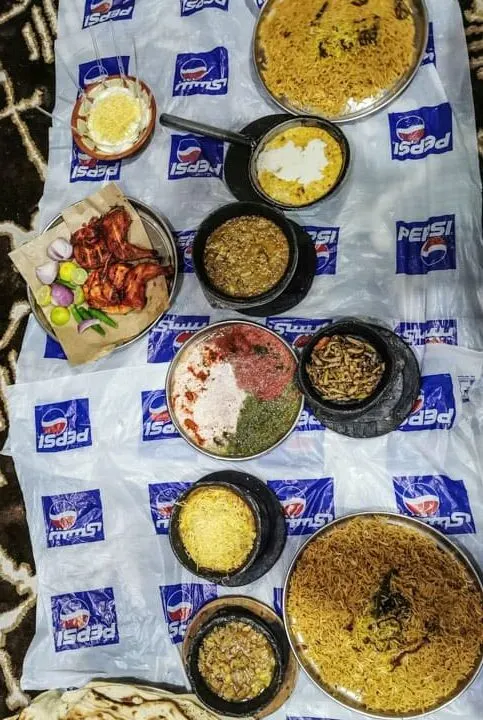 Each bite will fill your senses with joy. Most Arabian restaurants in the country feature traditional dishes like hummus bi tahini, couscous served with chicken, grilled halloumi, and falafels.
Chicken and lamb are the most common types of meat used. Beef is used less. Pork is strictly prohibited as it goes against Islam.
Arabian dishes are made with an array of unique spices that will surely make you drool over the food.
Jeddah
Jeddah, a port city and commercial hub and the most liberal city in Saudi Arabia, is one of the most popular tourist destinations in the country.

If you're looking to experience the country's modern tourist attractions, then make sure to visit this city.

You can shop for classic Arabian souvenirs from the Mall of Arabia, which is three floors high with hundreds of stores, or visit markets like Souq Al-Alawi and Corniche.

When you're done shopping, move on to King Fahd's Fountain or spend some time with dolphins at the Fakieh Aquarium.
Linger through the warm streets of Balad, an old town in Jeddah.

Listen to the hustle and bustle of its street markets. These markets have an array of traditional Arabian food, spices, and souvenirs.
There are endless things to do and see in Jeddah, and you will most likely require another trip to this city to truly experience its beauty.
Jizan: The Port City
One of the most beautiful cities in the country, Jizan is a city on the southwestern side of Saudi Arabia. It is an extremely welcoming city and has a lot to offer to tourists.

Take a long walk inside and make sure to soak in the awe-inspiring vaulted houses and cabins built with straw and rope.
The city offers a variety of food that's different from the rest of the country. Try out dishes made with fresh fish seasoned with aromatic herbs and slightly spicy sauces.
Sightseeing in Riyadh
Two of the most beautiful sights in Saudi Arabia are found in the city of Riyadh, the capital of Saudi Arabia. Visit the ancient settlement of Diriyah located in Wadi Hanifa. The adobe houses and open-air museum are a joy to behold.
You can also visit the mesmerizing canyon called the Edge of the World.

Riyadh and the Edge of the World can be accessed with rental cars. When visiting the Edge of the World, a rental car is necessary since you won't be allowed in without one.
The Edge of the World
This is one of the most famous tourist destinations in the country. If you love trekking and beautiful sceneries, then you shouldn't miss the opportunity of seeing the Edge of the World.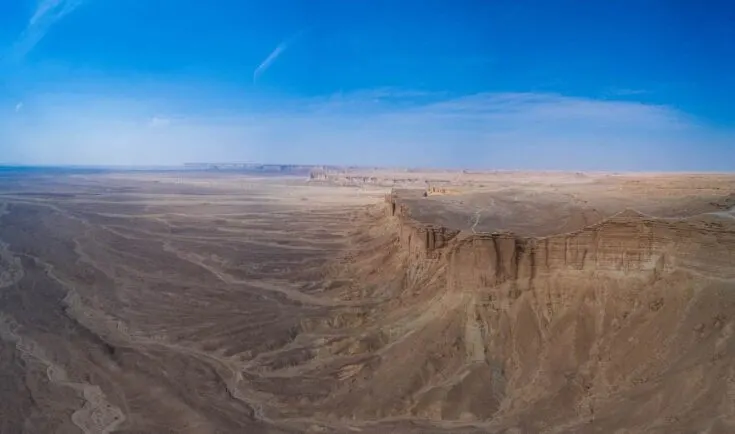 It takes close to 90 minutes to reach. This trip can only be made with a 4×4 vehicle due to the terrain.

The last leg of the journey is a bumpy one with soft sand and loose gravel. There are people who have reached this place safely by car, but it's quite a risk.
The best time to visit is during autumn or winter. The skies are mostly clear, and the weather is nice and cool. It can be quite unbearable in the summers because it's a desert after all.
The Farasan Islands
If you're attracted to beaches, then make sure to visit the Farasan Islands.

Situated on the northwestern coast of the Red Sea, Farasan is a huge island surrounded by a medium-sized island, two smaller islands, and close to 176 islets.
These islands were formed from fossils and coral reefs which is what makes them flat with little to no vegetation.

Upon visiting, you will be greeted by mangroves, beaches, and the beautiful coastal cuisine of Saudi Arabia.
They are home to some of the best beaches in the world. It is also the best place to experience the marine life of Saudi Arabia.

If you're a passionate diver or marine life enthusiast, then you will love this place.

Colorful coral reefs and marine life are almost untouched by divers and tourists.
Additionally, if you love history, make a short trip to Al Qassar, a sandstone village that is said to have existed since the time of the Romans.

There are tons of other historical monuments to visit, such as an Ottoman fort, mosques, coral homes, and ancient villages.
Most of these historical monuments are located on the main island, but if you want to visit the smaller islands, you will have to take a trip with a fishing boat.

It's also better if you bring a rental car to the island because traveling services are limited.
In a Nutshell
There are more than 10 reasons why you should visit Saudi Arabia. Saudi Arabia is a diverse, culturally rich, and historic country filled with awe-inspiring tourist destinations.
If you enjoy exploring new cultures with rich history and spirituality, great beaches, and unique landscapes, then the Kingdom of Saudi Arabia is a country you can't afford to miss. Here´s everything you need to know before you plan your trip to Saudi Arabia.