Crystal clear beaches, waterfalls hidden in jungles, ancient ruins, and countless other natural wonders I will dive into the top places to visit in Mexico.

Mexico is a country that has been ignored by many as a travel destination due to a controversial reputation that has left it seen as dangerous and even deadly to tourists.
However, while the media has painted Mexico as an untrustworthy place to visit, that is far from true.

My wife Courtney and I lived in Mexico for 10 months and can say firsthand that we never felt unsafe while traveling around. Did we mention that we are a lesbian couple?

We check the boxes for vulnerable travelers who are at risk for dangerous situations, but we plan to spread the word that Mexico is a magical and affordable country that everyone should experience.
Let's dive into our list of top places to visit in Mexico!


Top Places to Visit in Mexico 2021
Chiapas
Let's start with my favourite state in Mexico, Chiapas. 10 hours below the famous Yucatan Peninsula, where you'll find Tulum and Cancun rests an incredibly diverse state.

From jungles to mountains reaming with waterfalls, monkeys, and incredible landscapes, you'll have a jam-packed schedule when you visit.

Oh, and let's not forget how much cheaper Chiapas is than most other states in Mexico.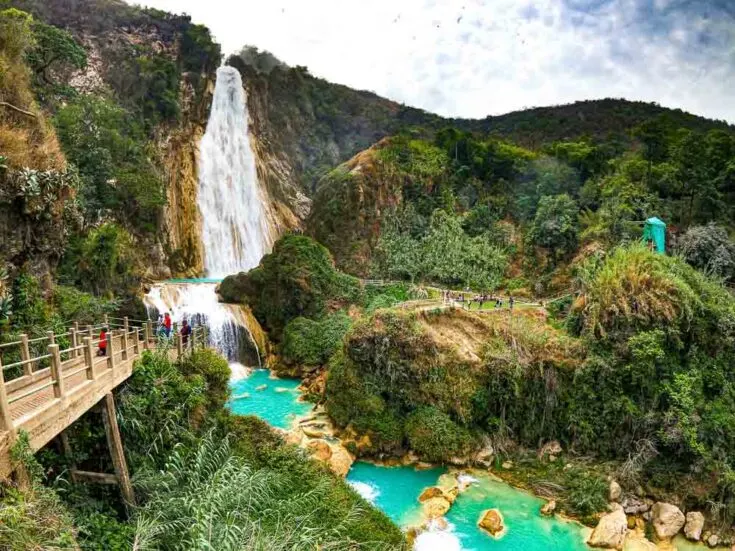 Start in San Cristobal de las Casas, a charming city lined with colorful buildings and located in a valley where you'll be surrounded by mountains.

The city has a hippie/ nomad traveler vibe, but it isn't completely overrun by tourism yet, so when you're exploring, you'll find a mix of tourists, Mexicans, and several different indigenous groups.

You can take many day trips to waterfalls, lakes, archaeological sites and more from this beautiful city.
We can't forget Palenque, where you'll find an ancient Mayan archaeological site seemingly forgotten over time as it's surrounded by lush jungle.
The best part? It's nowhere near as crowded as the other popular sites in Mexico, and you're even allowed to climb the ruins! (Note* with covid restrictions, visitors are not allowed to climb, so be sure to check before you go).
On your way to or from Palenque, you can stop at several of the beautiful waterfalls lining the mountainous terrain and cool off from the jungle heat.
Puerto Vallarta
When you think of Mexico, you typically think of beautiful beaches like Cancun, but there is just a little something extra special when visiting Puerto Vallarta versus Cancun.

We think Puerto Vallarta is a beach town you can't miss when you visit Mexico, but why? Puerto Vallarta has a touristy vibe because of its high rises, resorts, and even cruise ships, but it is so much more than just a party town.
Puerto Vallarta has held on to its Mexican heritage through its cuisine, friendly locals, and many excursions like whale watching, snorkelling, food tours, and more that are run by passionate locals who want you to learn about the real Mexico.
You can even take a day trip to Yelapa, hike to a waterfall hidden in the forest, and then soak up the sun while sipping a passion fruit margarita on an almost deserted beach.
Not to mention it is the most LGBTQ+ friendly city in all of Mexico.
They host the biggest pride celebration in Latin America each year!

Want to plan your trip to Puerto Vallarta? Read more and plan your adventure to Puerto Vallarta!
Mexico City
Mexico City has been at the forefront of the media regarding Mexico over the years.
Most people hear you say you visited Mexico City and cringe and ask you, "wow, it's so dangerous, right?". Wrong.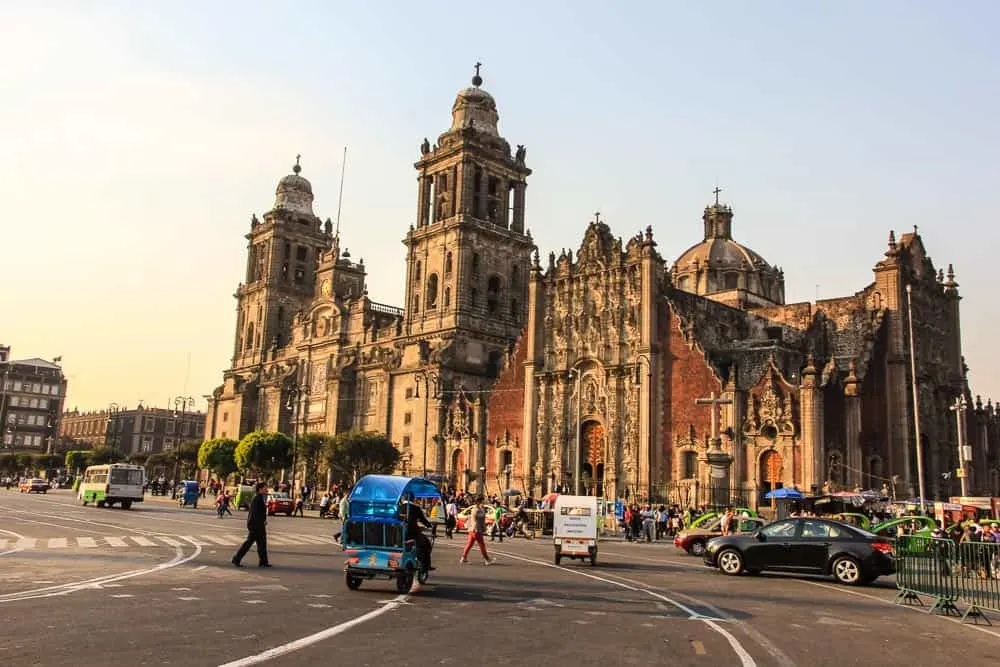 Mexico City was our first stop in Mexico, and we loved it so much we stayed for 3 months.

It is a vibrant city with beautiful parks, incredible food that is unmatched by anywhere else in Mexico, and plenty of day trips outside the city to keep you entertained.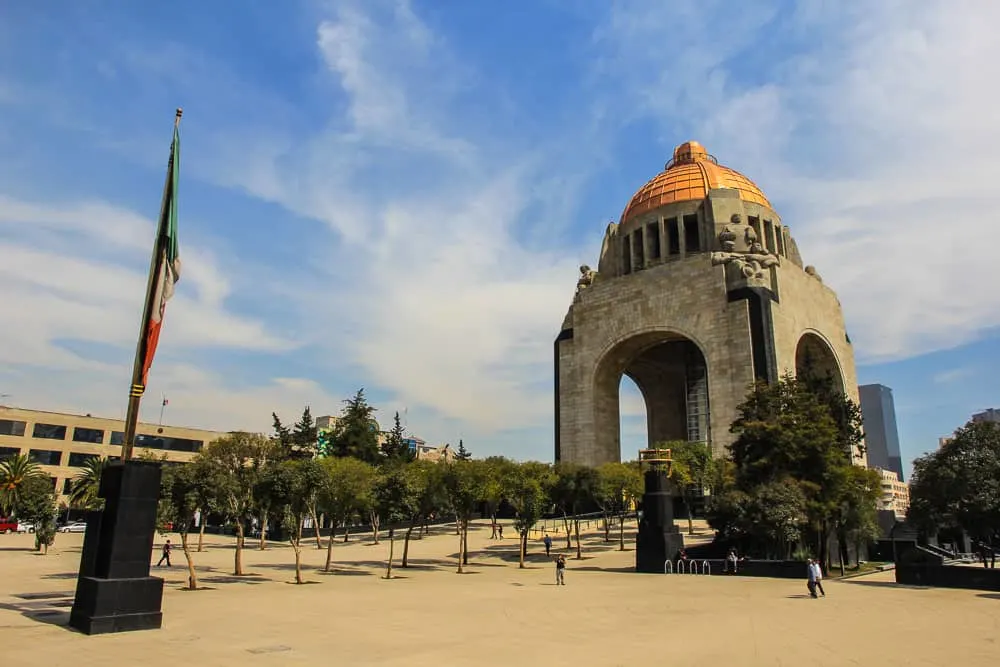 If you have a week, you will barely have time to fit it all in.

From wandering around the dozens of museums around the city to trying street tacos, sipping mezcal, and riding hot air balloons over ancient ruins in Teotihuacan, you won't want to miss out on visiting Mexico City.

Check out our Mexico City Itinerary for a complete list of activities.
Oaxaca City
Oaxaca City in the state of Oaxaca has been a popular tourist destination for years now because it has a little bit of everything.

Oaxaca city is known as the gastronomic capital of Mexico with traditional dishes with mole- a sauce you have to try!

You'll find colorful colonial buildings surrounding by the lush landscape where you can escape to more waterfalls, explore indigenous towns where you can learn about arts and crafts, and if you visit November 1-2, you can experience Dia de Los Muertos or "Day of the Dead" which is one of the most exciting festivals you can experience in Mexico.
Puebla
The historic city of Puebla is the perfect day trip from Mexico City (only 2 hours away) makeing it one of the top places to visit in Mexico.

On your way, you'll see a large active volcano, Popocatepetl, in the distance. You can hike this active volcano from Puebla or Mexico City and enjoy glaciers and beautiful landscapes.

You can also take a 30-minute taxi to Cholula and see the largest man-made pyramid in the world!
While most of it is covered in vegetation, you can still walk around inside and explore!
If you aren't up for a hike, you can simply enjoy walking around this colorful city.
It's small but easy to navigate and has several colorful churches that you can't miss out on.

After you enjoy Tacos Arabes for lunch and walk around the many markets and churches, enjoy a cocktail on one of the many rooftop bars in the city.

We have the perfect list of things to do in Puebla
Puerto Escondido
Back to the diverse state of Oaxaca, but this time we head to the coast.
Puerto Escondido remains relatively quiet for tourists but is quickly making its way on the map, mainly because it is a long journey from Oaxaca City by bus to get here, but it is so worth it.
You'll discover untouched beaches, and if you love surfing, you'll be right at home. Puerto Escondido hosts international surfing events you can watch while sipping tequila, or you can take a tour and discover the diverse marine life in the area.

Did I mention there is a lagoon you can swim in that is bioluminescent? No matter what you choose to do here, you'll leave relaxed and tan.
La Paz
Let's jet over to the Baja California peninsula to a quieter beach town than its neighbour Cabo San Lucas.

La Paz offers a unique desert-like landscape along with pristine beaches.

You have to take a boat tour to Espiritu Santo Island National Park, where you will learn what makes La Paz one of the more biodiverse areas in the world.

From sharks, whale watching, dolphins, and even sea lions, there is so much to do here that you can't miss out on.
Sayulita
Just an hour north of Puerto Vallarta lies one of Mexico's newest favourite beach towns.

This town is small and used to be an off-the-beaten-path surfers getaway, but now it has officially been discovered.

Surrounded by lush green hills, Sayulita is a yogi, hippie, surfer town all wrapped into one.

You can enjoy visiting Isla Marietas and experience the diverse wildlife in the area, go whale watching, or simply do some yoga and hang out on the beach.

Want to try surfing? Sayulita has the perfect size waves for beginners!
Tulum
Over the last few years, Tulum has exploded from an undiscovered backpackers paradise to a luxury vacation spot.

Its popularity is driven by its white sand, beautiful blue beaches, and mysterious cenotes, which are natural sinkholes in the ground where you can swim in clear freshwater! If you are scuba certified, you can even go cave diving around Tulum!
Tulum is one of the pricer vacation spots in Mexico but still has a unique artsy feel. If you are looking for a place to relax, you've found the right place.

Tulum also has an archaeological site that is even overlooking the ocean! If you visit the ruins of Tulum, definitely go as early as possible to beat the crowds and the heat but still one of the top places to visit in Mexico
San Miguel de Allende
At first glance, you might think- what where is this? At a second glance, you'll realize this adorable town was recently voted Best City in the World by Travel & Leisure.

While this charming city has been taken over by ex-pats, even having the name "gringolandia" attached to it, you definitely won't be disappointed by taking time to explore San Miguel de Allende.
What makes this place so special? Well, it has a great climate year-round, activities outside of the city like relaxing in hot springs or even just renting a bike and cycling around town.
Isla Holbox
Pronounced "holbosh", this tiny town is located north on the Yucatan peninsula and is still thought of as a secret to many travelers.

This tiny town is the place you want to venture to if you are looking for relaxation time.

You can hang on the beach and spot some cool wildlife like whale sharks and flamingos or simply sip on a margarita and stare while floating around in the beautiful blue sea, it´s defiently one of the top places to visit in Mexico during your stay.
This town is so tiny there are no cars here but feel free to rent a bike or a golf cart.

To get here, you'll have to travel to Chiquila then take a ferry over to Isla Holbox.
Cancun
We can't talk about Mexico without mentioning Cancun. Anytime we mention visiting Mexico, every gringo will ask, "have you been to Cancun?" Of course!

While Cancun isn't the cultural mecca of Mexico, it does have some positive qualities.

If you are looking for beautiful beaches and an unlimited amount of all-inclusive resorts to choose from then, Cancun is your place.
The good news is that if you aren't interested in hanging out at a resort your entire vacation, there is more to do outside of the resort zone!

Once you get into the city, you'll be greeted with lots of local street foods like street tacos!

You're also a day trip away from some incredible Mayan archaeological sites like "Chichen Itza.

While I know you might still be giving an eye roll to Cancun; it is worth checking out and exploring the areas outside of the popular resort zone.
Merida
Thirty minutes from the beautiful Yucatan beaches, you'll find a charming small town named Merida.

Here you can have incredible food (that you won't find anywhere else in Mexico), beautiful architecture, and learn about its unique culture, which is a cross between Mayan and Spanish.

Merida is the perfect day trip from Cancun or Playa del Carmen, and it is known as one of the safest towns in Mexico.
Cabo
Cabo is a highly sought-out destination for locals and gringos alike, but not just for its stunning beaches.

The Cabo San Lucas Arch has several rock formations that climb out of the sparkling ocean, where you'll find plenty of birds soaring around it.

The city is easy to navigate, and you have a variety of options to choose from to get around town, from walking, taxis, and even water taxis!

Cabo is also a hot spot for scuba diving and fun nightlife.
There are plenty of areas around Cabo that are worth checking out if you are interested in exploring the Baja California peninsula, like Cabo San Jose, which has more of a traditional Mexican feel.

In Cabo San Jose, you'll find cobblestone streets, a beautiful cathedral, and a slower pace.

This town is only 20 miles from Cabo San Lucas so you can find a taxi easily!
Queretaro
Queretaro is a city most people don't think of immediately when planning a trip to Mexico.

This city has around 1 million people living here but still manages to maintain a small-town feel.

Queretaro boasts colonial architecture that dates back to the 1700s, when there was a time that indigenous cultures and the Spanish lived peacefully with one another.

It is located in the highlands of Mexico and is listed as one of 35 UNESCO world heritage sites in Mexico.

Did I mention that because of its mountainous location, its temperature remains around 70 degrees F year around?
The pleasant weather makes it easy to walk around and explore the many historical monuments, enjoy a drink on a patio, or even spend the day hiking one of the many trails in the area.

The best part is that Queretaro is listed as one of the safest cities in Mexico!
Grutas Tolantongo
Tucked away in the mountain state of Hildalgo (the state above Mexico City) is Courtney and I's favorite place to relax.

Waterfalls, rivers, caves, pools on the side of a mountain all with HOT WATER. Seriously, we still haven't figured out why more people don't know about this place.

What is it? It is a mountain resort that is cheap and beloved by locals alike.

You can buy passes daily to visit this beautiful natural wonder that has been owned by multiple Mexican families for years.

You can swim into a waterfall and enjoy warm water while exploring dark and mysterious caves.
If you're looking for the most instagrammable spot we have found in Mexico, you have to check out the pools of Grutas Tolantongo.

Read more on our complete guide to Grutas Tolantongo.

Did I miss any one of the top places to visit in Mexico?
---
Writer Bio: Sam is short, sassy and has always dreamed of stepping outside the 9-5 life.
She feeds every street animal she comes across during her travels.

She and her wife are currently saving for a campervan, so they can hit the road with their three furry friends and travel across North America.
Social media accounts in profile – Instagram, Pinterest, Facebook