The wind in your hair, the adrenaline spurring you onto the next hold, and some of the world's most stunning natural backdrops; this is rock climbing in Thailand.

Nothing beats the pure thrill, the excitement you experience in making a literal leap of faith.
While this high-energy, high-risk sport is exhilarating all by itself, the planning and coordination that go with it are part of the journey.

Just remember, if you are planning any extended climbing sessions, you have to pack accordingly.

Make sure you have your rock climbing helmet packed and ready for action.
You never know what might happen, so it is best to be prepared for anything. To help you through this preparation, we have put together a quick and easy guide to climbing in Thailand.

Even for the experienced climbers out there, you might pick up a tip or two.
Rock Climbing in Thailand
Whether for sport or leisure, rock climbing can be such an invigorating activity. It helps work on your core strength, as well as individual muscle groups. Thailand rock climbing can be especially challenging but at the same time rewarding.
It is here that you will refine your skill, practice your holds and grips, and ultimately perfect your climbing style.

Because Thailand offers such a huge variety of destinations you can choose from, it may be tough picking one to visit. Luckily we have put together a list of the most popular spots.
Not only are they versatile in their difficulty, but they also offer some beautiful landscapes and gorgeous vistas to enjoy while you climb. Southern Thailand climbing is where most of the action is based and where the best spots to climb are.
Krabi Rock Climbing
Not just a destination but also a school, Krabi Rock Climbing combines the best of both. It is one of the premium rock climbing destinations in Thailand and should definitely be on your bucket list! They have a large variety of spots, routes, difficulties, and courses to undertake.
Their beginner courses teach some awesome skills regarding top-rope climbing and the basics of tying knots. They also help you learn about rope security and safety, as well as some handy climbing techniques that will form the basis of your experience.
The intermediate level ups the action, allowing you to take on more advanced spots and multi-day lead climbing courses. Learn new skills, improve your current abilities, and level up with this great mid-level program.
To round things out, they have the advanced level. At this point, climbers are experienced, cool under pressure, and know their way around.

Climb with the guides as equal partners, experience the gorgeous sights, and tough it out on some of the more difficult courses.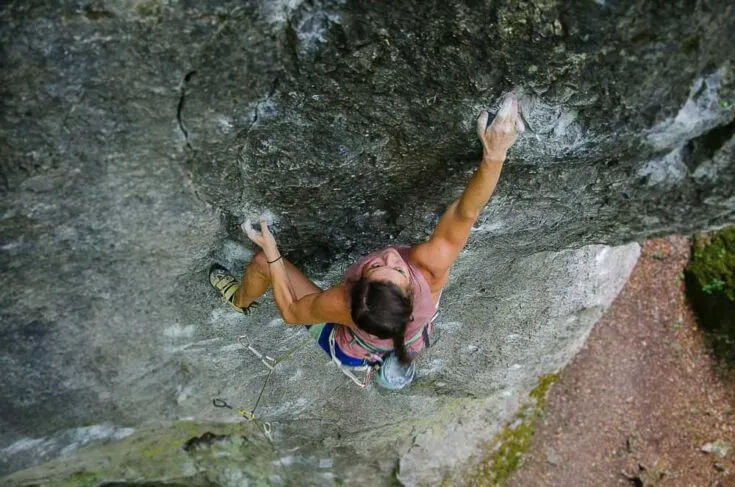 Tonsai Climbing Thailand
Probably the most famous climbing spot in all of Thailand, this diamond really stands out from the rough.

If you decide to take on climbing in Tonsai, Thailand, there are a few things to know. Firstly, be prepared for amazing views, stunning cliff faces, and some challenging routes!
The huge limestone cliffs are a sight to behold and should definitely be a part of your checklist.

Best of all, the climbing community itself is fantastic and very supportive of newcomers and experts alike. They will gladly help show you around to some of the best spots.
Tonsai Rock Climbing
Keeping in mind that it is an extremely popular destination, here are a few things to know about Tonsai rock climbing:
First and foremost, the heat is real. Even in winter, you should still be careful of sun exposure and burning your hands.
Because of its popularity, some of the routes have become increasingly more polished each year that passes, especially those close to the beach.
Slick footholds and hot rock walls can make for some tough climbing conditions, so plan accordingly.
Try to "time" your climbs to early morning, when it's cooler and more comfortable to adventure outside.
Purchase a guide book, or climb with someone experienced with the area. The extra knowledge will be invaluable in making your climbing experience as enjoyable (and safe) as possible.
Deep Water Soloing Thailand
As with all sports and activities, there is the standard version, and then you get the extreme, or rather adventurous, version.

Deep water soloing in Thailand is one such extreme sport. DWS is basically rock climbing on intense routes, suspended over water.
While it may seem radical, it is one of the most exhilarating forms of climbing out there.

As with any extreme sports, there are some risks involved, especially if you don't plan comprehensively. DWS can be dangerous if not taken seriously (with a healthy dose of fun, of course).
To make it simple, you should keep in mind a simple word: HAT
H – Always plan your session to take place during High tide. This helps to ensure your safety when eventually making your way down and completing your climb.
A – When in doubt, only go for a grab within Arm's length. Again, this will help prevent potential injury from over-extending yourself or taking unnecessary risks.
T – When you are done with the route and want to jump down into the water, Tuck! Tucking your arms and legs close to your body enables you to control your entry into the water (especially from larger higher elevations).
As long as you keep your HATs about you, you should be A-ok to take on any DWS climb that catches your eye. As always, it is better to have a buddy or a spotter to go with you (this can be the fisherman that brings you out to the water).
It's a Climb, But The View Is Worth It!
Rock climbing is such a fun and exciting undertaking. Plus, if done right, you may even make some lifelong companions. Thailand offers some of the best rock climbing around, making it the easy choice when planning your next escapade.
Once you gear up with the right equipment, it's time to set sail and head for Thailand.

If you need a beach to relax on after you are done with your Rock Climbing in Thailand, then Koh Jum and Koh Lanta are two great options, both just a short boat ride away from Krabi.